From Tiananmen to Hong Kong, China's crackdowns defy critics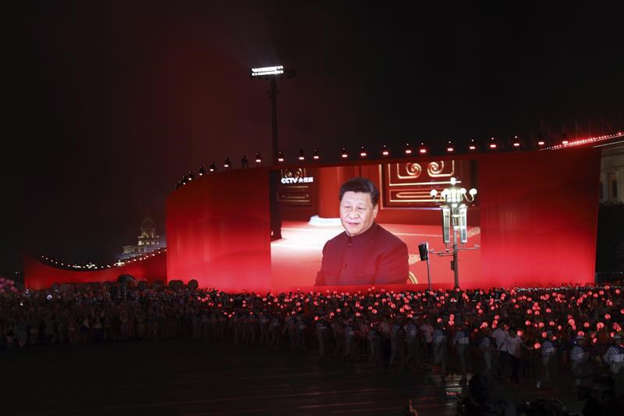 BEIJING (AP) — From the deadly crushing of Beijing's 1989 pro-democracy protests to the suppression of Hong Kong's opposition four decades later, China's Communist Party has demonstrated a determination and ability to stay in power that is seemingly impervious to Western criticism and sanctions.
As Beijing prepares to hold the Winter Olympics opening next week, China's president and party leader Xi Jinping appears firmly in control. The party has made political stability paramount and says that has been the foundation for the economic growth that has bettered lives and put the nation on a path to becoming a regional if not global power.
While many have benefitted economically, the price has been paid by those who wanted more freedom, from ethnic groups in the far western regions of Tibet and Xinjiang to the largely student-led protesters in Hong Kong in 2019. The party leadership was divided when an earlier generation of student protesters took control for weeks of the symbolically important grounds of Beijing's Tiananmen Square in 1989. The hardline leaders won and the protesters were crushed rather than accommodated, a fateful decision that has guided the party's approach to this day.
"The world came up with the assumption that with economic engagement with China, China would thrive, which would give birth to a powerful middle class, which would give birth then to a civil society which would give birth then to a democracy that would make China a responsible stakeholder in the world arena," said Wu'er Kaixi, who as a university student helped lead the 1989 protests and now lives in exile in Taiwan.
That assumption, he added, proved naive and wrong.
Beijing's hosting of the 2008 Summer Olympics manifested hope that reforms might be on the way, bringing greater space for free speech, independent labor unions and protection of the cultural and religious identities of ethnic groups. Tibetan groups staged protests in China and abroad, disrupting the torch relay.
Nearly 15 years later, on the eve of the Winter Games, the reality is far different. Tibet remains firmly under Communist Party control, and the government launched a fierce crackdown against the Turkic Muslim Uyghurs in Xinjiang in 2017 and enacted new laws and loyalty requirements to drive out opposition in Hong Kong in response to massive protests that turned violent in 2019.
Under Xi, who came to power in 2012, the party has clamped down on dissident voices and anyone who challenges its version of events, from a #MeToo movement that flourished briefly to citizen journalists who exposed the crisis and chaos in Wuhan in the early days of the COVID-19 pandemic.
Xi is now expected to be appointed to a third five-year term as the ruling party's general secretary this fall, cementing his position as China's strongest leader since Mao Zedong. With no term limits on the position, Xi could remain leader indefinitely, with no clearly defined rules on succession.
Xi approaches the party meeting bolstered by a strong economy, the ending of separatist violence in Xinjiang and the passage of a sweeping national security law and electoral changes in Hong Kong that have eviscerated the political opposition in the territory.
"Xi Jinping wants to become a leader like Mao," said Joseph Cheng, a political scientist and veteran Hong Kong pro-democracy activist who now lives in Australia. Mao Zedong founded China's communist state in 1949 and led the country for more than two decades.
Having maintained relative prosperity and rock-hard political control, Xi and the party face little pressure and see no need to make concessions, Cheng said.
"There are no checks and balances domestically and internationally. As a result, there is an increasingly authoritarian regime," he said.
The suppression of the Tiananmen protests marked the end of a period of limited political liberalization in the 1980s. The chaos and violence of the 1966-76 Cultural Revolution and the decline of the Soviet Union had already impressed on the ruling party that political stability should be maintained at whatever cost.
The crackdown carried out with tanks and assault troops was seen as the only way to ensure continued Communist Party rule and what Xi has since termed the realization of the "Chinese dream" of restoring the country's position in the world. The events of 1989 remain a taboo topic in China to this day.
Future years saw advocates for free expression and civil rights continue to push the boundaries. Beijing responded to some appeals by releasing pro-democracy activists into foreign exile.
At the same time, the party opened new avenues for education and employment, loosened restrictions on the private sector and welcomed foreign investment. A new generation of young Chinese grew up with heightened expectations and little knowledge of the political turmoil of past years.
Despite their misgivings about the crackdown, China's booming economy was too much of a draw to ignore, and Western democracies swiftly re-engaged with the regime in the 1990s and 2000s.
More recently, the U.S. has turned against China, viewing what is now the world's second largest economy as a growing competitor as well as an opportunity. China's policies in Xinjiang, Tibet and Hong Kong, and on human rights in general, have brought travel and financial sanctions from the U.S. and others on the officials and companies involved.
Beijing has responded with dismissals and disdain. A diplomatic boycott of the Olympics announced by Washington, the U.K. and others was greeted with contempt by Beijing for what it called a meaningless gesture that would change nothing.
China has sought to redefine human rights as improvements in the quality of life, and cites economic growth and poverty reduction as the real determinants. It has written off campaigns by foreign politicians, trade groups and companies to boycott cotton goods and other products from Xinjiang over allegations of forced labor.
China calls such claims "the lie of the century," although some experts say the bad publicity may have prompted it to shut down its prison-like system of internment camps.
But activists' calls to move the Olympics out of China have gone unheeded. A diplomatic boycott won't stop the athletes from competing. Sophie Richardson, the China director for Human Rights Watch, said the International Olympic Committee lost all credibility on promoting human rights after choosing Beijing for the Winter Games.
Kaixi, the former Tiananmen protester and an ethnic Uyghur, said China could not have succeeded in its defiance without the acquiescence of the international community.
"China can only get away with all this because the world is giving in," he said.
___
Associated Press journalist Johnson Lai in Taipei, Taiwan, contributed to this report.
Ken Moritsugu, The Associated Press
Ford says EV unit losing billions, should be seen as startup
Ford's Chief Executive Engineer Linda Zhang unveils the Ford F-150 Lightning on May 19, 2021, in Dearborn, Mich. Ford Motor Co. announced Thursday, March 23, 2023, that their electric vehicle business has lost $3 billion before taxes during the past two years and will lose a similar amount this year as the company invests heavily in the new technology. (AP Photo/Carlos Osorio, File)
By Tom Krisher in Detroit
DETROIT (AP) — Ford Motor Co.'s electric vehicle business has lost $3 billion before taxes during the past two years and will lose a similar amount this year as the company invests heavily in the new technology.
The figures were released Thursday as Ford rolled out a new way of reporting financial results. The new business structure separates electric vehicles, the profitable internal combustion and commercial vehicle operations into three operating units.
Company officials said the electric vehicle unit, called "Ford Model e," will be profitable before taxes by late 2026 with an 8% pretax profit margin. But they wouldn't say exactly when it's expected to start making money.
Chief Financial Officer John Lawler said Model e should be viewed as a startup company within Ford.
"As everyone knows, EV startups lose money while they invest in capability, develop knowledge, build (sales) volume and gain (market) share," he said.
Model e, he said, is working on second- and even third-generation electric vehicles. It currently offers three EVs for sale in the U.S.: the Mustang Mach E SUV, the F-150 Lightning pickupand an electric Transit commercial van.
The new corporate reporting system, Lawler said, is designed to give investors more transparency than the old system of reporting results by geographic regions. The automaker calculated earnings for each of the three units during the past two calendar years.
Model e had pretax losses of $900 million in 2021 and $2.1 billion last year, and it is expected to lose $3 billion this year. In the past two years Ford has announced it would build four new battery factories and a new vehicle assembly plant as well as spending heavily to acquire raw materials to build electric vehicles.
By the end of this year, the company based in Dearborn, Michigan, expects to be building electric vehicles at a rate of 600,000 per year, reaching a rate of 2 million per year by the end of 2026.
Ford Blue, the unit that sells internal combustion and gas-electric hybrid vehicles, made just over $10 billion before taxes during the last two years. Ford Pro, the commercial vehicle unit, made $5.9 billion during those years, the company said.
For this year, Ford expects Ford Blue to post a $7 billion pretax profit, modestly better than last year. Ford Pro is expected to earn $6 billion before taxes, nearly double its earnings last year, Lawler said.
Ford was to present the new structure, announced last March, to analysts and investors on Thursday. Other business units include corporate, Ford Credit and Ford Next, a new business incubator. Shares of Ford rose 1.8% in Thursday morning trading ahead of the presentation.
Lawler said the company is changing the way it does business, not just doing an accounting exercise.
"After 120 years, we've essentially re-founded Ford," he said. "We're embracing technology and competitive disruption in our industry, fundamentally changing how we're thinking, how we're making decisions, and how we're running the company."
Utah social media law means kids need approval from parents
Gov. Spencer Cox signs two social media regulation bills during a ceremony at the Capitol building in Salt Lake City on Thursday, March 23, 2023. Cox signed a pair of measures that aim to limit when and where children can use social media and stop companies from luring kids to the sites. (Trent Nelson/The Salt Lake Tribune via AP)
By Sam Metz And Barbara Ortutay in Salt Lake City
SALT LAKE CITY (AP) — Children and teens in Utah would lose access to social media apps such as TikTok if they don't have parental consent and face other restrictions under a first-in-the-nation law designed to shield young people from the addictive platforms.
Two laws signed by Republican Gov. Spencer Cox Thursday prohibit kids under 18 from using social media between the hours of 10:30 p.m. and 6:30 a.m., require age verification for anyone who wants to use social media in the state and open the door to lawsuits on behalf of children claiming social media harmed them. Collectively, they seek to prevent children from being lured to apps by addictive features and from having ads promoted to them.
The companies are expected to sue before the laws take effect in March 2024.
The crusade against social media in Utah's Republican-supermajority Legislature is the latest reflection of how politicians' perceptions of technology companies has changed, including among typically pro-business Republicans.
Tech giants like Facebook and Google have enjoyed unbridled growth for over a decade, but amid concerns over user privacy, hate speech, misinformation and harmful effects on teens' mental health, lawmakers have made Big Tech attacks a rallying cry on the campaign trail and begun trying to rein them in once in office. Utah's law was signed on the same day TikTok's CEO testified before Congress about, among other things, the platform's effects on teenagers' mental health.
But legislation has stalled on the federal level, pushing states to step in.
Outside of Utah, lawmakers in red states including Arkansas, Texas, Ohio and Louisiana and blue states including New Jersey are advancing similar proposals. California, meanwhile, enacted a law last year requiring tech companies to put kids' safety first by barring them from profiling children or using personal information in ways that could harm children physically or mentally.
The new Utah laws also require that parents be given access to their child's accounts. They outline rules for people who want to sue over harms they claim the apps cause. If implemented, lawsuits against social media companies involving kids under 16 will shift the burden of proof and require social media companies show their products weren't harmful — not the other way around.
Social media companies could have to design new features to comply with parts of the laws that prohibit promoting ads to minors and showing them in search results. Tech companies like TikTok, Snapchat and Meta, which owns Facebook and Instagram, make most of their money by targeting advertising to their users.
The wave of legislation and its focus on age verification has garnered pushback from technology companies as well as digital privacy groups known for blasting their data collection practices.
The Electronic Frontier Foundation earlier this month demanded Cox veto the Utah legislation, saying time limits and age verification would infringe on teens' rights to free speech and privacy. Moreover, verifying every users' age would empower social media platforms with more data, like the government-issued identification required, they said.
If the law is implemented, the digital privacy advocacy group said in a statement, "the majority of young Utahns will find themselves effectively locked out of much of the web."
Tech industry lobbyists decried the laws as unconstitutional, saying they infringe on people's right to exercise the First Amendment online.
"Utah will soon require online services to collect sensitive information about teens and families, not only to verify ages, but to verify parental relationships, like government-issued IDs and birth certificates, putting their private data at risk of breach," said Nicole Saad Bembridge, an associate director at NetChoice, a tech lobby group.
What's not clear in Utah's new law and those under consideration elsewhere is how states plan to enforce the new regulations. Companies are already prohibited from collecting data on children under 13 without parental consent under the federal Children's Online Privacy Protection Act. To comply, social media companies already ban kids under 13 from signing up to their platforms — but children have been shown to easily get around the bans, both with and without their parents' consent.
Cox said studies have shown that time spent on social media leads to "poor mental health outcomes" for children.
"We remain very optimistic that we will be able to pass not just here in the state of Utah but across the country legislation that significantly changes the relationship of our children with these very destructive social media apps," he said.
The set of laws won support from parents groups and child advocates, who generally welcomed them, with some caveats. Common Sense Media, a nonprofit focused on kids and technology, hailed the effort to rein in social media's addictive features and set rules for litigation, saying with its CEO saying it "adds momentum for other states to hold social media companies accountable to ensure kids across the country are protected online."
However, Jim Steyer, the CEO and founder of Common Sense, said giving parents access to children's social media posts would "deprive kids of the online privacy protections we advocate for." Age verification and parental consent may hamper kids who want to create accounts on certain platforms, but does little to stop companies from harvesting their data once they're on.
The laws are the latest effort from Utah lawmakers focused on the fragility of children in the digital age. Two years ago, Cox signed legislation that called on tech companies to automatically block porn on cellphones and tablets sold in the state, after arguments about the dangers it posed to children found resonance among Utah lawmakers, the majority of whom are members of The Church of Jesus Christ of Latter-day Saints. Amid concerns about enforcement, lawmakers ultimately revised that legislation to prevent it from taking effect unless five other states passed similar laws.
The regulations come as parents and lawmakers are growing increasingly concerned about kids and teenagers' social media use and how platforms like TikTok, Instagram and others are affecting young people's mental health. The dangers of social media to children is also emerging as a focus for trial lawyers, with addiction lawsuits being filed thorughout the country.
___
Ortutay reported from Oakland, California.