From maybe to no: Alberta cabinet ministers give range of answers on replacing Kenney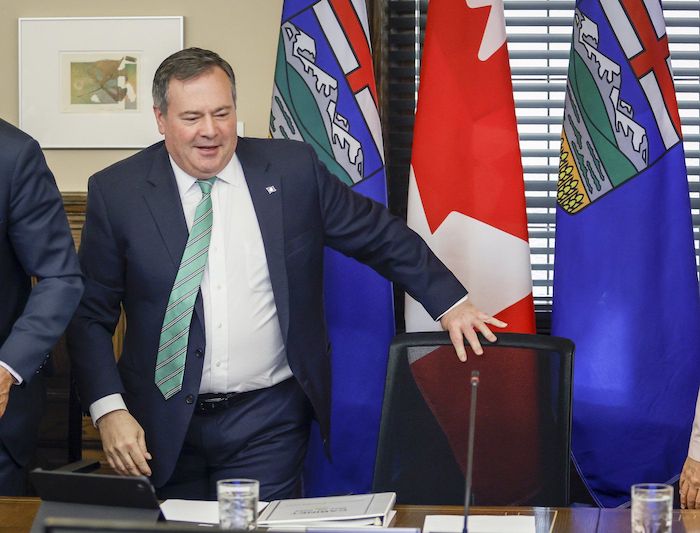 By Dean Bennett in Edmonton, Alberta, Canada
The race to replace Jason Kenney as United Conservative Party leader and Alberta premier has two entrants so far along with a number of cabinet ministers who, when asked if they plan to run, delivered answers ranging from maybe to a hard no.
Government house leader and Environment Minister Jason Nixon says he has not ruled out running for the top job but has more thinking to do and, for now, is focused on the spring sitting of the legislature.
"At the end of the day, internal politics are internal politics, but the people of Alberta expect us to come up here and get to work," Nixon told reporters on his way into the house Tuesday.
"I haven't ruled anything out (on a leadership bid)," he added. "I'll be doing what I think is best for the party under the lens of making sure that we stay united and that we defeat the NDP in a year."
Transportation Minister Rajan Sawhney said she will consult with her family, constituents and Albertans before deciding.
"I haven't made up my mind as of yet," she said.
Finance Minister Travis Toews refused multiple times to say whether he would be running or not running, or whether he's even considering it at all.
"This week we are focused on the people's business," said Toews.
Justice Minister Tyler Shandro said he will not run for the leadership but plans to run again for a seat in Calgary-Acadia in the 2023 provincial election.
"It's never crossed my mind to run for the leader of any political party," said Shandro. "I wasn't sure I wanted to be a politician or MLA in the first place."
Advanced Education Minister Demetrios Nicolaides said he won't be in the running.
"I don't have any plans for anything like that," he said, adding he does plan to run in the election.
Health Minister Jason Copping also tossed cold water on a bid.
"I'm not considering running for the leadership at this time. I'm focused on delivering health care for Albertans," he said.
Children's Services Minster Rebecca Schulz said: "It's too early to say."
Labour Minister Kaycee Madu had two words: "No comment."
On Monday, Jobs, Economy and Innovation Minister Doug Schweitzer announced he won't run for the leadership and won't run again for his seat in Calgary-Elbow.
Two candidates — Brian Jean and Danielle Smith — have said they will seek the leadership.
Jean and Schweitzer ran and lost to Kenney in the inaugural UCP leadership race in 2017. Jean has since returned to politics, winning a seat for the UCP earlier this year in a byelection on a platform to unseat Kenney as leader.
Smith is the former leader of the Wildrose Party, which merged under Jean with Kenney's Progressive Conservatives in 2017 to form the UCP.
The UCP is still working on details of the leadership race and no rules or timeline have been presented yet.
Tuesday was the first day the house sat since Kenney said last week he will quit the top job once a new leader is chosen.
He made the announcement after receiving 51 per cent support in a leadership review vote by party rank and file. He said the result reflects a deep division in the party that won't be fixed if he stays premier.
The Opposition NDP continued to hammer away at what it calls the "interim UCP" government. It said while the government focuses on its internal drama, Albertans are facing real challenges, including inflation, high gas and utility costs and long waiting lists for surgery.
"(There's) all kinds of uncertainty in Alberta politics right now, but one constant (is) this premier's self-importance," NDP finance critic Shannon Phillips told Kenney as he sat across the aisle from her, signing documents and answering questions in the house.
"Anyway," Phillips added, "enough about yesterday's man."
This report by The Canadian Press was first published May 24, 2022.
Alberta extends electricity rebate program until December at a cost of about $600M
Edmonton – The Alberta government says it will extend its electricity rebates until the end of the year as the cost of living continues to rise.
Dale Nally, who's the associate minister of natural gas and electricity, says the United Conservative government is doubling the rebate to help reduce the financial burden on Albertans.
The government says the electricity rebate program will now offer about $600 million in relief through 2022.
It says the program will provide nearly two million homes, farms and small businesses with a monthly $50 bill credit each month from July until December.
The government says it will also provide a natural gas rebate to millions of Albertans starting in October, which will continue until March 2023 if prices remain high.
Last week, Finance Minister Jason Nixon announced a $3.9-billion surplus for the 2021-22 fiscal year ending March 31.
This report by The Canadian Press was first published July 6, 2022.
Telus Corp. marks opening of Telus Sky in downtown Calgary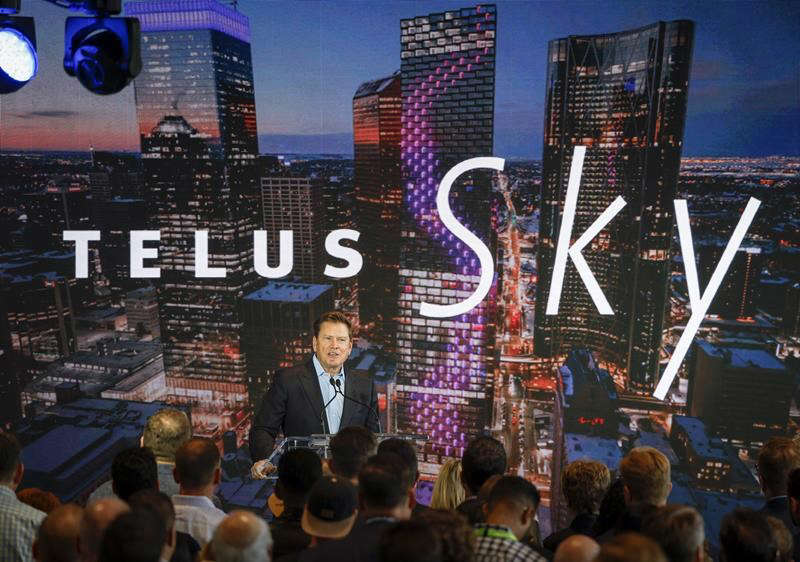 CALGARY — Telus Corp. marked the opening of its new 60-storey Calgary headquarters on Wednesday.
The new $400-million skyscraper, Telus Sky, has been in development for nine years and is now the third-tallest building in downtown Calgary. It features 750,000 square feet of office and retail space as well as 326 rental homes.
The building's eye-catching design, by architects Bjarke Ingels Group (BIG) and Dialog, along with developer partner Westbank and Allied, starts with a rectangular floorplate and then gradually twists as it rises.
Integrated into the facade of Telus Sky is Canada's largest public art display. "Northern Lights" by Canadian author and artist, Douglas Coupland, creates a light show across the building's exterior.
Telus Sky will be home to more than 1,600 Telus employees. It joins TELUS Garden in Vancouver, TELUS Harbour Toronto, TELUS House Ottawa, and Place TELUS Québec as one of the company's LEED (Leadership in Energy and Environmental Design) Platinum-certified buildings.
Among the building's environmental features is a storm water management system that recycles rainwater for use in washroom toilets, reducing the building's municipal water demand by 70 per cent.
This report by The Canadian Press was first published July 6, 2022.
Companies in this story: (TSX:T)
Amanda Stephenson, The Canadian Press