From Buy American to 'North American': Manchin-Schumer deal amends EV tax credits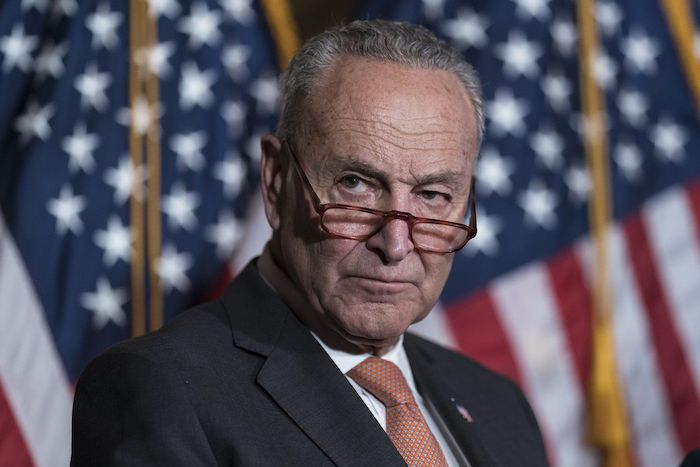 By James McCarten in Washington
No one, it seems, saw it coming — not even the federal government in Ottawa.
With time running out, Washington had all but given up on President Joe Biden's climate agenda, with two of the Senate's most powerful Democrats — Chuck Schumer, the majority leader, and West Virginia swing-vote moderate Joe Manchin — at an impasse.
All that changed late Wednesday when the pair unveiled a pared-down, $700-billion version of the Biden spending package, complete with an unexpected Christmas-in-July present for Canada: no more Buy American tax credits for electric vehicles.
Instead, Schumer and Manchin's amendment would extend the richest of those incentives to vehicles assembled in North America, rather than just the U.S., and also prioritize EVs with battery materials produced by the country's free trade partners.
"We thought Manchin, by having put a fork in it 10 days ago, that it was basically done," said Canada-U.S. expert Eric Miller, president of the D.C.-based Rideau Potomac Strategy Group.
"But the thing is, the guy made the deal, and that's where we are. His hearing on the Canadian stuff, where he brought down Jason Kenney and all these other people, and all the lobbying that Canada has done, paid off."
Manchin, chairman of the Senate energy and natural resources committee, hosted the Alberta premier for a hearing in May that focused heavily on discussions around energy security, the oilsands and the thorny issue of cross-border pipelines.
But it also lingered on the subject of critical minerals, the mission-critical ingredients of long-range batteries, and Canada's potential role in helping the U.S. challenge Chinese dominance in that sector amid the coming electric-vehicle revolution.
After that hearing, Manchin sent the clearest public signal to date that Canada's all-out lobbying effort to kill the tax credit scheme might be about to pay off.
"There's no way in the world that we're going to put that type of harm and allow that to happen," he said when asked whether he'd support Biden's tax credits in their original form.
"My vote would never support that at all."
Ever since Biden sat down with Prime Minister Justin Trudeau at the White House last November, Ottawa has been engaged in a diplomatic full-court press against the measure, Trade Minister Mary Ng said in an interview Thursday.
"It's really been a Team Canada approach, because it's that important," Ng said.
"We're very encouraged by this recognition of the tightly integrated Canada-U.S. supply chain, particularly as it relates to making vehicles and the future of vehicles, which are going to be green and electric vehicles. That is terrific."
Ng refused to say directly whether the news came as a surprise, but government officials in Ottawa quietly acknowledged Thursday they didn't see it coming — and that some of the U.S. counterparts they contacted for confirmation were just as taken aback.
The yearlong lobbying effort, which included provincial leaders as well as industry stakeholders, was rivalled in scope only by the 2017-18 NAFTA talks, the high-stakes Trump-era negotiation cauldron that forged the original "Team Canada" concept.
It targeted a wide array of U.S. officials and lawmakers, including both Schumer and Manchin, and involved at least one face-to-face meeting in recent months between the West Virginia senator and Deputy Prime Minister Chrystia Freeland.
"I am very pleased to see that our message has been heard and is reflected in the draft legislation," Kirsten Hillman, Canada's ambassador to the U.S., said in a statement late Wednesday.
Canada has been "relentless" in its efforts to convince Congress and the White House to abandon a plan "that discriminates against Canada and fractures the highly successful integration of our auto sector," Hillman said.
"We have all brought the facts to the table."
Across the board, Canada greeted the news with muted optimism — a prudent approach, given the superheated political atmosphere of Congress, said Louise Blais, a retired Canadian diplomat who served as ambassador to the UN and consul general in Atlanta.
"We shouldn't assume necessarily that this is going to be a walk in the park," said Blais, who now serves as a special adviser to the Business Council of Canada.
Democrats, all but written off two months ago in the face of spiralling inflation and Biden's dismal approval ratings, appear to have found a second wind heading into November's midterm elections, and their rivals will likely be loath to help.
"The Republicans, obviously, will be very reluctant to give a win. But at the same time, there is a sense that there's a lot of pro-business, pro-jobs components that are included in this bill that would be very, very attractive to many senators for what it would mean in their own states."
Manchin and Schumer say the Inflation Reduction Act of 2022, which includes a raft of spending on climate and energy projects, deficit reduction, prescription drugs and health-care premiums, will help the U.S. slash carbon emissions by 40 per cent by 2030.
"This is a great example of how to elevate critical bilateral issues with the Americans and deliver results by focusing on solutions that benefit them," said Flavio Volpe, president of the Toronto-based Auto Parts Manufacturers' Association.
"When the U.S. targets Canadian industrial capacity, especially in electric vehicle production, lawmakers are handicapping their own country's capacity to compete with China."
Meanwhile, experts are urging the federal government to consider what else the legislation could mean for Canadian competitiveness and attracting foreign direct investment.
The package includes $369 billion for emissions reduction measures, much of it earmarked for manufacturers directly, Blais said. Combined with long-standing state and regional incentives, the big kid on the block could be about to get a whole lot bigger.
"When it comes to attracting manufacturing, we are in some ways in a competition; there's no doubt about that," she said.
"When you layer on that federal investment — it's billions of dollars we're talking about — then I think Canada should be paying a great deal of attention to how that's going to change our ability to attract investment."
This report by The Canadian Press was first published July 28, 2022.
The return of Zellers: Hudson's Bay to resurrect Canadian discount retail chain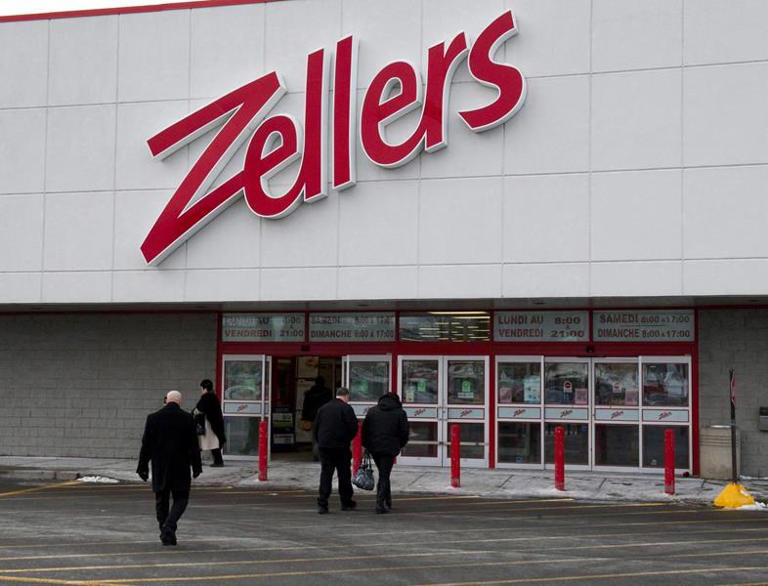 Canadian department store Zellers hopes to make a comeback next year, a decade after the discount chain shuttered most of its locations.
Hudson's Bay Co. said Zellers will debut a new e-commerce website and expand its brick-and-mortar footprint within select Hudson's Bay department stores across the country in early 2023.
The company said the relaunched Zellers will offer "a digital-first shopping journey that taps into the nostalgia of the brand."
The return of Zellers comes as soaring inflation drives consumers to discount retailers in search of lower prices and fierce competition from existing stores like Walmart and Dollarama.
It also comes amid an ongoing lawsuit over a Quebec family's use of the Zellers brand.
The Moniz family is behind various recent trademark applications and corporate registries, including Zellers Inc., Zellers Convenience Store Inc. and Zellers Restaurant Inc.
In a statement of claim filed last fall, HBC accused the Moniz family of trademark infringement, depreciation of goodwill and so-called passing off — the deceptive marketing or misrepresentation of goods.
The Zellers department store was founded in 1931 and acquired by HBC in 1978.
It operated as the discount division of its flagship Hudson's Bay department stores, with the slogan "Where the lowest price is the law."
The store hit its peak of about 350 locations in the late 1990s before losing ground to big box competitors such as Walmart.
In 2011, HBC announced plans to sell the majority of its remaining Zellers leases to Target Corp., closing most stores by 2013.
The retailer kept a handful of Zellers locations open as liquidation outlets until 2020.
The company recently launched pop-up Zellers shops inside Hudson's Bay department stores in Burlington, Ont., and in Anjou, Que.
This report by The Canadian Press was first published Aug. 17, 2022.
Brett Bundale, The Canadian Press
Inflation "slows" to 7.6 per cent in July, Statistics Canada says
Ottawa – Canada's year-over-year inflation rate slowed to 7.6 per cent in July, with the deceleration largely driven by a decline in gas prices.
The inflation rate hit a nearly 40-year-high of 8.1 per cent in June, but economists were widely expecting inflation to have since slowed.
In its latest consumer price index report, Statistics Canada said the rise in prices in July was the smallest monthly gains since December 2021.
It also marks the first decline in year-over-year inflation since June 2020.
The federal agency said gas prices rose 35.6 per cent year-over-year in July, compared with 54.6 per cent in June.
"Ongoing concerns related to a slowing global economy, as well as increased COVID-19 pandemic public health restrictions in China and slowing demand for gasoline in the United States led to lower worldwide demand for crude oil, putting downward pressure on prices at the pump," the report said.
But while gas prices declined, food prices at grocery stores rose at the fastest pace since August 1981, with prices up by 9.9 per cent on a year-over-year basis compared with 9.4 per cent the previous month.
Bakery goods are up 13.6 per cent since last year amid higher input costs as the Russian invasion of Ukraine continues to put upward pressure on wheat prices. The prices of other food products also rose faster, including eggs, which are up 15.8 per cent, and fresh fruit, up 11.7 per cent since last year.
As mortgage costs increase with higher interest rates, the report notes rent prices are accelerating, rising faster in July than the previous month.
With more Canadians travelling during the busy summer season, airfares rose by around 25 per cent in July compared with the previous month. Traveller accommodation prices rose by nearly 50 per cent since a year ago, with the largest price increases in Ontario.
As countries around the world struggle with skyrocketing prices, there are some signs inflation is beginning to ease, with the U.S. seeing its inflation rate decline in July as well.
Still, inflation is well above the Bank of Canada's two per cent target.
The central bank is watching the latest reading of inflation as it gears up to make its next key interest rate on Sept. 7, when it's expected to raise borrowing rates again.
This report by The Canadian Press was first published Aug. 16, 2022.