French writer Annie Ernaux awarded Nobel Prize in literature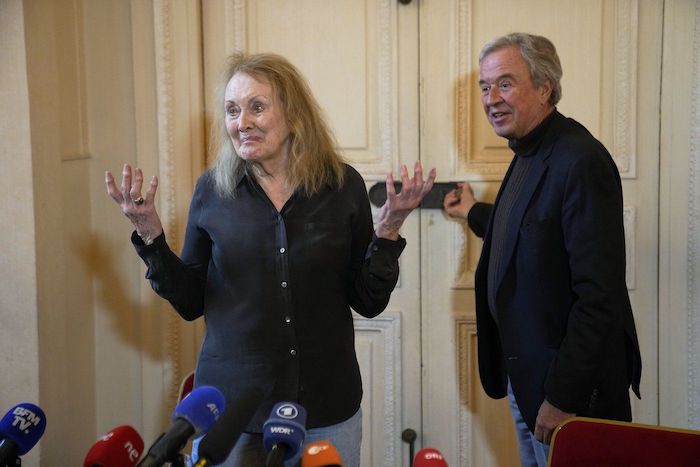 PARIS (AP) — French author Annie Ernaux won this year's Nobel Prize in literature Thursday for blending fiction and autobiography in books that fearlessly mine her experiences as a working-class woman to explore life in France since the 1940s.
In more than 20 books published over five decades, Ernaux has probed deeply personal experiences and feelings – love, sex, abortion, shame – within a society split by gender and class divisions.
After a half-century of defending feminist ideals, Ernaux said "it doesn't seem to me that women have become equal in freedom, in power," and she strongly defended women's rights to abortion and contraception
"I will fight to my last breath so that women can choose to be a mother, or not to be. It's a fundamental right," she said at a news conference in Paris. Ernaux's first book, "Cleaned Out," was about her own illegal abortion before it was legalized in France.
The prize-giving Swedish Academy said Ernaux, 82, was recognized for "the courage and clinical acuity" of books rooted in her small-town background in the Normandy region of northwest France.
Anders Olsson, chairman of the Nobel literature committee, said Ernaux is "not afraid to confront the hard truths."
"She writes about things that no one else writes about, for instance her abortion, her jealousy, her experiences as an abandoned lover and so forth. I mean, really hard experiences," he told The Associated Press after the award announcement in Stockholm. "And she gives words for these experiences that are very simple and striking. They are short books, but they are really moving."
French President Emmanuel Macron tweeted: "Annie Ernaux has been writing for 50 years the novel of the collective and intimate memory of our country. Her voice is that of women's freedom, and the century's forgotten ones."
While Macron praised Ernaux for her Nobel, she has been unsparing with him. A supporter of left-wing causes for social justice, she has poured scorn on Macron's background in banking and said his first term as president failed to advance the cause of French women.
Ernaux's books present uncompromising portraits of life's most intimate moments, including sexual encounters, illness and the deaths of her parents. Olsson said Ernaux's work was often "written in plain language, scraped clean." He said she had used the term "an ethnologist of herself" rather than a writer of fiction.
Dan Simon, Ernaux's longtime American publisher at Seven Stories Press, said that in the early years, "she insisted that we not categorize her books at all. She did not allow us to refer to them as fiction and she did not allow us to refer to them as nonfiction."
Ultimately, he said, Ernaux has created "a genre of fiction in which nothing is made up."
"She's a great storyteller of her own life," Simon said.
Ernaux worked as a teacher before becoming a full-time writer. Her first book was "Les armoires vides" in 1974 (published in English as "Cleaned Out"). Two more autobiographical novels followed – "Ce qu'ils disent ou rien" ("What They Say Goes") and "La femme gelée" ("The Frozen Woman") – before she moved to more overtly autobiographical books.
In the book that made her name, "La place" ("A Man's Place"), published in 1983 and about her relationship with her father, she wrote: "No lyrical reminiscences, no triumphant displays of irony. This neutral writing style comes to me naturally."
"La honte" ("Shame"), published in 1997, explored a childhood trauma, while "L'événement" ("Happening"), from 2000, dealt like "Cleaned Out" with an illegal abortion.
Her most critically acclaimed book is "Les années" ("The Years"), published in 2008. Described by Olsson as "the first collective autobiography," it depicted Ernaux herself and wider French society from the end of World War II to the 21st century. Its English translation was a finalist for the International Booker Prize in 2019.
Ernaux's "Mémoire de fille" ("A Girl's Story"), from 2016, follows a young woman's coming of age in the 1950s, while "Passion Simple" ("Simple Passion") and "Se perdre" ("Getting Lost") chart Ernaux's intense affair with a Russian diplomat.
Ernaux has described facing scorn from France's literary establishment because she is a woman from a working-class background.
"My work is political," she said at the news conference. She described growing up in a milieu outside the elite, a world of "people above you" and the seeming impossibility of becoming a famous writer.
The literature prize has long faced criticism that it is too focused on European and North American writers, as well as too male-dominated. Last year's prize winner, Tanzanian-born, U.K.-based writer Abdulrazak Gurnah, was only the sixth Nobel literature laureate born in Africa.
More than a dozen French writers have captured the literature prize, though Ernaux is the first French woman to win, and just the 17th woman among the 119 Nobel literature laureates.
Olsson said the academy was working to diversify its range, drawing on experts in literature from different regions and languages.
"We try to broaden the concept of literature but it is the quality that counts, ultimately," he said.
Ernaux said she wasn't sure what she would do with the Nobel's cash award of 10 million Swedish kronor (nearly $900,000).
"I have a problem with money," she told reporters. "Money is not a goal for me. … I don't know how to spend it well."
A week of Nobel Prize announcements kicked off Monday with Swedish scientist Svante Paabo receiving the award in medicinefor unlocking secrets of Neanderthal DNA that provided key insights into our immune system.
Frenchman Alain Aspect, American John F. Clauser and Austrian Anton Zeilinger won the physics prize on Tuesday for work showing that tiny particles can retain a connection with each other even when separated, a phenomenon known as quantum entanglement.
The Nobel Prize in chemistry was awarded Wednesday to Americans Carolyn R. Bertozzi and K. Barry Sharpless, and Danish scientist Morten Meldal for developing a way of "snapping molecules together" that can be used to explore cells, map DNA and design drugs to target cancer and other diseases.
The 2022 Nobel Peace Prize will be announced on Friday and the economics award on Monday.
The prizes will be handed out on Dec. 10. The prize money comes from a bequest left by the prize's creator, Swedish inventor Alfred Nobel, in 1895.
___
Keyton reported from Stockholm and Lawless from London. Masha Macpherson in Clergy, France; John Leicester in Le Pecq, France; Frank Jordans in Berlin; Naomi Koppel in London; Jan M. Olsen in Copenhagen and Angela Charlton in Paris contributed.
___
Follow all AP stories about the Nobel Prizes at https://apnews.com/hub/nobel-prizes
Lauded fashion designer Paco Rabanne dies at age 88
PARIS (AP) — Paco Rabanne, the Spanish-born pace-setting designer known for perfumes sold worldwide and his metallic, space-age fashions, has died, the group that owns his fashion house announced on its website Friday. He was 88.
"The House of Paco Rabanne wishes to honor our visionary designer and founder who passed away today at the age of 88. Among the most seminal fashion figures of the 20th century, his legacy will remain," the statement from Puig said.
Rabanne's fashion house shows its collections in Paris, and is scheduled to unveil the brand's latest ready-to-wear designs during fashion week from Feb. 27-March 3.
The Associated Press
Red Deer Arts Council invites you to experience beautiful works from area artists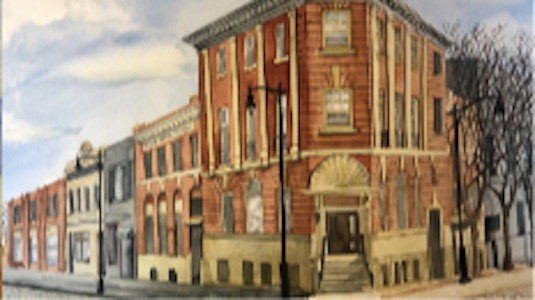 First Fridays Red Deer February 3, 2023
Visit the new, interactive Gallery Guide with map and listings at:
https://www.reddeer.ca/recreation-and-culture/arts-and-culture/art-galleries/gallery-guide/
Title: Mirror, Mirror on the Wall
Oil on Canvas, 2022
Artist: Sharon Wright

Title: The Floral Female Connection
Artists: Sharon Wright
Kiwanis Gallery and Snell Auditorium, 4818 49 Street, in Red Deer Public Library – operated by Red Deer Arts Council
Media: Oils and Mixed Media
Dates: continues to February 20, 2023
#FirstFridaysRedDeer opening reception January 6 from 5:30 – 7:30pm
Gallery/Library Hours: Mon – Thurs: 9 am – 8 pm, Fri: 9 am – 5 pm, Sat & Sun: 10 am – 3 pm
Title: The Brush Decides
Artists: Cathy Fee
The Red Deer Arts Council's New Community Gallery, 6–4919 49 Street
Dates: continues until February 15, 2023
#FirstFridaysRedDeer reception February 3, 2023 from 5pm – 7pm.
Ft. Macleod 1
Digital Print, 2015
Peter Greendale
Title: Found Light
Artists: Peter Greendale
The Viewpoint Gallery, 5205 48 Ave
Media: Digital Photography
Dates: continues until February 24, 2023
First Friday, February 3 the gallery will be open 8am – 8pm
About the Gallery: The Viewpoint Gallery showcases original works of art by individual artists and collectives, and curated exhibitions. The gallery is in the lobby of the City of Red Deer
Creativity Understood.
Culture Services facility. Visit our Viewpoint Gallery page for more information. Hours of operation: Mon – Fri 8:00 am – 4:30 pm; after hours and weekends during scheduled programs.
Title: Upon Further Reflection: Highlights from the Past 50 Years
Dates: December 17, 2022 – March 11, 2023
The MAG will be open with no reception – February 3, 2023 from 5 pm to 8 pm
Join the MAG as part of #FirstFridaysRedDeer for a look at their current exhibits, Upon Further Reflection: Highlights from the Past 50 Years and Landmarks:
A Sense of Place.
Title: A Sense of Place (Detail)
Artist: Carol Lynn Gilchrist
Lacombe's Flat Iron Building (Detail)
Artist: Wendy Meeres

Watercolour, 2016 Watercolour, 2022
Title: At Ease
Artist: Susan Delaney

Riverlands Studio and Gallery, 5123 48 Street
Media: Acrylic, Collage, Mixed Media Paintings
Dates of Exhibition: February 1 – March 15, 2023
Opening Reception: February 3 from 5:30 – 8:30 pm
DESCRIPTION – Gesture, landscape, collage, abstraction, memory, home and history – some of Susan Delaney's long-standing studio interests – are learning to
play well together in her current practice.
http://Facebook.com/RiverlandsStudioandGallery
http://Instagram.com/@clgilchrist_artist
http://Instagram.com/@susandelaneyart
http://Facebook.com/delaneyart
Creativity Understood.
**********
Galleries & Exhibitions with no planned Opening Events
Title: Culmination of Inspiration
Artists: Trenton Thomas Leach
Media: Metal, Glass, Wood, Stone
Lacombe Performing Arts Centre, 5227 C & E Trail, Lacombe
Dates: until February 21, 2023
LPAC hours: Monday – Thursday, 9 AM – 3 PM, and Friday 10 AM – 2 PM.
Description – Inspiration can come through so many sources – from environment, experience, people, and more.
For Trenton, his exhibit,
"Culmination of Inspiration," showcases varied concepts.
Working with musicians, visiting a museum, garnering inspiration through other artists – this exhibit shows a variety of sculptures and wall art that is combines
all sources of inspiration. Trenton creates the art with metal, glass, wood, and stone; always on the lookout for different ways to incorporate different mediums into his art and anticipating the moments that become new sources of inspiration.
Trenton is a Central Alberta Artist that creates public and private sculptures using stained glass and metal. He teaches metal sculpture at the summer art "Series" program at Red Deer Polytechnic and stained-glass classes at Lacombe Performing Arts Centre. Trenton's inspiration for art often comes from nature, travel, painters, and musicians. He has actively been an artist for over 22 years and works in his studio, Rogue Art and Design, here in Lacombe.
Title: Urban Nature
Artists: Members of Contextural Fibre Arts Cooperative
Media: Fibre Arts
Marjorie Wood Gallery in the Kerry Wood Nature Centre, 6300 45 Avenue
Dates: December 18, 2022 – February 17, 2023
No #FirstFridaysRedDeer opening reception for February.
Title: An Exploration of Expression
Artist: Brad Olstad
Velvet Olive Lounge, 4928C 50 Street, Red Deer
Media: Mixed
Creativity Understood.
No reception for February.
Untitled
Mixed Media
Brad Olstad
Artist: Audrey Rits
Corridor Community Gallery, 4501 47A Avenue, Red Deer (lower level at Recreation Centre)
Dates: November 4 – February 2, 2022
Media: Mixed
Open until 5pm on #FirstFridaysRedDeer
About the Gallery: Located adjacent to The City's ceramics studio and recreation studios in the lower level of the Recreation Centre, this space provides a public venue for local artists and allows us to share in the talents and interests of fellow community members. Visit our Corridor Community Gallery page for more information.
Hours of operation: Mon – Fri 5:30am – 10pm, Sat 8am – 10pm, Sun/Holidays: 12 – 5pm.
Artribute Art School, 212 – 4836 50 Street, in the Old Courthouse. Treaty 6 & 7
Art in the Hallway, YMCA Northside Community Centre, 6391 76 Street, Red Deer
Curiosity Art & Framing, Bay 4 – 4676 61 Street, Riverside Industrial
First Fridays Red Deer is the monthly event where downtown art galleries hold exhibit openings and special events.