Frank Bonner, Herb on 'WKRP in Cincinnati,' dies at 79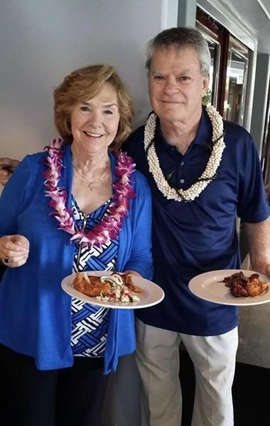 LOS ANGELES (AP) — Frank Bonner, who played a brash salesman with an affection for polyester plaid suits on the TV comedy "WKRP in Cincinnati," has died. He was 79.
Bonner died Wednesday from complications of Lewy body dementia, said his daughter, Desiree Boers-Kort. The actor died at his home in Laguna Niguel, south of Los Angeles.
He had been diagnosed about three years ago with the disease that leads to worsening mental and physical complications.
"WKRP in Cincinnati" aired from 1978-1982 and was set in a lagging Ohio radio station trying to reinvent itself with rock. The cast included Gary Sandy, Tim Reid, Howard Hesseman and Jan Smithers, alongside Bonner as subpar ad salesman Herb Tarlek.
Loni Anderson, who played the station's empowered receptionist Jennifer, said she was "heartbroken" over his death.
"Frank Bonner was like family," Anderson said in a statement. "He was one of the funniest men I had the pleasure of working with and he was the nicest man I have ever known."
Boers-Kort said her father valued his time on the sitcom in part because it led him toward the career he favored over acting — directing. After taking on that job for six episodes of "WKRP," he went on to direct for more than a dozen other 1980s and 1990s shows including "Simon & Simon," "Who's the Boss" and "Saved by the Bell: The New Class."
Bonner continued to act, including in the early 1990s sequel "The New WKRP in Cincinnati," "Scarecrow and Mrs. King" and "Night Court."
"He did prefer the behind-the-camera (work), and he thoroughly enjoyed helping people get to where he needed them to be for the scenes," Boers-Kort said Thursday. "He was very humble and down-to-earth, and just a nice, kind human."
He got a kick out of Herb's ill-advised wardrobe and kept some of the belts when the show ended, his daughter said. He was fond of them because he knew the character's style was "one of the things that people loved about him."
A native of Arkansas whose birth name was Frank Boers Jr., he was raised in the city of Malvern. His Hollywood career began in the 1970s with the film "Equinox" and on TV dramas, including "The Young Lawyers" and "Mannix."
Bonner is survived by his wife, Gayle Hardage Bonner, who was his high school sweetheart in Malvern. The pair reunited and eventually wed four decades later and after previous marriages for both, his daughter said.
Other survivors include sons Matthew and Justine Bonner; stepdaughter DeAndra Freed; seven grandchildren and a great-grandchild. Bonner was preceded in death by his son, Michael.
Lynn Elber, The Associated Press
Canada's Jessica Klimkait wins bronze in under-57 kg judo event
TOKYO — Canada's Jessica Klimkait has won bronze in the women's under-57 kilogram category at the Tokyo Olympics.
The reigning world champion from Whitby, Ont., defeated Kaja Kajzer of Slovenia by waza-ari in a bronze-medal match.
Klimkait missed a chance to add a gold medal to her world championship title when she lost to Sarah Leonie Cysique of France in the semifinals.
Klimkait was defeated by ippon when she was assessed a shido in the golden score period for a false attack. It was Klimkait's third penalty of the bout, giving Cysique a berth on the gold-medal match.
Klimkait was in fine form before her semifinal loss. She defeated Poland's Julia Kowalczyk in their quarterfinal bout at the Nippon Budokan.
The victory, her second straight via ippon, came after she beat Bulgaria's Ivelina Ilieva in the round of 16 earlier in the day
This report by The Canadian Press was first published July 26, 2021.
The Canadian Press
Mac Neil finishes first in women's 100 butterfly to capture Canada's first gold medal
TOKYO — Swimmer Margaret Mac Neil has won Canada's first gold medal of the 2020 Tokyo Olympics.
Mac Neil was seventh at the halfway point of the women's 100-metre butterfly, but swam a strong second length to win in a time of 55.59 seconds.
Zhang Yufei of China was second and Emma McKeon of Australia finished third.
Mac Neil became Canada's first multi-medallist in Tokyo following a silver medal in the women's 4×100 freestyle relay in the first day of finals.
The 21-year-old from London, Ont., was a surprise winner of the 100-metre butterfly at the 2019 world championship in Gwangju, South Korea, where she bested reigning Olympic champion Sarah Sjoestroem of Sweden.
Mac Neil, a senior at the University of Michigan, is also a two-time NCAA champion in freestyle and butterfly. 
She'd posted the sixth-fastest semifinal time in the 100-metre butterfly an hour before swimming the second leg of the relay in Tokyo.
This report by The Canadian Press was first published July 25, 2021.
The Canadian Press