Foreign supply of children's pain meds set to hit Canadian shelves next week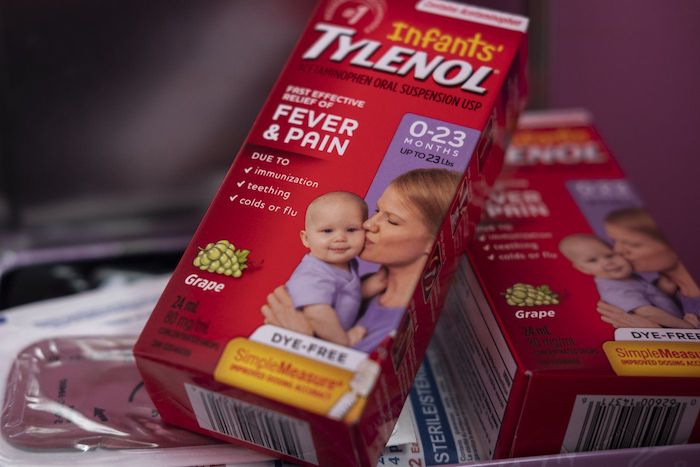 By Jordan Omstead
A large foreign supply of children's fever and pain medication is expected to start showing up on pharmacy and retail shelves next week, Health Canada said Friday.
One million bottles of the children's medication will have been distributed to hospitals, pharmacies and retailers after next week, health officials said during a media briefing.
"The initial supplies, including that one million bottles, is of acetaminophen for children and those are the products that are destined for the pharmacies and the retailers," said Chief Medical Adviser Dr. Supriya Sharma.
Hospital, pharmacies and parents with sick kids have been grappling with a nationwide shortage of children's Tylenol and Advil since spring, exacerbated by the early arrival of influenza and respiratory syncytial virus along with the ongoing COVID-19 pandemic.
Sharma did not provide a specific breakdown of where those bottles are coming from and where they will be distributed. But she said hospital supply "seems to be quite stable now."
Hospitals have reported surges in the number of kids admitted to emergency and intensive care units. Canada's largest pediatric health centre, the Hospital for Sick Children in Toronto, said last week it was reducing surgeries to preserve its critical care capacity after reporting its ICU had been well above capacity for several days.
Health Canada said production of children's acetaminophen and ibuprofen is double what it was last year, but demand is still outstripping supply.
Sharma said Health Canada approved three proposals to import foreign product and the supply has already started to arrive in the country. That move was "always on the table," but it's been taken up with urgency since the late summer and early fall, she said.
Health Canada regularly uses its power to temporarily authorize imports of drugs labelled for a foreign market to help prevent or ease shortages.
"The product that's coming in, just to say, for these first shipments, is actually very similar, almost exactly the same as the product that's already authorized in Canada in terms of in formulation," Sharma said.
Health Canada said it would update the list of authorized imports with the recent approvals early next week, and launched a web page dedicated to the children's acetaminophen and ibuprofen shortages.
The arrival of new shipments came as a relief to some parents with young children who for months have been anxiously met by empty pharmacy shelves and have had to jump through hoops to purchase the hard-to-find medication.
"My gut reaction is, it's about time. And is that even enough? Because everybody's kids are home all the time " said Kelly O'Dwyer-Manuel, a mother to two young boys, aged 2 and 6, in Peterborough, Ont.
"I'm glad that there's something but, man, that took them a long time to get there."
Since early September, either one or both of O'Dwyer-Manuel's young sons have been at home sick at least once a week, she said. She bought boxes of ibuprofen at a markup online and had them shipped from the U.S.
Despite the foreign supply set to soon arrive in Canada, O'Dwyer-Manuel said she expects to eventually rely on the goodwill of colleagues south of the border, who have offered to send her medication.
"It would be nice to see some concrete plans from leaders at all levels of government," she said. "The burden on parents is pretty extraordinary."
Sharma, the chief medical adviser, said it's challenging to predict the demand for acetaminophen and ibuprofen given their use for a range of conditions. Demand, she said, has been "very atypical" in recent months and "very challenging to predict."
"We'll see what happens in terms of the supply that goes out there, how quickly it's been taken up, what the supply situation is, then we continually reassess that."
Health Canada officials said the agency was also looking at foreign supply to help ease a shortage of some formulations of amoxicillin, an antibiotic frequently used to treat children with ear infections, bronchitis and pneumonia.
Officials were grilled about the drug shortages earlier this week by a House of Commons health committee, with MPs demanding answers about when it began, what was behind it and who was to blame.
This report by The Canadian Press was first published Nov. 18, 2022
Food inflation in Canada shows signs of easing, but grocery prices to remain high
A woman shops for produce in Vancouver, on Wednesday, July 20, 2022. Food inflation appears to be easing in Canada but experts say consumers shouldn't expect lower prices at the grocery store. THE CANADIAN PRESS/Darryl Dyck
Food inflation appears to be easing in Canada, but experts say shoppers shouldn't expect lower prices at the grocery store.
Statistics Canada says the cost of groceries in February rose 10.6 per cent compared with a year before, down from an 11.4 per cent year-over-year increase in January.
Yet a falling food inflation rate doesn't mean the price of food is coming down.
Instead, it means prices are rising less quickly, signalling the worst of the era of grocery price hikes could be behind us.
Sylvain Charlebois, director of the Agri-Food Analytics Lab at Dalhousie University, says the food inflation rate is expected to continue to cool throughout the spring and into summer.
But he says Canadians may still experience sticker shock at the grocery store as some food prices are still significantly higher than a year ago.
This report by The Canadian Press was first published March 21, 2023.
Alberta moves to force oilpatch to pay owed taxes above 'threshold' amount
The Alberta government says it's moving to force oilpatch companies to make good on their unpaid municipal taxes.
Energy Minister Peter Guthrie says he's issued an order that blocks companies from acquiring or transferring licences on wells or other assets if their unpaid taxes exceed a threshold amount.
That threshold is yet to be determined and will be set by the Alberta Energy Regulator and Alberta Municipal Affairs.
Alberta Energy says in a release that once the threshold has been established, companies that don't meet it will be targeted for collection.
Rural Municipalities Alberta has said energy companies owe the municipal districts in which they operate a total of $268 million.
Paul McLauchlin of the group says the order will help reduce the unpaid tax burden on its members.
This report by The Canadian Press was first published March 20, 2023.
The Canadian Press