Foegele scores 2 to lift Oilers to 5-3 win over Kraken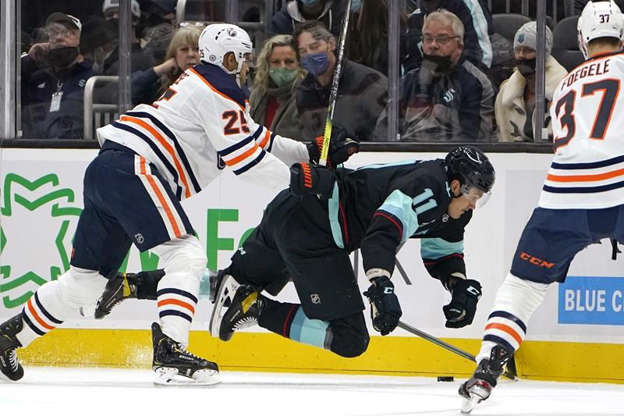 SEATTLE (AP) — Warren Foegele scored twice, including the go-ahead goal in the third period, and the Edmonton Oilers beat the Seattle Kraken 5-3 on Saturday night.
Evan Bouchard and Connor McDavid each had a goal and an assist, and Colton Sceviour also scored for the Oilers, who have won two straight after a six-game losing streak. Leon Draisaitl had three assists and Stuart Skinner had 14 saves.
It was Foegele's first multi-goal game of the season.
"He's such a quick, up-tempo player," Oilers associate coach Jim Playfair said. "He went to their net hard and was rewarded for it."
Foegele's tiebreaking goal with about 11 minutes left to play was initially waved off as he fell into Driedger as the puck went into the net. After review, it was determined that he was pushed into the goalie, negating the interference call.
"I knew I wasn't in the paint, I knew I got pushed in there, but you never know with some of these decisions," Foegele said. "Just try to get to the net — good things happen when you go to the net."
Ryan Donato, Jared McCann and Carson Soucy scored for Seattle, and Jordan Eberle had two assists. Chris Dreidger had a season-high 36 saves as the Kraken fell to 1-4-1 in their last six games.
"It was a pretty tight hockey game," Kraken coach Dave Hakstol said. "We couldn't get a push in the second and third periods. We didn't get through the neutral zone and we didn't get any type of a forecheck going, so there was no momentum to be found for us."
The Kraken opened a 2-0 lead early in the game. Donato opened the scoring about four minutes in, giving him a goal in his third straight game — matching his career high.
McCann had the second goal about five minutes later, when Eberle's pass from behind the net found him right in front. It was McCann's 12th goal, tying him with Eberle for the team lead.
The Oilers tied it late in the first period. Evan Bouchard got the first with about seven minutes to go on a shot from the point that bounced off the glove of Driedger before finding the net.
Edmonton's league- best power play tied it with three minutes left in the first, as Foegele hammered in a loose rebound to make it 2-2.
"Whatever the score is you've still got to play the right way," Foegele said. "We were continuing to attack, and it's not fun to play against a team that's constantly attacking and playing hard. You keep pounding that rock and the rock's going to chip."
The teams traded goals in the second period. Sceviour scored with seven minutes to go, and Soucy it again with 3 1/2 minutes left in the second.
McDavid had an empty-net goal in the final minute.
NOTES: Seattle's Brandon Tanev took a hit against the boards with about four minutes left in the game, and stayed down on the ice in pain. When he skated off, he was helped off the ice and did not put weight on his right leg. Hakstol said he didn't have an update on Tanev's condition after the game. … Earlier Saturday, Oilers F Jesse Puljujarvi was placed in COVID-19 protocol, a day after F Ryan Nugent-Hopkins and defenseman Duncan Keith. The Oilers now have five players and head coach Dave Tippett in COVID-19 protocol, as Devin Shore and Ryan McLeod have already missed games. … Before the game, Seattle announced D Jamie Oleksiak was unavailable due to COVID protocol. The Kraken's Colin Blackwell, Yanni Gourde, and Riley Sheahan were already on the COVID-19 list.
UP NEXT
Oilers: Host Anaheim on Monday night.
Kraken: Host Arizona on Tuesday night.
Daimon Eklund, The Associated Press
Driver charged with first-degree murder in Quebec daycare bus attack that killed two
By Morgan Lowrie and Stéphane Blais in Laval
LAVAL, Que. — A transit driver has been charged with two counts of first-degree murder after two children were killed and six were seriously injured when a city bus crashed into a daycare north of Montreal.
Pierre Ny St-Amand, 51, appeared by video late Wednesday afternoon from a hospital room and will remain detained. Court documents show he faces a total of nine charges, including attempted murder, aggravated assault and assault causing bodily harm. The dead children were both four years old, identified in the documents only by their initials.
Witnesses who arrived at the daycare soon after the crash Wednesday morning said several people had to restrain the driver after he got off the bus, adding that the suspect seemed delirious.
Hamdi Benchaabane, a neighbour to the daycare, said he rushed to the scene of the crash. Benchaabane told reporters that he and three others managed to subdue the driver, who he said had stepped off the bus, removed all his clothing and started screaming.
"He was yelling, he didn't stop yelling," Benchaabane said. "The first thing he did was take off all his clothes after opening the bus door …. He was just yelling, there were no words coming out of his mouth."
Aerial news footage from the scene showed a Société de transport de Laval bus that had smashed through the front of the Garderie Éducative Ste-Rose. Benchaabane said he believes the driver deliberately drove into the daycare, which is located at the end of a driveway off a cul-de-sac. There is a bus stop on the cul-de-sac, but the driver would have had to veer off the road and head down the long driveway to hit the building.
Police said a 911 call about the crash was received at 8:30 a.m., which is typically around the time parents drop their children off for the day. Mario Sirois, another neighbour, said he was among the first on the scene and helped stop the suspect as he tried to flee.
"It can't be an accident," Sirois said. "There were no signs of skid marks. It was deliberate. He went directly into the daycare."
Sirois's wife, Ginette Lamoureux, described a scene of horror inside the daycare. "The children were screaming and crying, they were all in a room …. A mother arrived and collapsed," she said. "The policewoman was trying to calm her down. I left, I was no longer able."
Benchaabane said he and the others had to strike the driver to get him under control before police handcuffed the man. The driver, he said, "was in a different world."
He said he was able to help pull one child from the daycare, adding that he and the others tried to save a second child before firefighters ordered them to leave because pieces of the roof were at risk of falling.
"It was a nightmare, I can't believe it," Benchaabane said of what he witnessed. "It was horrible."
Dozens of police and emergency vehicles lined the blocked-off road leading to the daycare. Panicked parents tried to run down the road to the site, but were redirected to a nearby elementary school building that was turned into a gathering point.
Parents, some in tears, could be seen walking away from the school with their young children in their arms. When asked how she felt, one mother said only that she was "relieved."
Diane Pilon, a grandmother, said she rushed to the daycare after learning of the crash. She said she was relieved to learn her one- and five-year-old grandchildren were doing well, but she said her thoughts were with the families of those injured or killed. "It's a test for all parents," she said.
According to the daycare's website, it has capacity for up to 80 children.
Laval police Chief Pierre Brochet told reporters at the scene Wednesday afternoon that he was having trouble controlling his emotions.
"I saw colleagues crying; it's difficult," he said. "The job of police officer requires you to be ready for any situation, but when it comes to children it's hard." Brochet said police did not have information about a motive for the attack.
Documents list the injured children as being four and five years old. Four of them — two boys and two girls — were taken to Montreal's Sainte-Justine pediatric hospital, said Dr. Marc Girard, head of professional services. They were conscious when they arrived at the hospital and were being evaluated, he told reporters, adding that one child was in intensive care.
Officials at Laval's Cité-de-la-Santé hospital said they received three crash victims, one of whom died. The other two were under observation in the emergency department, said Dr. Patrick Tardif, head of emergency at the hospital.
Laval Mayor Stéphane Boyer said the driver had worked for the transit agency for about 10 years and had no incidents of note on his file. The Quebec branch of the Canadian Union of Public Employees, which represents drivers with the Laval transit service, tweeted that it was "truly devastated" by the tragedy. "We will co-operate fully with the authorities in the investigation," it said.
Quebec Premier François Legault said his thoughts are with the children and their families, as well as with the employees of the daycare. "We are going to give the parents all the help we can, and as a father, I am shaken," he said in Quebec City. Legault said later on Twitter that he will visit Laval on Thursday.
In Ottawa, Prime Minister Justin Trudeau said he could not imagine what families of the victims were going through.
"There are no words for parents who've lost their children this way," he said. "All Canadians are grieving with them and we'll do whatever we can to support them in their horrific pain through the coming days and months and years of grief."
St-Amand's case returns to court on Feb. 17.
This report by The Canadian Press was first published Feb. 8, 2023.
— With files from Jacob Serebrin and Sidhartha Banerjee in Montreal.
Canadian assessment team deployed to Turkey after earthquake
OTTAWA — A senior government official says a Canadian assessment team is on its way to Turkey to determine how Canada can contribute to earthquake relief efforts.
International Development Minister Harjit Sajjan was expected to formally announce the deployment of the Canadian Disaster Assessment Team this evening.
The senior official, who spoke on background pending Sajjan's official confirmation, said the team consists of a handful of military and Global Affairs officials.
The official underscored that the deployment of the team does not automatically guarantee a further deployment of Canadian resources to the country.
The earthquake, which razed thousands of buildings in Turkey and Syria on Monday, is one of the deadliest quakes worldwide in more than a decade and the federal government is facing criticism that the window to help with rescue efforts is closing.
Search teams from more than two dozen countries have joined tens of thousands of local emergency personnel and Canadian humanitarian aid workers with charitable organizations were arriving Wednesday
Defence Minister Anita Anand said late Tuesday that the federal government had not ruled out sending a Disaster Assistance Response Team, to help with the recovery effort, but that it was working to figure out what would be most useful.
The assessment team would recommend whether to send additional support, such as a DART.
Earlier Wednesday, Prime Minister Justin Trudeau announced the federal government would match funds donated to Canadian Red Cross relief efforts up to $10 million on top of an initial aid package of $10 million.
This report by The Canadian Press was first published Feb. 8, 2023.
The Canadian Press