Fires rage in several states as heat wave broils US West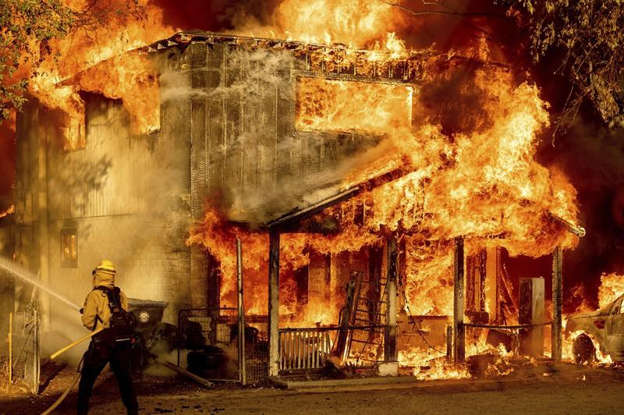 SAN FRANCISCO — Firefighters working in searing weather struggled to contain a Northern California wildfire that continued to grow Sunday and forced the temporary closure of a major highway, one of several large blazes burning across the U.S. West amid another heat wave that shattered records and strained power grids.
In Arizona, a small plane crashed Saturday during a survey of a wildfire in rural Mohave County, killing both crew members on board. The Beech C-90 aircraft was helping perform reconnaissance over the lightning-caused Cedar Basin Fire, near the tiny community of Wikieup northwest of Phoenix, when it went down around noon.
Officials on Sunday identified the victims as Air Tactical Group Supervisor Jeff Piechura, 62, a retired Tucson-area fire chief who was working for the Coronado National Forest, and Matthew Miller, 48, a pilot with Falcon Executive Aviation contracted by the U.S. Forest Service. The National Transportation Safety Board is investigating the crash.
"Our hearts go out to the families of our brave wildland firefighters," an Arizona Bureau of Land Management spokesperson said in a statement.
In California, officials asked all residents to reduce power consumption quickly after a major wildfire in southern Oregon knocked out interstate power lines, preventing up to 5,500 megawatts of electricity from flowing south into the state.
The California Independent System Operator, which runs the state's power grid, said Saturday the Bootleg Fire took three transmission lines off-line, straining electricity supplies as temperatures in the area soared.
"The Bootleg Fire will see the potential for extreme growth today," the National Weather Service in Medford, Oregon, tweeted Sunday.
Pushed by strong winds, the blaze exploded to 224 square miles (580 square kilometers) as it raced through heavy timber in Oregon's Fremont-Winema National Forest, near the Klamath County town of Sprague River.
To the southeast, the largest wildfire of the year in California was raging near the border with Nevada. The Beckwourth Complex Fire — a combination of two lightning-caused blazes burning 45 miles (72 kilometers) north of Lake Tahoe — showed no sign of slowing its rush northeast from the Sierra Nevada forest region after doubling in size between Friday and Saturday.
Late Saturday, flames jumped U.S. 395, which was closed near the small town of Doyle in California's Lassen County. The lanes reopened Sunday, and officials urged motorists to use caution and keep moving along the key north-south route where flames were still active.
"Do not stop and take pictures," said the fire's Operations Section Chief Jake Cagle. "You are going to impede our operations if you stop and look at what's going on."
Cagle said structures had burned in Doyle, but he didn't have an exact number. Bob Prary, who manages the Buck-Inn Bar in the town of about 600 people, said he saw at least six houses destroyed after Saturday's flareup. The fire was smoldering Sunday in and around Doyle, but he feared some remote ranch properties were still in danger.
"It seems like the worst is over in town, but back on the mountainside the fire's still going strong. Not sure what's going to happen if the wind changes direction," Prary said. Erratic winds were a concern for firefighters, Cagle noted, with gusts expected to reach 20 mph (32 kph).
The blaze, which was only 9% contained, increased to 131 square miles (339 square kilometers). Temperatures in the area could top 100 degrees (37 Celsius) again Sunday.
It was one of several fires threatening homes across Western states that were expected to see triple-digit heat through the weekend as a high-pressure zone blankets the region.
Death Valley in southeastern California's Mojave Desert reached 128 degrees Fahrenheit (53 Celsius) on Saturday, according to the National Weather Service's reading at Furnace Creek. The shockingly high temperature was actually lower than the previous day, when the location reached 130 F (54 C).
Death Valley also recorded a 130-degree day in August of last year. If that reading and the one Friday are confirmed by experts as accurate, they will be the hottest highs recorded there since July 1913, when the Furnace Creek desert hit 134 F (57 C), considered the highest measured temperature on Earth.
The National Weather Service warned the dangerous conditions could cause heat-related illnesses.
Palm Springs in Southern California also hit a record high temperature of 120 F (49 C) Saturday, while Las Vegas tied the all-time record high of 117 F (47 C).
NV Energy, Nevada's largest power provider, also urged customers to conserve electricity Saturday and Sunday evenings because of the heat wave and wildfires affecting transmission lines throughout the region.
In Idaho, Gov. Brad Little mobilized the state's National Guard to help fight fires sparked after lightning storms swept across the drought-stricken region.
___
Associated Press writers Daisy Nguyen in San Francisco, Martha Bellisle in Seattle and Paul Davenport in Phoenix contributed to this report.
Christopher Weber, The Associated Press
Privacy czar probing complaints about federal public service vaccination requirement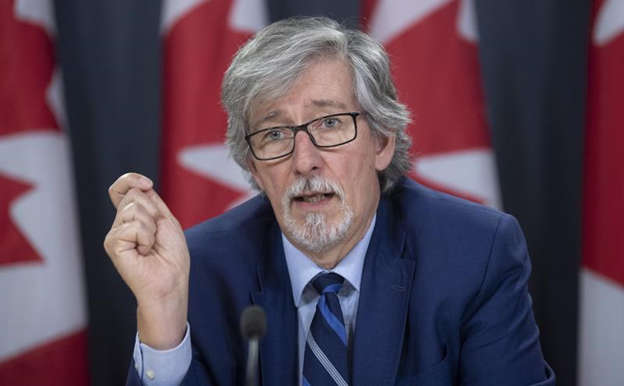 OTTAWA — The federal privacy watchdog is investigating "a number of complaints" about the government's COVID-19 vaccination requirement for public servants.
Privacy commissioner Daniel Therrien said in a statement Friday his office was looking into the concerns, but provided no details given they are now the subject of "ongoing investigations."
The Liberal government announced earlier this month that core public servants must be vaccinated against the virus or face suspension without pay as early as Nov. 15.
Prime Minister Justin Trudeau also announced this week that provinces and the federal government have agreed on a new national vaccine passport for domestic and international travel.
Therrien said his office has had "constructive discussions" with federal officials over the last few months on the standardized proof-of-vaccination for travel initiative.
"That being said, in recent days, our office has received a number of complaints related to the government's COVID-19 vaccination requirement for federal public servants. We will therefore be investigating the application of privacy principles in this context."
He added that although the initiatives are distinct, the principles applicable to vaccine passports for travel and to the vaccination requirement for federal public servants are the same.
"It would therefore be inappropriate to offer conclusions until we have completed our investigations," Therrien said.
"Given the complaints about the public service vaccination requirement are now the subject of ongoing investigations, no further details can be provided."
Therrien said Friday that vaccine passports might offer significant public health benefits but they remain exceptional measures. "They should only be imposed after careful consideration of privacy and other human rights principles."
In May, Therrien and his counterparts across the country said respect for laws and principles governing personal information must guide introduction of proof-of-vaccination certificates that could smooth the transition to post-pandemic life.
In the joint statement, federal, provincial and territorial privacy commissioners said that in order to be justified, vaccine passports must be necessary to achieve their intended public health purposes, and their effectiveness in meeting the goals should be evidence-based.
The commissioners also said privacy risks associated with the initiative must be proportionate to the purpose, the personal information collection limited, the data used only for the intended goal, and the program have an expiration date.
"The government has provided us with information relevant to each of these criteria," Therrien said Friday.
This report by The Canadian Press was first published Oct. 22, 2021.
Jim Bronskill, The Canadian Press
Warrant: Baldwin didn't know weapon contained live round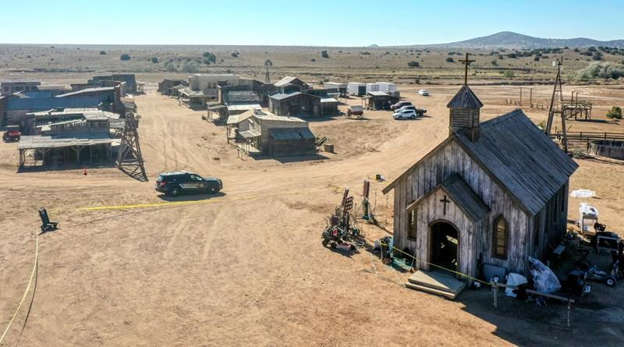 SANTA FE, N.M. (AP) — An assistant director unwittingly handed Alec Baldwin a loaded weapon and told him it was safe to use in the moments before the actor fatally shot a cinematographer, court records released Friday show.
"Cold gun," the assistant director announced, according to a search warrant filed in a Santa Fe court.
Instead, the gun was loaded with live rounds, and when Baldwin pulled the trigger Thursday on the set of a Western, he killed cinematographer Halyna Hutchins. Director Joel Souza, who was standing behind her, was wounded, the records said.
The Santa Fe County Sheriff's Office obtained the warrant Friday so investigators could document the scene at the ranch outside Santa Fe where the shooting took place. They sought to examine Baldwin's blood-stained costume for the film "Rust," as well as the weapon that was fired, other prop guns and ammunition, and any footage that might exist.
The gun was one of three that the film's armorer, Hannah Gutierrez, had set on a cart outside the wooden structure where a scene was being acted, according to the records. Assistant director Dave Halls grabbed the gun from the cart and brought it inside to Baldwin, unaware that it was loaded with live rounds, a detective wrote in the search warrant application.
It was unclear how many rounds were fired. Gutierrez removed a shell casing from the gun after the shooting, and she turned the weapon over to police when they arrived, the court records say.
Halls did not immediately return phone and email messages seeking comment. The Associated Press was unable to contact Gutierrez, and several messages sent to production companies affiliated with the film were not immediately returned Friday.
The film's script supervisor, Mamie Mitchell, said she was standing next to Hutchins when she was shot.
"I ran out and called 911 and said 'Bring everybody, send everybody,'" Mitchell told The Associated Press. "This woman is gone at the beginning of her career. She was an extraordinary, rare, very rare woman."
Mitchell said she and other crew members were attending a private memorial service Friday night in Santa Fe.
Baldwin described the killing as a "tragic accident."
"There are no words to convey my shock and sadness regarding the tragic accident that took the life of Halyna Hutchins, a wife, mother and deeply admired colleague of ours. I'm fully cooperating with the police investigation," Baldwin wrote on Twitter. "My heart is broken for her husband, their son, and all who knew and loved Halyna."
No immediate charges were filed, and sheriff's spokesman Juan Rios said Baldwin was permitted to travel.
"He's a free man," Rios said.
Images of the 63-year-old actor — known for his roles in "30 Rock" and "The Hunt for Red October" and his impression of former President Donald Trump on "Saturday Night Live" — showed him distraught outside the sheriff's office on Thursday.
Guns used in making movies are sometimes real weapons that can fire either bullets or blanks, which are gunpowder charges that produce a flash and a bang but no deadly projectile. Even blanks can eject hot gases and paper or plastic wadding from the barrel that can be lethal at close range. That proved to be the case in the death of an actor in 1984.
In another on-set accident in 1993, the actor Brandon Lee was killed after a bullet was left in a prop gun, and similar shootings have occurred involving stage weapons that were loaded with live rounds.
Gun-safety protocol on sets in the United States has improved since then, said Steven Hall, a veteran director of photography in Britain. But he said one of the riskiest positions to be in is behind the camera because that person is in the line of fire in scenes where an actor appears to point a gun at the audience.
Sheriff's deputies responded about 2 p.m. to the movie set at the Bonanza Creek Ranch after 911 calls described a person being shot there, Rios said. The ranch has been used in dozens of films, including the recent Tom Hanks Western "News of the World."
Hutchins, 42, worked as director of photography on the 2020 action film "Archenemy" starring Joe Manganiello. She was a 2015 graduate of the American Film Institute and was named a "rising star" by American Cinematographer in 2019.
"I'm so sad about losing Halyna. And so infuriated that this could happen on a set," said "Archenemy" director Adam Egypt Mortimer on Twitter. "She was a brilliant talent who was absolutely committed to art and to film."
Manganiello called Hutchins "an incredible talent" and "a great person" on his Instagram account. He said he was lucky to have worked with her.
After the shooting, production was halted on "Rust." The movie is about a 13-year-old boy who is left to fend for himself and his younger brother following the death of their parents in 1880s Kansas, according to the Internet Movie Database website. The teen goes on the run with his long-estranged grandfather (played by Baldwin) after the boy is sentenced to hang for the accidental killing of a local rancher.
Lee, son of martial arts star Bruce Lee, died in 1993 after being hit by a .44-caliber slug while filming a death scene for the movie "The Crow." The gun was supposed to have fired a blank, but an autopsy turned up a bullet lodged near his spine.
In 1984, actor Jon-Erik Hexum died after shooting himself in the head with a prop gun blank while pretending to play Russian roulette with a .44 Magnum on the set of the television series "Cover Up."
Such shootings have also happened during historical reenactments. In 2015, an actor staging a historical gunfight in Tombstone, Arizona, was shot and wounded with a live round during a show that was supposed to use blanks.
In Hill City, South Dakota, a tourist town that recreates an Old West experience, three spectators were wounded in 2011 when a re-enactor fired real bullets instead of blanks.
___
Associated Press writers Jake Coyle and Jocelyn Noveck in New York; Lizzie Knight in London; Yuras Karmanau in Kyiv, Ukraine; Ryan Pearson in Los Angeles; Walter Berry in Phoenix; and Gene Johnson in Seattle contributed to this report.
Morgan Lee, Susan Montoya Bryan And Cedar Attanasio, The Associated Press