Feds face calls for inquiry into military's handling of Iraq war crime reports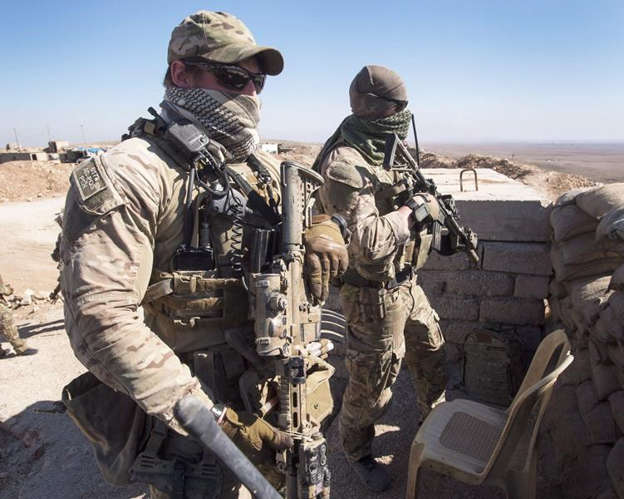 OTTAWA — The federal Liberal government is facing calls for an independent inquiry following allegations the military failed to respond to a complaint three years ago that Iraqi forces being trained by Canadian troops had committed war crimes.
NDP defence critic Randall Garrison suggests the complaint and concerns about the vetting of other Iraqi forces working with Canada are part of a disturbing pattern going back at least a decade, which is why he believes an independent probe is needed.
"What I've seen over time is that rank and file Canadian troops and lower levels of the officer corps have brought these issues to the attention of senior leaders, and senior leaders appear to have a pattern of telling people just not to pay attention," he said.
"Why is that happening? I think there needs to be an independent inquiry. Is this the fault of certain senior leaders? Or is there something systemic here that causes us not to uphold international (law) and even our own national law?"
Military police are currently investigating the handling of an incident in September 2018, where Canadian soldiers were helping with the enrolment of 270 Iraqi troops for a U.S.-led training mission near the northern city of Mosul.
An internal report obtained by The Canadian Press and first reported on by Postmedia says the Canadians were shown videos of war crimes and human rights violations being perpetrated by the Iraqi troops they were there to train.
Yet when the Canadians raised the issue with their commanders, according to the report, they were told the matter would be dealt with and that they were to ignore the videos and "carry on."
One of the soldiers involved said he tried to raise the issue with his commanders on three different occasions, but that he and other members of his unit "remain uncertain whether appropriate action was effectively taken."
A separate, secret memo obtained by The Canadian Press shows then-defence chief general Jonathan Vance was warned in January 2020 that the vetting of Iraqi security forces with whom Canadian troops might have interacted lacked "sufficient depth."
Garrison says the recent concerns are a continuation of issues first raised in Afghanistan more than a decade ago, when the military was accused of having transferred detainees to local authorities despite knowing they might be tortured.
That is why he believes the inquiry should also include a fresh look at what happened then. Defence Minister Harjit Sajjan, who previously served in Afghanistan, rebuffed NDP calls in 2016 for such an inquiry into the Afghan detainee affair.
"Things that were war crimes came to the attention of Canadians, were referred up the chain of command, and nothing happened," Garrison told The Canadian Press.
Conservative defence critic James Bezan in the House of Commons on Thursday questioned the government's decision to extend Canada's mission in Iraq given concerns about the Iraqi forces working with Canadian troops.
"Canada is contributing to greater peace and security in the world and remains a strong partner in the fight against (the Islamic State of Iraq and the Levant)," Sajjan's parliamentary secretary Anita Vandenbeld told Bezan.
"We are committed to meeting our obligations under international and domestic law. The Canadian Armed Forces is no longer operating with the Iraqi security forces related to these allegations."
Experts say it is not surprising that Canadian troops found themselves interacting with Iraqi soldiers who may have committed atrocities given the country's recent history, and that part of their mission is to prevent such behaviour in the future.
"This sounds kind of maybe counterintuitive, but it just reinforces how much we're needed there," said Bessma Momani, an expert on Middle Eastern politics at the University of Waterloo.
Yet both Momani and fellow Middle East expert Thomas Juneau from the University of Ottawa said the reports underscore the need for better transparency and accountability when operating in such environments — and with such partners.
"The government should be more transparent with Canadians about the challenges involved in the mission in Iraq, and about what we are trying to accomplish," Juneau said in an email.
"The government should also specifically be more transparent about what it is doing to make sure that Canadian troops deployed in Iraq, or in other comparable missions, comply with international law on these matters (and also on what happens if or when troops fail to comply with international law)."
This report by The Canadian Press was first published June 11, 2021.
Lee Berthiaume, The Canadian Press
RCMP 'gutted' by death of Const. Rick O'Brien, 51, shot in B.C.: deputy commissioner
RCMP Const. Rick O'Brien poses in this undated RCMP handout photo. The 51-year-old officer was shot and killed and two other officers were injured while executing a search warrant in Coquitlam, B.C., on Friday, Sept. 22, 2023, while a suspect was shot and is in hospital with non-life-threatening injuries. THE CANADIAN PRESS/HO, RCMP
By Nono Shen in Coquitlam
The death of another Mountie in British Columbia less than a year after the last killing "enrages" the lead officer in the province.
RCMP Deputy Commissioner Dwayne McDonald said Const. Rick O'Brien, 51, was shot dead and two other officers were injured on Friday as they tried to execute a search warrant in Coquitlam, B.C.
A suspect in his 20s was also shot and is in hospital with non-life-threatening injuries.
O'Brien, who had a wife and children, was decorated for bravery in the rescue of victims during a home invasion within months of joining the RCMP in 2016.
"This is an extremely difficult and tragic day for our members," McDonald said Friday. "Const. O'Brien led by example. He had a great sense of humour. He was well respected by his peers and he was loved in his community."
He said O'Brien was part of a team from Ridge Meadows RCMP that had been serving a search warrant at a home in the neighbouring community of Coquitlam.
McDonald said O'Brien died at the scene. One injured officer is in hospital with non-life-threatening injuries, he said, while the other suffered minor injuries and was discharged.
While McDonald didn't reveal details about the investigation, he said it was a long-term probe.
A procession of RCMP vehicles led an ambulance carrying O'Brien's body from Coquitlam to Abbotsford later Friday.
O'Brien's death comes just 11 months after the death of RCMP Const. Shaelyn Yang, who was stabbed to death while accompanying a Burnaby, B.C., city worker to a homeless campsite.
McDonald said the past year had been a tragic one for police departments across Canada.
"It hurts. It really hurts. I'm outraged," he said. "To see police officers across this country killed trying to protect their communities enrages me."
Policing was a second career for O'Brien, who worked with at-risk youth before joining the RCMP. His entire career was spent at the Ridge Meadows detachment.
Supt. Wendy Mehat, the officer in charge of Ridge Meadows, said speaking about the impact of O'Brien's death was the most difficult moment of her career.
"Rick's contribution to his work, and his fellow team members at this detachment was immeasurable. Rick loved visiting schools and helping students, doing presentations, supporting our detachment (with) food drives and sport events," she said.
"He was truly exceptional, a hard worker and a good human being. His death is senseless and heartbreaking." Mehat said.
McDonald said O'Brien's death seemed to speak to an issue he and his colleagues across the country have been talking about.
"Perhaps painting police in a certain light … sometimes seems to encourage people to resist authority and disrespect the profession of policing and, quite honestly, fight the police," he said.
"I'm not commenting on this particular instance. But I will say that this is a stark reminder that the police are here to help you."
The Independent Investigations Office said in a statement that the officers went to a home in the Metro Vancouver city on Friday.
"While there, the attending officers became engaged in an altercation with a man which resulted in multiple officers being injured and the man being shot," the statement said.
"Emergency Health Services transported all injured to hospital, but one of the officers who was shot succumbed to their injuries."
Carley Hodges, a witness in the busy area of city, described a chaotic scene, with an officer receiving CPR as he was put in an ambulance, another officer with a wound on his leg and a tourniquet above it, and a man in handcuffs.
Hodges said there were "tons of police cars, ambulances and fire trucks coming in."
Mehat said O'Brien's death was "senseless and heartbreaking."
"He simply went to work today, and he was killed, doing his duty and keeping his community safe. The hours, weeks and months ahead will be difficult to our communities and Maple Ridge, Pitt Meadows, Coquitlam and across the country."
B.C. Solicitor General Mike Farnworth said he was shocked and saddened to learn of O'Brien's death.
"All three officers are shining examples of the extraordinary individuals who chose to take on the challenging mantle of protecting the public.
"I have spoken to the local mayors, and we all agree that the death of an officer is a stark reminder of the dangers police face to keep us safe. They put their lives on the line every day to fulfil their oath to protect our communities."
Prime Minister Justin Trudeau sent his condolences to O'Brien's family, friends and colleagues on social media.
"And to the officers who were injured: I'm wishing you a fast and full recovery."
This report by The Canadian Press was first published Sept. 22, 2023.
This is a corrected story. A previous version said police were trying to serve an arrest warrant.
'Freedom Convoy' organizers' trial on scheduled break until after Thanksgiving
Tamara Lich arrives for her trial at the courthouse in Ottawa, on Tuesday, Sept. 19, 2023. Lich and fellow Freedom Convoy organizer Chris Barber are charged with mischief, obstructing police, counselling others to commit mischief and intimidation. THE CANADIAN PRESS/Justin Tang
The trial of "Freedom Convoy" organizers Tamara Lich and Chris Barber has begun a scheduled break that will continue until after Thanksgiving.
The court finished hearing the testimony of Serge Arpin, the chief of staff to Ottawa's former mayor, on Friday.
He spoke about how the city responded to the protest that overwhelmed the downtown core for three weeks in early 2022.
Arpin also testified about his interactions with convoy organizers while working out a deal with former mayor Jim Watson to move big-rig trucks out of residential neighbourhoods.
The evidence was originally due to be wrapping up by this point in the trial, which had been scheduled to last 16 days, but Arpin is just the fourth witness to finish his testimony.
The trial was expected to hear from 22 witnesses, leaving the court to ponder how much more time will be needed to reach the finish line.
Justice Heather Perkins-McVey, who is overseeing the trial, has identified several dates in October and November.
Lawrence Greenspon, the lawyer representing Lich, said he does not want to set new court dates until the Crown has established a new, more accurate time estimate for its case.
As of Friday, the trial is expected to resume Oct. 11.
Lich and Barber are charged with mischief and counselling others commit offences such as mischief and intimidation for their role in organizing and prolonging the demonstration.
The defence questioned Arpin Friday about how city council and staff attempted to put an end the protest. As the mayor's chief of staff, Arpin told the court he sat in on every council meeting.
He was grilled about a bylaw change on Feb. 9 last year that banned idling in a vehicle unless the temperature fell at or below -15 C. The bylaw originally allowed idling if the temperature was below 5 C.
"City council … was attempting to freeze out the truckers and their families," Greenspon told the court.
Arpin said he believed the intention was to bring the demonstration to an end.
Arpin was also involved in the deal between Watson, Lich and other organizers to move trucks out of residential neighbourhoods and onto Wellington Street, in front of Parliament Hill.
He texted back and forth with the convoy organizers' lawyer Keith Wilson on Feb. 14 and 15 in an exchange that was filed as evidence in the trial.
The texts suggest city staff did not give protest organizers or their lawyers a heads-up about plans to file a court injunction against demonstrators who violated city bylaws.
"Just so you know, it is highly irregular for the city's lawyers to have done this without providing us lawyers here with notice," Wilson wrote to Arpin on Feb. 15.
"This could change everything."
Arpin told Wilson he was under the impression they knew about the court filing, but said in court that he never informed them himself until after the injunction was granted by a judge.
Lawyers representing the convoy organizers were not given an opportunity to oppose the application in court at the time.
The deal between Lich and the mayor fell apart later that day when police would no longer allow trucks to move closer to Parliament.
Arpin confirmed the police service underwent a change in command that day as a result of the police chief's resignation.
He apologized to Wilson at the time, the text messages show.
"Our goal has always been de-escalation and I know you share this goal," he texted to Wilson on the 16th.
The Crown hopes to pick up its case in October with eight local witnesses from Ottawa who lived or worked downtown during the Freedom Convoy protest.
Lich and Barber have already admitted that there was mischief taking place in the protest zone.
Greenspon has argued that the testimony of those witnesses would be akin to victim impact statements, and therefore shouldn't be allowed to be heard during the trial.
P