Federal public servant pleads not guilty as shipbuilding trial begins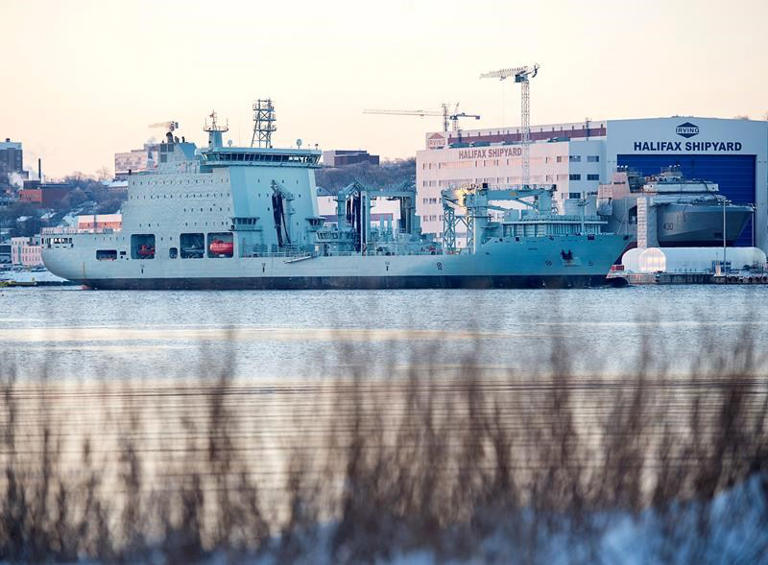 OTTAWA — A federal public servant has pleaded not guilty to breach of trust for allegedly leaking government secrets about a $700-million shipbuilding project.
Matthew Matchett entered the plea this morning during the start of his trial, more than three years after he was first charged.
Matchett is accused of allegedly leaking secret cabinet documents about a contract between the federal government and Chantier Davie shipyard in Quebec in November 2015.
That is when the new Liberal government decided to hold off finalizing a contract with Davie to lease a temporary supply ship for the navy, a deal they later approved.
Matchett, who was charged in February 2019, has elected to be tried by jury and the trial is expected to run four weeks.
In 2017, retired vice-admiral Mark Norman was suspended as the military's second-in-command and later charged with breach of trust in 2018 over allegations he leaked cabinet secrets about the same shipbuilding project.
Norman pleaded not guilty and Crown prosecutors eventually stayed the charge in May 2019, saying that new evidence they'd received from Norman's defence team had led them to conclude there was no reasonable chance of a conviction.
This report by The Canadian Press was first published June 6, 2022.
Lee Berthiaume, The Canadian Press
Defence minister stands by military's vaccine mandate amid months-long review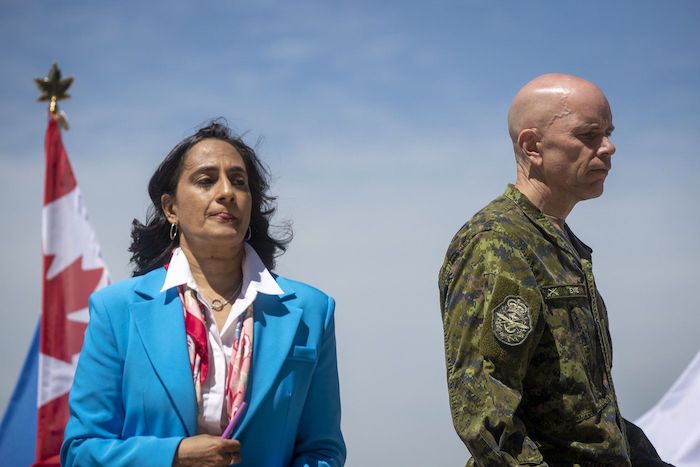 By Lee Berthiaume in Ottawa
The Liberal government is defending the military's continued use of a vaccine mandate for Armed Forces members as a condition of employment amid pressure to end the requirement and questions about when a promised "tweak" will finally be unveiled.
The Canadian Armed Forces has required since December that all troops receive two shots of a recognized COVID-19 vaccine or face disciplinary proceedings, including forced removal from the military.
While the vast majority of service members have bared their arms for shots, more than 1,100 have not. More than 400 of those have since hung up their uniforms, either voluntarily or involuntarily, with more on their way out.
The requirement remains in place even though mandates for other federal workers have been suspended. The government announced this week that vaccination requirements for international travellers will also be lifted on Saturday.
It was in this context that Conservative Leader Pierre Poilievre this week called on the Liberals to end what he described as the military's "discriminatory and unscientific vaccine mandate," though the decision is ultimately up to chief of the defence staff Gen. Wayne Eyre.
On Thursday, Defence Minister Anita Anand voiced support for the mandate as she and other federal ministers briefed Canadians on hurricane recovery efforts in Atlantic Canada.
"It's a force that must be ready at all times to conduct domestic and international military operations, sometimes in places with limited or no access to specialized medical care, sometimes in very close quarters with their fellow Canadian Armed Forces members," she said.
"Therefore, the Canadian Armed Forces has a more stringent requirement to enforce health protection measures."
Anand did note that Eyre is taking a second look at the requirement after the government lifted its mandates for other federal employees. "Pending this review," she added, "(Eyre)'s directives remain in effect for CAF members until further notice."
Exactly when that review may be completed remains a mystery, however.
Defence Department spokesman Daniel Le Bouthillier described the review on Thursday as "a complex issue," with the military having to "balance medical and legal imperatives, ethical considerations, and operational requirements."
"The CAF will continue to take a measured approach and make a decision when deemed operationally safe to do so."
The department first reported that the mandate was being re-examined in June, and a draft copy of a revised vaccine policy obtained by the Ottawa Citizen in July suggested vaccine requirements for military personnel would be lifted.
The draft document, which officials said was not approved by Eyre, said military personnel and new recruits would no longer have to attest to their vaccination status.
The document also noted potential legal difficulties ahead to deal with people who were kicked out of the military because of the vaccine mandate, suggesting they could be forced to apply for re-enrolment.
By contrast, other unvaccinated federal public servants were put on leave without pay but allowed to return to their jobs when the mandate was suspended.
However, Eyre indicated in an interview with The Canadian Press last month that a "tweak" was coming in weeks as he tried to find the "sweet spot" between the military's medical, legal, operational and ethical requirements.
At the same time, he called the mandate necessary to keep the military ready to respond to any emergency, noting that the force was called upon to assist in hospitals and long-term care facilities in Canada, and that many allies and foreign nations still have mandates.
"We need to maintain our operational viability going forward," he said. "So over the course of the next number of weeks, we will tweak the policy, we'll put out something amended."
A number of serving members have unsuccessfully challenged the mandate in court, while some groups and individuals opposed to vaccine mandates, pandemic lockdowns and the Liberal government have used the military's continued requirement as a rallying point.
This report by The Canadian Press was first published Sept. 29, 2022.
Liberals give themselves more time to meet five-year-old peacekeeping pledge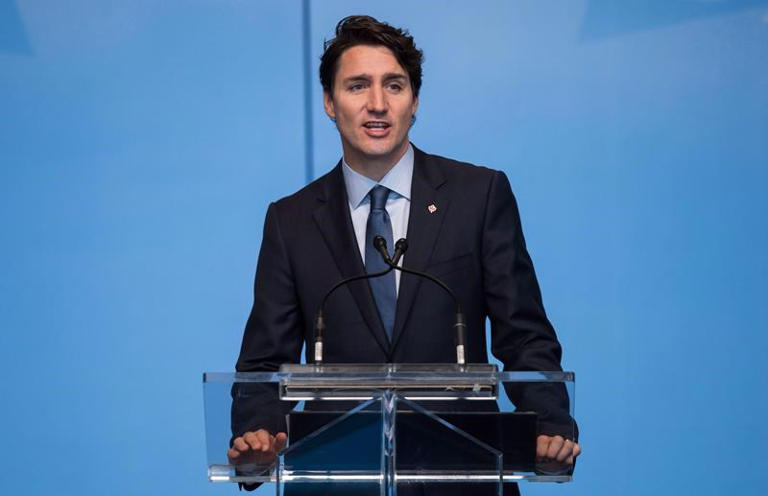 By Lee Berthiaume in Ottawa
The federal Liberal government has quietly given itself more time to provide a 200-soldier force for peacekeeping, which Prime Minister Justin Trudeau first pledged to the United Nations nearly five years ago.
The commitment of a "quick-reaction force" was one of three signature promises that Trudeau made during a major peacekeeping summit in Vancouver in November 2017, with the government promising its deployment within five years.
But while internal documents obtained from Global Affairs Canada by The Canadian Press show the commitment was set to expire this past March, the Department of National Defence says cabinet recently added another year.
"The cabinet authority covering the QRF and other contributions to UN peace support operations was renewed in March 2022 for a period of one year," Defence Department spokeswoman Jessica Lamirande said in an email.
Canada did make good on the other two promises by deploying a helicopter unit to Mali in 2018-19 to help with medical evacuations, and through the provision of a transport plane to ferry troops and supplies to different UN missions in Africa.
The government's failure to make good on the promised quick-reaction force comes despite the UN having said it needs several such forces now, and the United States having asked Canada late last year to fulfill its commitment.
Washington's request came ahead of a peacekeeping summit in South Korea in December, where countries were asked to provide new commitments to fill gaps in both funding and peacekeeping missions in the field in Africa and elsewhere.
Asked whether Canada still intends to fulfill its commitment, Lamirande said: "Canada regularly engages with UN officials to assess when and where a QRF may be required.
"Any deployment of a QRF would be following a decision by the Government of Canada to do so in support of a specific UN mission within clearly defined parameters," she added.
Defence Minister Anita Anand did not mention the quick-reaction force during the South Korea summit, but told The Canadian Press several weeks later that the force is "not off the table."
The heavily redacted Global Affairs Canada report suggests Canadian officials have been looking at options for deploying such a force, which would be designed to respond to emergencies and threats to UN personnel and facilities as well as civilians.
Such units have been deployed in recent years to the Democratic Republic of Congo and the Central African Republic, where they have clashed with different armed groups as the UN has sought to provide security and stability.
The undated Global Affairs report notes that while the UN needs such units, there is an increased risk given "deteriorating security, increasing violent extremist organization capabilities, transitions, reduced resources (and) COVID-19."
Trudeau's commitment in 2017 came as the Liberal government promised a renewed Canadian engagement with UN peacekeeping that most observers and experts say has not actually come to pass.
Canada had 60 police and military personnel deployed as peacekeepers at the end of March, according to the UN. While that was up from the record low of 34 in August 2020, it was still less than half the number when the Liberals took power in 2015.
Canadian Forces College professor Walter Dorn said the government's decision to keep the commitment on the table for another year offers a glimmer of hope that the force could materialize at some point.
Nonetheless, "given that the QRF pledge has not been fulfilled in a half decade, it now appears like an empty promise made by Trudeau in 2017," Dorn said.
"Canada should have completed that promise long ago and made many more progressive contributions afterwards to support the United Nations, which is at the centre of the rules-based international order."
Royal Military College professor Jane Boulden was also skeptical the quick-reaction force will appear, particularly as the federal government is focused on bolstering Canada's commitments to the NATO military alliance in light of the war in Ukraine.
To that end, she questioned whether the decision to keep the commitment alive is more about optics than any real intention of fulfilling it.
"It's a safer thing to say the commitment is still open," she said. "It's going to generate less criticism."
This report by The Canadian Press was first published July 31, 2022.