Federal public servant pleads not guilty as shipbuilding trial begins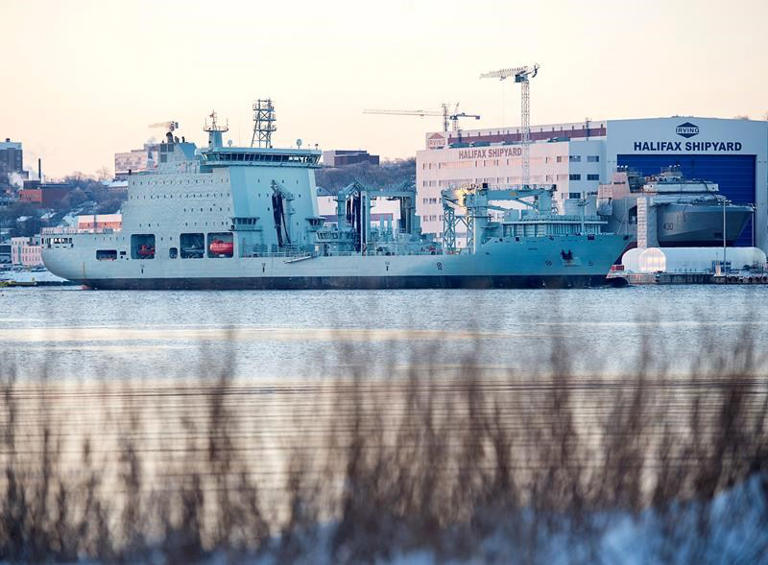 OTTAWA — A federal public servant has pleaded not guilty to breach of trust for allegedly leaking government secrets about a $700-million shipbuilding project.
Matthew Matchett entered the plea this morning during the start of his trial, more than three years after he was first charged.
Matchett is accused of allegedly leaking secret cabinet documents about a contract between the federal government and Chantier Davie shipyard in Quebec in November 2015.
That is when the new Liberal government decided to hold off finalizing a contract with Davie to lease a temporary supply ship for the navy, a deal they later approved.
Matchett, who was charged in February 2019, has elected to be tried by jury and the trial is expected to run four weeks.
In 2017, retired vice-admiral Mark Norman was suspended as the military's second-in-command and later charged with breach of trust in 2018 over allegations he leaked cabinet secrets about the same shipbuilding project.
Norman pleaded not guilty and Crown prosecutors eventually stayed the charge in May 2019, saying that new evidence they'd received from Norman's defence team had led them to conclude there was no reasonable chance of a conviction.
This report by The Canadian Press was first published June 6, 2022.
Lee Berthiaume, The Canadian Press
Canada donating four Leopard battle tanks to Ukraine
Ottawa – Defence Minister Anita Anand says Canada will send four of its German-made Leopard 2 tanks to Ukraine "in the coming weeks."
Anand announced the move this afternoon, making Canada the latest country to promise the heavy weapons to Ukraine.
Canada is also providing trainers, spare parts and ammunition, while Anand left open the possibility of sending more Leopards in the future.
Ukraine has implored Western allies to send such weapons for weeks as its forces struggle to make gains against Russia.
But Canada was unable to respond until Germany agreed on Wednesday that countries could re-export their Leopards.
The Leopards that Canada is donating are among the 112 currently owned by the Canadian Army, which includes 82 designed specifically for combat.
Retired military officers had warned that any donation would have an impact on the Army and will need to be replaced, given that the fleet is already stretched thin.
This report by The Canadian Press was first published Jan. 26, 2023.
Pressure builds for Canada to send tanks to Ukraine after Germany gives OK
By Lee Berthiaume in Ottawa
Pressure is building for Canada to send some of its Leopard 2 battle tanks to Ukraine after Germany decided to provide the heavy weapons and allow other countries to do the same.
German Chancellor Olaf Scholz announced his government's decision on Wednesday following weeks of hesitation that created impatience among his country's allies, saying Berlin will send 14 of its Leopard 2A6 tanks.
Scholz's announcement came shortly before U.S. President Joe Biden revealed plans to send 31 M1 Abrams tanks to Ukraine, opening a potential floodgate following weeks of pleas by Ukrainian President Volodymyr Zelenskyy.
The goal is for Germany and its allies to provide Ukraine with 88 of the German-made Leopards, which would make up two battalions, and work alongside the U.S.-made Abrams in launching counteroffensives against Russian forces.
Yet while Poland has already promised to send Leopards if Germany agreed, and other European nations such as Finland and Spain have indicated a willingness to do the same, Canada's Prime Minister Justin Trudeau was more circumspect on Wednesday.
"Canada has stepped up significantly and without hesitation to support the Ukrainian people, and Ukraine itself," he said at a news conference marking the end of a three-day cabinet retreat in Hamilton.
"We will continue to be there to give whatever support we can to Ukraine. I won't be making an announcement today. But I can tell you we are looking very, very closely at what more we can do to support Ukraine."
The Canadian Armed Forces has 112 Leopard 2s in its inventory in a number of different variations. Those include 82 designed for combat and 30 that are used for engineering purposes and recovering disabled vehicles.
Retired lieutenant-general and former Canadian Army commander Jean-Marc Lanthier said in an interview that any donation will almost certainly need to balance the needs and benefits to Ukraine against the potential impact on Canada's military.
"Getting rid of any tanks — because we have so few, and so few that are actively working — would have an immediate impact on the level of readiness of the Army," said Lanthier, who served as an armoured officer.
"Is that something that should stop us from sending tanks? I think we have a moral responsibility in terms of the immediacy of the requirements of the Ukrainian Armed Forces and the Ukrainian people. They are fighting a war. We are not."
Canada bought its Leopards from Germany during the war in Afghanistan. They are notionally divided into squadrons of 19 tanks each, with two squadrons in Edmonton and a third at CFB Gagetown, N.B. Most of the rest are at the armoured training school in Gagetown.
"And normally you keep a bunch of them at a depot ready to be deployed, but that's not something we're doing necessarily because we don't have the numbers," said Lanthier.
Adding to the pressure is the fact only about half of Canada's Leopards are operational on any given day due to maintenance and repair requirements for the surprisingly complex vehicles, he added.
Department of National Defence spokesman Andrew McKelvey would not comment Wednesday on what percentage of the military's Leopard 2s are currently operational, and how many are out of service for maintenance and other reasons.
"Tank maintenance is similar to aircraft maintenance, and the status of the fleet at any given moment depends on a comprehensive maintenance, repair, and overhaul schedule, which is tied to specific requirements for training or operational employment," he said.
"For operational security reasons we cannot specify how many Leopard 2s are being maintained at any given time or give indication of their maintenance schedule."
The question facing the government will ultimately be whether the benefit of sending tanks to Ukraine outweighs the impact on the military, Lanthier said. If it does, another question will be whether those tanks would be replaced — and if so, how quickly.
"If we deem that we want to retain that capability that tanks give us in terms of a modern, battle-capable army, we need tanks," he said. "If we accept that, then anything we give has to be replaced."
This report by The Canadian Press was first published Jan. 25, 2023.
⁠ — With files from The Associated Press.