Fastest 5 minutes in hockey: How speedy Avs won Stanley Cup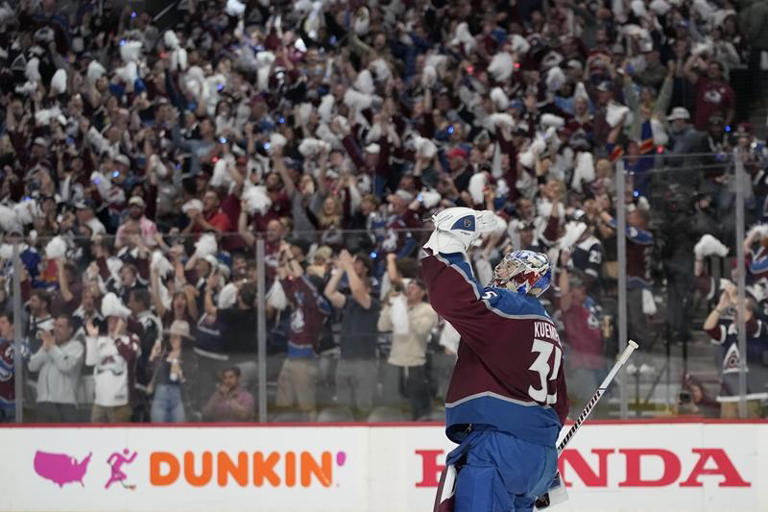 Playing hockey on fast forward, the Colorado Avalanche blazed their way to the Stanley Cup championship with a mix of speed and high-end skill that needed only a defined focus to get over the top.
There was never any denying a team featuring Nathan MacKinnon, Cale Makar, Gabriel Landeskogand Mikko Rantanen has enough talent to win. But after four consecutive early playoff exits, the Avalanche authored a different ending and knocked off the back -to- back defending champion Tampa Bay Lightning by concentrating on something simple: winning each 5-minute burst at a time.
"They never thought ahead — they just prepared every day and just focused on that," general manager Joe Sakic said. "This group, it was a great group. They believed in each other all year and really stuck together and never let anything faze them, really. If they had a bad game, they got right up the next day ready to be better."
Coach Jared Bednar, in his sixth season behind the bench, is behind that strategy of breaking games down into 5-minute increments. It's a lesson he learned from the playoff disappointments and one that served as Colorado's internal mantra way more than the marketing slogan, "Find a way."
"We have a good five minutes and we're moving on to the next," Bednar said. "It just helps guys stay focused and in the moment and committed to what you're trying to do."
Even before the final against Tampa Bay, Bednar praised his team for buying into that philosophy, and players acknowledged echoing it on the bench during games. The chatter became a soundtrack to the Avalanche cruising through the playoffs with 16 wins in 20 games.
"We want to make sure that every five minutes is a focus: No matter what happens, we're resetting and we're going again because we want to be taking the game to teams," said defenseman Josh Manson, one of Sakic's key trade deadline acquisitions. "We have a lot of speed, and our forecheck is a big part of our game, so we want to be resetting every five minutes to do exactly what we need to do."
Behind all that speed, the Avalanche swept Nashville in the first round, took out St. Louis in six, swept Edmonton in the West final and finished off Tampa Bay in six on Sunday night, handing the Lightning just their second defeat in their last 13 series.
"All four lines can skate," Rantanen said. "That's what we did. Just a team effort. We were working really, really hard. We have a lot of skill, but it takes more than skill to win a championship, and that's exactly what we did."saki
Those watching from outside the final could see the extra hockey taking its toll on Tampa Bay — no team has played more games since 2020, the price that comes with winning two straight titles and playing for a third — and only marvel at Colorado's pace. That includes Bryan Trottier, who won the Stanley Cup six times as a player and again as an Avalanche assistant in 2001.
"Holy cow, they're quick," he said. "Their speed is really incredible."
That was no accident. Sakic, the captain of that title team in 2001 and also in 1996, had a blueprint of how to win and went about finding players who fit. The Avs were not just fast on offense — they were in your face on defense, on the forecheck and along the boards. Opponents had little time to think.
Taking MacKinnon with the first pick in 2013 was about finding what Sakic called a "game-changer." Same with Makar (the fourth pick in 2017), and Sakic along the way added grit in trades for Manson, center Nazem Kadri and depth forward Andrew Cogliano.
But the key to Colorado's game was always speed.
"We're a fast-paced team," Sakic said. "We train at altitude. And for our group, the faster the pace is, we feel we can take advantage of that."
Augmented by the rest players got from finishing two of the first three series in four games, that speed was a significant advantage against the two-time champs, who were built to manage just about everything this time of year but couldn't handle the way Colorado used it.
A 7-0 Avalanche blowout in Game 2 was a perfect example. The Lightning, from 2021 playoff MVP goaltender Andrei Vasilevskiy to the dependable veteran skaters in front of him, made one uncharacteristic mistake after another because of Colorado's sharp, aggressive skating and playmaking.
"Our skating has to be a factor for us regardless of opponent," Bednar said. "And then playing fast is more than that: It's execution and getting to the right spots and doing the right things so we're predictable to ourselves."
The Avalanche winning the Cup was predictable to four-time Cup-winning Hall of Fame goaltender Grant Fuhr. He said Colorado being the better team in the final followed the path that has been set out since October.
"They've been great all year," Fuhr said. "They looked like the best in the West from the start of the year, and they've basically been the best in the league the whole time."
It began in September, when the Avalanche began shaking off their most recent playoff defeat. Bednar said he and his team did some experimenting during the season on the way to earning the top seed in the West.
When it was time to finish the job, Colorado was ready.
"You don't preach it all year long and practice it all year long to throw it away at the most important time of the year," Bednar said. "It's why we started preaching it Day One of training camp: Focus on the process and what we have to pay attention to, to have success."
___
Follow AP Hockey Writer Stephen Whyno on Twitter at https://twitter.com/SWhyno
___
More AP NHL: https://apnews.com/hub/NHL and https://twitter.com/AP_Sports
Stephen Whyno, The Associated Press
Dominating 11 and 1 record for RD Polytechnic Athletics over the weekend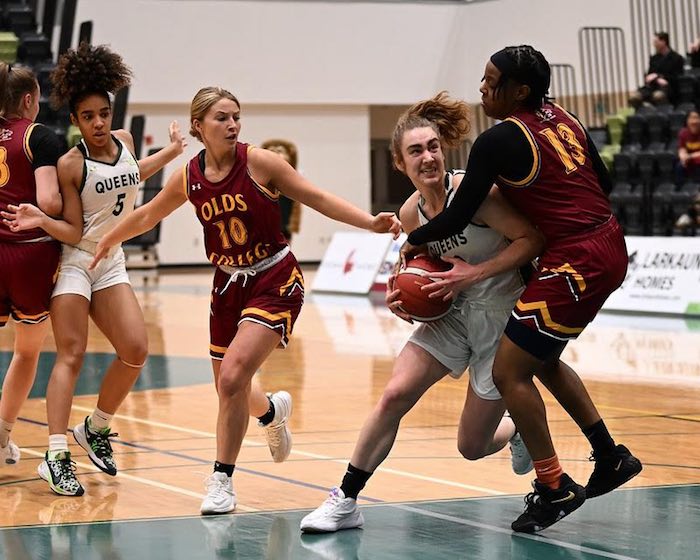 Red Deer Polytechnic Athletics Weekend Recap
Red Deer Polytechnic Athletics had a great weekend that saw all teams go undefeated on Friday night with just one loss on the schedule on Saturday evening. At the end of the week, the teams totaled a record of 11-1. A few teams even went the distance with Queens Hockey needing a shootout, Kings Hockey needing overtime and Kings Volleyball needing five sets to find a winner.
Basketball
Queens (12-6) vs Olds College Broncos (7-11)
The impressive streak continues. The Queens Basketball team extended their win streak to nine games after two hard-fought matches against their Central Alberta rivals, the Olds College Broncos. On Friday night, the Queens exploded in the first quarter but would lose it in the second and third frames. This did not
stop them from coming back in the fourth quarter which resulted in an impressive 79-71 comeback victory. Guard Amy Szymanek (Bachelor of Education) was named the player of the game with 25 points and 10 rebounds.
The game on Saturday night in Olds was much different as they were able to win all four quarters on the score sheet and route the Broncos 87-49. Guard Heena Sidhu (Bachelor of Arts in Political Science) had 13 points and six assists on the night and was named the player of the game.
Kings (11-7) vs Olds College Broncos (3-15)
Regardless of the record of the Olds College Broncos, the Kings were put to the test on Friday and Saturday as the Broncos are a team that is full of adversity. The Kings were able to figure things out on Friday night early on and managed to have a much better second half which led to an 88-56 victory, which was a good
stepping stone after falling to the SAIT Trojans last week in heartbreaking fashion. With all nine of his points coming off the long-range shot, Guard MacGregor Manyluk (Business Administration General) was named the player of the game.
But the Broncos did not go down so easily on Saturday night in their own gym. They fought right until the final whistle blew in what was a much closer game than the night before. Late in the fourth, the Kings managed to get multiple stops which led to points on the board and an 85-77 victory. Guard Eduardo Crespo was named the player of the game after completing his night with a double-double, 29 points and 15 rebounds.
Hockey
Queens (10-3-1) vs Lakeland College Rustlers (7-4-2)
The Queens came into this weekend facing a Rustlers team that won back-to-back games against the NAIT Ooks the previous weekend. It was not going to be easy. After the Queens gave up the opening goal, they battled back with two straight goals. But the Rustlers tied it and forced it to go to overtime, which solved
nothing. They ended up in a shootout. The Queens scored twice and drove home with a 3-2 victory. Forward Madison Sansom (Social Work) had a goal on the night to extend her point streak to six games. Forward Alli Soyko (Bachelor of Education) was named the player of the game with a goal and an assist on the night.
To cap off the weekend, the Queens managed to shut out the Rustlers 2-0 in their own barn. Goaltender Tanya Disotell-Dunsmore had an 18-save shutout. Sansom had a goal and an assist to complete her weekend with a player of the game honour. She also extended her point streak to seven games. Forward Jailyn Bablitz (Bachelor of Education) got the other marker on Saturday night.
Kings (14-6-1) at Briercrest College Clippers (8-8-2)
The Kings hit the road and pulled off a feat that is pretty rare as they were able to defeat the Briercrest College Clippers in back-to-back games. This usually does not happen in all sports. Earlier on in the year, the Kings and Queens Volleyball won on Friday night and would lose the match the following afternoon. On
Friday, the Kings would score three straight goals after falling behind 1-0 to win it 3-2. The Clippers added a late marker with the goaltender pulled. Forward Chance Longjohn (Bachelor of Education) scored the first goal of the night for the Kings and was awarded the player of the game. The other goals were scored by forward's Hayden Clayton (Open Studies) and Nolan Doell (Bachelor of Education).
It was a very gritty game on Saturday afternoon with both teams getting multiple 10-minute misconducts. But this game needed overtime. After going down 2-0 early, the Kings would score three straight goals to take the lead. But the Clippers battled back and tied it up at three. Later in the game, they tied it at four. Five
minutes into overtime, forward Jacob Wozney was on an odd-man rush and finished it top-shelf to win 5-4. The player of the game went to Jaxon Steele (Bachelor of Kinesiology), who finished his afternoon with two assists.
Volleyball
Queens (10-7) vs Olds College Broncos (0-15)
As the Queens continued to improve and look at peaking near championships, they were able to come away with a sweep of the Olds College Broncos. But it was definitely a slow start on Friday night for the Queens. They managed to pick things up when they needed to and find the set victories. After winning the first two
sets, the Queens dropped the third set but were able to win the fourth set and take the match. With 12 digs in the match, libero Frankie Sandini (Justice Studies) was named the player of the game.
On Saturday night, it was a whole different story as the Queens managed to make quick work of the Broncos in a match that was just over an hour long. The women's volleyball team came out of the gate fast and ready to play. Outside-hitter Vanessa Loos (Bachelor of Arts in Psychology) was named the player of the game, who had an all-around effort. She had five kills, seven aces and nine digs.
Kings (15-2) vs Olds College Broncos (11-6)
It was a tough blow for the Kings this past weekend as they dropped their first match since the beginning of the season in a five-set thriller against the Olds College Broncos. But the weekend did not start all bad as they were able to sweep the Broncos in three-straight sets in Olds for the victory. Setter Maddux Greves (Business Administration) was named the player of the game after finishing with 25 assists, eight digs and two blocks.
But it was a whole different story on Saturday night. The Kings would drop the first and third set 25-23. They managed to pick up the second set victory with a score of 25-21. With the game on the line in the fourth set, they blew out the Broncos with a score of 25-12. After a hard-fought fifth set, the Kings would lose 15-13 and their winning streak ended at 14 matches. Outside-hitter Noah Carlson (Open Studies) had 13 assists and five blocks and was named the player of the game.
Fox sells out Super Bowl ads: crypto out, alcohol in
By Mae Anderson in New York
NEW YORK (AP) — The hottest ticket in town for advertisers is officially sold out. Fox said Monday that in-game ads for Super Bowl LVII have all been sold.
The big game between the Kansas City Chiefs and the Philadelphia Eagles takes place on Sunday.
The Super Bowl is advertising's biggest stage, with advertisers jockeying to get their products in front of the more than 100 million people that watch each year. Mark Evans, executive vice president of ad sales for Fox Sports, said a few ads went for more than $7 million for a 30-second spot. Most sold between $6 million and $7 million.
Anheuser-Busch remains the biggest advertiser with three minutes of national airtime. The beverage giant gave up its deal to be the exclusive alcohol advertiser this year, so Heineken, Diageo, Remy Martin and Molson Coors are also in the game. Other big categories advertising include packaged food like Doritos and M&Ms, movie studios and streaming services, automakers and tech companies, Evans said. Out this year: crypto companies.
Last year's Super Bowl was dubbed the "Crypto Bowl" because four cryptocurrency companies — FTX, Coinbase, Crypto.com and eToro — ran splashy commercials. It was part of a larger effort by crypto companies to break into the mainstream with sports sponsorships. But in November, FTX filed for bankruptcyand its founder was charged in a scheme to defraud investors.
This year, two crypto advertisers had commercials "booked and done" and two others were "on the one-yard line," Evans said. But once FTX news broke, those deals weren't completed.
Now, "There's zero representation in that category on the day at all," he said.
Evans said most Super Bowl ads sold much earlier than usual, with more than 90% of its Super Bowl ad inventory gone by the end of the summer, as established advertisers jockeyed for prime positions. But the remaining spots sold slower. Partly that was due to the implosion of the crypto space, as well as general advertiser concerns about the global economy, Evans said.
Last year, NBC sold out of its ad space briskly and said an undisclosed number of 30-second spots went for $7 million, a jump from the $6.5 million that 2021's ads went for.