EXPLAINER: Why stakes are high in trial tied to Russia probe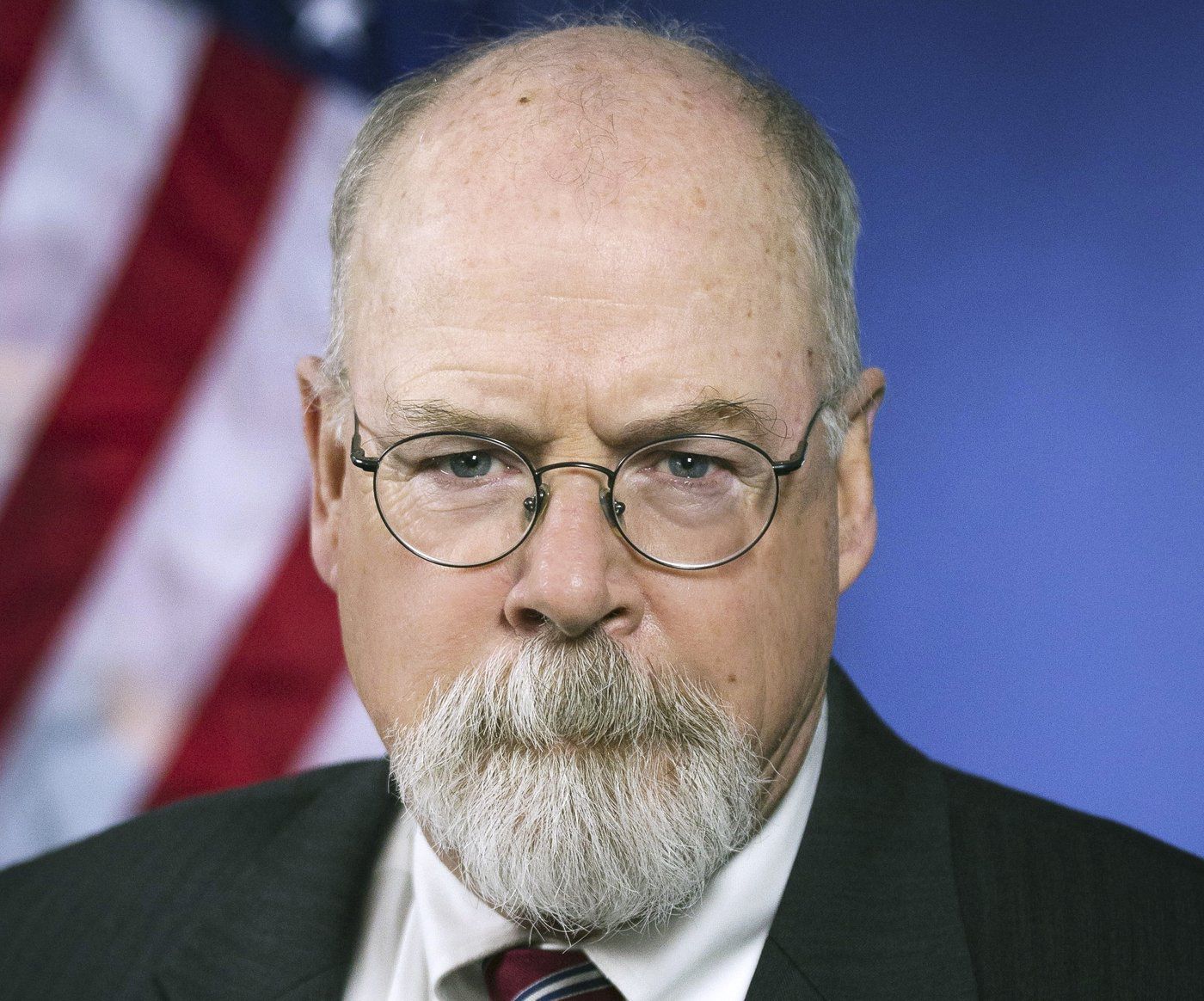 WASHINGTON (AP) — The first trial resulting from special counsel John Durham's investigation of the early days of the Trump-Russia probe hardly seems an explosive affair. It's about a single false statement that a cybersecurity lawyer with ties to the Hillary Clinton campaign is alleged to have made to the FBI in 2016.
Yet the stakes are high.
The verdict in the case of lawyer Michael Sussmann will help shape the fate and legacy of Durham's three-year probe. An acquittal would hasten questions about the purpose of the inquiry and the cost to taxpayers. A guilty verdict would energize supporters of Donald Trump who have long looked to Durham to expose what they see as biased mistreatment of the former president.
The trial, beginning Monday with jury selection in Washington's federal court, will not focus on Trump's claims of government misconduct during the FBI's investigation into Russian interference in the 2016 presidential election in the United States. Jurors will not be asked to decide whether the Trump campaign coordinated with the Kremlin to tip the outcome of the race.
But the trial will rewind the clock to a frenetic stretch in recent American history when the FBI was scrambling to investigate ties between Trump and Russia — and the rival Clinton campaign was eager to push its own suspicions.
WHAT'S THE CASE ABOUT?
Sussmann is accused of lying to the FBI's general counsel, James Baker, during a meeting on Sept. 19, 2016, in which Sussmann presented research that he said suggested a possible secret backchannel of communications between computer servers for Russia-based Alfa Bank and Trump's company, the Trump Organization.
The allegation of covert contact, if proved, would have been explosive at a time when the FBI was already investigating whether the Kremlin and the Trump campaign were conspiring to influence the election.
The claim was false, Durham says, but that's not the lie at the center of the Sussmann case.
The indictment accuses Sussmann of misleading the FBI by denying that he was representing any particular client during the meeting when he was actually acting on behalf of two clients: the Clinton campaign and a technology executive who had helped assemble the computer data.
___
WHY WOULD THAT MATTER AND WHAT DOES SUSSMANN SAY IN HIS DEFENSE?
Had the FBI known Sussmann was representing the interests of the Clinton campaign, prosecutors say, they would have carefully weighed his potential biases and motivations — as well as the reliability of the information he provided — before investigating the Alfa Bank allegations.
Prosecutors insist it was not a stray statement either, pointing to a text message they say Sussmann sent to Baker the night before the meeting in which he requested a sit-down and said that he would be coming on his own and "not on behalf of a client or company."
Sussmann's lawyers deny he lied during the meeting and point out that it wasn't recorded and no one took notes. They say Sussmann's Democratic Party affiliations were well known, including to the FBI. Beyond that, they contend the false statement Sussmann is alleged to have made is ultimately irrelevant because they say there's no evidence it influenced the FBI's decision to begin investigating the Alfa Bank claims.
In addition, they point to notes from an FBI and Justice Department meeting from March 2017 in which the FBI's then-deputy director is described as telling his colleagues that the Alfa Bank claims were presented to law enforcement by a lawyer acting on behalf of clients. Sussmann's lawyers say that shows the FBI understood Sussmann did indeed have a client in connection with the meeting.
They also have argued that allowing the case to proceed could have the effect of discouraging tipsters from reporting suspicions or potential wrongdoing to the FBI if they fear their motivations or possible political biases would be scrutinized.
___
WHAT DOES THIS CASE HAVE TO DO WITH THE WORK OF SPECIAL COUNSEL ROBERT MUELLER?
The prosecution centers on a limited slice of the original investigation into ties between Russia and the 2016 Trump campaign, which concluded in 2019 with a report from special counsel Robert Mueller and his team.
No matter the jury's verdict, it will not affect the core findings of Mueller's repor t — that Russia sought to aid Trump's campaign but that insufficient evidence exists to prove the two sides criminally collaborated.
In fact, the Mueller report ignored the Alfa Bank allegations. The FBI did investigate but concluded by early 2017 that there was no troubling contact between the servers.
Even so, the case does make clear that Clinton associates leveraged professional contacts to present the FBI with information about Trump that they thought was pejorative and deserving of investigation. And it will draw attention to the little-known universe of cyber researchers who sift through Internet data for potentially suspicious trends.
___
WHAT IS DURHAM INVESTIGATING?
Durham, the former top federal prosecutor in Connecticut, was appointed in 2019 by then-Attorney General William Barr to examine whether anyone committed misconduct as federal agencies investigated Russian election interference.
His investigation has gone on longer that Mueller's did and he has charged three people so far, including Sussmann. Though Durham's initial mandate was thought to focus on government officials, and though his team has interviewed FBI personnel, Justice Department lawyers and CIA officials, the investigation has also focused on private citizens such as Sussmann who came forward with information about Trump.
It is unclear how much longer the investigation will last, though Attorney General Merrick Garland has shown no public interest in curtailing the work and Durham was given a specific title of special counsel in the weeks before Barr resigned to ensure he could continue his work in a new administration.
In 2020, a former FBI lawyer named Kevin Clinesmith pleaded guilty to altering an email related to secret FBI surveillance of an ex-Trump campaign adviser, Carter Page. In applying for warrants to eavesdrop on Page, the FBI relied on a dossier of anti-Trump research known colloquially as the "Steele dossier" that contained rumors and uncorroborated claims.
Last year, Durham charged a Russia analyst who was a source for that dossier with lying to the FBI about his own sources of information — among them, a longtime Hillary Clinton supporter. Igor Danchenko has pleaded not guilty. The case is pending and set for trial in October.
____
Follow Eric Tucker on Twitter at http://www.twitter.com/etuckerAP
New Pompeii finds highlight middle-class life in doomed city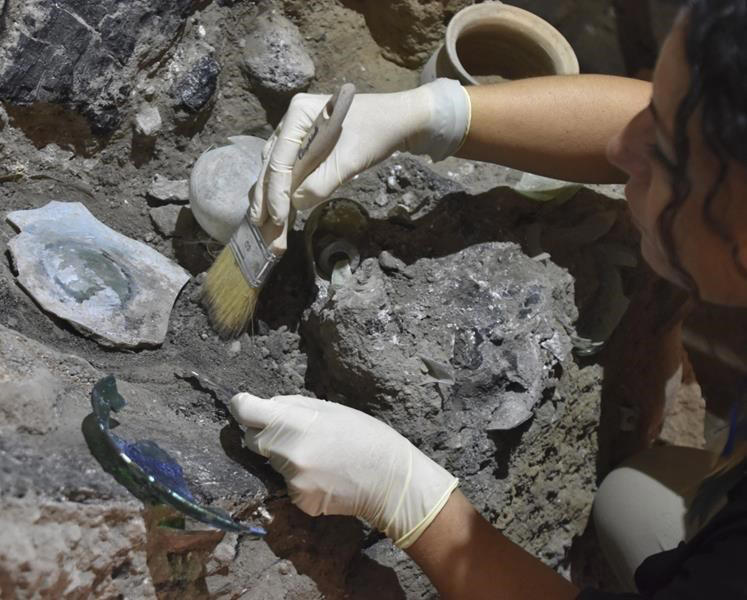 ROME (AP) — A trunk with its lid left open. A wooden dishware closet, its shelves caved in. Three-legged accent tables topped by decorative bowls. These latest discoveries by archaeologists are enriching knowledge about middle-class lives in Pompeii before Mount Vesuvius' furious eruption buried the ancient Roman city in volcanic debris.
Pompeii's archaeological park, one of Italy's top tourist attractions, announced the recent finds on Saturday. Its director, Gabriel Zuchtriegel, said the excavation of rooms in a "domus," or home, first unearthed in 2018 had revealed precious details about the domestic environment of ordinary citizens of the city, which was destroyed in 79 A.D.
In past decades, excavation largely concentrated on sumptuous, elaborately frescoed villas of the Pompeii's upper-class residents. But archaeology activity in the sprawling site, near modern-day Naples, has increasingly focused on the lives of the middle class as well as of servants and other enslaved people.
"In the Roman empire, there was an ample chunk of the population that struggled with their social status and for whom 'daily bread,' was anything but a given," Zuchtriegel said. "A vulnerable class during political crises and food shortages, but also ambitious about climbing the social ladder."
The finds unveiled on Saturday include furnishings and household objects in the domus, which was dubbed the House of the Larario for an area of a home devoted to domestic spirits known as lares. The home unearthed in 2018 has one in the courtyard.
Zuchtriegel noted that while the courtyard also had an exceptionally well-adorned cistern, "evidently, the (financial) resources weren't enough to decorate the five rooms of the home." One room had unpainted walls and an earthen floor apparently used for storage.
In a bedroom, archeologists found the remains of a bed frame with a trace of fabric from the pillow. The kind of bed is identical to three, cot-like beds unearthed last year in a tiny room in another residence that archaeologists believe doubled as a storeroom and sleeping quarters for a family of enslaved inhabitants of Pompeii.
The bedroom findings announced Saturday also included the remains of a wooden trunk with an open lid. Although the weight of beams and ceiling panels that crashed down in the wake of the volcanic explosion heavily damaged the trunk, among the objects found inside was an oil lamp decorated with a bas relief depicting the ancient Greek deity Zeus being transformed into an eagle. Nearby was a small, three-legged round table, similar to the accent tables in vogue today.
Exposing the storeroom revealed a wooden closet, its backboard still intact but the shelves caved in. Archaeologists believe the closet had at least four panel doors and held cookware and dishes for the nearby kitchen. The excavators found a hinge from the enclosure.
Other objects found in the house include a large fragment of what had been a translucent, rimmed plate in brilliant hues of cobalt blue and emerald, and a well-preserved incense burner, shaped like a cradle.
Frances D'emilio, The Associated Press
Surprise Senate vote would overturn Biden environmental rule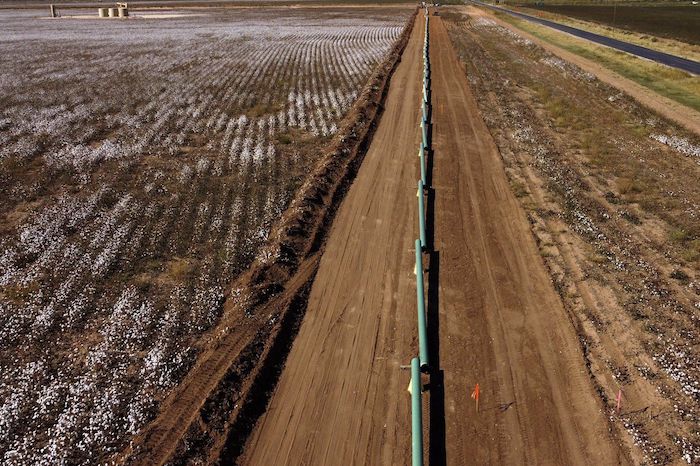 By Matthew Daly in Washington
WASHINGTON (AP) — In a surprise victory for Republicans, the Senate on Thursday voted to overturn a Biden administration rule requiring rigorous environmental review of major infrastructure projects such as highways, pipelines and oil wells — an outcome aided by Democratic Sen. Joe Manchin of West Virginia.
Manchin, a key player on energy and climate issues and a swing vote in the closely divided Senate, joined Republicans to support the measure, which was approved 50-47. The vote comes as Manchin has proposed a separate list of legislative measures to speed up federal permitting for major projects in return for his support of a Democratic bill to address climate change.
Republicans voted unanimously to overturn the Biden permitting rule, while Manchin was the only Democrat to support it. Three senators were absent: Republican John Cornyn of Texas and Democrats Patrick Leahy of Vermont and Jeff Merkley of Oregon. The vote sends the measure to the Democratic-controlled House, where it is unlikely to move forward.
Still, the vote signaled strong Senate support for action to reform the often onerous federal permitting process, which can take up to eight to 10 years for highways and other major projects. Streamlining federal review is a top Manchin and GOP priority that is not shared by most Democrats.
Sen. Dan Sullivan, an Alaska Republican, sponsored the measure to overturn the Biden rule, saying new regulations under the National Environmental Policy Act, or NEPA, will further bog down the permitting process and delay critical infrastructure projects the country needs.
The Biden rule — which overturns an action by the Trump administration loosening environmental reviews — requires regulators to consider the likely impacts on climate change and nearby communities before approving major projects. The new requirement "is going to add to the red tape" that prevents major infrastructure projects from being approved in a timely manner, Sullivan said.
While President Joe Biden has called infrastructure a priority — and pushed for a $1 trillion bipartisan infrastructure law passed last year — the new NEPA rule actually "makes it harder to build infrastructure projects" in the United States, Sullivan said.
"The only people, in my view, who really like this new system are radical far-left environmental groups that don't want to build anything … and probably the Chinese Communist Party," he said on the Senate floor. China and other competitors likely "love the fact that it takes 9 to 10 years to permit a bridge in the U.S.A.," Sullivan said.
The White House strongly opposed the measure and threatened a veto if Congress approves it.
"This action would slow the construction of American infrastructure, lead to the waste of taxpayer resources on poorly designed projects and result in unnecessary and costly litigation and conflict that will delay permitting," the White House said in a statement Thursday.
Manchin countered that, "for years I've worked to fix our broken permitting system, and I know the (Biden) administration's approach to permitting is dead wrong."
Manchin called Thursday's vote "a step in the right direction" but said the measure likely "is dead on arrival in the House. That's why I fought so hard to secure a commitment (from Democratic leaders) on bipartisan permitting reform, which is the only way we're going to actually fix this problem."
The new rule, finalized this spring, restores key provisions of NEPA, a bedrock environmental law that is designed to ensure community safeguards during reviews for a wide range of federal projects, including roads, bridges and energy development such as pipelines and oil wells. The longstanding reviews were scaled back under former President Donald Trump in a bid to fast-track projects and create jobs.
The White House Council on Environmental Quality said in implementing the new rule that it should restore public confidence during environmental reviews. The change could speed development by helping to "ensure that projects get built right the first time," said CEQ Chair Brenda Mallory.
Projects approved by the Trump administration were frequently delayed or defeated by lengthy court battles from groups challenging environmental reviews as inadequate.
Manchin, who brokered a surprise deal last week on climate legislation with Senate Majority Leader Chuck Schumer, said he's won promises from Biden and Democratic leaders in Congress to pursue permitting reforms in the Senate to speed approval of projects in his energy-producing state and across the country. Manchin's wish list includes swift approval of the controversial Mountain Valley natural gas pipeline in his home state and Virginia. The pipeline is nearly complete but has been delayed for years by court battles and other issues.
Manchin's list includes a number of proposals supported by Republicans, including a two-year deadline on environmental reviews; changes to the Clean Water Act; limitations on judicial review; and prompt action on projects determined by the Energy secretary to be in the national interest.
Environmental groups have decried Manchin's proposals as counter-productive to the climate legislation and a threat to the environment and communities where projects would be built.
Madeleine Foote, deputy legislative director of the League of Conservation Voters, dismissed the Senate vote Thursday as "nothing more than a Republican-led stunt to appease their fossil fuel-industry allies."
Foote and other environmentalists said strong NEPA review is needed to ensure that those most affected by an energy project have a say in the projects built in their communities.
"Thorough, community-based environmental reviews are critical to helping eliminate environmental racism and making sure low-income communities and communities of color are protected from polluters who want to build dirty, toxic projects in their backyards," Foote said.
She called on Congress to approve the Manchin-Schumer climate bill as soon as possible. Schumer said votes on the bill are likely this weekend.
Kabir Green, director of federal affairs at the Natural Resources Defense Council, another environmental group, said Americans are "seeing the effects of climate change in catastrophic detail, from the heat waves in Texas to wildfires in New Mexico to the devastating flooding in Kentucky. But the Senate is voting to prevent the federal government from considering climate change when making decisions. This makes no sense."