Expansion of prison needle exchange programs going ahead despite pandemic delays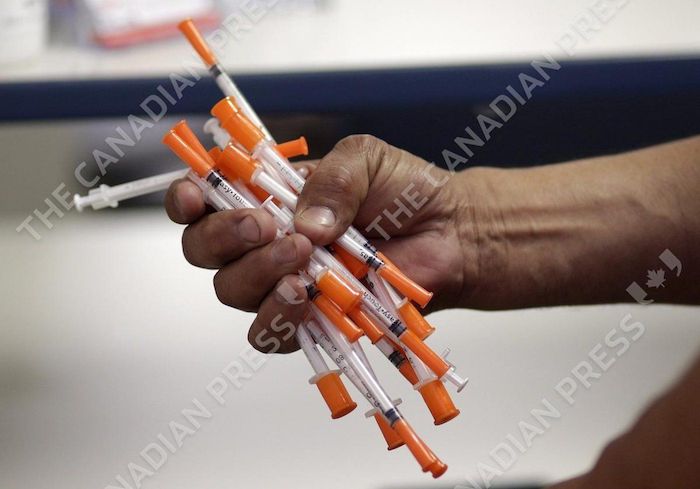 By Marie-Danielle Smith in Ottawa
Despite pandemic slowdowns, Correctional Service Canada is still planning to expand the needle exchange programs currently offered at nine federal prisons, government officials say.
At a presentation given to the International AIDS Conference in Montreal on Friday, Henry de Souza, the agency's director general of clinical services and public health, said "a number of institutions" have been identified for an expansion, and the program will continue to be implemented across the country.
Inmates have been able to request sterile equipment for drug use at two Canadian prisons since 2018, and another seven were added in 2019. Some advocates have expressed fears the program, which is designed to reduce needle sharing and the spread of infectious disease, could be cancelled after numbers showed a low uptake.
Only 53 inmates were actively using the programs in mid-June, officials told the AIDS conference Friday night, out of 277 who had been approved to participate over the last four years.
These programs are in addition to the country's only prison-based "overdose prevention service," which began operating in 2019 at the men's medium-security Drumheller Institution in Alberta. It is essentially a supervised injection site, offering sterile equipment and consumption under observation.
Since the site opened, there have been 55 participants, 1,591 visits and zero overdoses at the site, officials told the conference.The correctional service says it also offers mental health counselling, access to naloxone to counter opioid overdose effects and preventive treatments, such as pre-exposure prophylaxis — medicine taken to prevent getting HIV.
All of these efforts has led to a decrease in infections, said Marie-Pierre Gendron, an epidemiologist at Correctional Service Canada. She said HIV infection among inmates nationally is down from 2.02 per cent of the prison population in 2007 to 0.93 per cent in 2020; and hepatitis C is down from 21 per cent in 2010 to 3.2 per cent in 2021.
Lynne Leonard, a University of Ottawa associate professor who was contracted by the agency to evaluate the programs, said during a Tuesday morning panel that both programs have had "significant beneficial outcomes" for inmates, and she saw "eventual successful institutional adoption" despite initial pushback from staff.
Preliminary results from her study found that the program seemed to lead to a significant decrease in HIV infections at the institutions that put it into place. Overdoses at Drumheller were down more than 50 per cent overall since its supervised consumption site opened.
"I'm encouraged by the way they're describing the program as something they're proud of," says Sandra Ka Hon Chu, co-executive director of the HIV Legal Network.
But a major "red flag" that could be leading to lower participation is the fact that security personnel are involved in the process, she said. That's not the case in other countries' prison needle exchange programs, some of which are fully anonymous or even offer syringes in automated dispensing machines.
"It's really a critical flaw in the program," she said.
Inmates are subject to a threat assessment by security and approval by a warden before being able to access programs, as officials described the process. Almost a quarter of requests to participate in the program have been rejected, according to statistics presented at the conference.
Shawn Huish, the warden at Mission Institution in British Columbia, said it was a challenge to shift the mindset of correctional workers accustomed to searching for drugs, confiscating them and trying to stop inmates from taking them — while at the same time reassuring inmates that participating in the program would not affect their release.
There was a lot of "fake news" to battle, Huish said, including a billboard erected outside the prison that painted the program in a negative light.
"Our biggest focus was talking, educating, breaking down the fear. Having a needle acknowledged in jail can be scary for folks," he said. "You're afraid you're going to get needle sticks. So we looked at the records. In two and a half years, we've had one staff member get pricked, and it was while searching, and it was a thumb tack."
Leah Cook, the regional manager of public health for the Prairies, oversaw the implementation of the supervised injection site at Drumheller and said it is "the only known service of its kind in a correctional setting on the world stage, for which I am incredibly proud."
Cook said a "safe zone" was created so that participants in the program could carry their own drug supply to the observation room without the fear of being searched — and it's been nicknamed the "yellow brick road."
Although it is not clear whether the agency plans to expand the overdose prevention service to other institutions, Leonard's research found that staff members at Drumheller preferred it to the needle exchange program and thought it was safer and more successful.
Correctional Service Canada did not immediately respond to questions sent over the weekend.
This report by The Canadian Press was first published Aug. 2, 2022.
Stretched thin, parents have swath of options to save for children's education
The rising cost of living has ramped up pressure on parents, who say it's tougher than ever to save for their children's post-secondary education, a new survey found. Graduates are silhouetted as they line up for a convocation ceremony at Simon Fraser University, in Burnaby, B.C., on Friday, May 6, 2022. THE CANADIAN PRESS/Darryl Dyck
By Christopher Reynolds in Montreal
Parents are finding it tougher than ever to save for their children's post-secondary education as the rising cost of living ramps up financial pressures.
But the mainstays of post-secondary saving — RESPs, especially — remain key tools, as do clear goals and plenty of planning.
Julie Petrera, a senior strategist for client needs at Edward Jones, said the first step is getting a handle on cost estimates, which can range from thousands to hundreds of thousands of dollars, depending on the type and length of schooling and whether the child is leaving home.
Other considerations include whether family members, such as a grandparent or the child themself, will contribute and where education ranks on parents' list of savings priorities.
"Are they paying for post-secondary education and saving for their own retirement and funding other expenses, like renovations and vacations?" Petrera asked.
According to an online survey of 1,000 parents with at least one child under 18 by Embark, a company specializing in education savings, some 73 per cent of parents said saving for college and university has been harder recently.
The survey also found just over half of respondents said they would go into debt to pay for their child's education.
The Registered Education Savings Plan (RESP) offers a tax-deferred investment account that has been used by millions. More than 481,000 students withdrew funds from an RESP in 2021, according to Employment and Social Development Canada.
Ottawa matches 20 per cent on the first $2,500 put toward an RESP each year, via the Canada Education Savings Grant (CESG), for a total of $500 per year, with higher rates available to lower income families. The lifetime maximum grant amount is capped at $7,200, while total contributions to RESP accounts are limited to $50,000 per beneficiary.
Low income families may also be eligible for the Canadian Learning Bond, which does not require RESP contributions.
RESP beneficiaries in British Columbia may be eligible for an additional one‑time $1,200 grant, while those in Quebec can enjoy a refundable tax credit with a lifetime maximum of $3,600.
"The RESP is great. It is designed to help with affordability," Petrera said. "But on the flip side there are some restrictions on these plans … on who can withdraw the funds, when they can withdraw them and why."
RESPs can comprise a major part of a family's education funding, but should not be viewed as a "standalone" plan, Petrera said. Non-registered investment accounts offer a supplementary option.
"There are no grants associated, they are fully taxable, but they have no restrictions. You can put money in up to any amount and withdraw at any time for any reason," she said.
A tax-free savings account provides another vehicle. Students themselves can't open one until they reach 18, but parents or grandparents can use their accounts to help save.
"My advice on that would be to work with an adviser or work with a professional that understands the pros and cons and the ins and outs of all of these plans to determine what is the best mix to maximize what the client's objective is," Petrera said.
Automatic contributions toward a plan are a simple, effective way to build a nest egg.
"We think that if each pair can make 50 bucks a month (per person) of contributions, they'll get $37,000 by the time their kids hit 18 and go to post-secondary school," Embark CEO Andrew Lo said.
He stressed that parents should educate themselves about education. One in three polled by the company did "not know enough to even guess" how much post-secondary schooling costs.
Erika Shaker, director of the national office of the Canadian Centre for Policy Alternatives, said costs are going up and everything's getting more expensive.
She pointed to a shift in education funding from Ottawa a couple decades ago that prompted most provinces to download more of the cost onto students or, in the case of Quebec, "two-tiering" the price between in-province and out-of-province pupils.
The labyrinth of funding programs and rules sometimes acts as more of a barrier than a relief, she added.
"Student assistance programs are a patchwork, they're messy, they're opaque. They're actually quite difficult to navigate and they can change midway through a degree," Shaker said.
"We have gone to a user-pay model that disproportionately impacts — negatively — students who have to borrow, unfortunately, to pay for post-secondary education."
This report by The Canadian Press was first published June 8, 2023.
Trans, non-binary students under 16 in N.B. need parental consent for pronoun changes
Fredericton
New Brunswick students under the age of 16 who identify as trans and non-binary won't be able to officially change their names or pronouns in school without parental consent.
Education Minister Bill Hogan made the announcement today as he unveiled his government's highly anticipated reform to the province's policy on sexual orientation in schools, known as Policy 713.
Policy 713, which was introduced in 2020, establishes minimum standards for schools to ensure a safe, welcoming and inclusive environment for LGBTQ students.
The new policy says the preferred first names and pronouns of students aged 16 and older will be used consistently in ways that the students request.
Hogan says the policy will also ensure that private, universal changing rooms and bathrooms will be available in all schools.
He says the changes, which come into effect July 1, were the product of consultations with hundreds of parents, families, students and advocacy groups.
The province's decision to review Policy 713 has faced intense scrutiny, with former education minister Dominic Cardy accusing Premier Blaine Higgs of wanting to gut sex education.
This report by The Canadian Press was first published June 8, 2023.