Excessive rainfall causes landslides in Red Deer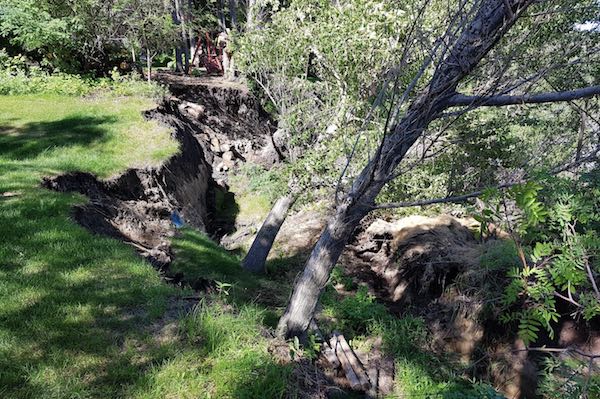 The City is asking residents to watch for signs of cracking or moving ground after three landslides were reported in Red Deer
On July 11 and 12, The City's Engineering team was made aware of three separate land slides which occurred on private properties around the city. The landslides were a result of excessive rainfall in June, which saturated the soil and caused some areas to drop.

Stemming from these events, The City is asking residents to be aware and to contact The City if they notice any large cracks in the ground or see a land slide.

"We are working closely with affected residents to assess risk of any future slides and will do the same if we receive reports of other areas of concern," said Engineering Manager Konrad Dunbar. "Public safety is our top priority, and we are doing what we can to support the community."

The City has enlisted the help of a consultant to provide additional expertise as they review and assess problem areas in the coming days. Areas at greater risk would be those with steep slopes or adjacent to escarpments. While assessments are underway, residents are encouraged to report any concerns.

"While we are assessing known problem areas, we are asking residents for their help by letting us know if they see any cracks or movement in the land so we can come assess the area," said Dunbar.

Residents who see large cracks in the ground or identify a landslide can report it directly to The City's Engineering department at 403-406-8793. The City will send someone to review the area and assess risk of a potential slide. In the case of an emergency or imminent danger, call 9-1-1.

"At this time, there is some risk of slides in other areas of the city, but that risk decreases each day warm weather helps to dry up the land. The highest risk remains on those properties with slopes or close proximity to embankments which could give way," said Dunbar. "We are just asking people to be cautious and to report any concerns."

In June 2022, The City reported between 167 and 182 mm of rain at different locations across the city. According to Environment Canada, from 1981 to 2010, the average precipitation for the month of June at the Red Deer Regional Airport was 94 mm.
Fire ban in effect for the city of Red Deer
Effective immediately, The City of Red Deer has issued a full city-wide fire ban, due to dry conditions and high temperatures. A fire ban is initiated when conditions as per the Alberta Climate Information Services become extreme.

The following fires are not allowed within city limits:
Open fires using charcoal, briquettes or wood
Any source of open flame (i.e. tiki torches)
All existing fire permits are suspended
The following fires are allowed:
Certified portable gas fire pits
Certified gas stoves or barbeques designed for cooking
Certified cooking appliances utilizing charcoal, briquettes or wood pellets on residential property
Red Deer Emergency Services encourages residents to take extra caution to prevent fires. Proper disposal of smoking materials is very important as many fires are started by individuals throwing them out a window or discarding them in plants.
Residents who notice someone having a fire during this fire ban are advised to call 9-1-1. Any person contravening the fire ban will be subject to a $210 fine and applicable response fees.
This ban will remain in effect until conditions change, and further notice is given. Updates are available here.
For more information on fire bans across the province, visit https://albertafirebans.ca/.
Process for choosing a permanent site for shelter in front of City Council Monday
Potential shelter site list going to Council on Monday
Detailed information about potential sites for the future integrated shelter will be discussed by Council during a closed portion of their meeting on Monday, August 15. Thanks to the support of a commercial realtor, citizens and community partners, 96 potential sites were identified and assessed based on Council's Site Evaluation Matrix approved on July 4. The following is a breakdown of those 96 sites:
50 market sites recommended by commercial realtor
Five unlisted sites recommended by commercial realtor
13 City or Provincially owned land
22 publicly recommended sites from May to July
Six sites put forward during the public call for sites from July 20 to 27
From the high-level list of 96 sites identified, administration completed the initial site assessment using the tool that was shared with Council at their meeting on July 18, 2022. Sites that scored more than 70 per cent moved to the next phase of technical assessment. The 12 sites that were moved forward, were put through a more comprehensive technical review, including administrative analysis, scoring and site related details
On Monday, during a closed meeting, Council will receive detailed information about the top 12 sites, as well as the full list of 96 sites. The site locations and detailed information will not be shared publicly at this time to protect the economic interest of potential parties (including site owners) involved. On Monday, Council will also determine their next steps in the process of selecting a site to recommend to the province, which will include their own site assessment based on their Site Evaluation Matrix.
The current target date for Council to select a site to recommend to the province is August 29, however, if additional technical information is required on the current 12 sites, or additional sites identified by Council, that target date may be pushed out by a minimum of two weeks.
For more information on the future shelter, visit www.reddeer.ca/shelter.
To view the public Council report, please visit the agenda packet page 102-111 for shelter report.