Ex-Twitter execs face GOP questioning on Hunter Biden story
By Farnoush Amiri in Washington
WASHINGTON (AP) — House Republicans questioned former Twitter executives Wednesday about the platform's handling of reporting on Hunter Biden, the president's son, fulfilling a party promise to investigate what they have long asserted is anti-conservative bias at social media companies.
Three former executives appeared before the House Oversight and Accountability Committee to testify for the first time about the company's decision in the weeks before the 2020 election to initially block from Twitter a New York Post article about the contents of a laptop belonging to Hunter Biden.
"Today's hearing is the House Oversight and Accountability Committee's first step in examining the coordination between the federal government and Big Tech to restrict protected speech and interfere in the democratic process," Rep. James Comer, the chairman, said in his opening statement.
The witnesses Republicans subpoenaed to testify are Vijaya Gadde, Twitter's former chief legal officer; James Baker, the company's former deputy general counsel; and Yoel Roth, former head of safety and integrity.
Democrats have a witness of their own, Anika Collier Navaroli, a former employee with Twitter's content moderation team. She testified last year to the House committee that investigated the Capitol riot about Twitter's preferential treatment of Donald Trump until the then-president was banned from Twitter two years ago.
The hearing is the GOP's opening act into what lawmakers promise will be a widespread investigation into President Joe Biden and his family, with the tech companies another prominent target of their oversight efforts.
The White House criticized congressional Republicans for staging "a bizarre political stunt," hours after Biden's State of the Union address where he detailed the bipartisan progress made in his first two years in office.
"This appears to be the latest effort by the House Republican majority's most extreme MAGA members to question and relitigate the outcome of the 2020 election," White House spokesperson Ian Sams said in a statement Wednesday. "This is not what the American people want their leaders to work on."
The New York Post first reported in October 2020, weeks before the presidential election, that it had received from Trump's personal lawyer, Rudy Giuliani, a copy of a hard drive from a laptop that Hunter Biden had dropped off 18 months earlier at a Delaware computer repair shop and never retrieved. Twitter blocked people from sharing links to the story for several days.
Months later, Twitter's then-CEO, Jack Dorsey, called the company's communications around the Post article "not great."He added that blocking the article's URL with "zero context" around why it was blocked was "unacceptable."
The newspaper story was greeted at the time with skepticism due to questions about the laptop's origins, including Giuliani's involvement, and because top officials in the Trump administration had already warned that Russia was working to denigrate Joe Biden before the White House election.
The Kremlin had interfered in the 2016 race by hacking Democratic emails that were subsequently leaked, and fears that Russia would meddle again in the 2020 race were widespread across Washington.
Just last week, lawyers for the younger Biden asked the Justice Department to investigate people who say they accessed his personal data. But they did not acknowledge that that data came from a laptop that Hunter Biden is purported to have dropped off at a computer repair shop.
The issue was also reignited recently after Elon Musk took over Twitter as CEO and began to release a slew of company information to independent journalists, what he has called the "Twitter Files."
The documents and data largely show internal debates among employees over the decision to temporarily censor the story about Hunter Biden. The tweet threads lacked substantial evidence of a targeted influence campaign from Democrats or the FBI, which has denied any involvement in Twitter's decision-making.
Nonetheless, Comer and other Republicans have used the Post story, which has not been independently verified by The Associated Press, as the basis for what they say is another example of the Biden family's "influence peddling."
One of the witnesses on Wednesday, Baker, is expected to be the target of even more Republican scrutiny.
Baker was the FBI's general counsel during the opening of two of the bureau's most consequential investigations in history: the Hillary Clinton investigation and a separate inquiry into potential coordination between Russia and Trump's 2016 presidential campaign. Republicans have long criticized the FBI's handling of both investigations.
For Democrats, Navaroli is expected to counter the GOP argument by testifying about how Twitter allowed Trump's tweets despite the misinformation they sometimes contained.
Navaroli testified to the Jan. 6 committee last year that Twitter executives often tolerated Trump's posts despite them including false statements and violations of the company's own rules because executives knew the platform was his "favorite and most-used … and enjoyed having that sort of power."
The Jan. 6 committee used Navaroli's testimony in one of its public hearings last summer but did not identify her by name.
___
Associated Press writer Eric Tucker contributed to this report.
Children lost in shooting were 'feisty,' a 'shining light'
This undated photo shows Evelyn Dieckhaus a student at The Covenant School in Nashville, Tenn. Dieckhaus was one of six people killed on Monday, March 27, 2023, in the shooting at the school. (AP Photo)
By Adrian Sainz, Kristin M. Hall, Holly Meyer And Ben Finley in Nashville
NASHVILLE (AP) — Details from the rich, full lives of the three adults killed Monday at a Nashville elementary school have emerged quickly in the aftermath, but information on the three 9-year-old children — whose lives ended tragically young — has been slower to publicly surface from a community buried in grief.
The children slain at The Covenant School were Hallie Scruggs, described by an aunt as "always on the go"; Evelyn Dieckhaus, her family's "shining light"; and William Kinney, whose family has said little publicly so far.
A woman who identified herself as Hallie's aunt, Kara Scruggs Arnold, wrote on Facebook that Hallie was "incredibly smart, feisty enough to keep up with her 3 brothers and my 4 boys."
Hallie had a "love for life that kept her smiling and running and jumping and playing and always on the go," Arnold added in her post.
Hallie's father Chad Scruggs is the lead pastor of Covenant Presbyterian Church, which is associated with The Covenant School. The private Christian school has about 200 students from preschool through sixth grade, as well as roughly 50 staff members, according to its website.
Evelyn was described as the Dieckhaus family's "shining light" on a GoFundMe page that has been set up for them. But her family, too, was reluctant to talk about her or the enormity of their loss.
The adults who were killed were Katherine Koonce, 60, the head of the school, Mike Hill, 61, a custodian, and Cynthia Peak, 61, a substitute teacher.
In a video statement released Tuesday evening, Tennessee Gov. Bill Lee said Peak was supposed to have dinner with his wife, Maria, after filling in as a substitute teacher at Covenant.
"Maria woke up this morning without one of her best friends," Lee said, adding that Peak, Koonce and his wife had once taught together and "have been family friends for decades."
Sandra McCalla, a former administrator at the high school Peak attended in Shreveport, Louisiana, said Peak served as the statistician at girls' basketball games and track meets before graduating in 1979.
"She was busy in the background making good things happen," said McCalla, who served as the principal of Captain Shreve High School for 30 years.
Chuck Owen, who knew Peak from childhood, said Peak's father was a well-known doctor in Leesville, Louisiana, where the family lived before moving to Shreveport.
He said, "everyone knew her, knew her family" and that she was "just a sweet person from a sweet family."
Owen added that Peak was a devout follower of God, and it did not surprise him that she was working at a Christian school.
"She told me that she got saved in college and that God's love changed her life," he said.
Nashville songwriter Natalie Hemby posted on Instagram that Peak "taught me how to swim. Keep my head above water… which is what we're all trying to do right now."
Peak's family issued a statement saying their "hearts are broken," and called Peak "a pillar of the community, and a teacher beloved by all her students."
"She never wavered in her faith and we know she is wrapped in the arms of Jesus," the statement said.
Koonce, the head of The Covenant School, was a woman of deep faith who saw educating kids as her mission.
"It's what God called her to do," close friend Jackie Bailey said.
"We're in such shock," Bailey added. "I was looking around my house, and every piece of cross stitch that I have on the wall, she did – she gave to me."
One of them said: "A friend loveth at all times."
"That's Proverb 17:17," Bailey said. "That's the kind of person she was. She loved at all times."
Bailey added: "If there was any trouble in that school, she would run to it, not from it. She was trying to protect those kids … That's just what I believe."
Koonce's family said in a statement Wednesday that she "gave her life to protect the students she loved."
"We are devastated by our loss but depending on our God for comfort and healing," the family said. "It is our privilege to honor Katherine's legacy and to celebrate her remarkable spirit."
Before Koonce took the top role with Covenant, Anna Caudill, a former art teacher, worked with her for almost a decade at Christ Presbyterian Academy, another Christian school in the area connected to a Presbyterian Church in America congregation.
"She was an absolute dynamo and one of the smartest women I'll ever know," said Caudill, recalling how Koonce excelled at her day job while parenting her children, pursuing her masters and then her PhD, and writing a book.
Caudill, who grew up in several male-led Christian denominations, said Koonce was the first woman in such a setting to encourage her to keep learning and pursuing her life goals.
"She wasn't Wonder Woman, but I never saw the two in the same place," Caudill said.
Friends of Hill, the custodian, said they believed he would have died protecting the school's children.
Pastor Tim Dunavant, of the Hartsville First United Methodist Church, said in a Facebook post that he hired Hill to work at Covenant more than a decade ago.
"I don't know the details yet. But I have a feeling, when it all comes out, Mike's sacrifice saved lives," Dunavant wrote.
Hill's family issued a statement saying, "We pray for the Covenant School and are so grateful that Michael was beloved by the faculty and students who filled him with joy for 14 years. He was a father of seven children … and 14 grandchildren. He liked to cook and spend time with family."
Another pastor, Jim Bachmann, said Hill was "one of those people you cannot not like" and that he made a point of learning the names of all the students and talking to them.
Bachmann was the founding pastor of Covenant Presbyterian Church, which runs the school, and is the current pastor of Stephens Valley Church, where Hill was a member and sometimes served as a greeter.
On those occasions, Hill would "dress up like he was going to meet the president of the United States," Bachmann said. He added, "Everybody loved Mike, and he loved them back."
___
Associated Press reporters Travis Loller in Nashville and Beatrice Dupuy in New York contributed to this story. Sainz reported from Memphis. Finley reported from Norfolk, Virginia.
Three Hills RCMP charge man with sexual assault of four victims at Prairie College in Three Hills. Looking for more victims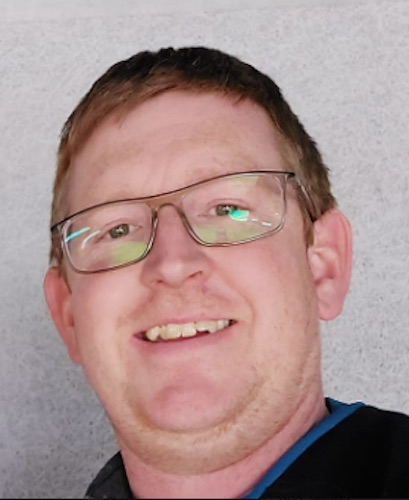 News release from Three Hills RCMP
Three Hills RCMP charge male with historic sexual assaults
On June 10, 2021, Three Hills RCMP initiated an investigation after receiving a report regarding an alleged historic sexual assault. On March 28, 2023, Derek Taplin was apprehended by Winnipeg Police Service on a Canada Wide Warrant and will be escorted back to the Province of Alberta.
Derek Taplin (43) a resident of Winnipeg, has been charged with the following:
Sexual Exploitation of a Young Person x4
Sexual Interference x4
Sexual Assault x4
Invitation to Sexual Touching x4
Through investigation, police have identified 4 alleged victims from multiple incidents at the Prairie College in Three Hills, spanning a two-year period from 2002 to 2004. The investigation is still ongoing and police believe there may be more victims and are urging any other victims or anyone with information to come forward. To aid in this investigation, RCMP are releasing a photo of Taplin.
Sexual assault is a serious crime, and the Three Hills RCMP investigates every complaint thoroughly, with the utmost professionalism and care. A complaint for sexual offences can be made at any time, no matter how far back the incident happened. If you are a survivor of sexual assault or harassment, or if you have information about a crime of sexual nature that may assist an ongoing investigation, please contact the Three Hills RCMP at 403-443-5539. If you would like to remain anonymous, please contact Crime Stoppers at 1-800-222-TIPS (8477), by downloading the secure P3 Mobile App, or by submitting a form online at P3Tips.com.
A court date for Taplin is unknown at this time. The investigation is ongoing.