'Everything Everywhere' tops Oscar nominations with 11
By Jake Coyle in New York
NEW YORK (AP) — The multiverse-skipping sci-fi indie hit "Everything Everywhere All at Once" led nominations to the 95th Academy Awards as Hollywood heaped honors on big-screen spectacles like "Top Gun: Maverick" and "Avatar: The Way of Water" a year after a streaming service won best picture for the first time.
Daniel Scheinert and Daniel Kwan's "Everything Everywhere All at Once" landed a leading 11 nominations on Tuesday, including nods for Michelle Yeoh and comeback kid Ke Huy Quan, the former child star of "Indiana Jones and the Temple of Doom." Released back in March, the A24 film has proven an unlikely Oscar heavyweight against the expectations of even its makers. Yeoh became the first Asian actor nominated for best actress.
"Even just to be nominated means validation, love, from your peers," said an "overwhelmed" Yeoh speaking by phone from London. "What it means for the rest of the Asians around the world, not just in America but globally, is to say we have a seat at the table. We finally have a seat at the table. We are being recognized and being seen."
The 10 movies up for best picture are: "Everything Everywhere All at Once,""The Banshees of Inisherin," "The Fabelmans," "Tár,""Top Gun: Maverick," "Avatar: The Way of Water," "Elvis," "All Quiet on the Western Front," "Women Talking" and "Triangle of Sadness."
Nominations were announced Tuesday from the academy's Samuel Goldwyn Theater in Beverly Hills, California, by Riz Ahmed and Allison Williams. If last year's Oscars were dominated by streaming — Apple TV+'s "CODA" won best picture and Netflix landed a leading 27 nominations — movies that drew moviegoers to multiplexes after two years of pandemic make up many of this year's top contenders.
For the first time, two sequels — "Top Gun: Maverick" and "Avatar: The Way of Water" — were nominated for best picture. The two films together account for some $3.5 billion in box office. Tom Cruise missed out on an acting nomination, but "Top Gun: Maverick" — often credited with bringing many moviegoers back to theaters — walked away with seven nominations, including best sound, best visual effects and best song for Lada Gaga's "Hold My Hand." Ryan Coogler's "Black Panther: Wakanda Forever," made in the wake of Chadwick Boseman's death, also scored five nominations, including the first acting nod for a performance in a Marvel movie: Angela Bassett, the likely favorite to win best supporting actress.
Going by earlier guild nominations, Martin McDonagh's Ireland-set dark comedy "The Banshees of Inisherin" may be the stiffest competition for "Everything Everywhere All at Once" at the Oscars. The Searchlight Pictures film landed nine nominations Tuesday, including nods for McDonagh's directing and screenplay, and a quartet of acting nominations: Colin Farrell for best actor, Kerry Condon for best supporting actress and both Brendan Gleeson and Barry Keoghan for best supporting actor.
Baz Luhrmann's bedazzled biopic "Elvis" — another summer box-office hit, with $287.3 million worldwide — came away with eight nominations, including a best actor nod for star Austin Butler and nominations for its costumes, sound and production design.
Though Steven Spielberg's "The Fabelmans" struggled to catch on with audiences, the director's autobiographical coming-of-age tale landed Spielberg his 20th Oscar nomination and eighth nod for best-director. John Williams, his longtime composer, extended his record for the most Oscar nominations for a living person. Williams' 53rd nominations trails only Walt Disney's 59. "The Fabelmans" marks Spielberg's 12th best-picture nomination as a producer.
In the ultra-competitive best actress race, "Fabelmans" star Michelle Williams was nominated after being passed over by the Screen Actors Guild. The other nominees for best actress are: Ana de Armas, "Blonde"; Cate Blanchett, "Tár" and Andrea Riseborough, who emerged as a late contender after a host of celebrities rallied around her performance as an alcoholic West Texas mother in the little-seen "To Leslie." Notably left out of the category were Viola Davis ("Woman King") and Danielle Deadwyler ("Till").
Only one streaming title broke into the best picture field: The German WWI film "All Quiet on the Western Front." Though Netflix for the first time in years lacks a possible best picture frontrunner, "All Quiet on the Western Front" landed a better-than-expected nine nominations, including best international film and best adapted screenplay. The streaming service also has the top animated film contender in "Guillermo del Toro's Pinocchio," which was nominated for best animated feature alongside "Marcel the Shell With Shoes On," "Puss in Boots: The Last Wish," "The Sea Beast" and "Turning Red."
Along with Butler and Farrell, the best actor nominees are: Brendan Fraser, hailed for his comeback performance as an overweight shut-in in "The Whale," Bill Nighy for "Living" and, in a surprise for one of the most critically lauded films of the year, Paul Mescal, for Charlotte Wells' father-daughter tale "Aftersun."
Brian Tyree Henry landed his first Oscar nomination for his supporting turn in "Causeway," in which he starred opposite Jennifer Lawrence. ("I'm so grateful," Tyree said in a statement. "And to the random man in the elevator who saw me scream at the news, thank you for hugging me and not freaking out!!!!!!") In the supporting actress category, two "Everything Everywhere All at Once" actors — Jamie Lee Curtis and Stephanie Hsu — were nominated along with Hong Chau ("The Whale"), Condon and Bassett.
Quan and Chau — both the children of Vietnam War refugees — and the California-born Hsu and the Malaysia-born Yeoh together make it the most acting nominations ever for Asian or Asian American actors. For Quan, a much-loved face of the 1980s from "Goonies" and "Temple of Doom," the nomination was a once-unfathomable pinnacle. After his acting opportunities dried up, Quan quit acting for years before being offered the part of Waymond. Speaking by phone from Los Angeles, Quan remembered having dreams as a child of attending the Academy Awards.
"It just seemed so far-fetched. Especially when I had to step away from acting for so many years, that dream seemed like it was dead," Quan said. "My whole thing was: I just wanted a job."
After the best director category saw back-to-back landmark wins for female filmmakers — Chloé Zhao ("Nomadland") in 2021, Jane Campion ("The Power of the Dog") last year — no women were nominated for best director. But in the best picture group, one of the up-for-grabs final slots went to Sarah Polley's "Women Talking," a parable of sexual assault and justice. Polley was also nominated for best adapted screenplay.
In the end, the Oscar push for the Indian action sensation "RRR" landed a sole nomination: best song for M.M. Keeravaani's "Naatu Naatu." The Palme d'Or-winning satire from Swedish director Ruben Östlund, "Triangle of Sadness," scored three big nominations, for best picture, best director and best original screenplay.
Along with "All Quiet on the Western Front," the nominees for best international film are: "Argentina, 1985" (Argentina); "Close" (Belgium); "EO" (Poland); "The Quiet Girl" (a first for Ireland). The category has been criticized for allowing submissions to be chosen by each country's government, a process that disadvantages filmmakers working in oppressive regimes. Iranian director Jafar Panahi, whose "No Bears" was hailed as one of 2022's best, was imprisoned earlier this year.
Current politics were also front and center in the documentary category. Nominees include "Navalny," an up-close portrait of the jailed Russian dissident Alexie Navalny; "A House Made of Splinters," about a Ukrainian halfway house; and Laura Poitras' "All the Beauty and the Bloodshed," about Nan Goldin's opioid activism. They were joined by the volcanologist romance "Fire of Love" and Shaunak Sen's about three men's efforts to save New Delhi's pollution-ravaged birds of prey.
The Academy of Motion Pictures Arts & Sciences will surely celebrate a best picture field populated with blockbusters; according to data firm Comscore, their collective domestic box office of $1.574 billion is the most ever at the time of nominations. Ratings for the telecast have typically been higher in years with much-watched films as favorites. Last year's awards had been looking like a comeback edition for the Oscars before "the slap" came to define the ceremony. In the aftermath, the academy banned Will Smith from attending for the next 10 years. Though he could have still been nominated, Smith's performance as a runaway slave in "Emancipation" didn't catch on.
But larger concerns are swirling around the movie business. Last year saw flashes of triumphant resurrection for theaters, like the success of "Top Gun: Maverick," but less stellar results for most dramas. Partially due to an inconsistent stream of major releases, ticket sales for the year recovered only about 70% of pre-pandemic business. Stocks for streaming services, meanwhile have plunged as Wall Street looked to streaming services to earn profits, not just add subscribers.
Last year's Oscar broadcast drew 16.6 million viewers, according to Nielsen, up from the record-low audience of 10.5 million for the pandemic-marred 2021 telecast. This year, ABC is bringing back Jimmy Kimmel to host the March 12 ceremony, one that will surely be seen as a return to the site of the slap.
___
For more on this year's Oscars, visit: http://www.apnews.com/academy-awards
Wildlife Festival Returns to Red Deer's Westerner Park February 3 – 5!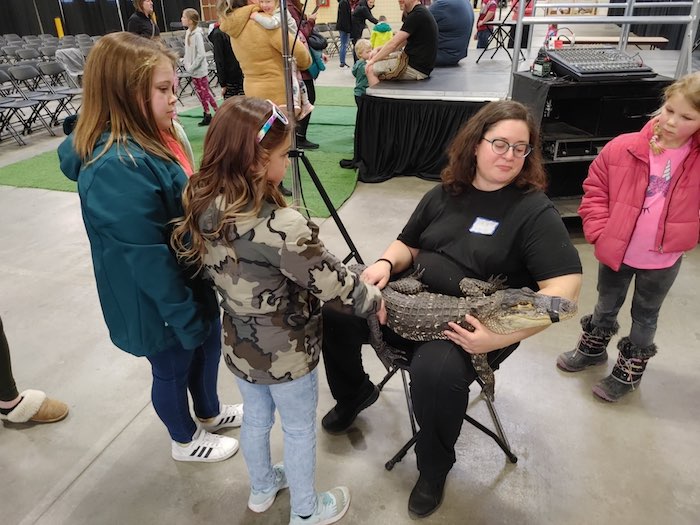 RED DEER WILDLIFE FESTIVAL
See a Sloth! Pet a Kangaroo! Meet a Tegu!
Hang with an Iguana! And many more amazing animals.
The YYC Nature Centre, Cobb's Adventure Park, & Cobb's Exotic Animal Rescue are bringing you a not to be missed event in Red Deer Feb 3rd – Feb 5th
3 ALL NEW EXHIBITS
Diversity of Living Things
What is the difference between frogs and toads? How do animals adapt? Learn about different species and life on earth.
Journey to the Amazon
See & interact with some of the incredible animals that call the Amazon home. The worlds largest rainforest comes to life!
This is Africa
Learn about the planet's 2nd largest continent.
---
Admission
$17.00 in Advance
$21.00 at the door
Kids 3 and under Free.
Jan 20, 7-9pm – Adults Only Admission
$26.00 in Advance
$31.00 at the door
VIP EXPERIENCE – *BEST VALUE!*
A small group guided experience with many of our animals! VIP Experiences are VERY LIMITED per day. One at the beginning of the day and one at the end of the day. Choose either the Parrot and Mammal Experience or the Reptile experience. $150/person in advance including admission, $175/person at the door.
ADD ON ANIMAL EXPERIENCES
Pet/feed a wallaby. Feed a porcupine. Hug a boa. Includes photo opportunity with your camera. $20 – $60 per person, per experience.
---
Educational Program
COLD BLOODED AMAZON
Learn about some of the largest reptiles on earth that call the Amazon home!
Educational Program
DIVERSITY OF LIVING THINGS: MAMMALS
Learn about Sloths, Sugar Gliders, Kangaroos and much more!
"After 2 long years of there being so little to do, it was great to be able to finally do something exciting…and something different than normal.

– Holly Pettitt
"We went to this show in Lethbridge this year and my 11 year old daughter loved it. She got all kinds of Wallaby snuggles, she held an alligator, armadillo, had some friendly birds perch on her head and got to see so much more. It's really nice to get out and see everyone's smiling faces. Trust me the VIP access is worth it!"

– Ronda Sauers
"My kids had a great time!! The got to pet many different animals! They loved having their pics taken holding a gator and a snake!!"

– Sabrina Henry
---
What Is The Wildlife Festival?
The Wildlife Festival is an annual interactive experience that highlights animals and their habitats. Our mission is to inspire and educate people of all ages by connecting with animals. Our entertaining stage shows, educational displays and interactive experiences with the animals will teach, entertain and delight all who attend.

Who we are
Cobb's Exotic Animal Rescue is a non-profit division of Cobb's Adventure Park. Cobb's is home to hundreds of animals including Kangaroos, Wallabies, Wallaroos, Llamas, Emus, Porcupines and more. Their mission is to give all exotic animals a safe and healthy life. Their current goal is to build an education center as a place to house and a place to educate the public on what it means to be involved with exotic animals. Far too often people buy exotic animals without thinking of the consequences long term. Many of these animals outgrow their spaces and even sometimes outlive their owners. As a result, exotic animals are frequently sold and resold many times, and sadly many become inhumanely disposed of. Cobb's Exotic Animal Rescue aims to be a link to the solution. Cobbs is able to provide the appropriate care and nurturing of many of these species and gives them the unique attention that they require.
Click below to donate, and be a part of building an education center in Alberta for exotic animals in need.
Reptile Parties INC is the parent company of Calgary Reptile Parties and the YYC Nature & Education Centre. Calgary Reptile Parties launched in 2008, became incorporated in 2012, and opened the YYC Nature & Education Centre in 2021. Their focus is on programs that promote conservation, responsible pet ownership, and connecting people to animals. The center is home to 300 animals including snakes, lizards, spiders, exotic mammals, and birds. Reptile Parties INC was featured on Animal Planet's SCALED – seen in 195 countries in 2018.
http://www.calgaryreptileparties.com http://www.yycnaturecentre.com
Our History
The Wildlife Festival arrived in western Canada in 2015, produced by Little Ray's Nature Centre & The Canadian Raptor Conservancy in Ontario. In 2017 Jason Clevett of Reptile Parties INC joined the team and returned again in 2019.
In 2022 Reptile Parties INC and Calgary based YYC Nature Centre teamed up with Cobb's Exotic Animal Rescue and Cobb's Adventure Park to lead the re-opening of The Wildlife Festival in Western Canada. The Wildlife Festival appeared at multiple fairs and exhibitions in Alberta and Saskatchewan in 2022 drawing thousands of visitors from all across Western Canada.
FAQ
Do we get to pet animals with a regular ticket?
Some animals are available for petting and hands on opportunities. We offer paid photo & interaction opportunities with select animals as well as VIP experiences behind the scenes.
What comes with the VIP Experience ticket?
Spend quality private time with the animals. An exclusive hands on experience with the animals, you can take photos and ask questions behind the scenes and meet the animals trainers too! VIP experiences are VERY limited, so purchase in advance is recommended.
Is this event for all ages?
Yes! Except for our ADULTS ONLY exclusive which is on Friday evening from 7-9pm.
What if I am afraid of snakes or spiders, but want to see the other animals?
Don't worry, you can still get a chance to spend time with the other animals. We have several educational exhibits in place and the stage shows present an opportunity to learn about the animals from a comfortable distance.
Which animals will be at The Wildlife Festival?
Kangaroo, Snake, Tortoise, Tegu, Toad, Wallaby, Sugar Glider, Sloth and more! Although we have many animals attending the show, we cannot guarantee that all of them will make an appearance due to many circumstances, sensitivities, and personalities these animals can have.
Where did the animals come from?
Many of the animals under our care are rescues from homes that could no longer care for them. Others have been obtained by ethical breeders for education.
Are these animals from the wild?
None of the animals at The Wildlife Festival are from the wild. They are commonly available pets that have primarily been born/hatched under human care. Since they have been raised in captivity entirely, they are not candidates to be released into the wild.
Where Does The Money Go?
100% of the proceeds goes towards the care and support of these animals.
Notre Dame Fine Arts Department invites you to see Roald Dahl's Matilda, the Musical!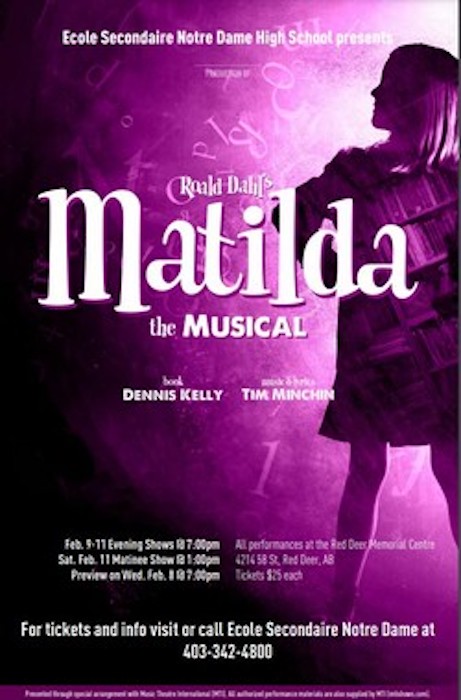 From Red Deer Catholic Regional Schools
Roald Dahl's Matilda, the Musical!
Co-Directed by Jennifer Cocolicchio and Stephanie Layden starring Addy Penney, Jordana Woroniuk, Coryn Tardif, David Jones, and Mikayla Beever.
Please join the Notre Dame Fine Arts students for their interpretation of Matilda.
Inspired by the twisted genius of Roald Dahl, the Tony Award-winning Roald Dahl's Matilda The Musical, from the Royal Shakespeare Company, revels in the anarchy of childhood, the power of imagination and the inspiring story of a girl who dreams of a better life. Book by Dennis Kelly and original songs by Tim Minchin.
Matilda is a little girl with astonishing wit, intelligence and psychokinetic powers. She's unloved by her cruel parents but impresses her schoolteacher, the highly loveable Miss Honey. Over the course of her first term at school, Matilda and Miss Honey have a profound effect on each other's lives, as Miss Honey begins not only to recognize but also appreciate Matilda's extraordinary personality. Matilda's school life isn't completely smooth sailing, however – the school's mean headmistress, Miss Trunchbull, hates children and just loves thinking up new punishments for those who don't abide by her rules. But Matilda has courage and cleverness in equal amounts, and could be the school pupils' saving grace!
Packed with high-energy dance numbers, catchy songs and quick wit, Matilda is a joyous girl power romp. Children and adults alike will be thrilled and delighted by the story of the special little girl with an extraordinary imagination.
The shows take place at Red Deer's Memorial Centre on February 9, 10, & 11 at 7:00pm. There is also a Matinee on February 11 at 1:00pm.
TICKETS ARE $25.00
TICKETS AVAILABLE in advance at Notre Dame's front office, online at https://www.notredamehigh.ca/programs/fine-arts or on the date at the theatre door.
SPECIAL PREVIEW NIGHT on February 8 at 7:00pm – Free for all press representatives and pay what you can for the general public.