Evander Kane's hat trick lifts Oilers past Kraken 6-4
Edmonton Oilers left wing Evander Kane (91) is congratulated after scoring against the Seattle Kraken during the first period of an NHL hockey game, Saturday, March 18, 2023, in Seattle. (AP Photo/John Froschauer)
By Tim Booth in Seattle
SEATTLE (AP) — Evander Kane recorded his second hat trick of the season and the Edmonton Oilers gained some cushion in the Western Conference playoff chase with a 6-4 win over the Seattle Kraken on Saturday.
Kane capped the sixth three-goal game of his career by scoring on an odd-man rush with 9:40 remaining just after a power play for Seattle ended. Kane also scored Edmonton's first goal less than two minutes into the game, and his second goal came 43 seconds into the second period.
Connor McDavid had a goal and two assists, giving him 134 points for the season — the seventh-most points by any player in the past 30 years. McDavid scored his 58th goal of the season on a power play with 3:50 remaining.
The victory moved Edmonton three points ahead of Seattle for the final automatic playoff spot from the Pacific Division. Edmonton has one less game remaining than Seattle, but the Oilers gained the upper hand in the final matchup of the regular season between the teams.
Zach Hyman scored his 30th of the season, Kailer Yamamoto added his ninth and Leon Draisaitl had three assists, giving him 104 points on the season. Mattias Ekholm also chipped in with three assists. Stuart Skinner made 33 saves for Edmonton.
Jaden Schwartz, Jordan Eberle, Oliver Bjorkstrand and Eeli Tolvanen all scored for Seattle, but the Kraken lost for the sixth time in their past seven home games. Vince Dunn extended his points streak to 12 games when he assisted on Seattle's first goal that was tipped in by Schwartz. The goal was originally credited to Dunn, but later changed to Schwartz.
Seattle's Philipp Grubauer made seven saves, but left with 13:30 left in the second period and immediately went down the tunnel to Seattle's locker room. Martin Jones replaced Grubauer and the first shot he faced found the back of the net when Hyman collected a pass from McDavid and flicked a wrist shot over Jones' blocker.
Seattle announced Grubauer left due to a non-COVID illness. Jones made 10 saves.
NOTES
Kane had his first game with multiple goals since returning from wrist surgery after suffering a cut on the wrist by a skate blade Nov. 8 at Tampa Bay. He missed 31 games recovering from the surgery and had scored five goals in the 14 games played since he returned. … Seattle F John Hayden went limping to the locker room with 7:45 left in the second period after a fight with Klim Kostin. Hayden fell awkwardly on his right leg during the fight. He did not return.
UP NEXT
Oilers: Host San Jose on Monday.
Kraken: At Dallas on Tuesday.
___
AP NHL: https://apnews.com/hub/nhl and https://twitter.com/AP_Sports
Police looking for these 3 suspects after Super 8 Motel in Innisfail robbed early Monday morning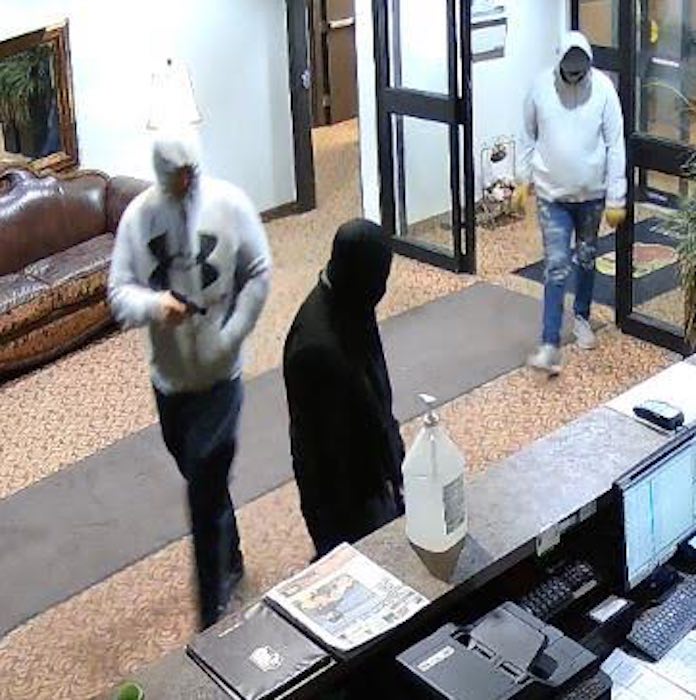 Innisfail RCMP investigate robbery
Innisfail Ala. – On May 29, 2023, at approximately 4:10 a.m., the Super 8 motel in Innisfail was the victim of an armed robbery. Three male suspects entered the hotel, two of which had firearms. Money was demanded from the manager. All three left the motel in a vehicle which is described as:
Chevrolet Dura Max truck
Sliver
Lifted
The suspects are described as:
Suspect #1: Caucasian male, tall and muscular. Wearing jeans and a grey Under Armour hoody. He was carrying a pistol.
Suspect #2: Caucasian male, short. Wearing all black. He was carrying a sawed off shotgun
Suspect #3: Caucasian male tall with a chubby belly. He was wearing a grey hoody, jeans and a black ball hat.
If you have information about this incident, please call the Innisfail RCMP at 403-227-3341 or call your local police. If you want to remain anonymous, you can contact Crime Stoppers by phone at 1-800-222-8477 (TIPS), by internet atwww.tipsubmit.com, or by SMS (check your local Crime Stoppers www.crimestoppers.ab.ca for instructions).
'Tragic accident' blamed for recent death of giraffe at Calgary Zoo
The Wilder Institute/Calgary Zoo says a "tragic accident" led to the recent death of an adult Masai giraffe. A statement from the zoo says the female giraffe named Emara died May 19 after tangling one of her horns on a cable surrounding her enclosure. THE CANADIAN PRESS/HO-Wilder Institute/Calgary Zoo-Sergei Belskey
Calgary
The Calgary Zoo says a "tragic accident" led to the recent death of one of its adult Masai giraffes.
A statement from the zoo says a female giraffe named Emara died May 19 after tangling one of her horns in a cable surrounding her enclosure.
The statement says a necropsy revealed Emara fell against the enclosure fence and died almost instantly of a broken neck.
Emara, who had just turned 12, came to Calgary from the San Diego Zoo in 2016.
The statement says she was a treasured member at the zoo and was known for her cautious yet curious personality and gentle nature.
The zoo says it is checking fencing within its African Savannah Yard enclosure to see if changes are needed to better protect the other giraffes and animals that share the space.
Doug Whiteside, interim associate director of animal care and welfare at the zoo, said Emara was in her prime and was in excellent health when she died.
"Major life changes such as this not only affect our people but can affect our animal residents as well," Whiteside said in the statement Monday.
He said the zoo's remaining giraffes, Nabo and Moshi, are doing well.
Grief counsellors are being made available to Emara's caregivers and other zoo staff.
This report by The Canadian Press was first published May 29, 2023.