Evander Kane stays put in Edmonton; Malkin re-ups with Pens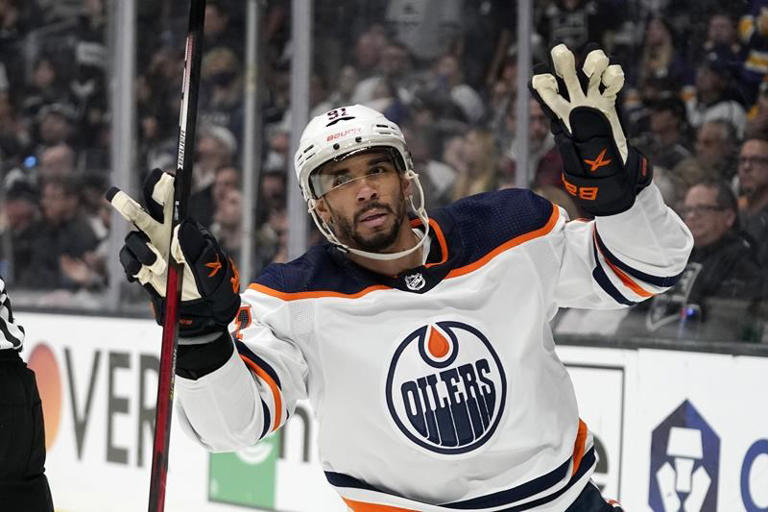 By John Wawrow, Dave Campbell And Stephen Whyno
Evgeni Malkin decided to return to the Pittsburgh Penguins after all, Evander Kane chose to stay in Edmonton, and the goalie carousel kept spinning a day before the the NHL's free agency period opened.
Malkin late Tuesday night signed a $24.4 million, four-year deal that counts $6.1 million against the salary cap through 2026. He had as recently as Monday told the team he was testing the market.
"Evgeni is a generational talent who will be remembered as one of the greatest players in NHL history," general manager Ron Hextall said. "His hockey resume and individual accomplishments speak volumes about him as a player, and we are thrilled to watch him continue his remarkable legacy in Pittsburgh."
Kane followed by announcing "I'm back," in a post on his verified Twitter account in which he revealed agreeing to a $20.5 million, four-year contract with the Oilers.
He credited Edmonton for giving him an opportunity to continue his career in January after the San Jose Sharks terminated the remainder of Kane's contract for violating COVID-19 protocols while in the American Hockey League. Kane is challenging the Sharks' decision by filing a grievance through the NHL Players' Association.
"A big part of my decision to stay in Edmonton was because of the opportunity given to me only seven months ago, but also the chance to be a part of a championship team," wrote Kane, who maintained negotiations with the Oilers, even after the team gave him permission to other clubs.
"Throughout the last 12 months, there have been lots of road blocks, tons of adversity and many tough days," he added. "I'm grateful for the tremendous amount of support from family, friends, teammates and others who have helped me stay strong through these difficult times."
Kane topped 20 goals for eighth time in 13 NHL seasons despite appearing in just 43 games, all with Edmonton.
Before Malkin and Kane stole the headlines by re-signing, the Minnesota Wild added another shift to the NHL's offseason goalie shuffle when they traded Cam Talbot to the Ottawa Senators for Filip Gustavsson.
The Senators had an opening after dealing Matt Murray to Toronto. The Wild intended to bring back Talbot in the same timeshare with Marc-Andre Fleury they used down the stretch on the way to the best regular-season record in franchise history, but general manager Bill Guerin changed his mind five days after re-signing Fleury.
"Sometimes you just know in your gut that things might not work out, and somebody might not be happy. I don't want a player to be like that either, and sometimes it's best to just move on," Guerin said. "There was no drama. We don't want to create drama."
The 37-year-old Fleury, a three-time Stanley Cup winner along side Malkin in Pittsburgh, started all but one of Minnesota's playoff games in the first-round loss to St. Louis. Talbot didn't hide his disappointment about having to wait until the elimination game to see the ice in that series.
Guerin said Talbot did not directly request a trade.
"Cam is a wonderful guy. He's a big part of where our culture is today, and it's not that he would have been a problem," Guerin said. "It's just, you know, sometimes there's a little awkwardness and that's not always the best thing."
Talbot, who has a $3.67 million salary-cap hit on the final year of the contract he signed with the Wild in 2020, will slide in next to Anton Forsberg in Ottawa's net. The 35-year-old Talbot went 13-0-3 in his last 16 regular-season starts.
With Fleury in the fold on a two-year, $7 million contract, Gustavsson will be the clear No. 2 goalie for Minnesota while top prospect Jesper Wallstedt develops in the AHL. The swap also netted almost $3 million in cap space for the strapped-for-space Wild.
The 24-year-old Gustavsson mostly struggled through 18 games with the Senators last season, going 5-12-1 with a 3.55 goals-against average. He was a 2016 second-round draft pick by Pittsburgh, when Guerin was in the front office there.
Also Tuesday, the Philadelphia Flyers placed forward Oskar Lindblom on waivers with the intent of buying out the final year of the 25-year-old cancer survivor's contract.
General manager Chuck Fletcher called it a "very difficult decision" to free up salary-cap space by cutting a player who recovered from being diagnosed with Ewing's sarcoma. The Flyers will donate $100,000 in Lindblom's name to a Philadelphia organization that supports families impacted by cancer.
"No one can question the desire, will and strength to overcome all that Oskar has been through off the ice in order to return to the game he loves," Fletcher said in a statement released by the team. "Oskar's commitment to his teammates and impact in our room has been immeasurable. He is truly an inspiration to us all and he will always remain a special part of the Philadelphia Flyers family. We wish him all the best as he continues his NHL career."
Unless claimed, Lindblom will become an unrestricted free agent once the NHL's signing period opens Wednesday. He was entering the final season of a three-year contract, which counted $3 million against Philadelphia's salary cap.
Lindblom is from Sweden and was selected by the Flyers in the fifth round of the 2014 draft. He spent five seasons in Philadelphia.
He was diagnosed with cancer in December 2019 and missed the remainder of the season before returning to play Games 6 and 7 in the Flyers' second-round series loss to the New York Islanders in August, when the Eastern Conference playoffs were played in Toronto due to COVID-19.
Lindblom returned the following season, scoring eight goals and 14 points in 50 games and winning the Bill Masterton Memorial Trophy, which is presented to a player who best embodies the qualities of perseverance, sportsmanship and dedication.
Overall, Lindblom has 50 goals and 97 points in 263 career games.
Ottawa defenseman Michael Del Zotto, New Jersey forward Janne Kuokkanen and San Jose forward Rudolfs Balcers also were placed on waivers for the purpose to buy out the final year of their contracts.
Elsewhere:
— The Buffalo Sabres re-signed pending unrestricted free agent forward Vinnie Hinostroza to a one-year contract worth $1.7 million. The seventh-year player returns for a second year in Buffalo after scoring 13 goals and 25 points in 62 games last season.
— Veteran defenseman Alexander Edler is staying in Los Angeles after signing a one-year contract worth $750,000. The 36-year-old Edler had three goals and 19 points in 41 games in his first year with the Kings last season, while missing 36 games with a broken ankle.
___
AP Sports Writer Dan Gelston contributed to this report.
___
More AP NHL: https://apnews.com/hub/nhl and https://twitter.com/AP_Sports
'Short-term pain': Group of Alberta lawyers escalate job action over legal aid cases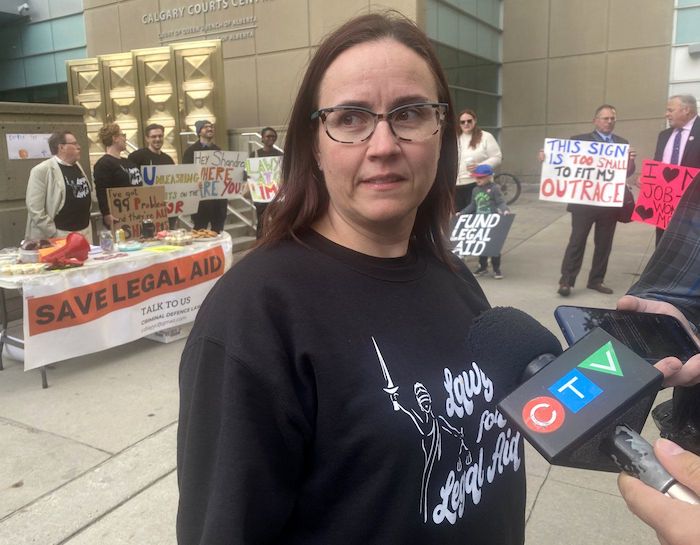 By Bill Graveland in Calgary
Alberta criminal defence lawyers are taking another step in their dispute with the provincial government over the amount of compensation paid by Legal Aid Alberta.
Organizations representing lawyers in Edmonton, Calgary, Red Deer and southern Alberta began job action Aug. 8 by refusing to accept certain bail and duty counsel files from legal aid.
The lawyers also began refusing certificates for new cases for the most serious criminal charges, including sexual offences, firearms-related crimes and homicides.
Beginning Monday, they say all services will be withdrawn.
"We're going to stop taking all certificates. That will include some our prior job actions still allowed us to take certificates for people who are already existing clients and there will be a very, very limited set of circumstances now where our members will do that," said Kelsey Sitar, vice-president of the Criminal Defence Lawyers Association in Calgary.
"The default will be: 'We are just not taking any new work from legal aid until the problem is fixed.'"
Sitar made her comments at a rally in front of the Calgary Courts Centre on Friday that drew about 50 criminal defence lawyers.
A table with a sign reading "Save Legal Aid" offered bake goods for sale. Lawyers carried signs reading "Access 2 Justice Must be Equal." Another read: "This sign is too small to fit my outrage."
"This is drastic. I mean, what we were doing up until now is something I know has happened in Ontario before, it did not last long, frankly," Sitar said.
"I can tell you that none of us want to be out here. We all want to be in there doing our jobs."
Justice Minister Tyler Shandro has said nothing is going to be done until a review of the Legal Aid Alberta administrative system is complete, which is scheduled for next month.
He said any budget changes for legal aid wouldn't happen until next year.
Sitar said the ministry chose to undertake "an incomplete and, frankly, useless review" at a time when the governing United Conservative Party is about to go through a leadership change.
"So we have to act now and they need to respond now," she said.
Sitar said she understands the people being affected the most by the job action will be people with lower incomes who need the services to afford legal representation.
"It's short-term pain right now," she said. "It's really unfortunate, but I can tell you that most of the people I've talked to on the street who are finding themselves caught up in this understand and are grateful that we're doing it."
Alberta Opposition NDP Leader Rachel Notley said the problem has been growing over the last three years. She said when her party was in power, it committed to additional funding for Legal Aid, but the UCP government backtracked.
"We simply cannot be asking the Legal Aid bar to be doing what we are asking them to do at the rate that we are asking them to do it," she told reporters.
"We have the lowest funding for Legal Aid in the country. What that means is that we don't have equal access to justice. It undermines the integrity of our justice system and, overall, it undermines our ability to build a sense of community safety, community security and an overall respect for the rule of law — all of which are important to community health and economic growth.
"It sounds like a niche issue, but it's not. It actually has knock-off effects to very, very important issues that affect all of us. So, the government needs to come to the table and negotiate decently with these lawyers."
This report by The Canadian Press was first published Sept. 23, 2022.
— With files from Colette Derworiz in Calgary.
'Kind of like carnies': International balloon festival returns to High River, Alta.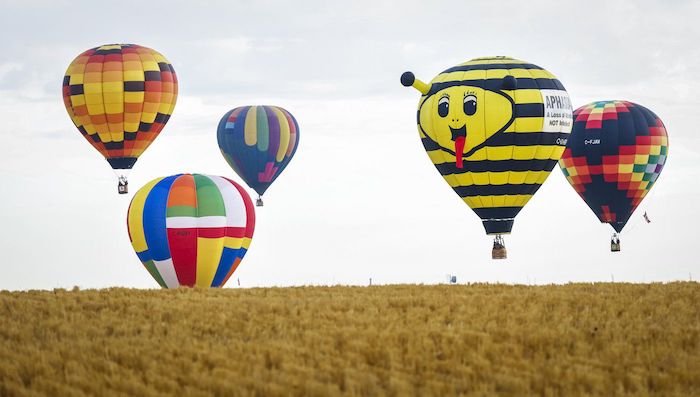 By Bill Graveland in High River, Alberta
The windswept prairie east of the Rocky Mountains seems an unlikely spot for a hot-air balloon festival, but the town of High River, Alta., is celebrating the event's 10th year.
More than 20 brightly coloured balloons — including a pink elephant, a black and yellow bee and the purple and yellow Eye of Ra, named after the Egyptian sun god — took advantage of a lull in the prevailing wind this week to get some up-in-the-air time to mark the opening of the Heritage Inn International Balloon Festival.
"We get about 50 per cent of our flights off. Weather impacts us everywhere," said event director Jamie Kinghorn, who is also a town councillor.
"This is our 10th. We started in 2013 partly because of the flood that happened. I'd been to a number of balloon events and thought this might lift the spirits of the folks in town."
The town of 12,000 just south of Calgary gained an international profile in 2013 when flooding in parts of southern Alberta caused billions of dollars in damage.
High River was one of the hardest-hit communities. Entire neighbourhoods were under water for weeks.
"I called in a bunch of friends from the balloon community and they knew what happened, so 20 of them came into High River and we put on a balloon festival that was actually amazing for the community," Kinghorn said.
"That was sort of the first major thing toward recovery after the flood and we've been doing it every year since at the end of September."
Kinghorn said the festival is a boon to local tourism and there's not a hotel room to be had in town.
He had his first hot air balloon over the city of Calgary in 1988. A year later he was a balloon pilot.
There are 23 balloons participating this year, including some from the United States, Belgium and the United Kingdom.
Kinghorn said it's a pretty small community.
"We tend to meet at various events. We tend to travel. We're kind of like carnies to some extent," he said with a laugh.
"We travel around to different cities to different balloon events."
Alan Davidson, who has been involved in the sport since 1977, is one of the volunteers.
He said those who get involved tend to stick with it.
"The amazing thing is that there are still seven or eight of the people I was ballooning with in the '70s and early '80s who are still here at this event," said Davidson. "They've been working with balloons for over 40 years."
Kinghorn, who is the owner and pilot of the Eye of Ra, was the first balloon in the air Thursday morning after a Wednesday evening flight was cancelled due to the wind.
"My God am I glad we got this off," he said as the flight came to an end.
The festival runs through Sunday.
This report by The Canadian Press was first published Sept. 23, 2022.