EU military wants to partner with Canada in Mali as it races for exit
OTTAWA — As Canada's military mission races to leave Mali and the United Nations pleads for it to stay, the European Union is making a fresh appeal to the Canadian Forces to partner with it in the West African country.
Gen. Esa Pulkkinen, director general of the EU's military staff, told The Canadian Press that he has asked the Canadian government to bring its military training expertise to Mali as part of a broader effort to stamp out Islamic extremism in Africa's Sahel region.
Pulkkinen said he's aware of the context of his request — it comes as Canada faces pressure from the UN to extend its Mali peacekeeping mission in order to bridge a gap until Romanian replacements can arrive.
But he says Canada would make a great bilateral partner with the EU's military training efforts in West Africa, which he says are crucial to stamping out security threats to Europe.
Those threats include the mass northward migration to Europe, an increase in the smuggling of arms, drugs and human trafficking, as well as terrorism.
Pulkkinen was in Ottawa this past week, and said he was planning to make a formal request to Canadian officials after raising the matter informally.
"I need brains. I don't need the quantities," he said.
"Your officer training is top level in the world. More importantly, you have French language skills as well, which we need when we provide advice for our Malian friends."
Pulkkinen already commands 1,000 troops in Somalia, the Central African Republic and Mali, and is partnering with the United States on various missions on the continent. He said the EU wants to ramp up its presence in Mauritania, Burkina Faso, Niger and Chad as well.
Joining forces with Canada would be a natural fit, he noted, because the EU mission is predicated on the same shared values.
"We try to find other partners that share the same universal Western values as we have. They are very important when you provide education for our African troops," Pulkkinen said.
"The same understanding of the respect of human rights and other issues — you name it."
But the mission will be a tough sell for the EU.
Canada is in the final throes of withdrawing its eight helicopters and 250 military personnel from Mali, where they have been providing emergency medical evacuations and transporting troops and equipment across the vast country.
The drawdown has moved the UN to formally ask Canada to extend its mission in what appears to be a final effort to prevent a gap in military medical evacuations for wounded peacekeepers and UN staff.
The UN sent a formal request, in writing, to the federal government late last month after months of behind-the-scenes prodding got them nowhere with Ottawa.
The letter marks an unusual step: the UN usually only makes such requests if it believes it stands a good chance of a positive response, which in this case is far from certain.
The government, including Prime Minister Justin Trudeau, has repeatedly played down the gap it would be creating by leaving Mali on schedule.
Pulkkinen's request on behalf of the EU will only increase the pressure on the Trudeau government, which has faced criticism for what has been seen as a relatively weak return to the business of UN peacekeeping due to the Mali mission's modest scope. The Liberals made peacekeeping a signature foreign policy promise during the 2015 federal election.
Canada will face pressure this coming week when the UN hosts a major peacekeeping summit in New York, the first one since Vancouver hosted a similar gathering in November 2017.
Foreign Affairs Minister Chrystia Freeland is expected to attend next week's peacekeeping summit in New York, but her office did not immediately respond to requests for comment.
Mike Blanchfield, The Canadian Press
In a "Staggering Precedent" Trudeau government dodging parliament with massive "inflation tax" on Canadians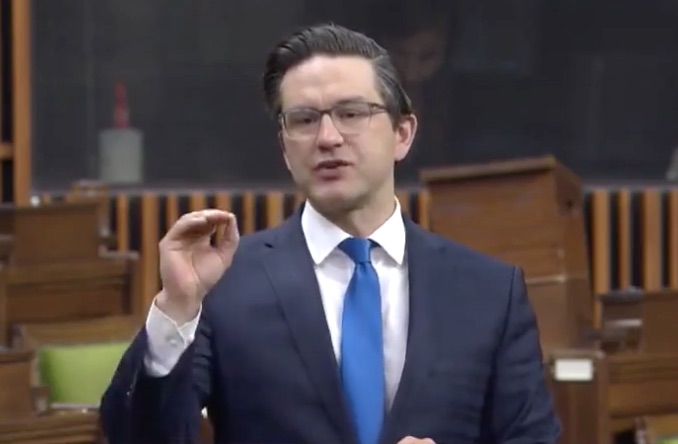 Federal Conservative Pierre Poilievre has released video from a recent Question of Privilege in the House of Commons where he explains how the Federal Liberal government has been dodging parliament to significantly raise taxes.
Instead of going further into debt or raising taxes to pay for a massive increase in government spending, the Trudeau government worked out a deal with the Central Bank.  Every week the Central Bank prints billions of dollars that go directly to government coffers.  Without a single vote and without consulting Parliament, the federal government is effectively raking in the largest tax increase in Canadian history.
By printing money at this unprecedented rate, the federal government is responsible for driving up Canada's inflation rate resulting in price hikes for virtually all goods and services.  Poilievre calls it an "inflation tax".
In this short video, Poilievre describes how the inflation tax hurts low and middle income Canadians, while increasing the value of assets owned by the richest Canadians.
New opinion surveys reveal overwhelming majority of Canadians support our Oil and Gas industry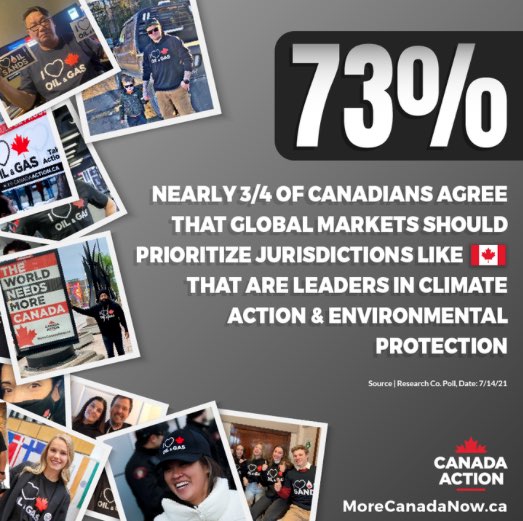 News Release from Canada Action
We are very excited to share some recent and encouraging polling results today. According to a July 2021 public opinion survey conducted by Research Co, new data shows that Canada's public perception of our responsible energy industry is very positive.
Here are some of the key findings:
Almost three in four (73 percent) Canadians polled agree Canada should be a preferred global supplier of energy because of its climate and environmental record.
Nearly seven in ten (69 percent) say they have personally benefited from the oil and gas sector.
70 percent agree that resource development could help alleviate systemic poverty within Indigenous communities.
Two thirds of Canadians (66 percent) support Canada's role as a global oil and gas supplier.
Almost three in four Canadians (73 percent) acknowledge Canada's prosperity is supported by the oil and gas sector and that Canadian oil and gas production helps fund important social programs like health care and education.
Referring to the fact 73 percent of Canadians polled also agreed it's essential First Nations be included in project development to establish long-term revenue sources for their communities, JP Gladu, acting Executive Director of Indigenous Resource Network, noted the following:
Taken collectively, this is all exceptional news for all of Canada's natural resource industries. Your support for our positive, fact based message about why the world needs more Canadian energy and resources is helping make a difference.
A Majority of Canadians 'Agree' that Canada Should be a Preferred Global Supplier of Energy: POLL