Erin O'Toole says 'I didn't hide who I was' running for Conservative leader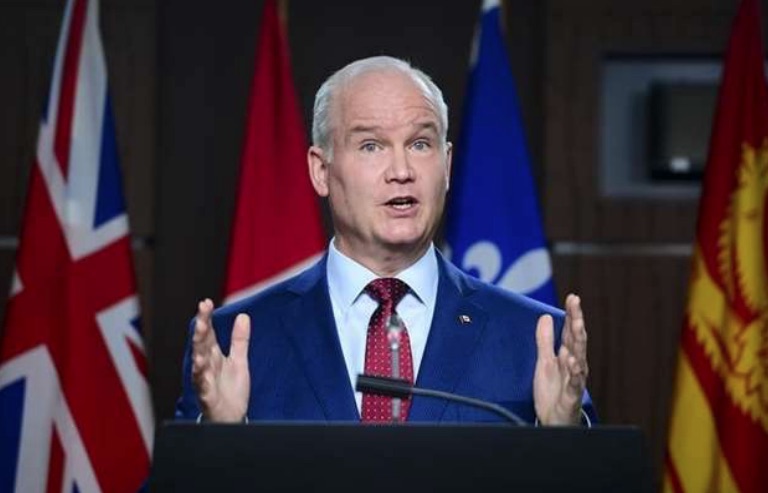 OTTAWA — Erin O'Toole assured Conservative supporters that he never hid who he was in his bid to secure the party leadership, telling a high-profile conference on Saturday that the "true blue" campaign he ran to secure the party helm does reflect his true colours.
O'Toole fielded questions about his authenticity during an evening question-and-answer session that closed out a conference hosted by the Canada Strong and Free Network, formerly the Manning Centre.He's being branded as "Liberal-lite" in some quarters, the same descriptor O'Toole once leveled at former rival and ex-parliamentarian Peter MacKay during last year's leadership race.

O'Toole, who during the contest pitched himself to party members as a "real Conservative," said he finds those now making similar comments about him to be "humorous."

He said he's been trying to grow the party's appeal to a wider swath of Canadians since assuming the party reins. O'Toole contended that bigger tent should include those who identify as Indigenous, working-class and LGBTQ if the party wants to ensure success in the next election.

"I didn't hide who I was when I was running for leader," said O'Toole.

"All of the things I ran on, I'm still running on now. I'm also, though, reaching out and trying to communicate our Conservative ideas to more people in new ways."

O'Toole told conference attendees that Conservatives must fight an election on the issues of today rather than those of decades past.

Those issues include his willingness to slash millions from the Canadian Broadcasting Corporation and modernize its mandate, as well as crack down on illegal rail blockades, positions he said help set him apart from Liberal Prime Minister Justin Trudeau.

The theme of Saturday's conference was "build back right," which played off Trudeau's oft-expressed wish to "build back better" when helping Canada's economy recover from the ravages of the COVID-19 pandemic.

The think tank's annual convention — moved online in accordance with public health advice to avoid in-person gatherings — was billed as the largest networking event for both small-c and big-C conservatives to discuss current issues.

Among them was how to expand the scope of the Conservative movement.

Lilly Obina, a black woman who campaigned for different Conservative candidates and ran for a nomination in 2015, said one reason the party doesn't resonate with the black community is its messaging around cuts, which needs to be better explained.

The senior project executive with Immigration, Refugee and Citizenship Canada told a panel that economics are important to the black community, who she said can feel targeted when the party talks about reducing the size of government.

"We need to be able to empathize with what goes (on) in the black community," she said.

"For example, when they say we are experiencing systemic racism, let's recognize that, let's be empathetic. You might not have solutions to everything, but at least just acknowledge that the problem exists."

Tenzin Khangdsar, who did cultural outreach for Alberta Premier Jason Kenney when he served as Immigration Minister under former prime minister Stephen Harper's Conservative government, said the party has had previous success with reaching newcomers despite the present-day challenges.

The former candidate pointed to how a large number of their votes were captured under former prime ministers Brian Mulroney and Harper, the latter of whom was aided by Kenney's efforts to build relationships with immigrant communities.

"He was dubbed the minister of curry in a hurry for a reason," said Khangdsar, citing how he would attend upwards of 15 community events in a weekend.

"No one likes when it you're approached just during an election, that's very transactional."

He suggested forging personal relationships is an important way to sway votes among new immigrants and ethnic-Canadians,, even more so than with non-ethnic residents.

"Our playbook was very simple: We were very confident that most new Canadians were small-c conservatives. We just had to make them big-C Conservatives," Khangdsar said.

"And I would even add that applies to most Canadians."

Harper was among those who appeared at Saturday's conference in a pre-taped panel discussion with former British prime minister David Cameron.

Moderated by Senator Linda From, the centre's president said their talk couldn't be publicized beyond the conference because of a contract with the former leaders.

This report by The Canadian Press was first published April 10, 2021.

Stephanie Taylor, The Canadian Press
Why is the federal government looking to create a national emergency agency?
A heavy machinery operator works on cleanup from the post-tropical storm Fiona in Port aux Basques, N.L. on Thursday, Sept. 29, 2022. The federal government is looking at creating some kind of national disaster response agency in the face of an unusually intense and destructive start to the wildfire season across the country. THE CANADIAN PRESS/Frank Gunn
By Sarah Ritchie in Ottawa
The federal government is looking at creating some kind of national disaster response agency in the face of an unusually intense and destructive start to the wildfire season across the country.
At the moment, federal departments including Emergency Preparedness, Public Safety and National Defence co-ordinate when there is a request for help from one of the provinces or territories after a major event like a flood, hurricane or wildfire.
Here's a look at what a national emergency agency could consist of, and how it would be different from what's already in place.
What happens right now during an emergency in Canada?
The federal government used to get between five and 10 formal requests for assistance from the provinces and territories each year.
Between March 2020 and October 2022, there were more than 200 calls ranging from hurricanes, floods and fires to helping in care homes during COVID-19. About 157 of those calls involved the military.
The government operations centre in the Department of Public Safety is the main agency that leads the response.
Director-general Deryck Trehearne told a House of Commons committee last fall that there's a rigorous check whenever a province or territory asks for military help.
"Things we would look at, for instance, are regional capacity, commercial options and other federal sources. We discuss a number of criteria with the province or territory before we get to a situation of deploying the (Canadian Armed Forces)," he said in early October.
The government also gets help from organizations such as the Red Cross and the United Way to co-ordinate things like fundraising and distribution of emergency funding, for example.
Its Disaster Financial Assistance Program helps individuals and municipalities get the money they need to rebuild and recover from natural disasters.
Trehearne said he thinks Canada has a good system for responding to emergencies, though he noted the "multiple levels of responsibility" with the provinces and local municipalities make things complicated.
Can't governments just keep calling on the military?
The Canadian Armed Forces has immediate response units that are activated to respond to disasters.
But the chief of the defence staff, Gen. Wayne Eyre, has made no secret of the fact that he would like the Canadian Armed Forces to get fewer domestic calls for help — especially while it's dealing with a personnel crisis.
Members responding to wildfires need to get special firefighting training, which takes up critical time in an emergency.
Each province and territory has different certification for wildland firefighting, and there is no basic, across-the-board training available for military members, so members only get trained when they're being deployed.
Soldiers don't actually put out wildfire flames, and they don't have firefighting gear. The people deployed to fire zones in Alberta, Quebec and Nova Scotia are there to help stop the spread of fires once they flames have abated, put out hot spots and clean up.
About 100 soldiers have been trained at CFB Gagetown in New Brunswick and are standing by to help in Nova Scotia, but they haven't been able to help yet and are waiting for tasks. A small number of ignition specialists is helping to prevent the fires from flaring up.
The Canadian Armed Forces has about 370 trained firefighters across the country. Some of them help with wildfires, but they must also remain on standby in case of emergencies on their local base or wing.
What do other countries do?
Perhaps the best-known example of a national disaster-assistance organization is the United States Federal Emergency Management Agency.
FEMA, as it's known, is responsible for preparing for, preventing, responding to and recovering from major incidents such as terrorist attacks and natural disasters. It runs a national response co-ordination centre, which organizes federal support for major disasters and can deploy teams of doctors and nurses to disaster sites.
Its workforce swells to more than 50,000 people in a disaster.
Australia also has a National Emergency Management Agency, which was created "in the face of devastating fires and floods" to help respond to and recover from disasters, according to the agency's website.
Its national aerial firefighting centre, formed in 2003, shares specialized aircraft between states to ensure they have the resources needed without having to own and maintain the expensive equipment.
The agency has "round-the-clock all-hazards monitoring" and co-ordinates the operations for anything from flooding and fires to supply chain disruptions, cyber attacks and infrastructure outages.
It also funds programs to prepare for and prevent disasters. The agency notes that disasters cost an average of $38 billion Australian each year and that cost is projected to nearly double by 2060.
What does the federal government want?
Emergency Preparedness Minister Bill Blair has been asked if the country needs a national firefighting service. He said Wednesday that because there are more frequent and more severe emergencies, responding governments need to be more agile.
"There's a need in all of the provinces and territories, in every part of the country for additional firefighting resources," he said.
He noted that Natural Resources Canada is training 1,000 new firefighters and is buying more equipment. And while the Canadian Interagency Forest Fire Centre co-ordinates firefighting resources across provinces and with other countries, Blair said there is a need for more water bombers, for example.
The military's main role in a disaster is to help local officials with logistics, planning and manpower.
On Wednesday, Prime Minister Justin Trudeau said Armed Forces members were doing "everything from delivering food and supplies to people in Minganie, Quebec, to providing logistic support for waterbombers at CFB Greenwood."
Given what Eyre has said in the past about his desire to make the Armed Forces the call of last resort in an emergency, it's possible that a new centralized federal emergency agency could be made responsible for planning and logistics.
This report by The Canadian Press was first published June 8, 2023.
Wilkinson urges collaboration after Saskatchewan rejects federal energy table
Minister of Natural Resources Jonathan Wilkinson arrives to a cabinet meeting on Parliament Hill in Ottawa on May 30, 2023. THE CANADIAN PRESS/Sean Kilpatrick
By Jeremy Simes in Regina
Federal natural resources minister Jonathan Wilkinson has asked Saskatchewan to work together on shared energy priorities after Ottawa and the province recently clashed over differing net-zero plans.
In a letter addressed to Premier Scott Moe this week, Wilkinson said he remains open to discussing how both parties can collaborate to build the economy while also ensuring the environment is sustainable for future generations.
Wilkinson has been working with each province to create regional energy and resource tables, forums that would identify areas where both jurisdictions can move forward on shared priorities and accelerate economic activity.
He said most provinces and territories have agreed to have their own table with Ottawa, but Saskatchewan has not.
Saskatchewan Justice Minister Bronwyn Eyre wrote to Wilkinson on May 16 the province won't participate because it is "directly connected to the federal 'Just Transition' plan."
Wilkson responded he's disappointed Saskatchewan won't take part, adding he believes people expect governments of all stripes to come together and find solutions.
"Given that the intention is to focus on areas of economic priority of the province for the advancement and betterment of the provincial economy, it is difficult to understand such a rejection and how this will be in the best interest of Saskatchewan's citizens," he said in the letter Wednesday.
Alberta, Nunavut and Quebec have not yet said if they will participate.
Wilkinson's letter comes after Moe said Saskatchewan would not meet Ottawa's target for electricity emissions to be net-zero by 2035.
Moe has said Saskatchewan can meet a 2050 target, but the 2035 target is not achievable, would harm the province's economy and cause electricity to be unaffordable and unreliable.
The 2035 target is part of Ottawa clean electricity standards, which are still under development. The standards would allow fossil fuels to be used if the emissions are abated.
Wilkinson said the 2035 target is possible, affordable and desirable.
He said countries and businesses are moving toward net-zero to seize economic opportunities and to avoid the effects of climate change, noting all G7 countries have committed to achieving a decarbonized electricity grid by 2035.
In her letter, Eyre indicated the province is still open to having discussions with Ottawa about projects and funding.
However, she said Saskatchewan is "drawing a line" over various environmental policies she believes are harmful.
She said Ottawa should stop these policies, which include proposed emissions caps, the carbon tax, clean electricity regulations, fuel standards and fertilizer emissions reductions.
"When you do this, we can build a stronger Canada together," she said in the letter.
Wilkinson said Ottawa and Saskatchewan already agree in several areas, including hydrogen, biofuels, critical minerals, value-added agriculture, carbon capture and small modular nuclear reactors.
He said the province could start dialogue over advancing key projects, including Foran Mining's plans in northeast Saskatchewan and the Critical Minerals Processing Centre in Saskatoon.
Wilkinson said both parties could also look at how they can advance regulatory processes around small modular nuclear reactors, which Saskatchewan is considering as part of its future electricity grid.
This report by The Canadian Press was first published June 8, 2023.