Enbridge says still willing to talk on Line 5, despite Michigan's frustration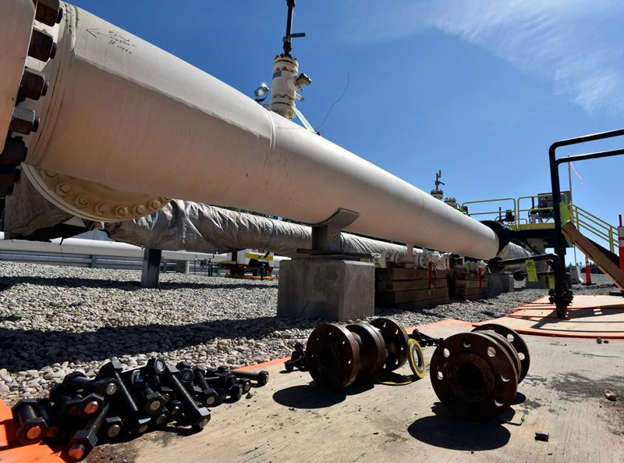 WASHINGTON — The Canadian architect of the controversial Line 5 cross-border pipeline expansion project said Friday it remains committed to a negotiated solution to its impasse with the state of Michigan, even though the government has effectively walked away from the table.
Both sides are obliged by court order to engage in a good-faith effort to resolve the dispute, and Enbridge Inc. "remains ready to do just that," the Calgary-based pipeline giant said in a statement.
"Our goal from the beginning has been to work co-operatively to reconcile interests, resolve disputes and move forward in the best interest of people throughout the region," the company said.
"We believe in the process and participated in mediation in good faith. We are committed to continuing to seek resolution, whether through mediation or by asserting our rights in the courts if necessary."
Line 5 ferries upwards of 540,000 barrels per day of crude oil and natural gas liquids across the Canada-U.S. border and the Great Lakes by way of a twin line that runs along the lake bed beneath the ecologically sensitive Straits of Mackinac, which connect Lake Michigan and Lake Huron.
Proponents call it a vital and indispensible source of energy — particularly propane — for several midwestern states, including Michigan, Ohio and Pennsylvania, and a key source of feedstock for critical refineries on the northern side of the border, including those that supply jet fuel to some of Canada's busiest airports.
Critics, however, among them Michigan Gov. Gretchen Whitmer, want the line shut down, arguing it's only a matter of time before an anchor strike or technical failure triggers a catastrophic environmental disaster in one of the area's most important watersheds.
That's why last November, Whitmer abruptly revoked the easement that had allowed the pipeline to operate since 1953, giving the company until May to voluntarily cease operations and triggering a court case that has only dragged on since then.
Enbridge has insisted from the outset that it has no plans to voluntarily shut down the pipeline.
"We understand the stakes in this matter are important not only for Enbridge and the state, but for many others on both sides of the U.S.-Canada border who have a strong interest in its outcome," the company said.
"Meanwhile, we will continue to safely and responsibly deliver the energy the region relies upon from the Line 5 system."
A court-sanctioned voluntary mediation process, which began in April, has failed to yield any agreement and appears to have fallen apart, although the official status of those talks is difficult to divine.
Following the last meeting Sept. 9, Michigan's emissaries "unambiguously communicated to the mediator that any further continuation of the mediation process would be unproductive for them, and they have no 'desire to continue with the mediation process,'" court documents show.
Michigan District Court Judge Janet Neff, however, appears reluctant to call a halt to the process.
"Voluntary facilitative mediation necessarily requires voluntary participation by both parties," Neff said in a decision last week that dismissed as moot one of the state's motions aimed at short-circuiting the talks.
The process, Neff wrote, "is at least at a standstill, although the parties remain under a continuing obligation to engage in good faith to resolve this case."
Where that leaves matters is unclear. The attorney general's office in Michigan refused to comment Friday, referring media inquiries back to the court documents.
Enbridge has also pointed to a possible "diplomatic solution" under a 1977 U.S.-Canada treaty covering cross-border pipelines, which the Canadian government has argued applies in this case and obliges the court to step aside in favour of a negotiated bilateral settlement.
Environmental groups, meanwhile, have been unequivocal in their opposition to the pipeline and a potential replacement project.
Cathy Collentine, associate director of the Sierra Club's "Beyond Dirty Fuels" campaign, said the U.S. Army Corps of Engineers is in the process of an environmental impact assessment on the Line 5 project. It would then be up to the White House to decide whether to take action based on the findings, she said.
If President Joe Biden's administration is serious about confronting climate change, the most contentious cross-border pipeline projects of the last 15 years — Keystone XL, Line 5 and also Line 3, another Enbridge upgrade, this one in Minnesota — are the ones they should be blocking, Collentine said.
Such projects, with their capacity to increase fossil fuel production and consumption, are already affecting communities on the front lines of climate change, she said.
"Those are the exact projects that we have long said we cannot continue to build, we cannot continue to approve," Collentine said.
"It's a moment where the Biden administration, through these analyses, we believe should and hopefully will see that that is also true and not allow these projects to move forward or to continue operating."
This report by The Canadian Press was first published Oct. 1, 2021.
James McCarten, The Canadian Press
International Energy Agency boss prefers oil and gas from Canada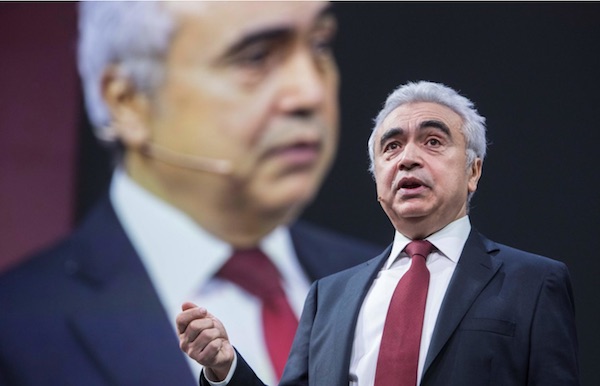 This article is submitted by Canadian Energy Centre Ltd.
Producers building a competitive advantage with ESG performance
The head of the International Energy Agency says Canada is a preferred global oil and gas supplier and should take steps to ensure it remains so in the decades to come.
IEA executive director Fatih Birol is a big advocate for net zero targets, but he knows that even as the world transforms its energy systems, oil and gas will be around for a long time.
He'd prefer the supply comes from "good partners" like Canada, Birol said on Jan. 13 during the virtual launch of the IEA's Canada 2022 report.
The Paris-based IEA is a world-recognized authority on energy supply, demand and policy.
"Canada has been a cornerstone of global energy markets, a reliable partner, for years," Birol said.
"We will still need oil and gas for years to come… I prefer that oil is produced by countries… like Canada who want to reduce the emissions of oil and gas."
World oil consumption has returned near pre-pandemic levels, and natural gas demand surpassed levels pre-COVID last year, according to IEA data. Consumption of both is expected to continue rising even as more renewable energy sources come online.
In Europe, energy customers are feeling the pain of dealing with an unreliable supplier.
Birol said Europe's natural gas crisis is in part because it depends on Russia for nearly half its natural gas imports. As a result, Russia's policies "have a huge impact on the European energy mix."
Right now, Russia has unused capacity to send the equivalent of a full LNG vessel every day to help reduce natural gas prices in Europe, amid a standoff between Moscow and the West over Ukraine, Birol told reporters last week.
"[The] world needs reliable partners," he said. Canada's first LNG exports are expected in 2025 and forecast to rise steadily thereafter, the IEA noted in its report.
Canada is the world's fourth-largest producer of oil and natural gas and home to the third-largest oil reserves, which "creates employment for Canadians and secure and reliable oil and gas for both domestic and global markets," the IEA said.
Remaining competitive in global oil and gas markets – and ensuring the sector remains a major driver of the Canadian economy beyond 2050 – requires emissions reductions, the IEA said, praising work that has been done already.
Canada is not only stable and reliable, but its LNG supply will also be cleaner than competitors, the IEA said.
The LNG Canada project that is under construction in B.C. is expected to have the lowest carbon emissions intensity of any large LNG facility currently operating in the world, at 60 per cent lower than the global average.
Other proposed LNG projects in Canada plan to use clean, renewable hydroelectricity to power operations, resulting in emissions profiles up to 90 per cent lower than global competitors, the IEA said.
Analysts praised the oil and gas industry's "strong track record" of reducing emissions intensity, in the oil sands by 32 per cent since 1990 and by 13 per cent for natural gas production since 2010. A further reduction of up to 27 per cent is expected in the oil sands by 2030.
The success is in part because of large investments in clean technology and environmental protection, the IEA said.
Oil and gas companies in Canada together spend an average of $1 billion per year on energy cleantech, in addition to billions in environmental protection.
In 2018, oil and gas companies also invested $3.6 billion in environmental protection initiatives – by far the largest environmental protection spend of any industry in the country, the IEA said.
"Canadian oil and natural gas producers are leveraging their improving environmental, social and governance performance and Canada's stringent environmental regulations to build a global competitive advantage" as interest in cleaner fuels and environmental sustainability grows.
Satellite photos show aftermath of Abu Dhabi oil site attack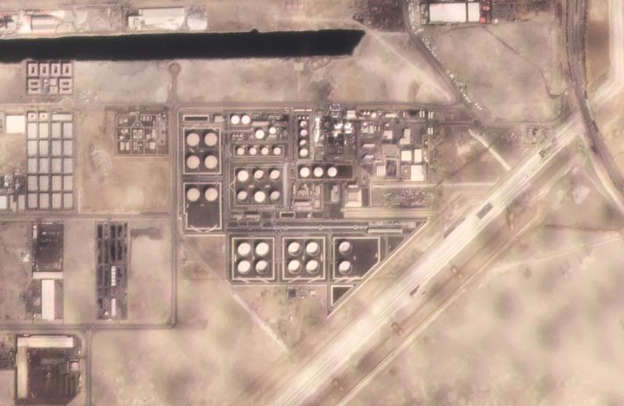 DUBAI, United Arab Emirates (AP) — Satellite photos obtained by The Associated Press on Tuesday appear to show the aftermath of a fatal attack on an oil facility in the capital of the United Arab Emirates claimed by Yemen's Houthi rebels.
The attack brought the long-running Yemen war into Emirati territory on Monday. That conflict raged on overnight with Saudi-led airstrikes pounding Yemen's capital, Sanaa, killing and wounding civilians.
Meanwhile, fears over new disruptions to global energy supplies after the Abu Dhabi attack pushed benchmark Brent crude to its highest price in years.
The images by Planet Labs PBC analyzed by the AP show smoke rising over an Abu Dhabi National Oil Co. fuel depot in the Mussafah neighborhood of Abu Dhabi after the attack. Another image taken shortly after appears to show scorch marks and white fire-suppressing foam deployed on the grounds of the depot.
The Abu Dhabi National Oil Co., known by the acronym ADNOC, is the state-owned energy firm that provides much of the wealth of the UAE, a federation of seven sheikhdoms on the Arabian Peninsula and also home to Dubai.
ADNOC did not respond to questions from the AP asking about the site and damage estimates from the attack. The company had said the attack happened around 10 a.m. Monday.
"We are working closely with the relevant authorities to determine the exact cause and a detailed investigation has commenced," ADNOC said in an earlier statement.
The attack killed two Indian nationals and one Pakistani as three tankers at the site exploded, police said. Six people were also wounded at the facility, which is near Al-Dhafra Air Base, a massive Emirati installation that is also home to American and French forces.
Another fire also struck Abu Dhabi International Airport, though damage in that attack could not be seen. Journalists have not been able to view the sites attacked and state-run media have not published photographs of the areas.
Police described the assault as a suspected drone attack. The Houthis claimed they used cruise and ballistic missiles in the attack, without offering evidence.
Meanwhile Tuesday, the Saudi-led coalition fighting in Yemen announced it had started a bombing campaign targeting Houthi sites in the capital of Sanaa. It said it also struck a drone-operating base in Nabi Shuaib Mountain near Sanaa.
Overnight videos released by the Houthis showed damage, with the rebels saying the airstrikes killed at least 14 people. Sanaa resident Hassan al-Ahdal said one airstrike hit the house of Brig. Gen. Abdalla Kassem al-Junaid, who heads the Air Academy. He said at least three families were living in the house. Another adjunct house with a four-member family was damaged.
The Saudi-led coalition has faced international criticism for airstrikes hitting civilian targets during the war.
For hours Monday, Emirati officials did not acknowledge the Houthi claims over the Abu Dhabi attack, even as other countries condemned the assault. Senior Emirati diplomat Anwar Gargash broke the silence on Twitter, saying that Emirati authorities were handling the rebel group's "vicious attack on some civilian facilities" with "transparency and responsibility."
The office of South Korean President Moon Jae-in, who had been in the Emirates on a state visit, said he spoke to Abu Dhabi's powerful Crown Prince, Sheikh Mohammed bin Zayed Al Nahyan, immediately after the attack.
The statement quoted Sheikh Mohammed as saying the attack had been "anticipated." The two had been scheduled to meet during Moon's visit but the event had been cancelled prior to the attack over an "unforeseen and urgent matter of state," according to Moon's office.
The Emirati Foreign Ministry did not immediately respond to a request for comment over Moon's statement.
Fears over future attacks reaching the UAE, a major oil producer and OPEC member, helped push Brent crude oil prices to their highest level in seven years. On Tuesday, a barrel of Brent crude traded at over $87.50 a barrel, a price unseen since October 2014.
Although the UAE has largely withdrawn its own forces from Yemen, it is still actively engaged in the conflict and supports Yemeni militias fighting the Houthis.
The incident comes as the Houthis face pressure and are suffering heavy losses on the battlefields. Yemeni government forces, allied and backed by the UAE, have pushed back the rebels in key provinces. Aided by the Emirati-backed Giants Brigades, the government forces took back the province of Shabwa earlier this month in a blow to Houthi efforts to complete their control of the entire northern half of Yemen.
While Emirati troops have been killed over the course of the conflict, now in its eight year, the war has not directly affected daily life in the wider UAE, a country with a vast foreign workforce.
___
Associated Press writers Isabel DeBre in Dubai, Samy Magdy in Cairo and Kim Tong-hyung in Seoul, South Korea, contributed to this report.
___
Follow Jon Gambrell on twitter at www.twitter.com/jongambrellAP.
Jon Gambrell, The Associated Press