Elon Musk visits Brazil's Bolsonaro to discuss Amazon plans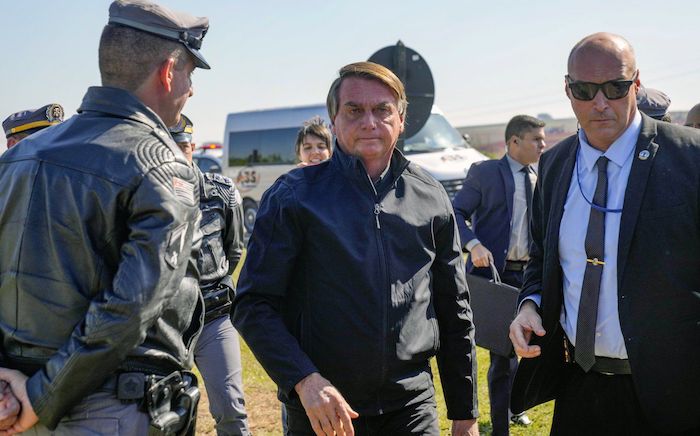 By Diane Jeantet in Rio De Janeiro
RIO DE JANEIRO (AP) — Tesla and SpaceX chief executive officer Elon Musk met with Brazil's President Jair Bolsonaro on Friday to discuss connectivity and other projects in the Amazon rainforest.
The meeting, held in a luxurious resort in Sao Paulo state, was organized by Communications Minister Fábio Faria, who has said he is seeking partnerships with the world's richest man to bring or improve internet in schools and health facilities in rural areas using technology developed by SpaceX and Starlink, and also to preserve the rainforest.
"Super excited to be in Brazil for launch of Starlink for 19,000 unconnected schools in rural areas & environmental monitoring of Amazon," Musk tweeted Friday morning.
Illegal activities in the vast Amazon rainforest are monitored by several institutions, such as the national space agency, federal police and environmental regulator Ibama.
But deforestation in the Brazilian Amazon has surged under Bolsonaro, reaching its highest annual rate in more than a decade, according to official data from the national space agency. Bolsonaro's critics say he is largely to blame, having emboldened loggers and land grabbers with his fervent support for development of the region.
During the event, Bolsonaro said the region was "really important" to Brazil.
"We count on Elon Musk so that the Amazon is known by everyone in Brazil and in the world, to show the exuberance of this region, how we are preserving it, and how much harm those who spread lies about this region are doing to us," he said.
Bolsonaro and Musk appeared in a video transmitted live on the president's Facebook account, standing together on a stage and answering questions from a group of students.
"A lot can be done to improve quality of life through technology," Musk told the crowd.
Although none of the students asked about Musk's prospective purchase of Twitter, Bolsonaro said that it represented a "breath of hope."
"Freedom is the cement for the future," he said, calling the billionaire a "legend of freedom."
Musk has offered to buy Twitter for $44 billion, but said this week the deal can't go forward until the company provides information about how many accounts on the platform are spam or bots.
Like Musk, Bolsonaro has sought to position himself as a champion of free speech and opposed the deplatforming of individuals including his ally, former U.S. President Donald Trump.
The meeting with Bolsonaro occurs just five months before the far-right leader will seek a second term in a hotly anticipated election.
EU lawmakers back gas, nuclear energy as sustainable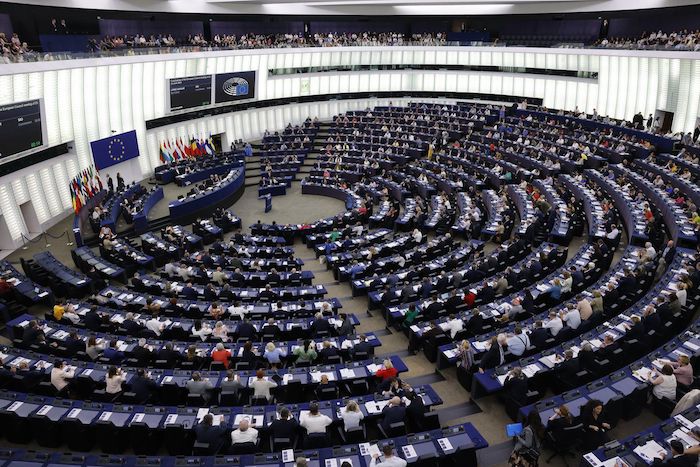 By Samuel Petrequin And Raf Casert in Brussels
BRUSSELS (AP) — European Union lawmakers voted Wednesday to include natural gas and nuclear in the bloc's list of sustainable activities, backing a proposal from the EU's executive arm that has been drawing fierce criticism from environment groups and now looks set to trigger legal challenges.
As the EU wants to set the best global standards in the fight against climate change, the decision could tarnish the bloc's image and question the region's commitment to reaching climate neutrality by 2050.
The European Commission earlier this year made the proposal as part of its plans for building a climate-friendly future, dividing member countries and drawing outcry from environmentalists over what they criticize as "greenwashing."
EU legislators from the environment and economy committees objected last month to the plan, setting up Wednesday's decisive vote in Strasbourg, France. But MEPs rejected their resolution in a 328-278 vote, with 33 lawmakers abstaining. The result was announced to a salvo of applause.
An absolute majority of 353 was needed to veto the proposal. If the European Parliament and member countries don't object to it by July 11, the so-called Taxonomy delegated act will enter into force and apply as of next year.
Greenpeace immediately said it will submit a formal request for internal review to the European Commission, and then take legal action at the European Court of Justice if the result isn't conclusive.
"It's dirty politics and it's an outrageous outcome to label gas and nuclear as green and keep more money flowing to (Russian President Vladimir) Putin's war chest, but now we will fight this in the courts," said Ariadna Rodrigo, Greenpeace's EU sustainable finance campaigner.
European Parliament rapporteur Bas Eickhout rued "a dark day for the climate and the energy transition."
The green labeling system from the European Commission defines what qualifies as an investment in sustainable energy. Under certain conditions, gas and nuclear energy will now be part of the mix, making it easier for private investors to inject money into both.
With the EU aiming to reach climate neutrality by 2050 and to cut greenhouse gas emissions by at least 55% by 2030, the commission says the classification system is crucial to direct investments into sustainable energy. It estimates that about 350 billion euros of investment per year will be needed to meet the 2030 targets.
The question of nuclear power has divided environmentalists, energy experts and governments for years, with some arguing it's an important source of energy because it's produced with no emissions and thus "clean," while others say the risks of nuclear reactions are too great and infrastructure is slow and costly to build. Liquid natural gas, clearly a fossil fuel, is roundly criticized in environmental circles.
Germany's industrial lobby group BDI welcomed the vote, saying it cleared the way for financing the transition from fossil fuels to clean energy.
"Gas is our bridge technology to the renewable age," said its deputy head, Holger Loesch.
The BDI called for more investments in gas infrastructure, including LNG terminals, to ensure sufficient supply amid the current energy crisis, but added that new gas power plants need to be capable of handling hydrogen eventually.
Introducing gas and nuclear into the equation has divided the 27 member countries amid Russia's war in Ukraine, and even the parliament's political groups.
Luxembourg's energy minister, Claude Turmes, said he deeply regretted the European Parliament's failure to bloc the commission's plan, adding that his country — together with Austria — would move ahead with legal efforts to block the labeling of nuclear and gas as sustainable.
Steffen Hebestreit, a spokesman for German Chancellor Olaf Scholz, said that "the German government stands by its position and considers nuclear energy as unsustainable."
"Nevertheless, the German government believes that the taxonomy is an important instrument for achieving climate protection targets, because it is clear that natural gas is an important bridging technology for us on the way to CO2 neutrality and the inclusion of the use of natural gas in the delegated act takes this into account," Hebestreit added.
Protests that had started on Tuesday continued Wednesday outside the EU legislature as lawmakers debated the issue.
Environmentalists warned the vote could set a precedent for lawmakers elsewhere to label polluting forms of energy as sustainable.
"We have now officially validated greenwashing by law," said Tsvetelina Kuzmanova of the climate think tank E3G.
"The process and the decision have been entirely political, not scientific, to only benefit a small number of member states," she said. "This would not stand a chance in court and will only create more uncertainty for financial markets and jeopardize (the) EU's climate ambition."
The youth activist group Fridays for Future said billions of euros could be pumped into gas infrastructure and nuclear power plants as a result of the decision, diverting much-needed funds from renewable alternatives.
One argument for rejecting the proposal is that it will boost Russian gas sales at a time when it is invading neighboring Ukraine, but the European Commission said it had received a letter from the Ukrainian government backing its stance.
European Commissioner Mairead McGuinness quoted from the letter from Ukraine's energy minister Tuesday: "I strongly believe that the inclusion of gas and nuclear in the taxonomy is an important element of the energy security in Europe, especially with a view to replacing Russian gas."
"I don't think we should second-guess this letter," McGuinness said.
Russia's war in Ukraine has prompted the 27-nation bloc to sever ties with some Russian fossil fuels. Member countries have agreed to ban 90% of Russian oil by year-end in addition to a ban on imports of Russian coal that will start in August.
But the EU hasn't included gas — a fuel used to power factories and generate electricity — in its own sanctions for fear of seriously harming the European economy. Before the war in Ukraine, it relied on Russia for 25% of its oil and 40% of its natural gas.
___
Frank Jordans and Kirsten Grieshaber contributed to this report from Berlin.
Beehives and goat farms: Lacombe school shortlisted in global environmental contest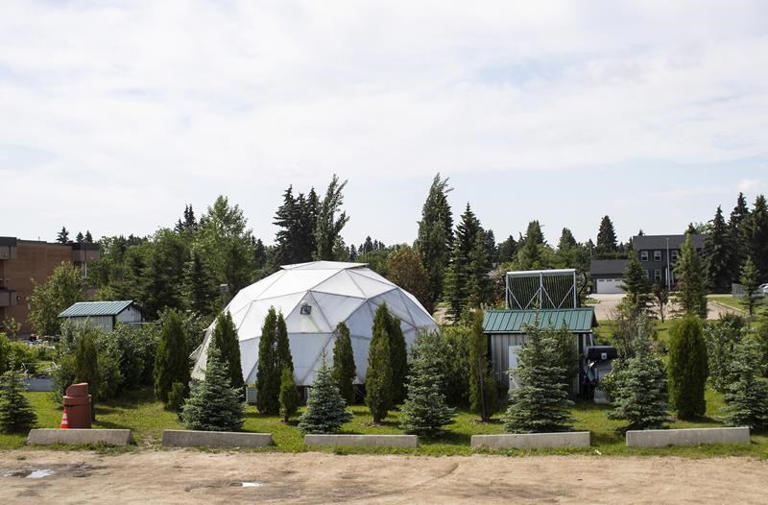 Taylor Perez says she learned more about her passions while tending beehives, goats and fruit trees at her central Alberta high school than sitting through lessons in a classroom.
"These are all skills we don't learn in regular classes," says the 18-year-old student at Lacombe Composite High School.
"You're not going to learn how to collaborate with community members by sitting in a classroom learning about E = mc2."
Perez and her classmates are buzzing with excitement after their school's student-led beekeeping program, goat farm, fruit orchard, tropical greenhouse and other environmental projects were recognized in a global sustainability contest among 10 other schools.
It's the only North American school to be shortlisted by T4 Education, a global advocacy group, in its World's Best School Prize for Environmental Action contest.
"The projects are coming from the students' own hearts and passion for taking care of the environment," says Steven Schultz, an agriculture and environmental science teacher who has been teaching in Lacombe since 1996.
"They are going to be our community leaders — maybe even our politicians — and for them to know what the heartbeat of their generation is (is) extremely important."
Schultz says the projects are pitched and designed by students in the school's Ecovision Club, to which Perez belongs, and he then bases a curriculum around those ideas.
The school of about 900 students began reducing its environmental footprint in 2006 when a former student heard Schultz say during a lesson on renewable energy that "words were meaningless or worthless without action," the 56-year-old teacher recalls.
"She took that to heart and a year later she came back and told me that she wanted to take the school off the grid."
Schultz and students watched a fire burn down solar panels on the school's roof in 2010, an event that further transformed his approach to teaching.
"As their school was burning, my students gathered in tears. That day I realized that students really care about the environment and they really care about the projects that they were involved in."
Since then, 32 new solar panels have been installed, and they produce up to four per cent of the school's electricity. After the fire, students also wanted to clean the air in their classrooms so they filled some with spider plants, including one in the teachers' lounge.
More recently, students replaced an old portable classroom on school property with a greenhouse that operates solely with renewable energy. It's growing tropical fruits, such as bananas, pineapples, and lemons, and also houses some tilapia fish.
Two acres of the school are also covered by a food forest made up of almost 200 fruit trees and 50 raised beds where organic food is grown.
The school also works with a local farm and raises baby goats inside a solar-powered barn that was built with recycled material.
"They breed and milk them at the farm because there are really tight regulations," says Schultz.
"We take the excrement from the goats and the hay and use it as mulch and fertilizers for our garden. The goats also chew up the grass and allow us not to have to use lawn mowers and tractors"
Perez said her favourite class is the beekeeping program with 12 hives that produce more than 300 kilograms of honey every year.
"I love that they have different roles in their own little societies," Perez says of the bees.
She says while working with local businesses and groups as a part of her curriculum, she learned she's passionate about the environment and wants to become a pharmacist so she can continue giving back to her community.
James Finley, a formerly shy Grade 10 student, says the Ecovision Club and environment classes have helped get him out of his comfort zone.
"I made friends, which was a hard thing for me in the beginning. But now I have, like, hundreds," says the 16-year-old, who enjoyed the lessons he took on harvesting.
"Taylor and Mr. Schultz were the main people that made me stay."
Schultz says the winners of the contest are to be announced in the fall.
A prize of about $322,000 will be equally shared among five winners.
This report by The Canadian Press was first published Sunday, July 3, 2022.
—
This story was produced with the financial assistance of the Meta and Canadian Press News Fellowship.
Fakiha Baig, The Canadian Press