Elon Musk: Twitter deal 'temporarily on hold'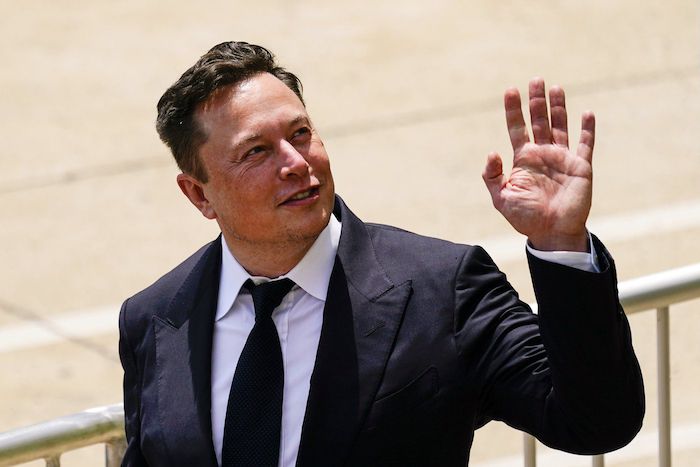 By Kelvin Chan in London
LONDON (AP) — Elon Musk said Friday that his plan to buy Twitter is "temporarily on hold" as he tries to pinpoint the exact number of spam and fake accounts on the social media platform, another twist amid signs of turmoil over the proposed $44 billion acquisition.
Musk has been vocal about his desire to clean up Twitter's problem with "spam bots" that mimic real people and appeared to question whether the company was underreporting them.
In a tweet, the Tesla billionaire linked to a Reuters story from May 2 about a quarterly report from Twitter that estimated false or spam accounts made up fewer than 5% of the company's "monetizable daily active users" in the first quarter.
"Twitter deal temporarily on hold pending details supporting calculation that spam/fake accounts do indeed represent less than 5% of users," Musk said, indicating he's skeptical that the number of inauthentic accounts is that low.
It wasn't clear whether the issue could scuttle the deal. Musk later tweeted that he's "still committed to acquisition."
Neither Twitter nor Musk responded early Friday to requests for comment.
The issue of fake accounts on Twitter is not secret.
In its quarterly filing with the SEC, even Twitter doubted that its count of bot accounts was correct, conceding that the estimate may be low. "In making this determination, we applied significant judgment, so our estimation of false or spam accounts may not accurately represent the actual number of such accounts, and the actual number of false or spam accounts could be higher than we have estimated," the filing says.
A review of Twitter filings with the U.S. Securities and Exchange Commission shows that the estimate of spam bot accounts and similar language expressing doubts about it have been in Twitter's quarterly and annual reports for at least two years, well before Musk made his offer and it would have been known to him and his advisors.
Stock in both Twitter and Tesla swung sharply in opposite directions Friday, with Twitter's stock falling nearly 6% and shares of Tesla, which Musk had proposed using to help fund the Twitter deal, jumping nearly 7% in trading before the opening bell.
Investors have had to weigh legal troubles for Musk, as well as the possibility that acquiring Twitter could be a distraction from running the world's most valuable automaker. The proposed deal continued to pressure shares of Tesla, which had already fallen 16% this week.
The sharp jump in the price of Tesla shares before the opening bell Friday singled rising doubts that the acquisition of Twitter will take place.
Musk has already sold off more than $8 billion worth of his Tesla shares to finance the purchase.
Originally Musk had committed to borrowing $12.5 billion with Tesla stock as collateral to buy Twitter. He also would borrow $13 billion from banks and put up $21 billion in Tesla equity.
Last week, Musk strengthened the equity stake in his offer for Twitter with commitments of more than $7 billion from a diverse group of investors including Silicon Valley heavy hitters like Oracle co-founder Larry Ellison.
Money from the new investors cuts the amount borrowed on the value of Tesla stock to $6.25 billion, according to the filing. The Tesla equity share could go from $21 billion to $27.25 billion.
Wedbush analyst Dan Ives, who follows both Tesla and Twitter, said Musk's "bizarre" tweet will lead Wall Street to either think the deal is likely falling apart, Musk is attempting to negotiate a lower deal price, or he is simply walking away from the deal with a $1 billion penalty.
"Many will view this as Musk using this Twitter filing/spam accounts as a way to get out of this deal in a vastly changing market," Ives wrote.
He added that the Musk's use of Twitter rather than a financial filing to make the announcement was troubling and "sends this whole deal into a circus show with many questions and no concrete answers as to the path of this deal going forward."
Musk's tweet comes a day after the social media company fired two of its top managers. Twitter said the company is pausing most hiring, except for critical roles, and is "pulling back on non-labor costs to ensure we are being responsible and efficient."
In a memo sent to employees and confirmed by Twitter, CEO Parag Agrawal said the company has not hit growth and revenue milestones after the company began to invest "aggressively" to expand its user base and revenue.
____
AP Business Writer Michelle Chapman in New York contributed to this report.
Police: Texas gunman was inside the school for over an hour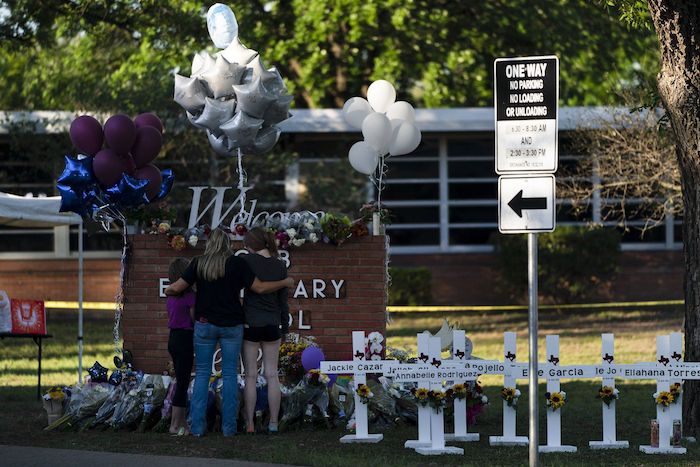 By Jake Bleiberg, Jim Vertuno And Elliot Spagat in Uvalde
Texas authorities say the gunman who massacred 21 people at an elementary school was in the building for over an hour before he was killed by law enforcement officers.
The amount of time that elapsed has stirred anger and questions among family members, who demanded to know why they did not storm the place and put a stop to the rampage more quickly.
Texas Department of Public Safety spokesperson Travis Considine said 18-year-old Salvador Ramos entered Robb Elementary School and began his rampage at 11:40 a.m. Tuesday.
A Border Patrol tactical unit began trying to get inside an hour later, and at 12:58 p.m., radio chatter noted he was dead.
THIS IS A BREAKING NEWS UPDATE. AP's earlier story follows below.
UVALDE, Texas (AP) — Law enforcement authorities faced mounting questions and criticism Thursday over how much time elapsed before they stormed a Texas elementary school classroom and put a stop to the rampage by a gunman who killed 19 children and two teachers.
Separately, after two days of unclear and contradictory accounts from police, a Texas law enforcement official said that an armed school district officer did not encounter or exchange fire with the attacker, 18-year-old Salvador Ramos, before he entered Robb Elementary in the town of Uvalde, as previously reported.
But many other details about the timing of events and the police response remained murky. The motive for the massacre — the nation's deadliest school shooting since Newtown, Connecticut, a decade ago — remained under investigation, with authorities saying Ramos had no known criminal or mental health history.
During the siege, which ended when a U.S. Border Patrol team burst in and shot the gunman to death, frustrated onlookers urged police officers to charge into the school, according to witnesses.
"Go in there! Go in there!" women shouted at the officers soon after the attack began, said Juan Carranza, 24, who watched the scene from outside a house across the street.
Carranza said the officers should have entered the school sooner: "There were more of them. There was just one of him."
Texas Department of Public Safety Director Steve McCraw said Wednesday that 40 minutes to an hour elapsed from when Ramos opened fire on the school security officer to when the tactical team shot him.
"The bottom line is law enforcement was there," McCraw said. "They did engage immediately. They did contain (Ramos) in the classroom."
But a department spokesman said Thursday that authorities were still working to clarify the timeline of the attack, uncertain whether that period of 40 minutes to an hour began when the gunman reached the school, or earlier, when he shot his grandmother at home.
"Right now we do not have an accurate or confident timeline to provide to say the gunman was in the school for this period," Lt. Christopher Olivarez told CNN.
Border Patrol Chief Raul Ortiz did not give a timeline but said repeatedly that the tactical officers from his agency who arrived at the school did not hesitate. He said they moved rapidly to enter the building, lining up in a "stack" behind an agent holding up a shield.
"What we wanted to make sure is to act quickly, act swiftly, and that's exactly what those agents did," Ortiz told Fox News.
But a law enforcement official said that once in the building, the Border Patrol agents had trouble breaching the classroom door and had to get a staff member to open the room with a key. The official spoke on condition of anonymity because he was not authorized to talk publicly about the investigation.
Olivarez said investigators were trying to establish whether the classroom was, in fact, locked or barricaded in some way.
Javier Cazares, whose fourth grade daughter, Jacklyn Cazares, was killed in the attack, said he raced to the school as the massacre unfolded. When he arrived, he saw two officers outside the school and about five others escorting students out of the building. But 15 or 20 minutes passed before the arrival of officers with shields, equipped to confront the gunman, he said.
As more parents flocked to the school, he and others pressed police to act, Cazares said. He heard about four gunshots before he and the others were ordered back to a parking lot.
"A lot of us were arguing with the police, 'You all need to go in there. You all need to do your jobs.' Their response was, 'We can't do our jobs because you guys are interfering,'" Cazares said.
Ramos crashed his truck into a ditch outside the school, grabbed his AR-15-style semi-automatic rifle and shot at two people outside a funeral home, who ran away uninjured, according to authorities and witnesses.
As for the armed school officer, he was driving nearby but was not on campus when Ramos crashed his truck, according to a law enforcement official who was not authorized to discuss the case and spoke of condition of anonymity. Investigators have concluded that school officer was not positioned between the school and Ramos, leaving him unable to confront the shooter before he entered the building, the law enforcement official said.
As Ramos entered the school, two Uvalde police officers exchanged fire with him, and were wounded, according to Olivarez. Ramos began killing his victims in a classroom.
On Wednesday night, hundreds packed the bleachers at the town's fairgrounds for a vigil. Some cried. Some closed their eyes tight, mouthing silent prayers. Parents wrapped their arms around their children as the speakers led prayers for healing.
Before attacking the school, Ramos shot and wounded his grandmother at the home they shared. Gilbert Gallegos, 82, who lives across the street and has known the family for decades, said he was puttering in his yard when he heard the shots.
Ramos ran out the front door and across the yard to a truck parked in front of the house and raced away: "He spun out, I mean fast," spraying gravel in the air, Gallegos said.
Ramos' grandmother emerged covered in blood: "She says, 'Berto, this is what he did. He shot me.'" She was hospitalized.
Gallegos said he had heard no arguments before or after the shots, and knew of no history of bullying or abuse of Ramos, whom he rarely saw.
Lorena Auguste was substitute teaching at Uvalde High School when she heard about the shooting and began frantically texting her niece, a fourth grader at Robb Elementary. Eventually she found out the girl was OK.
But that night, her niece had a question.
"Why did they do this to us?" the girl asked. "We're good kids. We didn't do anything wrong."
___
Bleiberg reported from Dallas.
___
More on the school shooting in Uvalde, Texas: https://apnews.com/hub/school-shootings
Ray Liotta, 'Goodfellas' and 'Field of Dreams' star, dies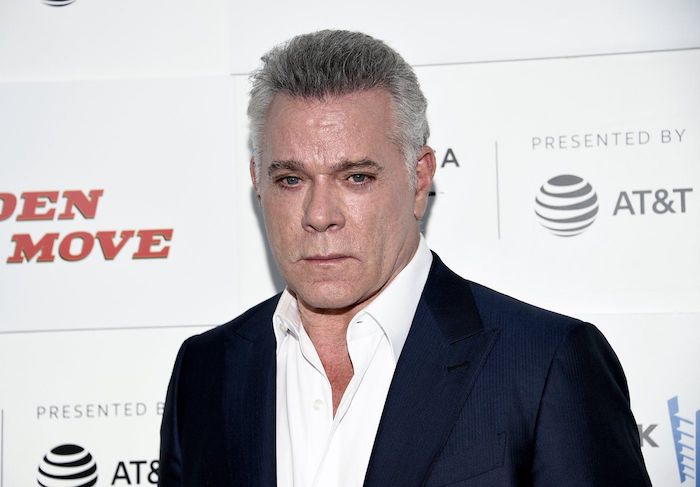 By Lindsey Bahr And Martin Adames
Ray Liotta, the blue-eyed actor best known for playing mobster Henry Hill in "Goodfellas" and baseball player Shoeless Joe Jackson in "Field of Dreams," has died. He was 67.
Liotta's publicist, Jen Allen, said he was in the Dominican Republic shooting a new movie and didn't wake up Thursday morning. An official at the Dominican Republic's National Forensic Science Institute who was not authorized to speak to the media confirmed the death of Ray Liotta and said his body was taken to the Cristo Redentor morgue.
Robert De Niro, in an emailed statement, said "I was very saddened to learn of Ray's passing. He is way too way young to have left us. May he Rest in Peace."
Lorraine Bracco, who played Karen Hill in "Goodfellas" tweeted Thursday that she was, "Utterly shattered to hear this terrible news about my Ray. I can be anywhere in the world & people will come up & tell me their favorite movie is Goodfellas. Then they always ask what was the best part of making that movie. My response has always been the same…Ray Liotta."
Alessandro Nivola, who recently appeared with Liotta in "The Sopranos" prequel film "The Many Saints of Newark" wrote, "I feel so lucky to have squared off against this legend in one of his final roles. The scenes we did together were among the all time highlights of my acting career. He was dangerous, unpredictable, hilarious, and generous with his praise for other actors. Too soon."
Seth Rogen, who Liotta acted with in the 2009 comedy "Observe and Report" tweeted, "He was such a lovely, talented and hilarious person. Working with him was one of the great joys of my career and we made some of my favorite scenes I ever got to be in. A true legend of immense skill and grace."
The Newark, New Jersey, native was born in 1954 and adopted at age six months out of an orphanage by a township clerk and an auto parts owner. Liotta always assumed he was mostly Italian — the movies did too. But later in life while searching for his birth parents, he discovered he's actually Scottish.
Though he grew up focused on playing sports, including baseball, during his senior year of high school, the drama teacher asked him if he wanted to be in a play, which he agreed to on a lark. Whether he knew it or not at the time, it planted a seed, though he still assumed he'd end up working construction. And later, at the University of Miami he picked drama and acting because they had no math requirement attached. He would often say in interviews that he only started auditioning for plays because a pretty girl told him to. But it set him on a course. After graduation, he got an agent and soon he got his first big break on the soap opera "Another World."
It would take a few years for him to land his first big movie role, in Jonathan Demme's "Something Wild" as Melanie Griffith's character's hotheaded ex-convict husband Ray. He was 30 years old at the time and hadn't had a steady job in five years. In an interview in 1993, he told The Associated Press that he wanted to get the part on his own merits even though he knew Griffith. When that didn't work, he "phoned Melanie.
"I hated doing it, because that's politics for me; calling someone to help you out. But I kind of realize that's part of what it's all about," he said.
The turn earned him a Golden Globe nomination. A few years later, he would get the memorable role of the ghost of Shoeless Joe Jackson in "Field of Dreams." Though it moved many to tears, it wasn't without its critics. Liotta remembered hearing a baseball announcer during a Mets game complain that he batted the opposite way Joe Jackson did.
"(Bleep) you! He didn't come back from the dead either!" Liotta recalled thinking.
His most iconic role, as real life mobster Henry Hill in Martin Scorsese's "Goodfellas" came shortly after. He and Scorsese had to fight for it though, with multiple auditions and pleas to the studio to cast the still relative unknown.
Roger Ebert, in his review, wrote that "Goodfellas" solidified Liotta (and Bracco) as "two of our best new movie actors."
"He creates the emotional center for a movie that is not about the experience of being a Mafioso, but about the feeling," Ebert continued.
In a 2012 interview, Liotta said that, "Henry Hill isn't that edgy of a character. It's really the other guys who are doing all the actual killings. The one physical thing he does do, when he goes after the guy who went after Karen — you know, most audiences, they actually like him for that."
In the same interview, he marveled at how "Goodfellas" had a "life of its own" and has only grown over time.
"People watch it over and over, and still respond to it, and different ages come up, even today, teenagers come up to me and they really emotionally connect to it," he said.
It didn't matter the size of the role, or even the genre, Liotta always managed to stand out and steal scenes in both dramas and comedies, whether as Johnny Depp's father in "Blow" or Adam Driver's bullish divorce lawyer in "Marriage Story."
Mafiosos seemed to be his specialty (he even narrated an AMC docu-series called "The Making of the Mob"), though he was wary of being typecast. He turned down the part of Ralphie on "The Sopranos" because of it. But he'd still end up playing a mob type with James Gandolfini in Andrew Dominik's "Killing Them Softly." And later, he would pay his own ticket to audition for "The Many Saints of Newark."
"I'm really not sure what made me so determined," he told The Guardian last year. "But I was and luckily it all worked out."
Liotta also often played various law enforcement types, from cops and detectives to federal agents in films as diverse as "Unlawful Entry," "Cop Land," "Narc," "The Place Beyond the Pines" and "Observe and Report." Many were corrupt.
He got to be a victim of Hannibal Lecter in the 2001 film "Hannibal" and played Frank Sinatra in the TV movie "The Rat Pack," which got him a Screen Actors Guild nomination. For gamers, he's immortalized as the voice of Tommy Vercetti in the video game "Grand Theft Auto: Vice City." He also starred opposite Jennifer Lopez in the series "Shades of Blue."
Liotta has one daughter, Karsen, with ex-wife Michelle Grace and was engaged to be married to Jacy Nittolo at the time of his death.
"The business is rough, no matter where you're at in your career," Liotta said in 2012. "There's always some reason for them to say no to you — that part of it is horrible… But the job itself — making people believe that what they're seeing is really happening—that's still a challenge, putting that puzzle together. You know, what can I say, I still like playing pretend. And it's sure a fun way to make a living."