ZZ Top: Bearded bassist Dusty Hill dies in his sleep at 72
HOUSTON (AP) — ZZ Top bassist Dusty Hill, one of the Texas blues rock trio's bearded figures, died at his Houston home, the band announced Wednesday. He was 72.
In their Facebook post, guitarist Billy Gibbons and drummer Frank Beard said Hill died in his sleep. They didn't give a cause of death, but a July 21 post on the band's website said Hill was "on a short detour back to Texas, to address a hip issue."
At that time, the band said its longtime guitar tech, Elwood Francis, would fill in on bass, slide guitar and harmonica.
Born Joe Michael Hill in Dallas, he, Gibbons and Beard formed ZZ Top in Houston in 1969. The band released its first album, titled "ZZ Top's First Album," in 1970. Three years later it scored its breakthrough hit, "La Grange," which is an ode to the Chicken Ranch, a notorious brothel outside of a Texas town by that name.
The band went on to chart the hits "Tush" in 1975, "Sharp Dressed Man," "Legs" and "Gimme All Your Lovin'" in 1983, and "Rough Boy" and "Sleeping Bag" in 1985.
The band's 1976 "Worldwide Texas Tour," with its iconic Texas-shaped stage festooned with cactuses, snakes and longhorn cattle, was one of the decade's most successful rock tours.
The band was inducted into the Rock and Roll Hall of Fame in 2004. Said Rolling Stones lead guitarist Keith Richards in introducing the band to the Hall: "These cats are steeped in the blues, so am I. These cats know their blues and they know how to dress it up. When I first saw them, I thought, 'I hope these guys are not on the run, because that disguise is not going to work.'"
That look — with all three members wearing dark sunglasses and the two frontmen sporting long, wispy beards — became so iconic as to be the subject of a New Yorker cartoon and a joke on "The Simpsons."
___
This story has been corrected to reflect that ZZ Top was formed in the late 1960s, not the late 1970s.
The Associated Press
Norm Macdonald, former 'Saturday Night Live' comic, dies
NEW YORK (AP) — Comic Norm Macdonald, a former "Saturday Night Live" writer and performer who was "Weekend Update" host during the 1990s, has died.
Macdonald, who was 61, died Tuesday after a nine-year battle with cancer that he kept private, according to Brillstein Entertainment Partners, his management firm in Los Angeles.
The son of two schoolteachers raised in Quebec City, Canada, Macdonald was a standup comic and briefly a writer for the sitcom "Roseanne" when he was picked to join the cast of "Saturday Night Live" in 1993.
After leaving the show in 1998, he created and starred in the comedy "The Norm Show" for ABC, playing a former NHL player kicked out of the league for gambling and tax evasion and forced into community service as a social worker.
He became known for his esoteric impressions, including Burt Reynolds, who gave Will Ferrell's Alex Trebek character grief on "Celebrity Jeopardy." He also impersonated Bob Dole, Larry King and David Letterman.
Macdonald was anchor on the "Weekend Update" desk in a prime era for news-based jokes, with Bill Clinton, Michael Jackson and O.J. Simpson frequent targets.
David Bauder, The Associated Press
Canada's largest fireworks show of the year set for Calgary, Edmonton, Lethbridge, and Red Deer to celebrate the Stampede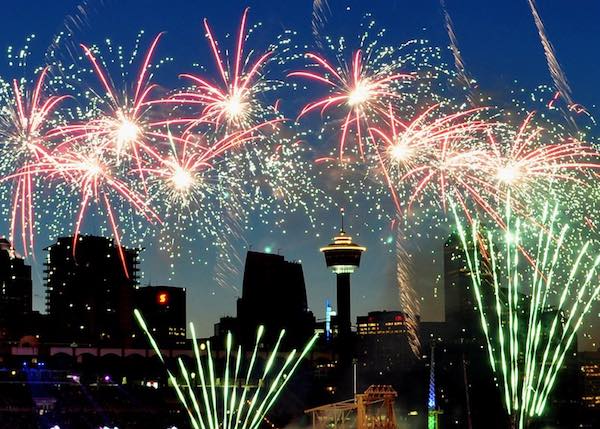 News Release from The Calgary Stampede
Calgary Stampede to Light up the Night Sky Across Alberta!
The Calgary Stampede is proud to celebrate the resilience and determination of our great province through a province-wide fireworks display on Friday, July 9. The Fireworks Spectacular presented by Bell, will take place in Lethbridge, Red Deer, Edmonton and Calgary and we invite all Albertans to join together in celebration as we light up the night sky in recognition of our shared goals and bright future for our province. This incredible display will be a must-see, as the largest and most sophisticated firework event produced in Canada this year.
Since 1912, fireworks have played an important role in Stampede celebrations. Taking place in coordination with the fireworks of the Calgary Stampede Evening Show performance on the first night of Stampede 2021, the sparkling world-class display will occur simultaneously in all four participating cities to a synchronized musical soundtrack.
"This is our way of lighting up the Alberta skies and providing the opportunity to celebrate together," says Steve McDonough, President & Chairman of the Stampede Board. "Thousands of Albertans will be able to view this amazing firework show from their own neighbourhood at the same time, with the same soundtrack on July 9th."
"On behalf of Lethbridge City Council, we congratulate our friends in Calgary for their creativity and collaboration on this fireworks spectacular. We look forward to helping celebrate the beginning of the Calgary Stampede with what is sure to be a brilliant display of fireworks for residents and visitors to enjoy," says Mayor Chris Spearman of the City of Lethbridge.
"The Calgary Stampede is leading the way in the return to community life in our province. Red Deer is honoured to be a part of this initiative to celebrate our Western heritage together," says Red Deer Mayor, Tara Veer. "Albertans have been hit hard by the pandemic, but together we can rebuild and demonstrate our resilience on July 9th."
The pyro-technical experts from Fireworks Spectaculars Canada, an Alberta based company, are familiar with all four cities, and bring their award winning and awe-inspiring team together across the province to create this magical moment to kick-off the 2021 Stampede.
"At this stage, we have to think about how we get major events up and running again. The Calgary Stampede is leading the way and, one by one, other events will follow. As Explore Edmonton takes over management of K-Days in Edmonton, we are watching and learning from our friends at the Stampede. This will mark the beginning of recovery for the events sector and it marks a milestone moment for Alberta as we emerge from the pandemic," says Maggie Davison, Interim CEO, Explore Edmonton
"As we move hopefully into our post-pandemic future, this fireworks display will allow us to safely honour what we've been though, to express our gratitude to all the essential workers who gotten us through, and to look forward with optimism," says Calgary Mayor Naheed Nenshi
The Fireworks Spectacular presented by Bell will feature four identical, world-class firework displays in each city – Calgary, Edmonton, Red Deer and Lethbridge – starting at 11 p.m. on July 9. Albertans are invited to participate in this in this free, family-friendly celebration with specific viewing locations and information available at CalgaryStampede.com. It will also be broadcast live on CTV Calgary, CTV2 and CTVNews.ca beginning at 11 p.m., so that you can watch from the comfort of your own home. Tune in as we light up the night sky to celebrate Stampede Spirit across Alberta. We thank our community partners Explore Edmonton, The City of Red Deer, Westerner Park and Lethbridge & District Exhibition. This is a celebration of our province, and at the Calgary Stampede we believe we are Greatest Together.
Watch in person from your seat at the 2021 Calgary Stampede Evening Show! Evening Show and Rodeo tickets are now available and include admission into Stampede Park the day of the show. New in 2021, a VIP, full-service, outdoor experience that will put you in the heart of the action on the Grandstand tarmac. Reserve a table for your group of four or six people to enjoy the experience in a brand-new way! To book your Evening Show, Rodeo or VIP Tarmac tickets, or to purchase general Park admission for days you are not attending the Evening Show or Rodeo, go to CalgaryStampede.com
About the Calgary Stampede
The Calgary Stampede celebrates the people, the animals, the land, the traditions and the values that make up the unique spirit of the west. The Calgary Stampede contributes to the quality of life in Calgary and southern Alberta through our world-renowned Stampede, year-round facilities, western events and several youth and agriculture programs. Exemplifying the theme We're Greatest Together, we are a volunteer-supported, not-for-profit community organization that preserves and celebrates our western heritage, cultures and community spirit. All revenue is reinvested into Calgary Stampede programs and facilities.