'You shouldn't need more tools' to clear bridge protest in Windsor: Trudeau to Ford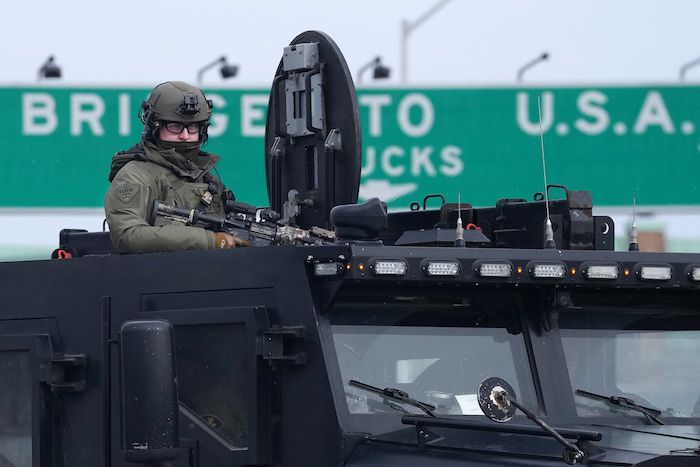 By Laura Osman and David Fraser in Ottawa
Prime Minister Justin Trudeau told Ontario Premier Doug Ford last winter that police shouldn't need more legal tools to clear protesters from the Ambassador Bridge in Windsor, according to evidence released through a public inquiry Tuesday.
A readout of their conversation on Feb. 9 was submitted to the Public Order Emergency Commission, which is investigating the government's decision to use emergency powers in an effort to clear protest blockades in downtown Ottawa and at several border crossings.
The conversation took place five days before Trudeau invoked the Emergencies Act.
The summary said Ford told Trudeau reopening the Ambassador Bridge was the priority, and that Ontario's attorney general was looking at legal ways to give the police more tools to deal with it.
"You shouldn't need more tools — legal tools — they are barricading the (Ontario) economy and doing millions of damage a day and harming people's lives," Trudeau said in response, according to the document, explaining the protesters were not obeying the law.
"We've got to respond quickly to this."
Asked about the exchange on Tuesday, Trudeau said it's important that Canadians see what governments and people were facing during the "convoy occupations."
"Obviously, we looked at the Emergencies Act as a measure of last resort," Trudeau said at a news conference in New Brunswick.
"We needed to make sure that we were trying to get things done without having to bring in extraordinary powers."
Demonstrators blockaded the Ambassador Bridge, a key border crossing to Detroit, on Feb. 7 as part of a series of protests against COVID-19 restrictions and the Liberal government that were taking place across Canada. They immediately set up camp and refused to leave.
The protest halted $600 million in trade per day and stopped essential workers from crossing the bridge, the commission has heard through other evidence.
The Liberal government decided to bring in emergency powers on Feb. 14, the same day the Ambassador Bridge reopened to traffic.
The legislation granted extraordinary powers to the government and police, including the ability to restrict protesters' freedom of movement, freeze the bank accounts of some participants, and compel towing companies to help remove trucks and other vehicles from the protest sites.
The document shows that Trudeau pressed Ford on whether the Ontario Provincial Police, who Ford told him were going in, understood the urgency.
Ford said he shared the prime minister's frustration and lamented that he could not direct the police.
At least in Windsor, he said, police had a plan. It was different in Ottawa, where by that point protesters had occupied the downtown streets near Parliament Hill for more than a week.
"They'll act, but without directing them it's hard to describe their game plan," Ford said of the Ontario Provincial Police.
"This is critical, I hear you. I'll be up their a– with a wire brush."
The document was shown to Ontario Provincial Police Supt. Dana Earley, who testified before the commission Tuesday. She said she never experienced any political interference when she acted as critical incident commander during the bridge blockade.
The Public Order Emergency Commission, which is required under the Emergencies Act, has scheduled public hearings in Ottawa through Nov. 25.
At the heart of the matter is whether the emergency declaration and the powers under the act were necessary to clear the protests that clogged Ottawa's downtown for weeks and inspired blockades elsewhere in the country, driven by opposition to COVID-19 measures.
Earley said she was told by senior OPP officers that the Windsor blockade was a priority and that she would be given the officers she needed to clear it.
Aside from the economic impact, she said the threat of counter-protests had her worried about a greater risk of violence.
In one case, the president of the autoworkers association told her he would come to the protest with 1,000 people to "crack heads" or bring heavy equipment to push protesters into the river.
At one point, she said, she briefly considered putting off an operation to clear the bridge, fearing it might make the ongoing occupation in downtown Ottawa worse.
Protesters in Ottawa had already been entrenched around Parliament Hill for weeks, with no end in sight, when police were ready to move on the protest blocking Canada's busiest border crossing in Windsor.
Earley said that on Feb. 11, she had a plan and her officers were ready to go, but she worried a large police operation could make matters more difficult in the national capital.
Her strategic commanders convinced her to focus on what was best for Windsor.
"I changed my mind and decided to continue with my plan, realizing that I didn't know the intimate knowledge of what was going on in Ottawa, because my focus had to be Windsor," she said.
Two protesters involved in border blockades testified Tuesday at the commission.
Fort MacLeod, Alta., councillor Marco Van Huigenbos, who was charged with mischief for his role in the Alberta blockade, told the commission he was protesting to demand representatives from the government talk to him and others about pandemic mandates.
Paul Leschied attended the protests in Windsor, telling the commission he was aware of economic damage caused by border closures but had for two years been concerned about the economic impacts of pandemic-related mandates.
This report by The Canadian Press was first published Nov. 8, 2022.
Former chief medical officer found guilty of child sex assault in Alberta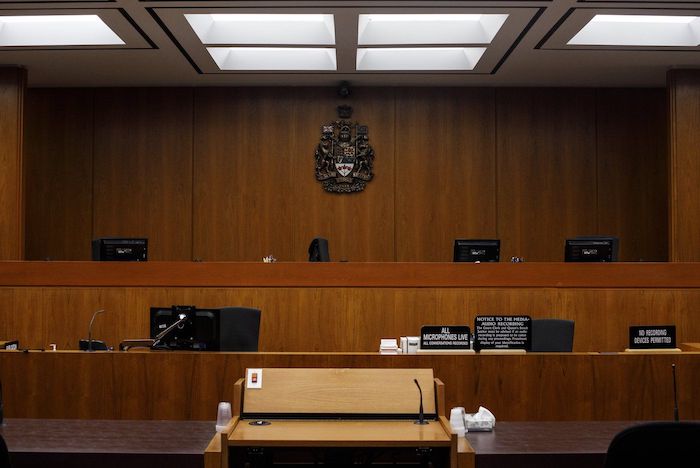 Grande Prairie – A former medical health officer in Alberta has been found guilty of sexual assault and sexual interference of a child.
Dr. Albert de Villiers, who appeared in court today via video from his home in Kelowna, B.C., was chief medical officer of health in Alberta's north zone for 16 years before he became chief medical officer of health for B.C.'s Interior Health in 2020.
He was arrested in 2021.
During a judge-alone trial in January, an 11-year-old boy testified de Villiers showed him pornography and touched him several times at the doctor's home in Grande Prairie, Alta., between 2018 and 2020.
The boy, whose identity is protected by a publication ban, disclosed the allegations to his parents two years later.
Court of King's Bench Justice Shaina Leonard has ruled that de Villiers sexually assaulted the child as few as five times and as many as eight times.
A sentencing hearing is scheduled for Feb. 13.
Interior Health has said de Villiers was placed on general paid leave on June 9, 2021, then reassigned to administrative duties four months later.
"Employee policies and processes align with federal and provincial laws, including employment standards, human rights, occupational health and safety, privacy legislation, and principles of procedural fairness and, where relevant, union collective agreements," Michaela Swan, spokeswoman for Interior Health, wrote in a statement last month.
This report by The Canadian Press was first published Feb. 7, 2023.
— By Angela Amato in Edmonton.
'I am sorry': Man convicted in stabbing of Calgary chef apologizes at sentencing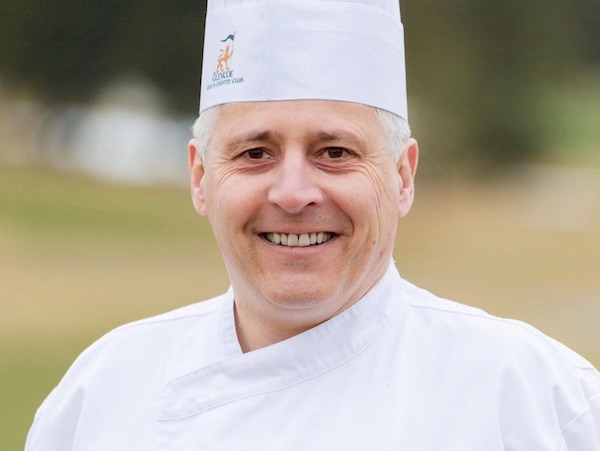 By Bill Graveland in Calgary
A man convicted of killing a chef apologized Monday and expressed dismay that no one with the victim's family was in court to to hear it.
Tommie Holloway was convicted of manslaughter while his accomplice, Anthony Dodgson, was found guilty of second-degree murder in the death of Christophe Herblin.
Herblin was stabbed to death in a parking lot outside his soon-to-be opened Calgary café following a break-in in 2020.
Holloway, 33, told his sentencing hearing that he hoped his words would get through to Herblin's wife, who wrote in a victim impact statement last December that the killing had left her broken and struggling "to make sense of this tragedy."
"It got to me. Got me emotional," said Holloway.
"I just wish they were here today so I could look at them eye-to-eye, apologize for my actions. I know no amount of words that I'm going to say is going to bring back their loved one, but I do want them to know that I am sorry."
The Crown has recommended Holloway serve 12 years in prison. Defence lawyer Kim Ross said his client had no previous criminal record, has made efforts to turn his life around and should serve three to five years.
"I'm not standing here saying that imprisonment is not appropriate here. The issue is how long," Ross told Court of King's Bench Justice Blair Nixon.
"Mr. Holloway has clearly learned his lesson … and I submit with some degree of confidence that this court will never see Mr. Holloway back here again."
Herblin was a longtime executive sous chef at the Glencoe Golf and Country Club, and his new restaurant was weeks away from opening.
Court heard Dodgson and Holloway broke into the restaurant with plans to get through a wall into an adjacent cannabis shop. They fled when a car drove by and returned later to continue their robbery attempt but became frustrated as Herblin had showed up.
Holloway smashed Herblin's car windows in order to lure him into the parking lot. Dodgson attacked him and stabbed him nine times.
Herblin staggered to a nearby gas station for help and died shortly after police officers came to his aid.
Ross said Holloway had no knowledge of what was going to happen and immediately ran off after smashing out the car's windows.
"Mr. Holloway at that point did not know what had happened. He did not know that Mr. Herblin was in the state that he was in and that he had gone to the Shell looking for help," Ross said.
"He was leaving the scene of a possible break and enter. Certainly at the time of his leaving he did not know."
Dodgson receives an automatic life sentence for the murder conviction. When the sentencing hearing began for both men in December, the Crown argued that Dodgson should not be eligible for parole for 15 to18 years. His lawyer asked for a range of 10 to 12 years.
The judge is scheduled to deliver his sentence for Holloway and Dodgson on Feb. 24.
This report by The Canadian Press was first published Feb. 6, 2023.
This is a corrected story. A previous version said lawyers were recommending the time Holloway should serve before he is eligible for parole.