Why is ArriveCan still mandatory, and what is Ottawa's plan for the contentious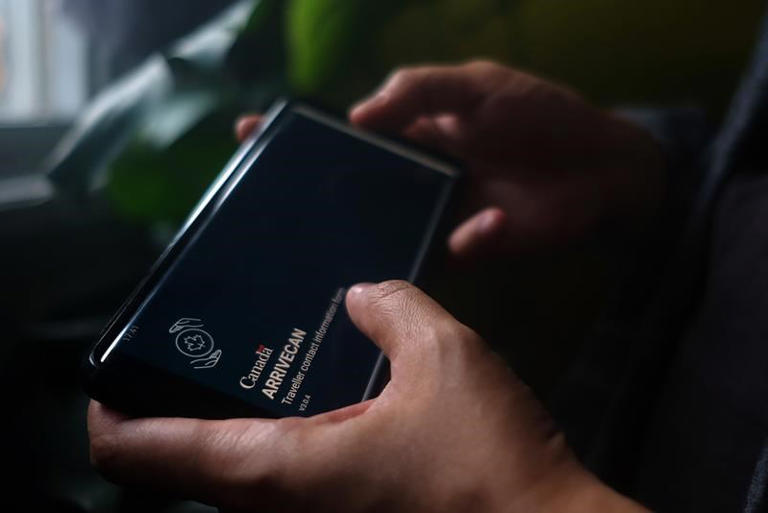 OTTAWA — The glitch-prone app touted as an efficient border tool early in the pandemic has become a punching bag for critics who question its utility ⁠ — but ArriveCan may be here to stay.
The government insists it's a useful tool. Critics say it has outlived its use, if it ever had one.
Here's a quick lowdown on what we currently know about it.
What is ArriveCan?
The app was introduced early in the pandemic and its use has been mandatory at air and land borders since February 2021 with exceptions in cases of accessibility issues or outages.
ArriveCan ostensibly screens incoming travellers for COVID-19 and for the last year tracked their vaccination status. Refusing to use the app to provide required information can result in a fine of up to $5,000 under the Quarantine Act.
Has the app done what it was supposed to do?
A December 2021 report from the federal auditor general said the ArriveCan app improved the quality of information the government collected on travellers. But poor data quality still meant that almost 138,000 COVID-19 test results couldn't be matched to incoming travellers, and only 25 per cent of travellers told to quarantine in government-authorized hotels were verified to have stayed in them.
Last month, due to a glitch, ArriveCan instructed about 10,200 travellers to quarantine for 14 days when they didn't have to. Bianca Wylie, a partner at Digital Public, questioned why the app would be automating those decisions in the first place, rather than sticking to the information-collection mandate it was launched with.
Is the app only about COVID-19?
Recent government updates to do with the app have focused on efficiencies rather than on public health measures. At air border crossings, it is now possible, though optional, to use the app to fill out a customs declaration form before arrival at Toronto's Pearson airport, Vancouver or Montreal.
Last week the government said it planned to expand that optional feature to air arrivals in Calgary, Edmonton, Winnipeg, Ottawa, Quebec City, Halifax and the Billy Bishop Toronto City airport.
In a statement earlier this month that focused on Canada's broader air travel fiasco, Transport Canada said those who use the forms cut their time at kiosks down by a third. That's 40 seconds off the average two-minute visit, which the government estimates could "save hours in wait time" if everyone used it.
Are apps the way of the future for air travel?
Electronic data collection related to COVID-19 has been mandatory at many international borders, and online forms are increasingly being used for non-pandemic reasons. Australia handles its electronic travel authorizations exclusively via app, while an online authorization form will be required to visit the European Union starting next year.
Canadian officials haven't gone so far as to say that they're planning something similar. But Public Safety Minister Marco Mendicino told reporters in June that while ArriveCan was created for COVID-19, "it has technological capacity beyond that to really shrink the amount of time that is required when you're getting screened at the border."
Before the pandemic, Canada had already started digitizing its border services with other initiatives, including installing customs kiosks at major airports starting in 2017 and introducing an eDeclaration app in 2018, which still exists, to cut down processing times.
Wylie said people were not using that app at a high volume before the pandemic, because it was voluntary and there were easy alternatives. But she said Ottawa has been using COVID-19 as an opportunity to speed up the transition.
"The federal government has been using a public health crisis to basically train people in a border modernization exercise that they have wanted to do," Wylie said, adding that modernization initiatives are fine as long as they are voluntary and alternatives are available.
How has the app affected travel across the land border?
About a quarter of people who cross into Canada from the U.S. by car don't use ArriveCan in advance, according to Pierre St-Jacques, a spokesman for the Immigration and Customs Union.
At the Canada-U. S. land border, a one-time exemption is in place for travellers who "may have been unaware" of the rules, the Canadian Border Services Agency confirmed. Out of five million crossings between May 24 and Aug. 4, the exemption was used 308,800 times, CBSA said in a statement.
But that's just a temporary fix, St-Jacques said, as officers who already feel spread thin because of staffing shortages find themselves acting as "IT consultants" and troubleshooting travellers' technical issues rather than doing what they're trained to do. "If the goal of the app is to make cross-border travel more efficient or more secure, well, it doesn't work in its current iteration," he said.
Border town mayors, border-city chambers of commerce and even duty-free stores have complained publicly that they think ArriveCan, along with other pandemic border restrictions, have been a deterrent to American tourists.
Why has ArriveCan become such a hot political topic?
Whether because Canadians are annoyed about the extra hassle, concerned about their privacy, sympathetic to border towns or simply fed up with the federal Liberals, Conservatives have an audience for their calls to eliminate ArriveCan.
Canadian acting darling Simu Liu joined the "scrap the app" bandwagon, challenging his followers to say a single nice thing about it in a tweet Tuesday, then saying immediately: "I failed the challenge."
Interim Conservative leader Candice Bergen said in a tweet Tuesday that ArriveCan created "unnecessary hurdles" and "only serves to hurt Canada's economy and tourism industry."
Some voices have gone a step further in claiming that the app is part of a broader effort to collect personal information and control the public. Conservative leadership candidate Leslyn Lewis called the whole thing a "surveillance experiment."
The privacy commissioner is also investigating a complaint about the app's collection and use of personal data.
This report by The Canadian Press was first published Aug. 16, 2022.
— With files from Sarah Ritchie
Marie-Danielle Smith, The Canadian Press
Analysis: China's sway over Russia grows amid Ukraine fight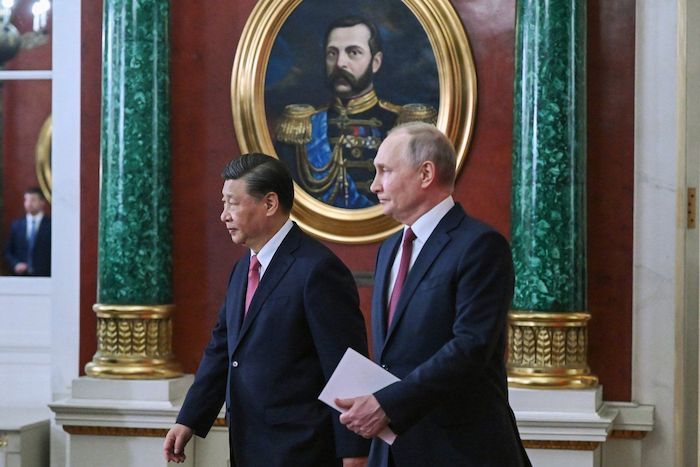 Russian President Vladimir Putin, right, and Chinese President Xi Jinping arrive to attend a signing ceremony following their talks at The Grand Kremlin Palace, in Moscow, Russia, Tuesday, March 21, 2023. (Grigory Sysoyev, Sputnik, Kremlin Pool Photo via AP)
By Vladimir Isachenkov in Moscow
MOSCOW (AP) — It was a revealing moment during Chinese leader Xi Jinping's tightly scripted visit to Moscow: Standing in the doorway of the Grand Kremlin Palace, he told Russian President Vladimir Putin that the two of them were "witnessing the changes that haven't been seen in more than a century, and we are pushing them together."
"I agree," Putin responded.
The remarks — caught on a Kremlin camera over a bodyguard's shoulder — offered a rare glimpse into Xi's ambitions and his relationship with Russia after more than a year of fighting in Ukraine.
While Moscow increasingly looks like a junior partner to Beijing, Xi is likely to offer a strong lifeline to Putin, his key partner in efforts to reshape the world to try to limit U.S. domination.
Xi's unusually blunt statement capped more than 10 hours of Kremlin talks, which ended with long declarations filled with florid rhetoric about expanding the "comprehensive partnership and strategic cooperation" between Russia and China, pledges to champion a multilateral approach to global affairs and criticism of Washington.
In his concluding statement, Putin hailed the Chinese proposal for a settlement in Ukraine, which the West had all but rejected as a non-starter. The Russian leader also rolled out a slew of initiatives that cemented his country's role as a key source of energy and other raw materials for China's giant economy. He proposed building new energy pipelines, invited the Chinese to fill the niche left after the exodus of Western businesses, and vowed to boost the export of agricultural products to China.
Xi remained tight-lipped, avoiding any firm commitments regarding specific projects and mostly sticking to general and vague rhetoric about expanding ties.
"A lot of things that Vladimir Putin would have liked to happen did not, in fact, happen," Rana Mitter, professor of Chinese history and politics at Oxford University, told The Associated Press. "There was no point at which Xi explicitly said that he accepted Russia's position on the Ukraine war over the position of Ukraine."
In fact, there was "a sense that China was reserving for itself the right to step away from a complete endorsement" of the Russian position, Mitter added.
Moscow and Beijing said they would increase contacts between their militaries and stage more joint sea and air patrols and drills, but there wasn't even the slightest hint from China that it could help Russia with weapons, as the U.S. and other Western allies feared.
Speaking Wednesday before a Senate committee, U.S. Secretary of State Antony Blinken said China so far has heeded strong U.S. warnings against providing lethal material support for Russia in Ukraine. "We have not seen them cross that — cross that line," he said.
U.S. National Security Council spokesperson John Kirby described the Putin-Xi relationship as "a marriage of convenience," in which they pool efforts to challenge U.S. leadership, and the Russians "certainly are the junior partner." He added at briefing earlier this week that Putin sees Xi as "a lifeline of sorts" amid the fighting in Ukraine.
Many commentators argued that the summit marked Putin's failure to win any specific aid from Beijing and cemented Russia's increasingly subordinate role in the alliance with China.
"China's domination of Russia is complete," tweeted Sam Greene, professor in Russian politics at King's College London. "While there were undoubtedly agreements we are not meant to know about, there is no indication here of a significant increase in military support for Russia — nor even of a willingness on Xi's part to ramp up diplomatic support. A swing and a miss for Putin."
After more than a year of fighting in Ukraine and bruising Western sanctions, Russia's dependence on China has increased significantly. Facing Western restrictions on its oil, gas and other exports, Russia has shifted its energy flows to China and sharply expanded other exports, resulting in a 30% hike in bilateral trade.
Western price caps on Russia's oil forced Moscow to offer it to China and other customers at a sharp discount, but despite those lower prices, the vast Chinese market ensured a stable flow of oil revenue to the Kremlin's war coffers.
As long as Russia can trade with China and other Asian states, it will face "no danger of running out of money or being forced to concede on the battlefield, said Chris Weafer, CEO of the consulting firm Macro-Advisory.
While profiting handsomely from Moscow's desperate situation, Beijing would be certain to ramp up its support if it sees Russia dangerously weakened.
"The nightmare scenario for China is that collapse of Russia militarily leads to collapse of the regime and installment of some pro-Western government," said Alexander Gabuev, a senior fellow at the Carnegie Endowment.
Gabuev argued that Beijing would be unlikely to provide any direct military assistance to Moscow anytime soon simply because it doesn't feel the pressing need to do so. "Russia is not doing great on the battlefield, but it's obviously not losing it, so need to support the Russian military efforts so far is questionable from both sides," he said.
More than ammunition, tanks and rockets, Russia badly needs China's help in skirting Western sanctions to maintain the flow of high-tech components for its weapons industries and other economic sectors. Sergei Markov, a pro-Kremlin political analyst, predicted that China could be expected to act more resolutely to help Russia get them.
"Russia doesn't need weapons from China," Markov wrote on his messaging app channel. "It needs microchips and components, and they will come."
Some observers say that while Beijing has been coy about supporting Moscow, it has vital interest in shoring up its ally to avoid being left alone in any potential confrontation with the United States.
Mikhail Korostikov, an expert on Russia-China ties, said in a commentary for the Carnegie Endowment that China has been closely watching Russia's experience in facing massive Western sanctions. "For Beijing, a close study and partial use of instruments and decisions used by Russia is a reasonable course in a situation when China's confrontation with the West looks inevitable," he said.
Korostikov noted that while Moscow's dependence on Beijing is growing, China's room for maneuvering is also shrinking.
"There is no alternative to Russia as a partner providing resources that China will critically need in case of an escalation in its confrontation with the West," he said. "It helps balance the situation and allows Moscow to hope that Beijing will not overuse its newly-acquired economic levers."
___
Isachenkov has covered Russia and other former Soviet nations for The Associated Press since 1992.
___
Associated Press writers Michael Weissenstein in New York, and Matthew Lee and Zeke Miller in Washington contributed.
DeSantis to expand law critics call 'Don't Say Gay' into HS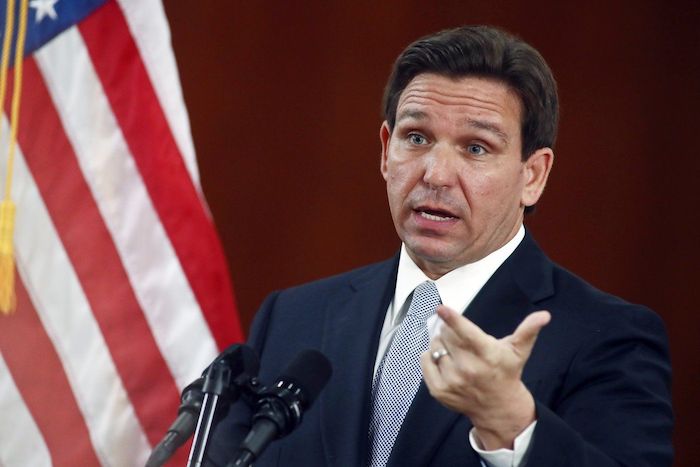 Florida Gov. Ron DeSantis answers questions from the media in the Florida Cabinet following his State of the State address during a joint session of the Senate and House of Representatives, Tuesday, March 7, 2023, at the state Capitol in Tallahassee, Fla. DeSantis' administration is moving to unilaterally forbid classroom instruction on sexual orientation and gender identity in all grades, expanding the controversial law critics call "Don't Say Gay" as the Republican governor continues a focus on cultural issues ahead of his expected presidential run. (AP Photo/Phil Sears, File)
By Anthony Izaguirre in Tallahassee
TALLAHASSEE, Fla. (AP) — The administration of Florida Gov. Ron DeSantis is moving to forbid classroom instruction on sexual orientation and gender identity in all grades, expanding the controversial law critics call "Don't Say Gay" as the Republican governor continues a focus on cultural issues ahead of his expected presidential run.
The proposal, which would not require legislative approval, is scheduled for a vote next month before the state Board of Education and has been put forth by state Education Department, both of which are led by appointees of the governor.
The rule change would ban lessons on sexual orientation and gender identity from grades 4 to 12, unless required by existing state standards or as part of reproductive health instruction that students can choose not to take.
DeSantis has leaned heavily into cultural divides on his path to an anticipated White House bid, with the surging Republican increasingly pursuing a conservative agenda that targets what he calls the insertion of inappropriate subjects in schools.
Spokespeople for the governor's office and the Education Department did not immediately return an emailed request for comment.
The measure comes after DeSantis championed a law last year that prohibited instruction on gender identity and sexual orientation in kindergarten through third grade.
The law drew widespread backlash nationally, with critics saying it marginalizes LGBTQ people, and kicked off a feud between the state and Disney, which publicly opposed the law.
At the governor's request, the Republican-dominated Legislature voted to dissolve a self-governing district controlled by Walt Disney World over its properties in Florida, and eventually gave DeSantis control of the board in a move widely seen as a punishment for the company opposing the law. The board oversees municipal services in Disney's theme park properties and was instrumental in the company's decision to build near Orlando in the 1960s.
The rule change was first reported by the Orlando Sentinel.