Why is ArriveCan still mandatory, and what is Ottawa's plan for the contentious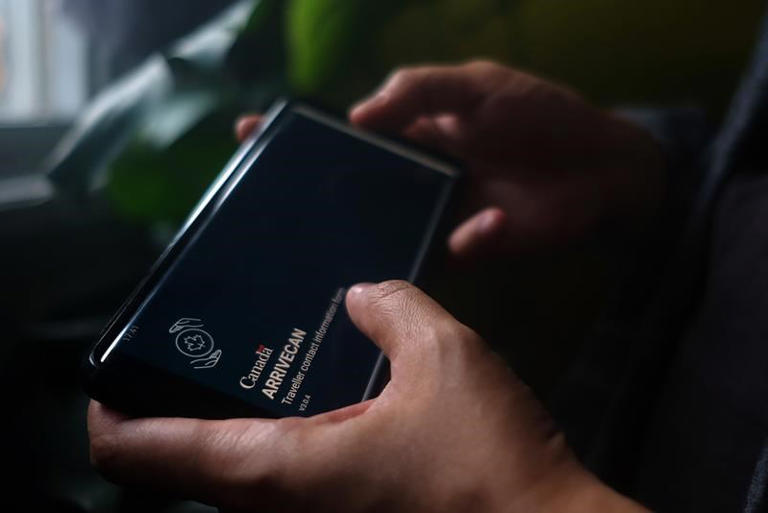 OTTAWA — The glitch-prone app touted as an efficient border tool early in the pandemic has become a punching bag for critics who question its utility ⁠ — but ArriveCan may be here to stay.
The government insists it's a useful tool. Critics say it has outlived its use, if it ever had one.
Here's a quick lowdown on what we currently know about it.
What is ArriveCan?
The app was introduced early in the pandemic and its use has been mandatory at air and land borders since February 2021 with exceptions in cases of accessibility issues or outages.
ArriveCan ostensibly screens incoming travellers for COVID-19 and for the last year tracked their vaccination status. Refusing to use the app to provide required information can result in a fine of up to $5,000 under the Quarantine Act.
Has the app done what it was supposed to do?
A December 2021 report from the federal auditor general said the ArriveCan app improved the quality of information the government collected on travellers. But poor data quality still meant that almost 138,000 COVID-19 test results couldn't be matched to incoming travellers, and only 25 per cent of travellers told to quarantine in government-authorized hotels were verified to have stayed in them.
Last month, due to a glitch, ArriveCan instructed about 10,200 travellers to quarantine for 14 days when they didn't have to. Bianca Wylie, a partner at Digital Public, questioned why the app would be automating those decisions in the first place, rather than sticking to the information-collection mandate it was launched with.
Is the app only about COVID-19?
Recent government updates to do with the app have focused on efficiencies rather than on public health measures. At air border crossings, it is now possible, though optional, to use the app to fill out a customs declaration form before arrival at Toronto's Pearson airport, Vancouver or Montreal.
Last week the government said it planned to expand that optional feature to air arrivals in Calgary, Edmonton, Winnipeg, Ottawa, Quebec City, Halifax and the Billy Bishop Toronto City airport.
In a statement earlier this month that focused on Canada's broader air travel fiasco, Transport Canada said those who use the forms cut their time at kiosks down by a third. That's 40 seconds off the average two-minute visit, which the government estimates could "save hours in wait time" if everyone used it.
Are apps the way of the future for air travel?
Electronic data collection related to COVID-19 has been mandatory at many international borders, and online forms are increasingly being used for non-pandemic reasons. Australia handles its electronic travel authorizations exclusively via app, while an online authorization form will be required to visit the European Union starting next year.
Canadian officials haven't gone so far as to say that they're planning something similar. But Public Safety Minister Marco Mendicino told reporters in June that while ArriveCan was created for COVID-19, "it has technological capacity beyond that to really shrink the amount of time that is required when you're getting screened at the border."
Before the pandemic, Canada had already started digitizing its border services with other initiatives, including installing customs kiosks at major airports starting in 2017 and introducing an eDeclaration app in 2018, which still exists, to cut down processing times.
Wylie said people were not using that app at a high volume before the pandemic, because it was voluntary and there were easy alternatives. But she said Ottawa has been using COVID-19 as an opportunity to speed up the transition.
"The federal government has been using a public health crisis to basically train people in a border modernization exercise that they have wanted to do," Wylie said, adding that modernization initiatives are fine as long as they are voluntary and alternatives are available.
How has the app affected travel across the land border?
About a quarter of people who cross into Canada from the U.S. by car don't use ArriveCan in advance, according to Pierre St-Jacques, a spokesman for the Immigration and Customs Union.
At the Canada-U. S. land border, a one-time exemption is in place for travellers who "may have been unaware" of the rules, the Canadian Border Services Agency confirmed. Out of five million crossings between May 24 and Aug. 4, the exemption was used 308,800 times, CBSA said in a statement.
But that's just a temporary fix, St-Jacques said, as officers who already feel spread thin because of staffing shortages find themselves acting as "IT consultants" and troubleshooting travellers' technical issues rather than doing what they're trained to do. "If the goal of the app is to make cross-border travel more efficient or more secure, well, it doesn't work in its current iteration," he said.
Border town mayors, border-city chambers of commerce and even duty-free stores have complained publicly that they think ArriveCan, along with other pandemic border restrictions, have been a deterrent to American tourists.
Why has ArriveCan become such a hot political topic?
Whether because Canadians are annoyed about the extra hassle, concerned about their privacy, sympathetic to border towns or simply fed up with the federal Liberals, Conservatives have an audience for their calls to eliminate ArriveCan.
Canadian acting darling Simu Liu joined the "scrap the app" bandwagon, challenging his followers to say a single nice thing about it in a tweet Tuesday, then saying immediately: "I failed the challenge."
Interim Conservative leader Candice Bergen said in a tweet Tuesday that ArriveCan created "unnecessary hurdles" and "only serves to hurt Canada's economy and tourism industry."
Some voices have gone a step further in claiming that the app is part of a broader effort to collect personal information and control the public. Conservative leadership candidate Leslyn Lewis called the whole thing a "surveillance experiment."
The privacy commissioner is also investigating a complaint about the app's collection and use of personal data.
This report by The Canadian Press was first published Aug. 16, 2022.
— With files from Sarah Ritchie
Marie-Danielle Smith, The Canadian Press
Hurricane Ian nears Florida landfall with 155 mph winds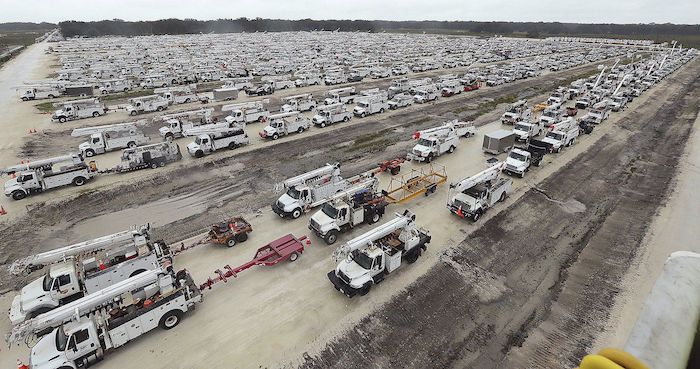 By Curt Anderson in St. Petersburg
ST. PETERSBURG, Fla., (AP) — Hurricane Ian's most damaging winds began hitting Florida's southwest coast Wednesday, lashing the state with heavy rain and pushing a devastating storm surge after strengthening to the threshold of the most dangerous Category 5 status.
Fueled by warm waters in the Gulf of Mexico, Ian grew to a catastrophic Category 4 hurricane overnight with top winds of 155 mph (250 kph), according to the National Hurricane Center. The storm trudged on a track to make landfall north of the heavily populated Fort Myers area, which forecasters said could be inundated by a storm surge of up to 18 feet (5.5 meters).
"This is going to be a nasty nasty day, two days," Florida Gov. Ron DeSantis said early Wednesday, stressing that people in Ian's path along the coast should rush to the safest possible shelter and stay there.
Ian's center was about 50 miles (80 kilometers) west of Naples at 10 a.m. Wednesday, as it churned toward toward the coast at 9 mph (15 kph). Ian's plodding pace meant the storm was expected to spend a day or more crawling across the Florida peninsula, dumping flooding rains of 12 to 18 inches (30 to 45 centimeters) across a broad area including Tampa, Orlando and Jacksonville in the state's northeast corner.
Catastrophic storm surges could push 12 to (3.6 meters) of water or more across more than 250 miles (400 kilometers) of coastline, from Bonita Beach to Englewood, the hurricane center warned.
"It's going to get a lot worse very quickly. So please hunker down," DeSantis said.
Off the coast on Sanibel Island near Fort Myers, swirling water covered residential streets and was halfway up mailbox posts by mid-morning. Seawater rushed out of Tampa Bay, leaving parts of the muddy bottom exposed, and waves crashed over the end of a wooden pier at Naples
More than 2.5 million people were under mandatory evacuation orders, but by law no one could be forced to flee. The governor said the state has 30,000 linemen, urban search and rescue teams, and 7,000 National Guard troops from Florida and elsewhere ready to help once the weather clears.
Florida residents rushed ahead of the impact to board up their homes, stash precious belongings on upper floors and join long lines of cars leaving the shore.
Some chose to stay and ride out the storm. Jared Lewis, a Tampa delivery driver, said his home has withstood hurricanes in the past, though not as powerful as Ian.
"It is kind of scary, makes you a bit anxious," Lewis said. "After the last year of not having any, now you go to a Category 4 or 5. We are more used to the 2s and 3s."
Forecasters predicted Ian would make landfall more than 100 miles (160 kilometers) south of Tampa and St. Petersberg, likely sparing the densely populated Tampa Bay area from its first direct hit by a major hurricane since 1921.
Officials warned Tampa residents that they still faced threats from powerful winds and up to 20 inches (50 centimeters) of rain.
"Please, please, please be aware that we are not out of danger yet," Tampa Mayor Jane Castor said in a video on Twitter. "Flooding is still going to occur."
During the night, Ian went through a natural cycle when it lost its old eye and formed a new one. The timing was bad for the Florida coast, because the storm got stronger and larger — 120 mph (193 kph) to 155 mph (250 kph) — with landfall just a few hours away.
The size of the storm also grew, with tropical storm force winds extending 175 miles (280 kilometers) from the hurricane's center.
"With the higher intensity you're going to see more extensive wind damage," University of Miami hurricane researcher Brian McNoldy said. "The larger wind field means that more people will experience those storm-force winds."
The most damaging winds could hit a coastline where the population has jumped sevenfold since 1970, according to the U.S. Census. Authorities worried that many residents would ignore orders to evacuate.
Vinod Nair wasn't taking any chances. He drove inland from the Tampa area Tuesday with his wife, son, dog and two kittens to a hotel in Orlando, where only tropical storm force winds were expected.
"You can't do anything about natural disasters," Nair said. "We live in a high-risk zone, so we thought it best to evacuate."
Ash Dugney warily watched ocean water being sucked out below a Tampa Bay pier Wednesday morning. He said he didn't trust Tampa's storm drainage system to keep his corner tuxedo rental business safe from flooding that he said happened in his neighborhood even during mild storms.
"I don't care about the wind and the rain and the stuff like that, I just care about the flooding," Dugney said, adding that he moved essentials out of the shop and moved other items up to above waist-high level.
Flash floods were possible across all of Florida. Hazards include the polluted leftovers of Florida's phosphate fertilizer mining industry, more than 1 billion tons of slightly radioactive wastecontained in enormous ponds that could overflow in heavy rains.
Forecasters placed roughly 120 miles (193 kilometers) of central Florida's east coast under a hurricane warning Wednesday, signaling that Ian may remain a hurricane longer than previously expected as it moves inland.
Isolated tornadoes were spinning off the storm well ahead of landfall. One tornado damaged small planes and a hangar at the North Perry Airport, west of Hollywood along the Atlantic coast.
More than 190,000 homes and businesses were without electricity, and Florida Power and Light warned those in Ian's path to brace for days without power.
Parts of Georgia and South Carolina also could see flooding rains and some coastal surge into Saturday. Georgia Gov. Brian Kemp preemptively declared an emergency, ordering 500 National Guard troops onto standby.
Before turning toward Florida, Ian battered Cuba and brought down the country's electrical grid, blacking out the entire island. It also caused destruction in Cuba's world-famous tobacco belt. No deaths were reported.
___
Associated Press contributors include Christina Mesquita in Havana, Cuba; Cody Jackson and Adriana Gomez Licon in Tampa, Florida; Freida Frisaro in Miami; Anthony Izaguirre in Tallahassee, Florida; Mike Schneider in Orlando, Florida; Seth Borenstein in Washington; Bobby Caina Calvan in New York and Jay Reeves in Birmingham, Alabama.
UN food chief warns Horn of Africa famine imminent, if global crises left unchecked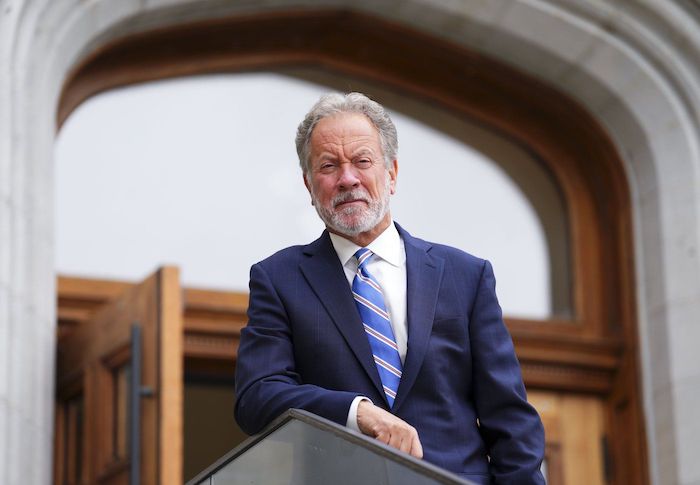 By Dylan Robertson in Ottawa
The head of the World Food Program is urging countries to follow Canada in trying to avert a looming famine in East Africa, which he warns could get even worse due to sanctions against Russia.
David Beasley, the American who leads the United Nations agency, said the number of people in acute need of food has multiplied by four since 2017.
"The world is in a very fragile state. We can't, in my opinion, take much more," he said in an interview.
"If we have a massive earthquake, or a volcano, or something in the next six months? Holy mackerel, all the fire trucks are out."
His gravest concern is for the Horn of Africa, a region that spans all of Somalia and large swaths of Ethiopia and Kenya. The past five consecutive growing seasons have all had a drought, and armed conflict has emboldened some militias to withhold access to food.
On a visit to the region last month, Beasley was taken aback to learn that food aid is now reaching farmers and ranchers, he said. Before, they occasionally got equipment to help with farming, but they hardly ever needed actual food.
"The amount of dead animals that I saw was extraordinary," he said. "The Horn of Africa is a picture-perfect scenario of a catastrophe."
Beasley started his job in March 2017, overseeing an organization that provides everything from school meals to farming machines to the world's poorest.
At that time, 80 million people were in acute food insecurity, meaning they are either malnourished or cutting back on essentials to feed themselves.
That number rose to 135 million by the time the COVID-19 pandemic started in early 2020, due to wars and climate change.
At the start of this year, 276 million people were in need, in part due to supply-chain shocks and a drought in Afghanistan, where the Taliban takeover has plunged the country into an economic crisis.
Since Russia's invasion of Ukraine in February, the number of people in acute need has risen to an unprecedented 345 million.
The invasion has drastically reduced grain exports from Europe's breadbasket and caused a jump in oil prices, which Beasley said is costing his organization an extra $75 million U.S. each month.
"Right now in our operations, we're having to take food from hungry children to give to starving children, because of a lack of funding," he said during a Tuesday visit to Ottawa.
Food prices dropped this year when grain gradually started to leave Ukraine's main port, Odessa, but they remain the highest in a decade.
Western sanctions on Russia include some exemptions for certain types of food and fertilizer, but Beasley said global powers need to further compromise. If regions that are not facing climate woes don't receive enough fertilizer, they won't be able to ramp up their production, he said, and millions will die.
"Regardless of whether you love or hate Russia, you've got to get these fertilizers out," he said.
"We very well could go from a food-pricing problem right now to a food availability problem in 2023, and that's my grave concern."
Beasley said Canadian governments under Liberal and Conservative leaders have been "a great voice for food security globally," as have the U.S., Germany and France.
Prime Minister Justin Trudeau cited global food security as a priority going into the United Nations General Assembly last week, but the New York meetings were dominated by news of Russia ramping up its war in Ukraine.
Canada has long been among the top five donors to the World Food Program, with Ottawa pledging US$360 million this year and earmarking funding for future years so officials can plan ahead.
"It's huge; it's a godsend. But other countries, like the Gulf states, have got to step up," he said.
"I'm jumping up and down, trying to get the world leaders to recognize (that) everyone's got to engage."
Beasley, the former Republican governor of South Carolina, said people should see development aid as a hedge against more expensive crises.
He said challenges such as COVID-19 and inflation have the developed world questioning the virtue of helping foreigners, but he argued that not intervening will drive conflict and mass migration that will only end up being more expensive for the west.
"I've seen it first hand; it will cost a thousand times more if we don't go down and help people where they are."
This report by The Canadian Press was first published Sept. 28, 2022.