Why Hyundai and Kia have everyone else playing catch-up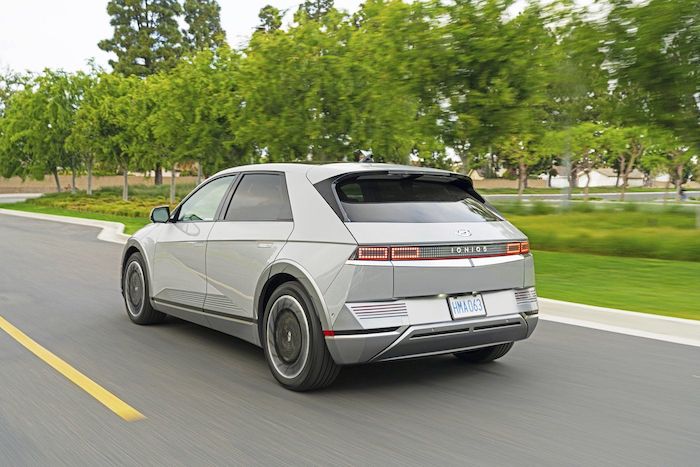 This photo provided by Hyundai shows the 2023 Hyundai Ioniq 5, which was named the Edmunds Top Rated Electric SUV for 2023. (Courtesy of Hyundai Motor America via AP)
By Nick Kurczewski
In the past few years, Hyundai and Kia vehicles have skyrocketed to the top of Edmunds' rankings in some of the most popular vehicle segments. For example, you'll find a Hyundai or Kia in the top spots for three-row midsize SUVs, midsize sedans, and multiple categories of electric vehicles. This changing of the guard can come as a surprise for car shoppers expecting to see more familiar brands like Chevrolet, Ford, Honda and Toyota.
This success isn't attributable to one single factor, such as short-lived marketing schemes like rock-bottom pricing or unsustainable rebates. Let's take a closer look at what these sister South Korean automakers are doing well and where they're still coming up short.
DISTINCTIVE DESIGN
First impressions matter, and this holds true when people are shopping for a new vehicle. Hyundai and Kia clearly recognize the importance of standing out in a crowd. Whether it's a family-friendly SUV with three rows of seating or an electric SUV on the technological cutting edge, a bold exterior draws attention and holds interest.
We'll start with EVs. While they share a platform and electric powertrains, the Hyundai Ioniq 5 and Kia EV6 take very different approaches to turning heads in the EV market. The Ioniq 5 is all edges and sharp angles, evoking Marty McFly's time-traveling DeLorean from 1984's "Back to the Future." The Kia EV6, on the other hand, is more traditionally handsome with its pointed front end, chunky fenders and sleek tapered tail. More is on the way too. The recently introduced Hyundai Ioniq 6 electric sedan is wildly curvaceous and has a swooping roofline that extends nearly to the rear bumper.
This bravado extends to the realm of conventional SUVs. When it arrived for the 2020 model year, the three-row Kia Telluriderocketed up sales charts thanks partly to its broad-shouldered stance and rugged design. However, style isn't everything. For example, the Kia Forte and Hyundai Elantra sedans also have distinctive looks but come up a little short on the fundamentals. That's why the relatively conservative Honda Civic is still Edmunds' top-rated small sedan.
THE LATEST TECHNOLOGY
Modern vehicles are now as much four-wheeled computers as they are traditional cars or trucks. As the recent microchip shortage proved, the technology beneath a car's sheetmetal is extremely complex. But if the interface to this technology is so nuanced that it takes a degree from MIT to master, what's the point?
Hyundai and Kia have met this challenge with infotainment systems that are simple to operate and come with sought-after features like Apple CarPlay and Android Auto, satellite radio and multiple USB ports. Many of the companies' latest vehicles also feature sleek-looking displays for both the instrument cluster and infotainment touchscreen, making some rival systems appear rudimentary by comparison.
A focus on technology shows up in the automakers' powertrain technology too. For example, the Ioniq 5 and EV6 have the capability to charge much more quickly at high-powered public DC fast-charging stations than many EVs. The South Korean companies have also been front-runners by offering hybrid and plug-in hybrid versions of their small SUVs, the Hyundai Tucson and Kia Sportage. However, shoppers should know that the regular non-hybrid versions of the Tucson and Sportage suffer from lackluster power and fuel economy and drop in Edmunds' rankings as a result.
STANDARD FEATURES AND VALUE
Kia and Hyundai have upped the quotient of desirable technology and safety features across their vehicle lineups. Most importantly, they've done so without making car shoppers pay thousands extra. Many rival brands have routinely bundled tech and comfort touches into pricey option packages or limited availability to the priciest trims.
While the gap has narrowed, Hyundai and Kia cars and SUVs have a well-earned reputation for offering more features for a given price. The brands also provide exceptionally long warranty coverage, including a 10-year/100,000-mile limited powertrain warranty that no competitors match.
High consumer demand for certain Hyundais and Kias has put a damper on value, however. Particularly during the height of pandemic-related shortages, Kia Tellurides were known to carry dealer markups of thousands more than the manufacturer's suggested retail price. It's not as bad now, but Kia and Hyundai consumers still need to be wary of dealer markups that can easily erase a lot of baseline value.
EDMUNDS SAYS: Hyundai and Kia are on a roll with vehicles that have expressive designs, competitive prices and extensive standard features. These automakers have become the ones to beat in many car segments, but savvy shoppers will bear in mind that not every Hyundai and Kia is golden.
_______
This story was provided to The Associated Press by the automotive website Edmunds.
Carmakers fail privacy test, give owners little or no control on personal data they collect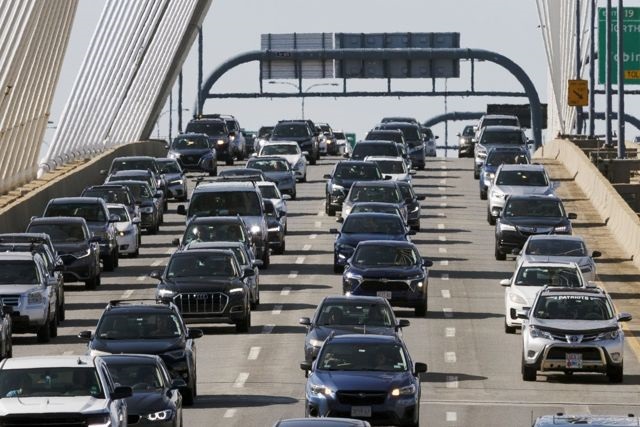 Heavy traffic heads south on Interstate 93 over the Zakim Bridge, Friday, Sep. 1, 2023, in Boston. Cars are getting an "F" in data privacy. A new study released Wednesday, Sept. 6, 2023, found that most major brands admit they may be selling your personal data, with half saying they will share it with the government or law enforcement without a court order. (AP Photo/Michael Dwyer, File)
By Frank Bajak in Boston
BOSTON (AP) — Cars are getting an "F" in data privacy. Most major manufacturers admit they may be selling your personal information, a new study finds, with half also saying they would share it with the government or law enforcement without a court order.
The proliferation of sensors in automobiles — from telematics to fully digitized control consoles — has made them prodigious data-collection hubs.
But drivers are given little or no control over the personal data their vehicles collect, researchers for the nonprofit Mozilla Foundation said Wednesday in their latest "Privacy Not Included" survey Security standards are also vague, a big concern given automakers' track record of susceptibility to hacking.
"Cars seem to have really flown under the privacy radar and I'm really hoping that we can help remedy that because they are truly awful," said Jen Caltrider, the study's research lead. "Cars have microphones and people have all kinds of sensitive conversations in them. Cars have cameras that face inward and outward."
Unless they opt for a used, pre-digital model, car buyers "just don't have a lot of options," Caltrider said.
Cars scored worst for privacy among more than a dozen product categories — including fitness trackers, reproductive-health apps, smart speakers and other connected home appliances — that Mozilla has studied since 2017.
Not one of the 25 car brands whose privacy notices were reviewed — chosen for their popularity in Europe and North America — met the minimum privacy standards of Mozilla, which promotes open-source, public interest technologies and maintains the Firefox browser. By contrast, 37% of the mental health apps the non-profit reviewed this year did.
Nineteen automakers say they can sell your personal data, their notices reveal. Half will share your information with government or law enforcement in response to a "request" — as opposed to requiring a court order. Only two — Renault and Dacia, which are not sold in North America — offer drivers the option to have their data deleted.
"Increasingly, most cars are wiretaps on wheels," said Albert Fox Cahn, a technology and human rights fellow at Harvard's Carr Center for Human Rights Policy. "The electronics that drivers pay more and more money to install are collecting more and more data on them and their passengers."
"There is something uniquely invasive about transforming the privacy of one's car into a corporate surveillance space," he added.
A trade group representing the makers of most cars and light trucks sold in the U.S., the Alliance for Automotive Innovation, took issue with that characterization. In a letter sent Tuesday to U.S. House and Senate leadership, it said it shares "the goal of protecting the privacy of consumers."
It called for a federal privacy law, saying a "patchwork of state privacy laws creates confusion among consumers about their privacy rights and makes compliance unnecessarily difficult." The absence of such a law lets connected devices and smartphones amass data for tailored ad targeting and other marketing — while also raising the odds of massive information theft through cybersecurity breaches.
The Associated Press asked the Alliance, which has resisted efforts to provide car owners and independent repair shops with access to onboard data, if it supports allowing car buyers to automatically opt out of data collection — and granting them the option of having collected data deleted. Spokesman Brian Weiss said that for safety reasons the group "has concerns" about letting customers completely opt out — but does endorse giving them greater control over how the data is used in marketing and by third parties.
In a 2020 Pew Research survey, 52% of Americans said they had opted against using a product or service because they were worried about the amount of personal information it would collect about them.
On security, Mozilla's minimum standards include encrypting all personal information on a car. The researchers said most car brands ignored their emailed questions on the matter, those that did offering partial, unsatisfactory responses.
Japan-based Nissan astounded researchers with the level of honesty and detailed breakdowns of data collection its privacy notice provides, a stark contrast with Big Tech companies such as Facebook or Google. "Sensitive personal information" collected includes driver's license numbers, immigration status, race, sexual orientation and health diagnoses.
Further, Nissan says it can share "inferences" drawn from the data to create profiles "reflecting the consumer's preferences, characteristics, psychological trends, predispositions, behavior, attitudes, intelligence, abilities, and aptitudes."
It was among six car companies that said they could collect "genetic information" or "genetic characteristics," the researchers found.
Nissan also said it collected information on "sexual activity." It didn't explain how.
The all-electric Tesla brand scored high on Mozilla's "creepiness" index. If an owner opts out of data collection, Tesla's privacy notice says the company may not be able to notify drivers "in real time" of issues that could result in "reduced functionality, serious damage, or inoperability."
Neither Nissan nor Tesla immediately responded to questions about their practices.
Mozilla's Caltrider credited laws like the 27-nation European Union's General Data Protection Regulation and California's Consumer Privacy Act for compelling carmakers to provide existing data collection information.
It's a start, she said, by raising awareness among consumers just as occurred in the 2010s when a consumer backlash prompted TV makers to offer more alternatives to surveillance-heavy connected displays.
Used cars market faces supply crunch in aftermath of supply chain woes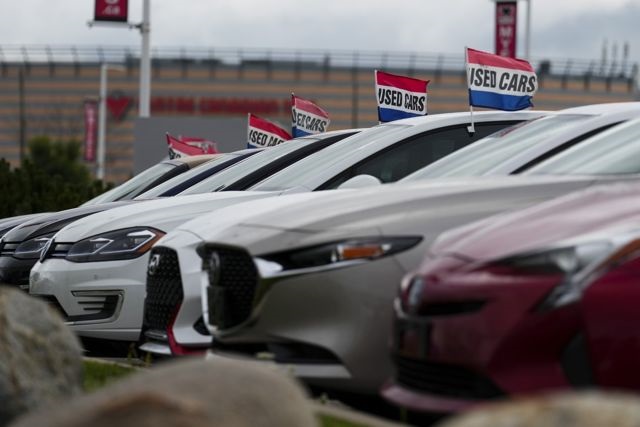 The used car market is still experiencing a shortage of vehicles even as the automotive sector recovers from supply chain woes that have plagued the industry since the onset of the COVID-19 pandemic. Used vehicles for sale are displayed at an automotive dealership in Ottawa on Friday, Aug. 11, 2023. THE CANADIAN PRESS/Sean Kilpatrick
By Ritika Dubey in Toronto
The used car market is still experiencing a shortage of vehicles even as the automotive sector recovers from supply chain woes that have plagued the industry since the onset of the COVID-19 pandemic.
Used vehicles became an alternative to consumers when the supply of new vehicles was severely limited during the pandemic, says Daniel Ross of automotive insights company Canadian Black Book, and prices for used cars started to rise.
"But after the increase of interest rates and inflation as a whole, affordability has become the main concern," he says of the latest moves by the Bank of Canada to clamp down on rising costs.
Ross, who is the senior manager of automotive industry insights at CBB, says that's driving buyers toward smaller, used vehicles rather than previously popular SUVs, pickup trucks or new vehicles with higher market prices — a trend expected to continue for the next 12 to 18 months.
But there are not enough used cars in the market to meet the growing demand. DesRosiers Automotive Consultants Inc. says dealers are having a hard time getting used cars and projects a slowdown in sales in the coming months.
The latest estimates by DesRosiers show the 2023 sales of new cars at franchised used dealers are expected at 305 units per location, and at just 140 for independent used car dealers. That's lower than the sales projections cited at the beginning of this year.
At least 51 per cent of the car dealers surveyed said their sourcing troubles for used vehicles have worsened since the pandemic, a report earlier this month by DesRosiers found.
The supply constraint is partly because people are holding on to their vehicles longer than usual, creating a bottleneck in the supply chain for used cars, says Jim Hamilton, interim manager at the Used Car Dealers Association of Ontario.
On average, he said, people look to sell their vehicles after four or five years of ownership and move on to newer make.
"Now, they're hanging on to the cars double that time, which means more money in the service business — oil change, brake repairs and maintenance."
A separate survey by DeRosiers shows that aftermarket retailers reported higher sales for automobile parts during the first quarter of 2023 — most of them having better sales compared to pre-pandemic levels.
June statistics for retail sales in Canada were driven by motor vehicles and parts dealers, which were up 2.5 per cent from May, much higher than the overall 0.1 per cent growth.
Ross of CBB is seeing those trends, too. He said people are buying out car leases before maturity, spending more on repairs and keeping them out of the used car lots.
Daily rental fleets are also following in the footsteps of regular buyers and holding on to the vehicles longer because they can't replace the old fleet with the new ones. That means those cars aren't entering the used market as expected
"This puts constraints on supply even further than what we've had in the past," Ross said.
Between 2020 and 2021, used car prices soared 34.5 per cent as car manufacturers dealt with unprecedented backlogs in the supply of car parts to bring new vehicles to showrooms.
Now that the cost of used cars is stabilizing, people who may have been sitting on the fence in the last two years because of high prices are getting into the market.
Cindy Marques, a financial planner at Open Access Ltd., says she has noticed her clients are moving to buy cars only because they have to — lowering their expectations for new cars or opting for used to fit within their budget instead of delaying purchases.
"It's not a matter of waiting for interest rates to go down but to bite the bullet and buy different cars than they hope they would get," she said.
Limited financing options are also a factor in making the used car markets more attractive for buyers, said Ronald Corbett, vice-president for Toronto and southwestern province at Desjardins Ontario Credit Union.
With decreasing purchasing power and higher interest rates, Corbett said, qualification prospects for car loans are a little more difficult.
"People are more apt to be pinching every penny and not wanting to put that extra $40 or $60 a month toward any car purchase when they're looking at prices for groceries, mortgage, rent and other costs," he said.
Ross said the supply chain for some new cars has improved this year, with more cars now available at showrooms, alleviating some pressure from used car demand. Still, it remains sporadic.
"With the added effect of higher (market prices), the showrooms are not necessarily seeing as much gravity behind consumers coming to the new car market, as they previously have seen," Ross said.
Years of limited access to new cars has shifted conditions.
Previously, Ross said, customers bought a new vehicle, then replaced it with another new car — with the original vehicle adding supply to the used market.
"But we've seen the opposite. New vehicle inventory is building as used vehicle inventory is still on the downturn."
He said it takes at least two years for new cars to populate the used vehicle supply chain.
"Recovery stems from the new car market," he said. "If you don't have any new cars selling, you're not going to have any used cars."
This report by The Canadian Press was first published Aug. 28, 2023.