What's the next step for Black reparations in San Francisco?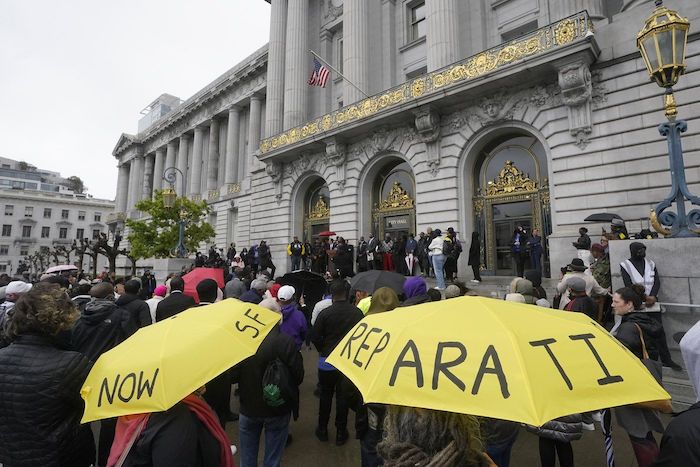 A crowd listens to speakers at a reparations rally outside of City Hall in San Francisco, Tuesday, March 14, 2023. Supervisors in San Francisco are taking up a draft reparations proposal that includes a $5 million lump-sum payment for every eligible Black person. (AP Photo/Jeff Chiu)
By Janie Har in San Francisco
SAN FRANCISCO (AP) — San Francisco supervisors have backed the idea of paying reparations to Black people, but whether members will agree to lump-sum payments of $5 million to every eligible person or to any of the more than 100 other recommendations made by an advisory committee won't be known until later this year.
The idea of Black reparations is not new, but the federal government's promise of granting 40 acres and a mule to newly freed slaves was never realized. It wasn't until George Floyd, a Black man, was killed in police custody in 2020 that reparations movements began spreading in earnest across the country.
The state of California and the cities of Boston and San Francisco are among jurisdictions trying to atone not just for chattel slavery, but for decades of racist policies and laws that systemically denied Black Americans access to property, education and the ability to build generational wealth.
WHAT IS THE ARGUMENT FOR REPARATIONS IN SAN FRANCISCO?
Black migration to San Francisco soared in the 1940s because of shipyard work, but racially restrictive covenants and redlining limited where people could live. When Black residents were able to build a thriving neighborhood in the Fillmore, government redevelopment plans in the 1960s forced out residents, stripped them of their property and decimated Black-owned businesses, advocates say.
Today, fewer than 6% of San Francisco residents are Black yet they make up nearly 40% of the city's homeless population.
Supporters include the San Francisco NAACP, although it said the board should reject the $5 million payments and focus instead on reparations through education, jobs, housing, health care and a cultural center for Black people in San Francisco. The president of the San Francisco branch is the Rev. Amos C. Brown, who sits on both the statewide and San Francisco reparations panels.
WHAT IS THE ARGUMENT AGAINST REPARATIONS?
Critics say California and San Francisco never endorsed chattel slavery, and there is no one alive today who owned slaves or was enslaved. It is not fair for municipal taxpayers, some of whom are immigrants, to shoulder the cost of structural racism and discriminatory government policies, critics say.
An estimate from Stanford University's Hoover Institution, which leans conservative, has said it would cost each non-Black family in San Francisco at least $600,000 in taxes to pay for the costliest of the recommendations: The $5 million per-person payout, guaranteed income of at least $97,000 a year for 250 years, personal debt elimination and converting public housing into condos to sell for $1.
A 2022 Pew Research Center survey found 68% of U.S. respondents opposed reparations compared with 30% in favor. Nearly 80% of Black people surveyed supported reparations. More than 90% of Republicans or those leaning Republican opposed reparations while Democrats and those leaning Democratic were divided.
HOW WILL SAN FRANCISCO PAY FOR THIS?
It's not clear. The advisory committee that made the recommendations says it is not its job to figure out how to finance San Francisco's atonement and repair.
That would be up to local politicians, two of whom expressed interest Tuesday in taking the issue to voters. San Francisco Supervisor Matt Dorsey said he would back a ballot measure to enshrine reparations in the San Francisco charter as part of the budget. Shamann Walton, the supervisor leading the charge on reparations, supports that idea.
WHAT ARE SOME OF THE OTHER REPARATIONS RECOMMENDATIONS?
Recommendations in education include establishing an Afrocentric K-12 school in San Francisco; hiring and retaining Black teachers; mandating a core Black history and culture curriculum; and offering cash to at-risk students for hitting educational benchmarks.
Recommendations in health include free mental health, prenatal care and rehab treatment for impoverished Black San Franciscans, victims of violent crimes and formerly incarcerated people.
The advisory committee also recommends prioritizing Black San Franciscans for job opportunities and training, as well as finding ways to incubate Black businesses.
WHAT HAPPENS NEXT?
There is no deadline for supervisors to agree on a path forward. The board next plans to discuss reparations proposals in September, after the San Francisco African American Reparations Advisory Committee issues a final report in June.
WHAT ABOUT REPARATIONS FROM THE STATE?
In 2020, California became the first state to form a reparations task force. But nearly two years into its work, it still has yet to make key decisions on who would be eligible for payment and how much. The task force has a July 1 deadline to submit a final report of its reparations recommendations, which would then be drafted into legislation for lawmakers to consider.
The task force has spent multiple meetings discussing time frames and payment calculations for five harms experienced by Black people, including government taking of property, housing discrimination and homelessness and mass incarceration. The task force is also debating state residency requirements.
Previously, the state committee voted to limit financial reparations to people descended from enslaved or freed Black people in the U.S. as of the 19th century.
Why are people in Britain talking about Boris Johnson's WhatsApp messages?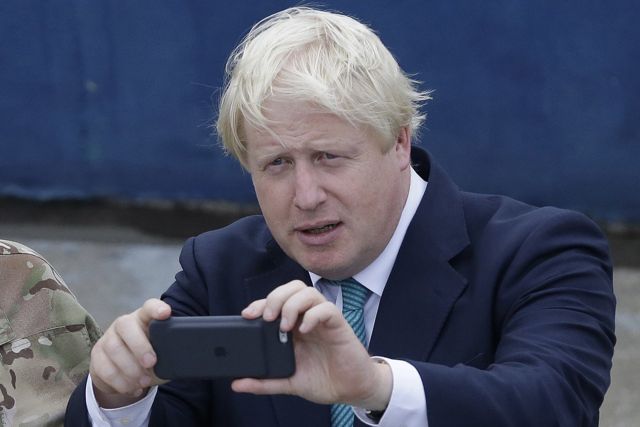 LONDON — Critics accuse the British administration of running "government by WhatsApp" because of the popularity of the messaging app with politicians and officials.
So it feels inevitable that a tussle over WhatsApp messages is at the heart of Britain's official inquiry into how the country handled the COVID-19 pandemic.
Thousands of messages exchanged during the pandemic between then Prime Minister Boris Johnson and government ministers, aides and officials form key evidence for the investigation chaired by retired judge Heather Hallett. The Conservative government, now led by Prime Minister Rishi Sunak, wants to be able to edit the messages before handing them over, saying some are personal and irrelevant to the inquiry. It has filed a legal challenge against Hallett's order to surrender the unredacted messages.
WHAT IS THE INQUIRY INVESTIGATING?
More than 200,000 people have died in Britain after testing positive for COVID-19, one of the highest tolls in Europe, and the decisions of Johnson's government have been endlessly debated. Johnson agreed in late 2021 to hold an investigation after pressure from bereaved families.
Hallett's inquiry is due to scrutinize the U.K.'s preparedness for a pandemic, how the government responded and whether the "level of loss was inevitable or whether things could have been done better."
Public hearings are scheduled to begin June 13 and last until 2026, with the former prime minister and a host of senior officials due to give evidence.
WHAT'S UP WITH WHATSAPP?
The Meta-owned messaging service has become a favorite communications tool among U.K. government officials and the journalists who cover them. It's easy to use for both individual and group chats, and its end-to-end encryption offers users a sense of security that messages will be private.
That confidence has sometimes proved misguided. Former Health Secretary Matt Hancock, who helped lead Britain's response to the virus, gave tens of thousands of his messages to a journalist who was helping him write a memoir. The journalist passed them to a newspaper, which splashed embarrassing details in a series of front-page stories.
Hallett has asked to see messages exchanged between Johnson and more than three dozen scientists and officials over two years from early 2020. She also wants to see Johnson's notebooks and diaries from the same period.
WHAT'S THE GOVERNMENT'S POSITION?
The government of Sunak, who took office after Johnson resigned amid scandals in mid-2022, argues that some of the messages are "unambiguously irrelevant" to the COVID-19 inquiry. It says publishing them would be "an unwarranted intrusion into other aspects of the work of government," and into individuals' "legitimate expectations of privacy and protection of their personal information."
On Thursday, the government's Cabinet Office filed court papers seeking to challenge Hallett's order for the documents. The next step will be a hearing at the High Court in the coming weeks.
Many lawyers think the government will lose the challenge. Under the terms of the inquiry, agreed upon with the government at the outset, Hallett has the power to summon evidence and question witnesses under oath.
"The government has an uphill task," Jonathan Jones, a former head of the government legal service, wrote in a blog post for the Institute for Government. "The likelihood is that the court will say the inquiry chair should be the one to decide how she goes about it, and what material she needs to see for that purpose."
WHAT DOES BORIS JOHNSON SAY?
Johnson has a history of friction with successor Sunak, whose resignation from the government in July 2022 helped topple Johnson from power.
Johnson has distanced himself from the government's stance by saying he is happy to hand over his messages. On Friday, he said he has sent the WhatsApp messages directly to Hallett's inquiry.
But — in another twist — they cover only part of the requested period. Johnson hasn't passed on any messages from before April 2021. That period includes the early days of the pandemic — when the government made fateful and still-contested decisions — as well as three periods of national lockdown and the dates of rule-breaking parties in government buildings that led to scores of people, including Johnson, being fined by police.
Johnson says the messages are on a phone he was ordered to stop using after journalists noticed that his number had been publicly available online for 15 years.
Johnson says the security services told him to quit using the phone and never to turn it on again. He told Hallett on Friday that he had "asked the Cabinet Office for assistance in turning it on securely so that I can search it for all relevant material. I propose to pass all such material directly to you."
Bill Blair blames CSIS director for not passing along memo warning of threats to MP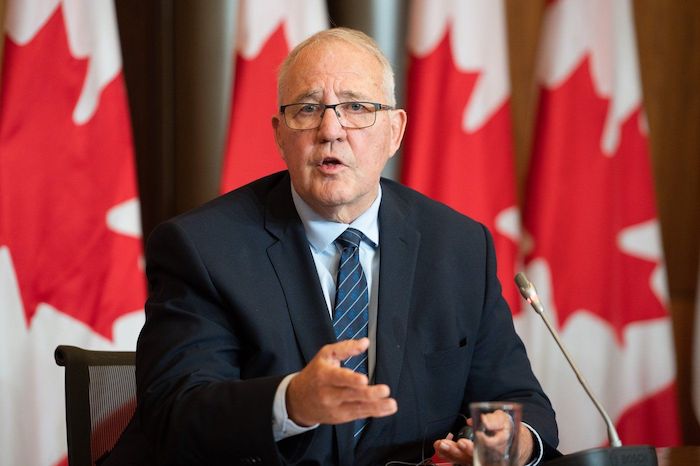 Bill Blair is blaming Canadian Security Intelligence Service director David Vigneault for the fact he didn't receive a memo warning about threats against Conservative MP Michael Chong and his family by a Chinese diplomat. Blair speaks during an update in Ottawa, on Thursday, June 1, 2023. THE CANADIAN PRESS/Spencer Colby
By David Fraser in Ottawa
Bill Blair is blaming Canadian Security Intelligence Service director David Vigneault for the fact that he didn't receive a memo warning about the alleged targeting of Conservative MP Michael Chong and his family by a Chinese diplomat.
"The director determined this was not information the minister needed to know," Blair said Thursday afternoon.
The former public safety minister made the comments at a meeting of a parliamentary committee that is investigating allegations that members of Parliament were targeted by foreign interference.
Blair's appearance follows the release of watchdog David Johnston's first report, which found there were serious issues with the way the government handles confidential information.
The former governor general's report concluded that CSIS was aware of indications Chinese officials were contemplating action directed at Canadian MPs, but did not identify negligence at the highest political levels.
Johnston concluded that intelligence about Chinese officials seeking information on Conservative MP Michael Chong didn't reach the prime minister, the public safety minister or Chong himself until after it was leaked and reported by media.
The prime minister's national security adviser, Jody Thomas, told MPs at the committee meeting that in 2021, the memo was sent to deputy ministers of Public Safety, Global Affairs and National Defence.
But it effectively went into a "black hole" and wasn't shared with the appropriate people, she said.
Thomas was the deputy minister of National Defence at the time and was one of the three to receive the memo.
She said she didn't see it because she was on leave when it was delivered, and the memo would have been destroyed after a certain amount of time for security reasons.
The memo didn't specifically mention Chong, but Johnston's report said there was an additional note sent to Blair and his deputy minister indicating there was intelligence the People's Republic of China intended to target Chong and another, unnamed MP.
The report also said CSIS intended to provide Chong and the other MP with a briefing. Chong said he did receive a briefing but it did not include any details about a threat to his family.
Thomas said the memo about Chong was sent to the Privy Council Office in July 2021 and was provided to her predecessor David Morrison, who is currently the deputy minister of foreign affairs, that August.
But she wouldn't say why it wasn't then shared with the prime minister, Chong or other relevant people at the time.
"I'm not going to account for what's happened with my predecessor," she told the committee.
Johnston's report confirmed that CSIS also sent information about the targeting of Chong to the public safety minister and his chief of staff via a top-secret email platform, but they never received it. The public service told Johnston that they don't have access to the right system.
Thomas said it should have been the responsibility of the security apparatus to ensure the information was provided, arguing that his lack of access to the email system was not the primary reason Blair didn't see it.
"Minister Blair would have been given a reading package," she said.
Blair, who was public safety minister at the time, said Thursday afternoon that he, too, first learned about threats against Chong in the media — and that if he had been briefed about threats against an MP, he would have taken action.
"I didn't have a password to an email account," he told reporters following his appearance. "That's not exactly how this works."
He told MPs on the committee there is no email account where top-secret information is shared with people, but there is a top-secret terminal, and he did not have access to one in his offices.
"If (CSIS) determined that information is not required to be shared with us, and I have no knowledge of that, I would not have the opportunity to act on it," he said, adding that questions about why the information wasn't shared with him should be put to Vigneault.
He said that when CSIS did want to share information with him, he was brought to a secure facility and briefed with printed materials.
"I am not suggesting that CSIS purposely withheld information. They make a determination. They make a determination on the credibility and the seriousness of the intelligence that they've gathered."
Thomas said steps have been taken to ensure better information flow since her arrival to the national security adviser position in 2022, and more is now being done to ensure officials are aware of how to consume intelligence.
The Liberal government recently issued a directive that any threats against members of Parliament, their families or their staff must be elevated to the highest political levels, even if CSIS does not deem the threat to be serious or legitimate.
The Liberal government expelled Chinese diplomat Zhao Wei in May, accusing him of being involved in a plot to intimidate Chong and his relatives in Hong Kong.
Chong's alleged targeting had come after he successfully sponsored a motion in the House of Commons labelling Beijing's treatment of Uyghur Muslims in China a genocide.
"We will not tolerate any form of foreign interference in our internal affairs," Foreign Affairs Minister Melanie Joly wrote in a statement at the time, declaring the Toronto-based diplomat as "persona non grata."
In response, China's embassy expelled Canada's consul in Shanghai and issued a statement accusing Canada of breaching international law and acting based on anti-Chinese sentiment. It said the move has "sabotaged" relations between China and Canada, according to an official English translation provided by the embassy, and promised unspecified retaliatory measures.
Thomas told MPs during her committee appearance that proxies of foreign diplomats in Canada continue to be "working contrary to the interests of the diaspora community."
She hesitated to put a number on how many people are involved or speak further about what their activities entail, citing national security considerations.
This report by The Canadian Press was first published June 1, 2023.
— With files from Dylan Robertson.