What kept Iran protests going after first spark?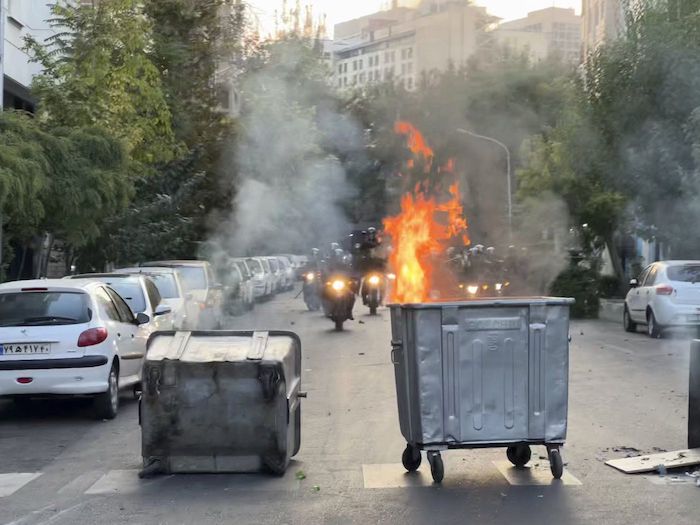 By Joseph Krauss
Protests have erupted across Iran in recent days after a 22-year-old woman died while being held by the morality police for violating the country's strictly enforced Islamic dress code.
The death of Mahsa Amini, who had been picked up by Iran's morality police for her allegedly loose headscarf, or hijab, has triggered daring displays of defiance, in the face of beatings and possible arrest.
In street protests, some women tore off their mandatory headscarves, demonstratively twirling them in the air. Videos online showed two women throwing their hijabs into a bonfire. Another woman is seen cutting off her hair in a show of protest.
Many Iranians, particularly the young, have come to see Amini's death as part of the Islamic Republic's heavy-handed policing of dissent and the morality police's increasingly violent treatment of young women.
At some of the demonstrations, protesters clashed with police and thick clouds of tear gas were seen rising in the capital, Tehran. Protesters were also chased and beaten with clubs by the motorcycle-riding Basij, or volunteers in Iran's paramilitary Revolutionary Guard. Police.
The Basij have violently suppressed protests in the past, including over water rights and the country's cratering economy.
Yet some demonstrators still chant "death to the dictator," targeting both Supreme Leader Ali Khamenei's rule and Iran's theocracy, despite the threat of arrest, imprisonment and even the possibility of a death sentence.
Here's a look at what sparked the protests and where they might lead.
WHAT CAUSED THE PROTESTS IN IRAN?
Iran's morality police arrested Amini on Sept. 13 in Tehran, where she was visiting from her hometown in the country's western Kurdish region. She collapsed at a police station and died three days later.
Police detained her over wearing her hijab too loosely. Iran requires women to wear the headscarf in a way that completely covers their hair when in public. Only Afghanistan under Taliban rule now actively enforces a similar law. Ultra-conservative Saudi Arabia dialed back its enforcement over recent years.
The police deny Amini was mistreated and say she died of a heart attack. President Ebrahim Raisi, who will speak at the U.N. General Assembly on Wednesday, has promised an investigation.
Amini's family says she had no history of heart trouble and that they were prevented from seeing her body before she was buried. The demonstrations erupted after her funeral in the Kurdish city of Saqez on Saturday, and quickly spread to other parts of the country, including Tehran.
HOW ARE WOMEN TREATED IN IRAN?
Iranian women have full access to education, work outside the home and hold public office. But they are required to dress modestly in public, which includes wearing the hijab as well as long, loose-fitting robes. Unmarried men and women are barred from mingling.
The rules, which date back to the days after the 1979 Islamic Revolution, are enforced by the morality police. The force, officially known as the Guidance Patrol, is stationed across public areas. It is made up of men as well as women.
Enforcement was eased under former President Hassan Rouhani, a relative moderate who at one point accused the morality police of being overly aggressive. In 2017, the head of the force said it would no longer arrest women for violating the dress code.
But under Raisi, a hard-liner elected last year, agents of the morality police appear to have been unleashed. The U.N. human rights office says young women have been slapped in the face, beaten with batons and shoved into police vehicles in recent months.
HOW HAS IRAN RESPONDED TO THE PROTESTS?
Iranian leaders have vowed to investigate the circumstances of Amini's death while accusing unnamed foreign countries and exiled opposition groups of seizing on it as a pretext to foment unrest. That's been a common pattern in the protests that erupted in recent years.
Iran's ruling clerics view the United States as a threat to the Islamic Republic and believe the adoption of Western customs undermines society. Khamenei himself has seized on so-called "color" protests in Europe and elsewhere as foreign interventions — and not as people demonstrating for more rights.
Tensions have been especially high since former President Donald Trump withdrew from the 2015 nuclear deal with Iran and imposed crippling sanctions. The Biden administration has been working with European allies for the last two years to revive the accord, but negotiations appear deadlocked as nonproliferation experts warn Iran has enough highly enriched uranium for a nuclear bomb if it chose to build one. The Islamic Republic insists its program is peaceful.
The governor of Tehran said Wednesday that authorities arrested three foreign nationals at protests in the capital, without elaborating. Iranian security forces have arrested at least 25 people, and the governor of the Kurdistan province says three people have been killed by armed groups in unrest linked to the protests, without elaborating.
Activists and human rights groups have blamed Iranian security forces for killing protesters in other demonstrations, like those over gasoline prices in 2019.
COULD THE PROTESTS BRING DOWN IRAN'S GOVERNMENT?
Iran's ruling clerics have weathered several waves of protests going back decades, eventually quashing them with brute force.
The most serious challenge to the clerics' rule was the Green Movement that emerged after the country's disputed presidential election in 2009 and called for far-reaching reforms; millions of Iranians took to the streets.
Authorities responded with a brutal crackdown, with the Revolutionary Guard and the Basij militia opening fire on protesters and launching waves of arrests. Opposition leaders were placed under house arrest.
Among those killed was Neda Agha Soltan, a 27-year-old woman who became an icon of the protest movement after she was shot and bled to death in a video seen by millions on social media.
___
Follow Joseph Krauss on Twitter at www.twitter.com/josephkrauss.
Experts raise concerns as Nigeria limits cash withdrawals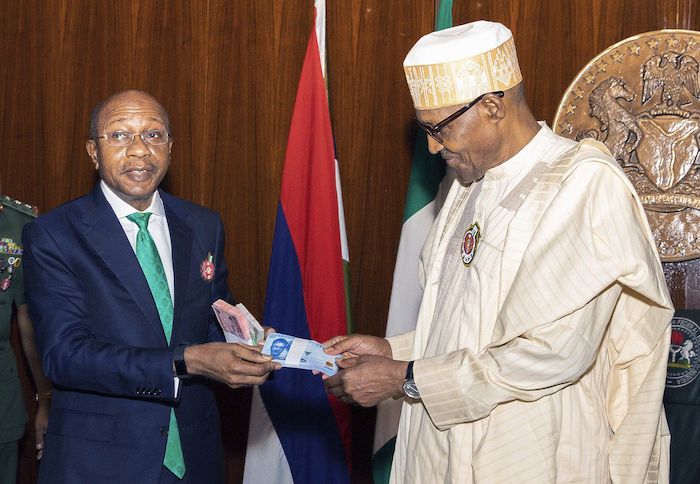 By Chinedu Asadu in Abuja
ABUJA, Nigeria (AP) — Experts on Wednesday raised concerns over a new policy announced by the Central Bank of Nigeria that heavily limits withdrawals of money in a push for a cashless economy.
The monetary policy, which applies to ATMs, banks and cash back from purchases, follows the launch of the West African nation's newly designed currency notes to control the money supply.
The central bank limited weekly over-the-counter cash withdrawals to 100,000 naira ($225) for individuals and 500,000 naira ($1,124) for corporations, with a processing fee required to access more.
When the policy takes effect in Jan. 9, ATMs will no longer dispense Nigeria's high denominations of 1,000 naira ($2.25) and 500 naira ($1.10) while withdrawals from ATMs and point-of-sale terminals also will be limited to 20,000 naira ($45) daily.
"In compelling circumstances, not exceeding once a month, where cash withdrawals above the prescribed limits are required for legitimate purposes, such cash withdrawals shall not exceed 5,000,000 naira ($11,236) and 10,000,000 naira ($22,471) for individuals and corporations, respectively," said Haruna Mustafa, the bank's director of banking supervision.
Policymakers say the withdrawal limits and recent monetary initiatives from the central bank would bring more people into the banking system and curb currency hoarding, illicit flows and inflation.
But analysts worry that with digital payments often unreliable in Nigeria, the initiative could hurt daily transactions that people and businesses make.
"The policy is intended to cause discomfort, to move you from cash to cashless because they (the central bank) have said they want to make it uncomfortable and expensive for you to hold cash," economic analyst Kalu Aja said.
"That is a positive for the CBN (because) the more discomforting they are able to achieve, the more people can move," Aja said.
In Nigeria, the majority of people work in the informal sector — mainly activities outside of the legal framework and government regulation such as farming, street and market trade, and public transport. The economy is heavily dependent on this sector, and cash is usually preferred for transactions because many lack bank accounts.
Only 45% of adults in Nigeria have accounts with regulated financial institutions, according to the World Bank. In the absence of bank accounts, point-of-sale terminals have emerged as one of the fastest-growing areas of financial inclusion in the country.
Through the withdrawal limits, the central bank is "directly attacking" such agency banking services and "people will essentially begin to hoard their money," said Tunde Ajileye, a partner at Lagos–based SBM Intelligence firm.
"It is not going to drive people to start to try doing electronic transactions. On the contrary, it is going to move people away from the financial institutions," he said.
China eases anti-COVID measures following protests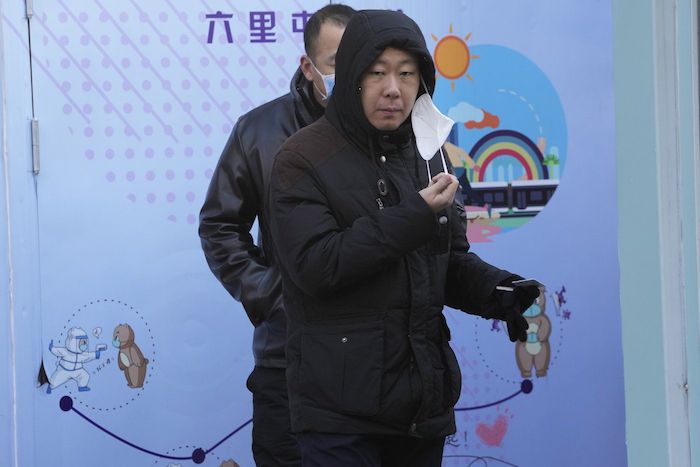 By Joe Mcdonald in Beijing
BEIJING (AP) — China rolled back rules on isolating people with COVID-19 and dropped virus test requirements for some public places Wednesday in a dramatic change to a strategy that confined millions of people to their homes and sparked protests and demands for President Xi Jinping to resign.
The move adds to earlier easing that fueled hopes Beijing was scrapping its "zero COVID" strategy, which is disrupting manufacturing and global trade. Experts warn, however, that restrictions can't be lifted completely until at least mid-2023 because millions of elderly people still must be vaccinated and the health care system strengthened.
China is the last major country still trying to stamp out transmission of the virus while many nations switch to trying to live with it. As they lift restrictions, Chinese officials have also shifted to talking about the virus as less threatening — a possible effort to prepare people for a similar switch.
People with mild cases will be allowed for the first time to isolate at home, the National Health Commission announced, instead of going to sometimes overcrowded or unsanitary quarantine centers. That addresses a major irritation that helped to drive protests that erupted Nov. 25 in Shanghai and other cities.
Public facilities except for "special places," such as schools, hospitals and nursing homes, will no longer require visitors to produce a "health code" on a smartphone app that tracks their virus tests and whether they have been to areas deemed at high risk of infection.
Local officials must "take strict and detailed measures to protect people's life, safety and health" but at the same time "minimize the impact of the epidemic on economic and social development," the statement said.
China's restrictions have helped to keep case numbers low, but that means few people have developed natural immunity, a factor that might set back reopening plans if cases surge and authorities feel compelled to reimpose restrictions.
Still, after three years spent warning the public about COVID-19's dangers, Chinese officials have begun to paint it as less threatening.
People with mild cases "can recover by themselves without special medical care," said Wu Zunyou, chief epidemiologist of the China Centers for Disease Control, on his social media account.
"The good news is that the data show the proportion of severe cases is low," said Wu.
The latest changes are "small steps" in a gradual process aimed at ending restrictions, said Liang Wannian, a member of an expert group advising the National Health Commission, at a news conference.
The government's goal is "to return to the state before the epidemic, but the realization of the goal must have conditions," said Liang, one of China's most prominent anti-epidemic experts.
Dr. Yanzhong Huang, an expert on public health in China, also emphasized the gradual nature of the announcement.
The new measures are a shift away from "zero COVID" — but "not a roadmap to reopening," said Huang, director of the Center for Global Health Studies at Seton Hall University.
"When implemented, these measures may generate dynamics that fuel the rapid spread of the virus even though China is not ready for such a dramatic shift," he said.
The government announced a campaign last week to vaccinate the elderly that health experts say must be done before China can end restrictions on visitors coming from abroad. They say the ruling Communist Party also needs to build up China's hospital system to cope with a possible rise in cases.
But public frustration is rising now, as millions of people are repeatedly confined at home for uncertain periods, schools close abruptly and economic growth falls.
The changes have been rolled out despite a renewed spike in infections started in October. On Wednesday, the government reported 25,231 new cases, including 20,912 without symptoms.
Xi's government has held up "zero COVID" as proof of the superiority of China's system compared with the United States and Western countries. China's official death toll is 5,235 since the start of the pandemic versus a U.S. count of 1.1 million.
Rules were left in place that warn apartment and office buildings might be sealed if infections are found. Complaints that families are confined for weeks at a time with uncertain access to food and medicine were a key driver of the protests.
The ruling party switched early this year to suspending access to neighborhoods or districts where infections were discovered instead of isolating whole cities.
On Wednesday, the government said the scope of closures will be narrowed still further to single apartment floors or buildings instead of neighborhoods.
It said schools in communities with no outbreaks must return to in-person teaching.
That appeared to be a response to complaints that local leaders, threatened with the loss of their jobs in the event of outbreaks, impose closures that are destructive, might be unnecessary and exceed what the central government allows.
The demonstrations in at least eight major cities and on dozens of university campuses were the most widespread display of public dissent in decades. In Shanghai, some protesters shouted the politically explosive demand for Xi, China's most influential figure in decades, to resign.