Conservatives call on feds to see killer Bernardo returned to maximum-security prison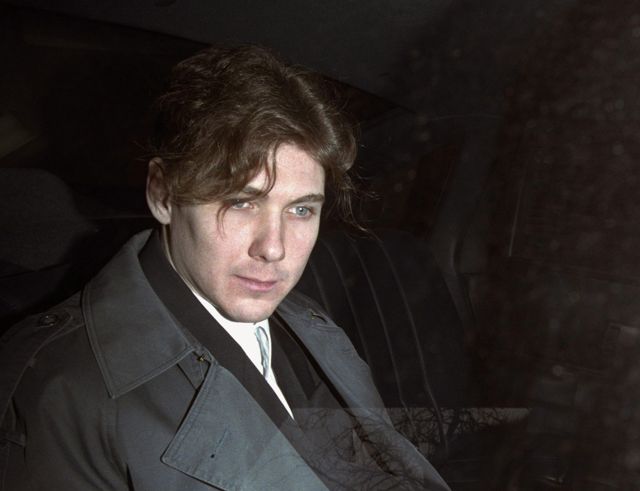 Paul Bernardo sits in the back of a police cruiser as he leaves a hearing in St. Catharines, Ont., April 5, 1994. The lawyer for the families of Paul Bernardo's victims says the killer and serial rapist should be returned to his maximum-security prison and transparency be provided around what led to his transfer to a medium-security facility in the first place.THE CANADIAN PRESS/Frank Gunn
By Stephanie Taylor in Ottawa
Conservative Leader Pierre Poilievre is calling on the federal government to use whatever tools it can to reverse a decision by the Correctional Service of Canada to transfer killer Paul Bernardo to a medium-security prison.
Bernardo's move to a facility in Quebec was made public last week after the correctional service notified the lawyer representing the families of 15-year-old Kristen French and 14-year-old Leslie Mahaffy, whom Bernardo kidnapped, tortured and murdered in the early 1990s.
The killer and serial rapist had been serving a life sentence at Millhaven Institution, a maximum-security penitentiary near Kingston, Ont.
Tim Danson, a lawyer for the victims' families, says it was unacceptable that the prison service refused to answer questions about the reason for the Bernardo's move or details of his custody conditions, citing his privacy rights.
Speaking to reporters in Ottawa, Poilievre called Bernardo a "monster" and said Prime Minister Justin Trudeau's government should work to see him returned to a maximum-security prison.
In a statement last Friday, Public Safety Minister Marco Mendicino said Bernardo's transfer was "shocking and incomprehensible," adding that he planned to raise the issue with Anne Kelly, commissioner of the federal correctional service.
Danson said he was pleased to the minister's statement
"Now we need action," he told The Canadian Press on Sunday. "This is one of Canada's most notorious, sadistic, psychopathic killers."
"We need the public in masses, in millions, to be writing to the minister, to the commissioner of corrections, and to the members of Parliament, to express their outrage over this — that secrecy will not work. We want transparency."
Mendicino said in his statement he expects the correctional service to "take a victim-centred and trauma-informed approach in these cases."
The service, for its part, issued a statement offering no details about Bernardo's transfer but saying safety is its "paramount consideration" in all such decisions.
"While we cannot comment on the specifics of an offender's case under the Privacy Act, we want to assure the public that this offender continues to be incarcerated in a secure institution, with appropriate security perimeters and controls in place," the statement read.
It went on to note that Bernardo, who has been designated a dangerous offender, is serving an "indeterminate sentence" with no end date.
Danson said the French and Mahaffy families were shocked to hear of Bernardo's transfer, with the move bringing up decades of anguish and grief.
"Then for me to have to tell them as their lawyer and their friend, 'I'm afraid I have no answers for you because of Bernardo's privacy rights,'" he said.
"Of course their response is the one that you would expect: What about the rights of Kristen? What about the rights of Leslie? What about their rights?"
"These are questions I can't answer other than just to agree with them and share in their despair."
Bernardo's dangerous offender status makes the move all the more puzzling, Danson added as he questioned why Bernardo should reap any benefits of being in a medium-security facility with more lenient living conditions.
"We need an open and transparent discussion and debate. These are major, major public institutions paid for by the taxpayers of Canada."
He suggested the correctional service's handling of the matter risks leading the public to feel suspicious of the entire system.
"They want to do everything behind closed doors and secretly."
This report by The Canadian Press was first published on June 5, 2023.
Parole board warned employees about threats following Saskatchewan stabbings: emails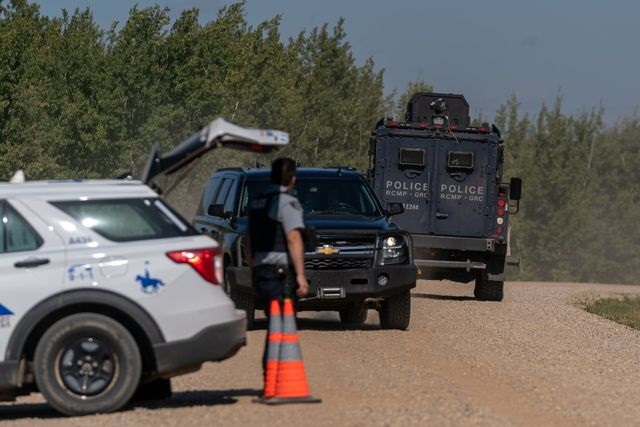 A tactical armoured RCMP vehicle drives past a police roadblock set up at James Smith Cree Nation, Sask., on Tuesday, Sept. 6, 2022. Parole Board of Canada employees were fearful of threats after it was revealed a mass killer in Saskatchewan was on statutory release at the time of last year's rampage, newly released internal emails show. THE CANADIAN PRESS/Heywood Yu
By Stephanie Taylor and Kelly Geraldine Malone
Parole Board of Canada employees were fearful of threats after it was revealed a mass killer in Saskatchewan was on statutory release at the time of last year's rampage, emails show.
The emails in partially redacted documents, obtained by The Canadian Press under the Access to Information Act, show staff at the Parole Board of Canada were cautioned about their safety and told to remain vigilant following threats made to a Saskatchewan office after the stabbings.
Eleven people were killed and 17 were injured in the attacks on the James Smith Cree Nation and in the nearby village of Weldon on Sept. 4, 2022.
Myles Sanderson, 32, was arrested four days later and died in police custody.
It was widely reported during the manhunt that Sanderson, who had a record of violent assaults, had received statutory release, which kicks in when an offender has served two-thirds of a prison sentence.
The killings raised questions over why Sanderson was released and how he managed to remain free in the months leading up to the attacks. Emails show that along with increased public attention and criticism, the parole board received "a few concerning phone calls" about Sanderson's release, which were reported to Saskatoon police.
Emails to Jennifer Oades, the chairperson of the parole board, on Sept. 8 note a phone call to the Saskatchewan parole board office. The contents of the four-minute call are largely redacted, but it prompted swift action inside the parole board.
"This is quite worrisome," Oades wrote in an email about the call.
Staff were notified in an email later that day to take action to ensure their safety.
They were advised to use alternate routes to work or change the times they would leave. The email said staff should leave the building in groups or consider working from home.
"Please remember to be vigilant and keep an eye out for any suspicious activities or individuals in your surroundings," the email to staff said.
It also cautioned people to make their employee identification cards or lanyards less visible and to avoid using branded items like coffee mugs. It said they should revisit having social media accounts that might identify them as a parole board employee.
"Given recent events, it is recommended that you reduce your visibility as a PBC employee while outside of secure work zones," the email said.
One email sent to Oades two days after the stabbings expressed shock at the fact Sanderson had been released, saying the parole board needed to answer to the public.
"How many more of these (Parole Board of Canada) mistakes are out there?"
The parole board said in a statement that it sometimes receives feedback that contains "abusive" language over its decisions.
In the case of the worrying phone call, the board said local police contacted the individual and "determined that there had been no intent to threaten the board."
Parole board employees were also closely watching news reports about Sanderson's release, emails show. They noted the backlash and shared concerns about the public's understanding of statutory release, which imposes conditions on offenders to help with their reintegration into society.
Sanderson's parole documents show he had a lengthy criminal history, including 59 convictions as an adult. He received statutory release in August 2021 from his first federal prison sentence of more than four years.
Four months into his freedom, Sanderson was found to have been lying about his living arrangements and his release was suspended.
In February 2022, the parole board cancelled that suspension and Sanderson again received statutory release with a reprimand. Three months later, however, the Correctional Service of Canada deemed him to be unlawfully at large and a parole officer issued a warrant for his apprehension.
After the deadly stabbings, then-public safety minister Marco Mendicino weighed in on Sanderson's release from prison, saying "there were a number of significant flaws in the system here that have to be addressed."
The Correctional Service of Canada and the Parole Board of Canada launched a joint investigation into Sanderson's release. One briefing note shows a written report was due no later than March, but in separate statements both the parole board and prison service say they expect to share the results this fall.
"The length of time to complete an investigation varies according to the complexities of the case and whether there is an ongoing police investigation or criminal proceeding," wrote parole board spokeswoman Iulia Pescarus Popa.
The joint investigation is intended to look into why and how Sanderson was released from prison and whether the proper processes were followed.
Betty Pottruff, the parole board member who signed off on the Sanderson decision, voiced concern about the heightened interest and her own safety as the joint investigation progressed.
In an email in January, she requested to have the assistance of a department of justice lawyer for the joint investigation
"There was already a threat toward board members that caused concern in the fall and as emotions resurface, the risks continue or increase," Pottruff said.
"I expect that this focus on me as an individual board member will continue and increase as the reviews go forward."
This report by The Canadian Press was first published Sept. 25, 2023.
RCMP 'gutted' by death of Const. Rick O'Brien, 51, shot in B.C.: deputy commissioner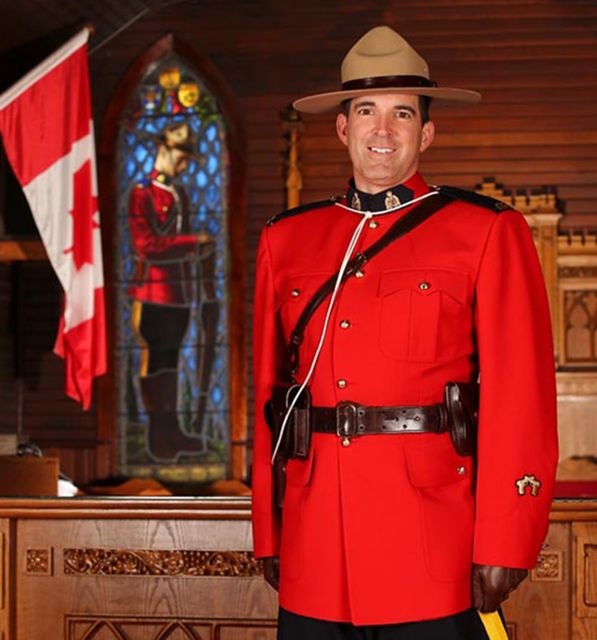 RCMP Const. Rick O'Brien poses in this undated RCMP handout photo. The 51-year-old officer was shot and killed and two other officers were injured while executing a search warrant in Coquitlam, B.C., on Friday, Sept. 22, 2023, while a suspect was shot and is in hospital with non-life-threatening injuries. THE CANADIAN PRESS/HO, RCMP
By Nono Shen in Coquitlam
The death of another Mountie in British Columbia less than a year after the last killing "enrages" the lead officer in the province.
RCMP Deputy Commissioner Dwayne McDonald said Const. Rick O'Brien, 51, was shot dead and two other officers were injured on Friday as they tried to execute a search warrant in Coquitlam, B.C.
A suspect in his 20s was also shot and is in hospital with non-life-threatening injuries.
O'Brien, who had a wife and children, was decorated for bravery in the rescue of victims during a home invasion within months of joining the RCMP in 2016.
"This is an extremely difficult and tragic day for our members," McDonald said Friday. "Const. O'Brien led by example. He had a great sense of humour. He was well respected by his peers and he was loved in his community."
He said O'Brien was part of a team from Ridge Meadows RCMP that had been serving a search warrant at a home in the neighbouring community of Coquitlam.
McDonald said O'Brien died at the scene. One injured officer is in hospital with non-life-threatening injuries, he said, while the other suffered minor injuries and was discharged.
While McDonald didn't reveal details about the investigation, he said it was a long-term probe.
A procession of RCMP vehicles led an ambulance carrying O'Brien's body from Coquitlam to Abbotsford later Friday.
O'Brien's death comes just 11 months after the death of RCMP Const. Shaelyn Yang, who was stabbed to death while accompanying a Burnaby, B.C., city worker to a homeless campsite.
McDonald said the past year had been a tragic one for police departments across Canada.
"It hurts. It really hurts. I'm outraged," he said. "To see police officers across this country killed trying to protect their communities enrages me."
Policing was a second career for O'Brien, who worked with at-risk youth before joining the RCMP. His entire career was spent at the Ridge Meadows detachment.
Supt. Wendy Mehat, the officer in charge of Ridge Meadows, said speaking about the impact of O'Brien's death was the most difficult moment of her career.
"Rick's contribution to his work, and his fellow team members at this detachment was immeasurable. Rick loved visiting schools and helping students, doing presentations, supporting our detachment (with) food drives and sport events," she said.
"He was truly exceptional, a hard worker and a good human being. His death is senseless and heartbreaking." Mehat said.
McDonald said O'Brien's death seemed to speak to an issue he and his colleagues across the country have been talking about.
"Perhaps painting police in a certain light … sometimes seems to encourage people to resist authority and disrespect the profession of policing and, quite honestly, fight the police," he said.
"I'm not commenting on this particular instance. But I will say that this is a stark reminder that the police are here to help you."
The Independent Investigations Office said in a statement that the officers went to a home in the Metro Vancouver city on Friday.
"While there, the attending officers became engaged in an altercation with a man which resulted in multiple officers being injured and the man being shot," the statement said.
"Emergency Health Services transported all injured to hospital, but one of the officers who was shot succumbed to their injuries."
Carley Hodges, a witness in the busy area of city, described a chaotic scene, with an officer receiving CPR as he was put in an ambulance, another officer with a wound on his leg and a tourniquet above it, and a man in handcuffs.
Hodges said there were "tons of police cars, ambulances and fire trucks coming in."
Mehat said O'Brien's death was "senseless and heartbreaking."
"He simply went to work today, and he was killed, doing his duty and keeping his community safe. The hours, weeks and months ahead will be difficult to our communities and Maple Ridge, Pitt Meadows, Coquitlam and across the country."
B.C. Solicitor General Mike Farnworth said he was shocked and saddened to learn of O'Brien's death.
"All three officers are shining examples of the extraordinary individuals who chose to take on the challenging mantle of protecting the public.
"I have spoken to the local mayors, and we all agree that the death of an officer is a stark reminder of the dangers police face to keep us safe. They put their lives on the line every day to fulfil their oath to protect our communities."
Prime Minister Justin Trudeau sent his condolences to O'Brien's family, friends and colleagues on social media.
"And to the officers who were injured: I'm wishing you a fast and full recovery."
This report by The Canadian Press was first published Sept. 22, 2023.
This is a corrected story. A previous version said police were trying to serve an arrest warrant.