WestJet pilots to launch strike authorization vote as negotiations fizzle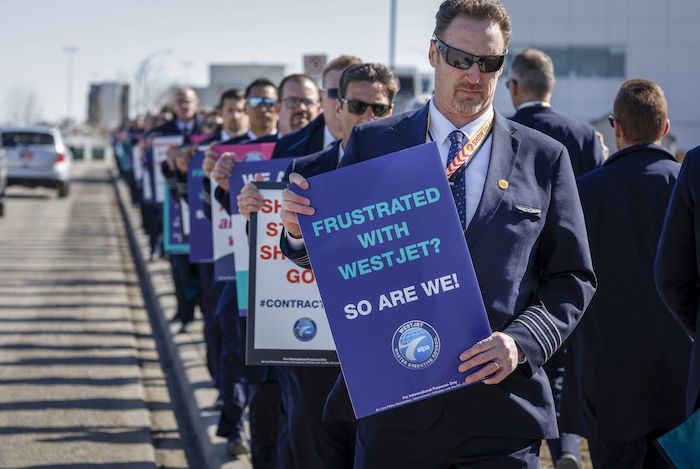 Members of the Air Line Pilots Association demonstrate amid contract negotiations outside Westjet's headquarters in Calgary, Alta., Friday, March 31, 2023. THE CANADIAN PRESS/Jeff McIntosh
By Christopher Reynolds in Montreal
The union representing WestJet pilots will launch a strike authorization vote Monday as contract talks with management drag on, the Air Line Pilots Association said Friday.
Bernard Lewall, who heads ALPA Canada's WestJet contingent, said its 1,600-person membership is "frustrated" after six months of bargaining with a company he claims has failed to seriously engage with it.
The issues revolve around wages, scheduling and work conditions at WestJet and its discount subsidiary Swoop, with 39 pilots opting to leave for other airlines in the past month alone, Lewall said in a phone interview from Calgary.
"WestJet used to be a place where young pilots wanted to come and work. That's not the case anymore. It's not just more experienced pilots that are leaving; you have new pilots looking at other places to fly too," he said, ahead of a union demonstration at WestJet headquarters at the Calgary airport.
"We want to show that the company has to treat its pilots better."
WestJet said the threat of a strike is a "common and expected tactic" in the negotiation process.
"However, that does not mean a strike will occur. WestJet is committed to this process and will continue to work with ALPA to reach a collective agreement that provides value to our current and future pilots, is sustainable for the company and avoids disruption to our guests," spokeswoman Madison Kruger said in an email.
Lewall said their wages remain well below the North American industry standard. Meanwhile, pilots are being asked to spend more time away from home. "We're already away from our families half the month."
If successful, the 15-day authorization vote would set the stage for the bargaining team to call a strike following a three-week "cooling-off period," which in turn would begin after the ongoing federal conciliation process wraps up April 24.
That means the union could go on strike or lockout by the May long weekend, which traditionally kicks off the summer travel season.
The strike mandate vote comes amid a severe pilot shortage as airlines struggle to shore up bottom lines badly dented by the pandemic.
One stumbling block is "equal pay for equal work," said Lewall.
Currently, pilots who fly under the Swoop banner are paid less than those who fly for WestJet. With the company's takeover of leisure carrier Sunwing approved by the federal government on March 10, Lewall said the union is worried it could lead to the creation of yet another class of pilots with a different pay scale.
"We could find ourselves in a place where there would be three airlines basically within WestJet who are all operating the same aircraft for different wages and with different conditions," he said.
Proposed last March, the Sunwing acquisition will see Calgary-based WestJet bolster its vacation package offerings as it adds the tour operator to its fleet, though the two brands will be marketed separately.
Poised for completion in the next few weeks, the takeover marks a major consolidation of the Canadian aviation market following a tumultuous year for travel.
WestJet pilots first unionized in May 2017, signalling a major shift in culture at the famously non-union airline.
Since then, other employee groups at the company have also unionized, including flight attendants and certain airport employees.
The pilots' first union contract, which expired at the end of last year, was the result of an arbitrated settlement reached in 2018. That deal averted a threatened strike, as WestJet pilots had voted in favour of job action after contract talks fell apart.
This report by The Canadian Press was first published March 31, 2023.
BMO completes US$160M deal to purchase Air Miles loyalty rewards program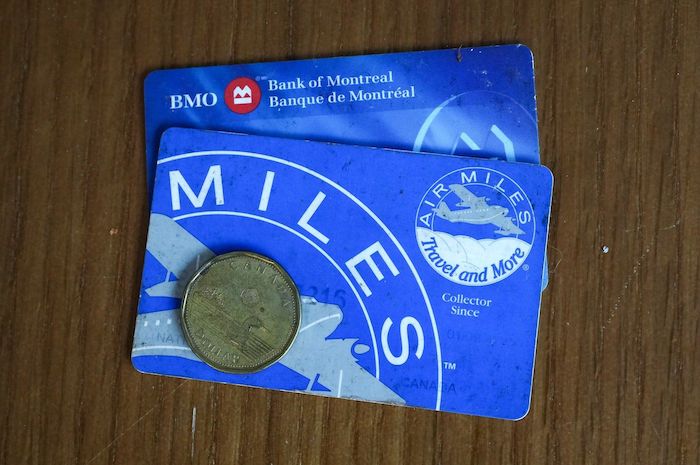 Air Miles and BMO cards are displayed in Mississauga, Ont., on Friday, March 10, 2023. BMO Financial Group closed its acquisition of the Air Miles loyalty rewards program in Canada on Thursday, saying it plans to expand the program with new ways to earn and redeem points. THE CANADIAN PRESS/Nathan Denette
Toronto
BMO Financial Group closed its acquisition of the Air Miles loyalty rewards program in Canada on Thursday, saying it plans to expand the program with new ways to earn and redeem points.
"Going forward, BMO ownership gives the program stability, but more importantly, the opportunity for us to invest in the program," said Air Miles president Shawn Stewart.
BMO announced in March it would purchase Air Miles after the program's U.S. parent company filed for bankruptcy. The bank's so-called stalking horse offer for LoyaltyOne Co. was US$160 million, subject to certain adjustments, according to court documents.
With the bank's ownership, Stewart says he's excited for the program's new chapter.
"We wanted to come out of the gate strong and reinvigorate what is a Canadian leading loyalty program. And what you'll see over the summer is a continued release of of new products, and new opportunities for collectors to earn."
Air Miles is one of the oldest and largest loyalty programs in Canada, with nearly 10 million active users, but the program has lagged in recent years as numerous companies dropped out of the program.
Last summer, Sobeys and Safeway owner Empire Co. Ltd. and office supply retailer Staples said they would be scrapping the program, a year after the Liquor Control Board of Ontario and Lowe's Canada pulled out.
BMO said it plans to introduce enhancements to the program including an improved travel booking platform and a new way for collectors to earn Bonus Miles through receipt scanning. The latter will be available first for collectors in Atlantic Canada, followed by those in other regions.
Stewart said the main complaint coming from program partners was a lack of investment in the Air Miles program, an issue the acquisition is expected to address.
"When partners see our investment, our hope and our plan is that they'll see the growth in the program, the opportunity for them to speak to 10 million Canadians, to understand and use the data and analytics the program provides," he said.
The Air Miles program is re-introducing itself to Canadians in a market that's seen more stores launching loyalty programs in recent years, but Stewart said that Air Miles stands out as a longtime brand with a broad catalogue for points redemption.
This report by The Canadian Press was first published June 1, 2023.
Total Canadian debt hit new record in first quarter: TransUnion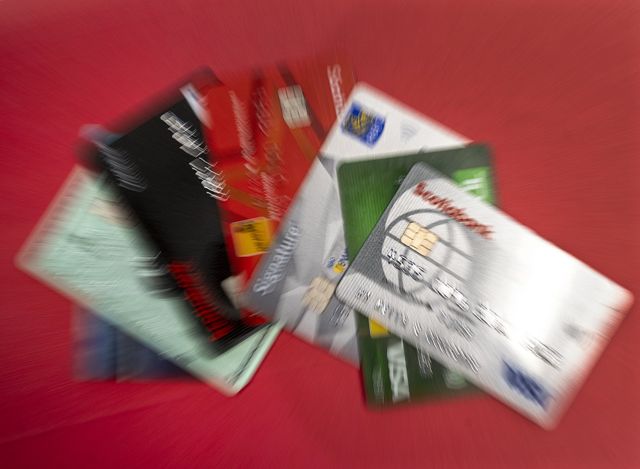 Canadians' combined outstanding debt hit a new record in the first quarter, reaching $2.32 trillion, TransUnion said Wednesday.
As the cost of living rose with high inflation and interest rate hikes, many Canadians turned to credit to alleviate financial pressures, the credit reporting agency said in its latest industry insights report.
The number of Canadians with access to credit grew 2.9 per cent year over year, led by subprime consumers, which grew by 8.3 per cent, TransUnion said.
However, the agency said consumers considered prime or higher still make up almost three-quarters of total consumers with a balance, characterizing that as a "relatively healthy risk distribution."
Credit card originations were up 20 per cent amid heavy competition in the market, while the average line of credit monthly payment increased by 43 per cent to $436.
Mortgage origination dropped 32 per cent year over year as higher interest rates slowed demand for new mortgages, especially in the refinance market.
Meanwhile, serious consumer delinquency increased, though TransUnion noted that overall delinquency levels remain below pre-pandemic levels.
"The financial position of Canadian credit consumers improved coming out of the pandemic, bolstered by higher savings accumulated through the pandemic and supported by a strong labour market," said TransUnion director of research and industry insights Matthew Fabian in the report.
"However, the longer the current conditions of elevated inflation and higher interest rates persist, the more likely it is that a segment of more vulnerable consumers may increasingly feel the pinch," he said.
"As available disposable incomes become more stretched, we expect a segment of consumers will be more likely to miss payments, and as a result, that delinquency rates will rise."
Average consumer balances on most credit products rose, with the average credit card balance up 11.4 per cent to $3,909, and the average mortgage balance up 7.1 per cent to $349,178.
TransUnion expects credit trends for 2023 to be mixed due to the uneven impact of higher inflation and interest rates.
This report by The Canadian Press was first published May 31, 2023.