'We're just hanging on:' Rocky start to summer patio season puts restaurants on edge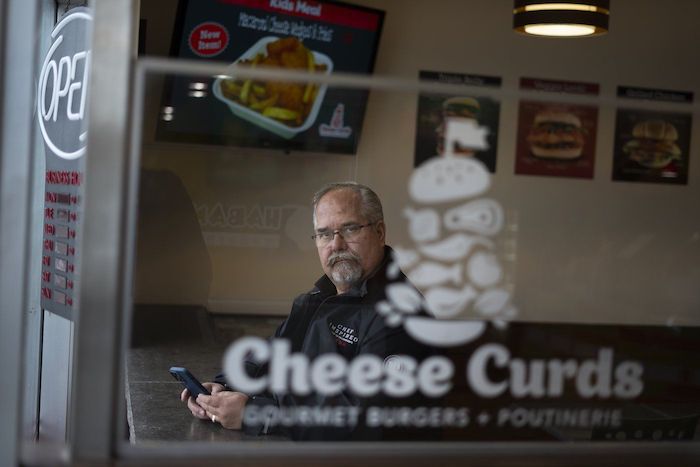 Bill Pratt, a veteran chef and CEO of Chef Inspired soup of Restaurants, poses at one of his restaurants, Cheese Curds Gourmet Burgers + Poutinerie in Dartmouth, N.S. on Wednesday, May 17, 2023. THE CANADIAN PRESS/Darren Calabrese
By Brett Bundale in Halifax
Restaurants in Canada are being slammed with a daunting mix of soaring costs, staffing issues and capacity problems, making a slow start to the critical summer patio season a near crisis for some eateries across the country, industry experts say.
They say restaurants are struggling with the ballooning price of food, rent, utilities, labour and insurance, with many of the higher costs being absorbed for fear of losing customers if menu prices rise too quickly.
Now a rocky start to summer across much of Canada — from cool weather in parts of Eastern Canada to wildfires out west — has eaten into a vital season for restaurants.
"You've got to be busy in the summer," said Bill Pratt, a veteran chef and CEO of Dartmouth, N.S.-based Chef Inspired Group of Restaurants. "When the sun shines, you better be making hay."
Restaurant-goers see busy patios or lineups outside eateries and "assume we must be making oodles of money," Pratt said. "But if you don't squirrel that away, you won't survive the winter."
The lacklustre start to patio season has also hurt workers.
Some servers are sent home early if dining rooms and patios don't fill up, while still others are told not to come into work at all if the forecast isn't promising.
It's a scenario that makes paying the bills tough for restaurant workers, many of whom were out of a job during months of pandemic lockdowns.
Yet finding a second job when they're already scheduled to work several days a week can be difficult.
Meanwhile, popular eateries in some parts of the country may have lineups and appear busy, but might be limiting the number of tables due to a shortage of staff.
"Even though we see lineups in front of restaurants, that's because we don't have enough people to serve our customers," said Olivier Bourbeau, vice-president of federal affairs with industry group Restaurants Canada.
"Some restaurants are busy but only at 80 per cent capacity because of the labour shortage."
Other restaurants have enough staff and are at full capacity when open — but have shorter operating hours.
The shift to working from home has forced some restaurants to stop offering a lunch service, limiting a restaurant's chance to recoup basic fixed costs like rent, Bourbeau said.
Others are still not open seven days a week.
Meanwhile, inflation has put pressure on household budgets, prompting some Canadians to curb eating out, switch to take out over a sit-down meal or opt for more affordable fast food options.
Even restaurants with revenues that have rebounded strongly are struggling with slimmer profit margins, according to restaurant advocates.
"We're just paying bills," Pratt said. "We're not getting ahead and many are struggling to repay debt."
Restaurants have been raising prices, but at a more muted pace than grocery stores.
Restaurant menu prices rose 6.4 per cent last month compared with a year earlier, while grocery prices jumped 9.1 per cent year over year, Statistics Canada said this week.
"If I raise my taco 10 cents, I get called out," said Pratt, whose restaurants include Habaneros Modern Taco Bar and Cheese Curds Gourmet Burgers + Poutinerie.
"If I raise my burger prices too high people will just go to the big chains instead," he said. "But food costs have skyrocketed. A jug of oil has tripled in price and beef has gone from $7.99 a kilo to $10.25"
Pratt added: "If I raise my prices 25 per cent I'd be out of business. Holy loving, we're just hanging on."
The erosion of restaurant profit margins has left little to repay COVID-19 government loans, restaurant advocates say.
The situation has prompted multiple business groups to call on Ottawa to extend the looming deadline to repay the Canada Emergency Business Account (CEBA) loans.
The loans must be repaid in full by Dec. 31 or a forgivable portion is converted to a loan, and interest will begin to accrue on the full amount — as much as $60,000, Restaurants Canada says.
The government had previously extended the deadline for the interest-free, partially forgivable loans, by one year. After Dec. 31, outstanding loans will be converted to two-year term loans with 5 per cent interest.
"The state of the industry is panic right now," Pratt said. "That deadline is quickly approaching."
Bankruptcy figures from Restaurants Canada shed light on a troubling trend the industry group warns could worsen without a strong summer season, an easing up of runaway food costs and a delay of loan repayments.
In the first two months of 2023, 106 restaurants went bankrupt, up 116 per cent from 49 restaurants in the first two months of last year and up 18 per cent compared with 90 restaurants in 2019.
"There are a lot of brokers out there right now looking to sell restaurants," Pratt said. "The deadline for the CEBA remittance is quickly approaching and people are trying to get something out of their business rather than sinking."
He added: "People are putting on a brave face but at the end of the day, there's a lot of sleepless nights by a lot of restaurant owners."
This report by The Canadian Press was first published May 17, 2023.
Cost of living: Pepsi and Coca-Cola absent in meeting with federal industry minister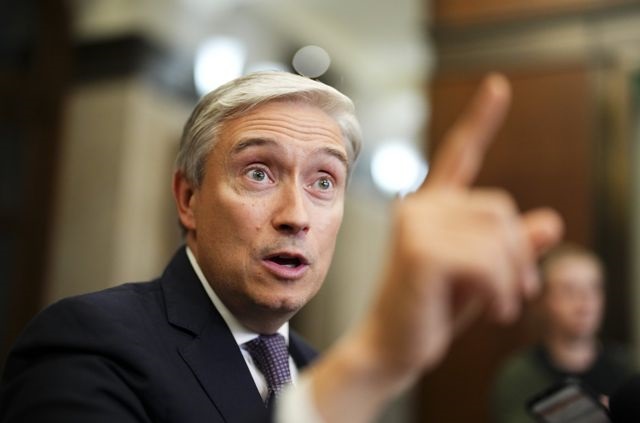 Innovation, Science and Industry Minister Francois-Philippe Champagne speaks to reporters in the foyer of the House of Commons on Parliament Hill in Ottawa on Tuesday, Sept. 19, 2023. Canada's industry minister made a point of calling out Pepsi and Coca-Cola for not sending representatives to a meeting he convened on Monday with manufacturing companies to discuss stabilizing grocery prices. THE CANADIAN PRESS/Sean Kilpatrick
Canada's industry minister made a point of calling out Pepsi and Coca-Cola for not sending representatives to a meeting he convened on Monday with manufacturing companies to discuss stabilizing grocery prices.
François-Philippe Champagne singled out the two companies when asked by a journalist what the consequences would be if major industry players did not succeed in stopping high inflation.
"This morning, (their CEOs) did not attend the meeting," Champagne said of beverage giants Pepsi and Coca-Cola.
"I intend to call on them and I will continue to do so. … I don't stop," he told reporters.
The Canadian leaders of seven international manufacturing companies, including Nestlé and Kraft Heinz, met with Champagne.
He summoned them to answer to Prime Minister Justin Trudeau's call earlier this month for Canadian grocers to come up with a plan to stabilize prices by Thanksgiving.
If major grocers fail to deliver ideas, Champagne said, "the consequence is for all 40 million Canadians because we will be able to see who is taking action and who is not."
A government source told The Canadian Press that the CEOs of Pepsi and Coca-Cola responded to the federal government summons by stating they were not available Monday. The source was granted anonymity because they were not allowed to speak publicly about the matter.
It's unclear, however, whether another meeting between major food companies and the government will take place.
Monday's meeting brought together top Canadian executives from McCain, Unilever, Nestlé, Lactalis, Lassonde, Kraft Heinz, and Smucker Foods.
All avoided speaking with journalists. The CEO of the Food, Health & Consumer Products of Canada association, Michael Graydon, attended the meeting and agreed to answer questions on their behalf.
Graydon called the meeting "very productive."
"We're very much about co-operation and support, collaboration," he said. "It's an industry that needs to align and work collectively to find a solution."
He said manufacturers want to collaborate with other players in the supply chain, such as major retailers like Loblaw and Costco, whose leaders Champagne met with one week earlier.
In a statement, Pepsi said it is open to meeting with Champagne.
"We are pleased that our industry association, FHCP, led a productive conversation with the government and representatives from industry today," it said.
"We were not able to attend today's meeting, but we offered to meet with the minister. We are committed to collaborating with the government to identify solutions during this challenging time for Canadians."
Trudeau has said that if the government isn't satisfied with what major grocers come up with to stabilize prices, he would intervene, including with tax measures.
Graydon said it remains to be seen how detailed the plans will be by the government's Thanksgiving deadline.
"We'll have to see whether, you know, the detail of how much completeness can be done by that time. But I think everybody's working very hard to achieve that," Graydon said.
Champagne said he is happy Graydon "wants to do something," because "it's a gain for Canadians."
"It's clear that what's important is that we have timelines, work plans, and obviously concrete actions," the minister said.
This report by The Canadian Press was first published Sept. 25, 2023.
Moneris confirms credit and debit card processing outage, but offers few details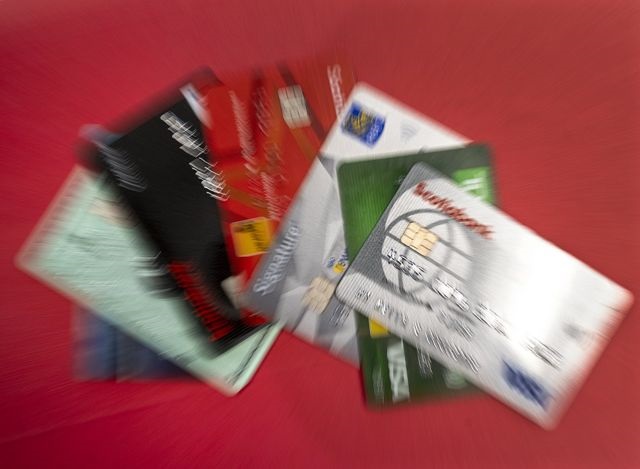 Toronto
The Canadian payment processing firm Moneris confirmed Saturday that credit and debit card transactions were interrupted by a network outage earlier in the day.
The Toronto-based technology company issued a statement saying there was nothing to suggest the outage was related to a cyber attack.
Complaints about outages started rolling in to the Downdetector.ca website before noon eastern time, but Moneris did not say when the outage started.
About three hours later, Moneris posted a message on X — the social media site formerly known as Twitter — saying it had resolved the network problem.
It remains unclear how many businesses and transactions were affected, but data provided by Downdetector.ca indicated complaints had come in from across the country.
In a statement provided to The Canadian Press, the company said the outage lasted about 90 minutes.
"We have resolved the network outage and returned transaction processing to normal," the statement said. "We continue to investigate the root cause of the issue. There are no indications this appears to be cyber-attack related and all transaction systems are functioning normally again."
The company, a joint venture between Royal Bank and BMO Bank of Montreal, said transaction processing could be slow as its systems catch up with the backlog.
Moneris says it supports more than 325,000 merchant locations across Canada.
This report by The Canadian Press was first published Sept. 23, 2024.