'We just gave'r': Inside the Totten Mine rescue from a kilometre below the earth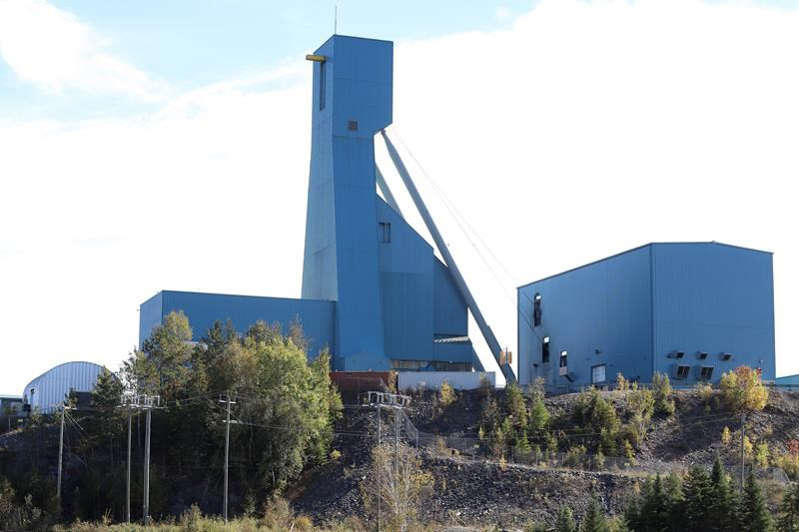 Danny Taillefer and Jason Leger were in the middle of a first aid refresher course when the phone rang.
Shawn Rideout, the chief rescue officer with Ontario Mine Rescue, was on the other end. There were 39 miners stuck underground at Totten Mine near Sudbury, Ont., after the mine shaft was compromised, he said.
There was another way out: climbing a complex warren of ladders at the Vale-owned mine from about a kilometre underground.
Taillefer and Leger – mine rescue officers with the non-profit who were based in Timmins, Ont.– were told they were needed for a complicated mission, and instructed to bring several hundred kilograms of rope and other gear. Not long after the call on Monday last week, they got in a truck and motored to the mine in Worthington, Ont.
The operation that ensued turned into what Taillefer and Leger called the most stressful event of their lives.
"You just couldn't control the tears coming out," Taillefer told The Canadian Press when recalling some of the most intense moments of the mission. "You just walk away, wipe your eyes, get it together and then get back at it."
Ontario Mine Rescue had been in touch with Vale's emergency response team since Sunday, Sept. 26, when the workers became stuck underground.
A scoop bucket had dislodged and tumbled down part of the mine shaft, causing major damage, Vale said. The repairs could take weeks, said Ted Hanley, vice-president with Ontario Mine Rescue.
A secondary escape route, required by law in Ontario, would be the miners' way out.
Taillefer and Leger arrived at the mine around 4:30 p.m. Monday. By that point, part of the 60-person rescue team was already about 564 metres underground, where four miners were in a refuge room.
The team was setting up a series of ropes to go deeper – 960 metres down – where 35 other miners waited, passing the time watching videos on their phones using the mine's Wi-Fi system.
The rescuers believed able-bodiedminers could climb out without much trouble, harnessed to ropes like mountain climbers. But it was clear four miners in the group farthest below the surface would need significant help, Hanley said.
It took about a day to set up the ropes that would help the miners climb out, the rescuers said. Not long after midnight on Tuesday, the workers gradually began their journey up.
"We just gave'r," Taillefer, 39, said.
The miners closest to the surface climbed out first, in about three hours. Below them, groups of three miners set out with one rescuer above them and one below.
Meanwhile, Taillefer and other rescuers devised a plan for the final four.
"They had been down there for well over 40 hours at that point, they were all exhausted, and some of these guys just physically couldn't climb a ladder due to old injuries or ailments," said Taillefer.
With no electricity and only light from their headlamps, the rescuers used the rope system – and a lot of muscle – to pull three of the final four up about 61 metres.
It became clear they needed a better way, Taillefer said.
The crew then employed an AZTEK pulley system, which helped offset the weight of the miners, he said. A single system wasn't long enough so the rescuers used two, giving them a mechanical advantage that made 10 kilograms feel like one, Taillefer explained.
"It was slow, but it was working extremely well," he said.
Leger said the double pulley system made a significant difference. "It was a big change and made things go a lot faster," said the 49-year-old.
The operation was nonetheless exhausting. It would take three minutes to raise a miner up a six-metre ladder, Taillefer said.
"Then we'd rest for 15 minutes," he said, adding that he'd lie down and try to sleep.
The rescue crew would then reset the pulley system, and start all over again with the next ladder.
"Our very last guy took us probably about eight or nine hours to get them up 30 of the 67 landings," he said.
The miners weren't hurt when the mine shaft was compromised and it was up to the rescue crew to ensure they stayed uninjured – that responsibility eventually took a toll, the rescuers said.
"There were times where the stress would just boil over and you would just start to cry for really no good reason at all," Taillefer said.
For Leger, it was the first time he "felt physical stress turn into mental stress."
But both said they took inspiration from the miners.
"A lot of these people had kids around the same age as ours and it was really important for us to get them home," Taillefer said.
The last phase of the operation proved the most daunting.
At about 564 metres underground, the final four miners and the rescuers faced a 122-metre stretch of ladder, at an angle of 78 degrees, with "small landings that you could just sort of scooch over to rest your bum on," Taillefer said.
The crew set up a two-rope system that three miners clipped into and climbed up, but the last miner was unable to scale that stretch.
The rescuers then set up a winch, placed the final miner in a basket and hauled him up as Taillefer climbed the ladder beside him.
Two hours later, near the top of that section, cold groundwater pouring through fissures in the rock hit the group.
"It was like somebody had a fire hose wide open on you," Taillefer said.
Wet, cold and exhausted, the group returned to the AZTEK pulley system for a final 61 metres to get to an elevator that took them to the surface, Taillefer said.
It was shortly after 4 a.m. on Wednesday when the final miner and seven rescuers got to that point.
"You would have thought there was 100 people down there screaming, laughing and crying," Taillefer said of the celebration that broke out.
"And there wasn't as much as a Band-Aid on anybody," Leger said.
This report by The Canadian Press was first published Oct. 5, 2021.
Liam Casey, The Canadian Press
Freeland says drop in foreign-aid spending is not a cut, Ukraine fight is pivotal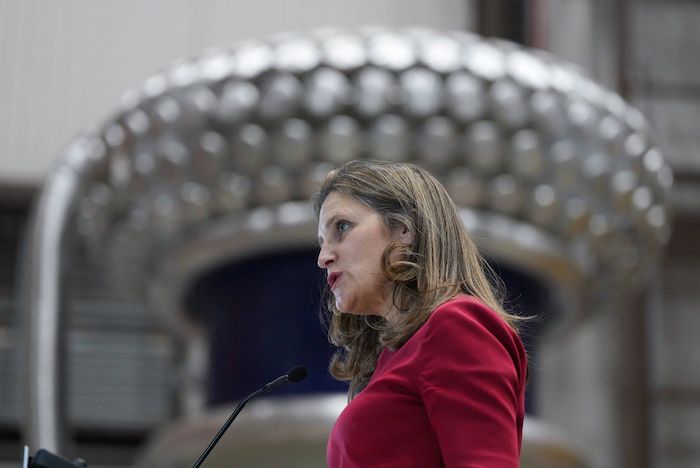 Deputy Prime Minister and Minister of Finance, Chrystia Freeland, speaks during a news conference at Powertech Labs, in Surrey, B.C., on Thursday, March 30, 2023. Freeland insists the government's projected $1.3-billion drop in foreign aid spending does not amount to a cut. THE CANADIAN PRESS/Darryl Dyck
By Dylan Robertson in Ottawa
Finance Minister Chrystia Freeland insists the government's projected $1.3-billion drop in foreign aid spending does not amount to a cut.
The Liberal budget released this week projects that Ottawa will spend nearly $6.9 billion for international development in the coming fiscal year, which is a 16 per cent drop from last year's allocation.
That's despite Prime Minister Justin Trudeau tasking International Development Minister Harjit Sajjan to increase aid spending every year.
The Liberals had delivered a historic boost in aid in response to the COVID-19 pandemic and the war in Ukraine.
Asked about criticism from the aid sector about the cut, Freeland said she "wouldn't characterize it that way."
She stressed that Canada is allocating $2.4 billion in direct financial aid to Ukraine, and called that country's fight the world's most important struggle.
The Liberals have also allocated funding for infrastructure projects in developing countries in the Indo-Pacific region, arguing that these countries want investment more than aid.
Representatives of Canada's aid sector have said they will need to end projects abroad due to the lower-than-hoped funding projected in the Liberals' budget last week, and they're particularly concerned about whether aid dollars are being diverted from Africa to Ukraine.
Freeland told reporters Thursday at a press conference in Surrey, B.C., that Ukraine's fight is crucial to Canada's interests.
"The fight that is happening in Ukraine today is the single most important battle in the world between democracy and dictatorship," she said, while defending her government's record.
"I believe that Canada has a responsibility to be strong and active around the world," she added.
"We're making a very big difference. Canada is the eighth-largest foreign-aid donor (in the world). That is a big deal."
Last October, Freeland was criticized for her response to an African aid expert who said that the West diverting dollars to Ukraine leaves the continent relying more on Russia's support, an idea she rejected.
"A democracy can only be defended by people themselves if they're actually prepared to die for their democracy," she said.
In a later apology for those remarks, she said she was sorry if people found the comments insensitive, adding: "If a white western person has offended someone, the first answer is to say, 'I really didn't mean to offend you.'"
At the time, Freeland said the western world needs to recognize that Africa's current problems stem from colonization.
"These are challenges that have been imposed from the outside. And I think that means we have a high level of responsibility."
This report by The Canadian Press was first published March 31, 2023.
China's global influence looms over Harris trip to Africa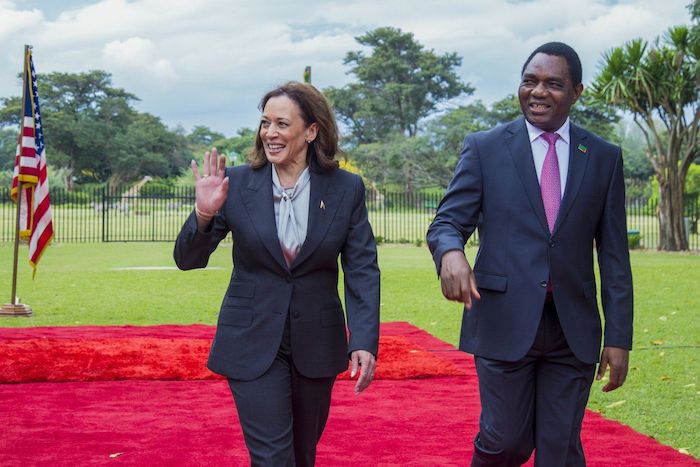 U.S. Vice President Kamala Harris, left, is greeted by Zambian President Hakainde Hichilema in Lusaka, Zambia, Friday March 31, 2023. Harris is on the last leg of a a seven-day African visit that took her to Ghana and Tanzania. (AP Photo/Salim Dawood)
By Chris Megerian, Cara Anna And Andrew Meldrum in Lusaka
LUSAKA, Zambia (AP) — When Vice President Kamala Harris arrived in Zambia on Friday for the final stop of her weeklong trip across Africa, she touched down at an airport that's doubled in size and features glittering new terminals.
Rather than a symbol of promising local development, it's a reminder of China's deep influence. Beijing financed the project, one of many that has expanded its footprint on a booming continent that's rich in natural resources, often generating goodwill among its citizens.
The global rivalry between the United States and China has been a recurring backdrop for Harris' journey, and nowhere has that been more apparent than Zambia and her previous stop in Tanzania.
Besides the airport, China built a 60,000-seat stadium in Lusaka, plus roads and bridges around the country. Zambia is on the hook for all of the development with billions of dollars in debt. Tanzania is a major trading partner with China, and it has a new political leadership school funded by the Chinese Communist Party.
The developments have alarmed Washington, and President Joe Biden's administration is worried that Africa is slipping further into Beijing's sphere of influence.
Harris has played down the issue on her trip, preferring to focus on building partnerships independent of geopolitical competition. However, she has acknowledged there's limited time for the U.S. to make inroads on the continent, telling reporters earlier in the trip that there is a "window" that is "definitely open now" for American investments.
At a news conference with Zambian President Hakainde Hichilema on Friday, Harris reiterated her call for "all bilateral official creditors to provide a meaningful debt reduction for Zambia" — an oblique reference to China — but she stressed that "our presence here is not about China."
Hichilema said it would be "completely wrong" to view Zambia's interests in terms of a rivalry between the U.S. and China.
"When I'm in Washington, I'm not against Beijing. When I'm in Beijing, I'm not against Washington," he said, adding that "none of these relationships are about working against someone or a group of countries."
China's roots in both Tanzania and Zambia run deep. In the 1970s, Beijing built the Tazara Railway from landlocked Zambia to Tanzania's Dar es Salaam port, allowing copper exports to circumvent white-minority-ruled Rhodesia and apartheid South Africa.
Today, China is Africa's largest two-way trading partner, with $254 billion of business in 2021, according to the United States Institute of Peace. That's four times the amount of trade between the U.S. and Africa. In addition, dealing with Beijing features less admonishments about democracy than with Washington.
"Most African countries are rightly unapologetic about their close ties to China," Nigeria's vice president, Yemi Osinbajo, tweeted on Thursday. "China shows up where and when the West will not and/or are reluctant."
Sen. Chris Coons, a Delaware Democrat who has worked on Africa issues in Congress, expressed frustration over China's growing influence on the continent.
"We switched from being the No. 1 trade partner or the No. 1 investment partner in two dozen countries, to China being the No. 1 trade and investment partner," he told reporters aboard Air Force Two on the flight to Ghana at the beginning of Harris' trip. "I think our challenge for this decade is to address that."
Biden has been taking steps toward that, such as hosting a summit for African leaders in December, when he announced that he wants to commit $55 billion to the continent in the coming years.
Harris has made announcements as well during her trip, including more than $1 billion in public and private money for economic development, $100 million for security assistance in West Africa and $500 million to facilitate trade with Tanzania.
However, there's skepticism about whether the U.S. will follow through on its promises, and Harris has been faced with not-so-subtle hints that Africa expects more. For example, the presidents of Ghana and Tanzania bluntly said they hope Biden chooses to visit their countries during his expected trip to Africa later this year, which would be his first to the continent as president.
By comparison, Tanzania was among the first countries that Chinese President Xi Jinping visited after becoming president in 2013. And after Xi secured a third term, Tanzanian President Samia Suluhu Hassan was the first African head of state to visit Beijing.
"Kamala faces Chinese dominance in Tanzania," the Tanzania Business Insight publication tweeted Wednesday.
Ian Johnson, a former China-based journalist who works at the U.S.-based Council on Foreign Relations, said Beijing presents a powerful narrative in the developing world as a country that rapidly built its economy and pulled much of its population out of poverty.
African leaders think "let's see what we can learn from China," he said, adding that "there's a certain fascination in how they did it."
Johnson also said China views Africa differently than the U.S.
"We have a tendency to see Africa as a series of problems — wars, famines, something like that," he said. "But in China's eyes, Africa is much more of an opportunity."
Edem Selormey, who conducts public opinion research at the Ghana Center for Democratic Development, said the feeling is often mutual.
"China's influence in Africa is largely seen as positive," she said. "And the U.S. trails China in that regard."
The difference, she said, is often about "what citizens see on the ground," such as infrastructure projects, and "the U.S. has been missing from this picture for a while."
John Kirby, a White House national security spokesman, said the debt that comes from China's involvement is ultimately corrosive. He said African leaders are "beginning to realize that China is not really their friend."
"China's interests in the region are purely selfish, as opposed to the United States," he said.
It's a sentiment that draws scoffs in some corners of Africa.
"America is like playing the role of a big Uncle Sam in trying to defend African countries against what they think is the encroachment of China into the liberty of African countries through these loans," said Tanzania-based analyst Mohamed Issa Hemed.
However, he added, "China is ahead of the U.S. in many, many ways."
Daniel Russel, a former State Department official who is now at the Asia Society Policy Institute, summed up the African perspective as "enough with the lectures" about China. "They've got something we want. And they've got it right here."
When it comes to U.S. hopes for Africa, he said, "you can't beat something with nothing."
___ Anna reported from Nairobi, Kenya, and Meldrum from Johannesburg. Associated Press writer Evelyne Musambi in Nairobi, Kenya, contributed to this report.