'We did not unite around blind loyalty to one man:' Kenney faces call to quit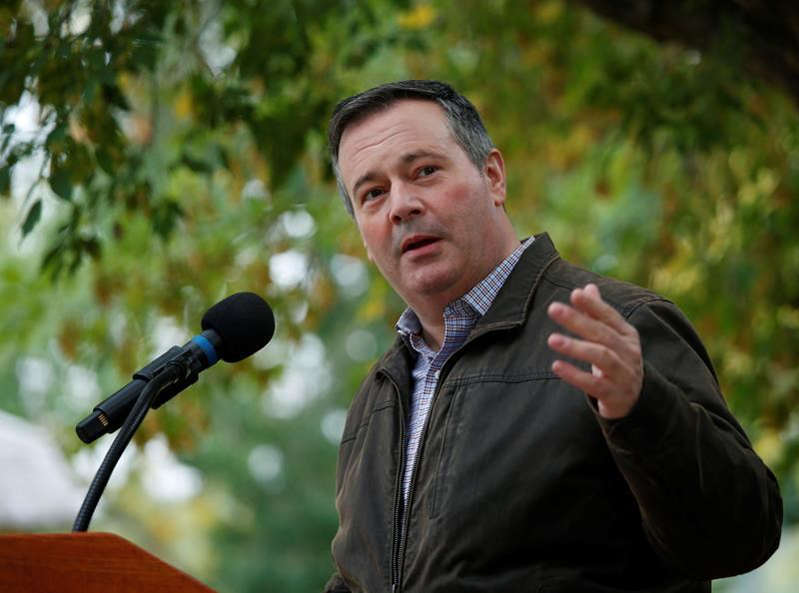 EDMONTON — Simmering internal discontent within Alberta Premier Jason Kenney's United Conservative caucus has boiled over into an open challenge to his leadership.
Senior backbench member Todd Loewen, in a letter posted on Facebook in the pre-dawn hours Thursday, called on Kenney to resign. Loewen said he no longer has confidence in the premier.
Loewen received a message of support from a second UCP backbencher, Dave Hanson.
In a radio interview, Loewen said he doesn't want to divide the United Conservative Party, but added volunteers and supporters are bailing out and the UCP is heading for electoral disaster in 2023.
"The people are upset. They are leaving the party," Loewen told 630 CHED. "We need to do what it takes to stop the bleeding.
"We need to have our constituency associations strong. We've got to quit losing board members.
"The majority of people I'm talking to, they want a strong UCP party. But they don't see that they have that now. We need to have that so we can move forward and be able to form government in 2023."
In the letter, Loewen accuses Kenney and his government of weak dealings with Ottawa, ignoring caucus members, delivering contradictory messages, and botching critical issues such as negotiations with doctors and a controversy over coal-mining in the Rocky Mountains.
"We did not unite around blind loyalty to one man. And while you promoted unity, it is clear that unity is falling apart," writes Loewen.
"Many Albertans, including myself, no longer have confidence in your leadership.
"I thank you for your service, but I am asking that you resign so that we can begin to put the province back together again."
Kenney's office did not respond to a request for comment.
Loewen is the member for Central Peace-Notley, a sprawling rural constituency in northern Alberta. Hanson represents Bonnyville-Cold Lake-St. Paul in the east.
They were two of 18 UCP backbench members to break with Kenney's government in April over restrictions aimed at reducing the spread of COVID-19. The group said the rules were needlessly restrictive and infringed on personal freedoms. Sixteen wrote an open letter expressing those concerns.
Kenney has tolerated the open dissension for weeks. He has said he believes in free speech and that backbenchers are not in cabinet and don't speak for his government.
Loewen is the first to openly break with Kenney.
In his letter, Loewen also resigned as caucus chair. He said he needed to do so to speak his mind but has no intention of leaving the party.
"The caucus dysfunction we are presently experiencing is a direct result of your leadership."
He said backbench members are sidelined and ignored.
"I no longer believe that caucus can function properly: meetings have been cancelled without members' consent, significant decisions of government have been made without notice to members, and our input as elected members is rarely considered."
He said the caucus has tried to be heard but is ignored. And he said when caucus is ignored, their constituents are ignored.
"Our supporters and those I represent can no longer tolerate this. These folks have not abandoned the principles and values of the UCP, but they have abandoned you specifically," wrote Loewen.
Hanson did not call for Kenney to resign but said in a Facebook post: "Todd, I applaud your courage and stand behind your decision.
"I hear the same thing from our supporters in my area. I along with many of our colleagues share in your frustration. We, along with many Albertans, worked too hard to unite conservatives to hand this province back to the NDP."
Kenney's poll numbers have dropped precipitously during the pandemic while those of Rachel Notley's NDP have climbed.
Kenney, a cabinet member in Stephen Harper's federal Conservative government, was an architect of the merger of two right-centre Alberta parties — his Progressive Conservatives and the Wildrose party. The United Conservative Party that resulted went on to defeat Notley and the NDP in 2019 to form a majority government.
"Along with so many Albertans, our understanding was that we in the UCP had united around our shared principles, integrity, and common-sense approaches to governing.
There were rumours of a widening internal breach two weeks ago, when Kenney suspended the legislature's spring sitting. He said it was to keep staff and legislature members safe from COVID-19.
On Wednesday, the government extended the hiatus for another week.
Loewen's letter comes a week after Kenney risked further pushback from dissidents by imposing extra health restrictions along with stepped-up enforcement to stop soaring COVID-19 infections.
Political scientist Duane Bratt said it looked like Kenney had struck a truce with the dissidents, but the dam appears to be breaking.
"I don't think (Loewen) is a person coming out on his own," said Bratt, who is with Mount Royal University in Calgary.
"I think you're going to hear more coming on the record after this."
Political scientist Jared Wesley said Kenney has no choice but to turf Loewen from caucus.
"It's hard to imagine a world in which you can call for your leader's resignation and still remain a part of caucus," said Wesley of the University of Alberta.
"The risks of (Kenney) doing that are pretty steep. It would only invite further criticism if not calls for resignation from other MLAs."
This report by The Canadian Press was first published May 13, 2021.
Dean Bennett, The Canadian Press
Restrictions at U.S. border to remain in place until end of July, Blair says
OTTAWA — Travel restrictions at the Canada-U.S. border will remain in place for at least another month.
Public Safety Minister Bill Blair says the American and Canadian governments are extending restrictions on non-essential international travel until July 21.
He adds in a tweet that the government will provide details on Monday about plans to let fully vaccinated Canadians and permanent residents enter the country. 
The measures at the border have been in place since the onset of the COVID-19 pandemic in March 2020.
The pressure to relax the restrictions has been building from businesses on both sides of the border, and increasingly from American lawmakers as vaccination rates climb in Canada.
Prime Minister Justin Trudeau has previously said that it would take 75 per cent of Canadians getting vaccinated before restrictions can be lifted.
This report by The Canadian Press was first published June 18, 2021.
The Canadian Press
NYC mayoral primary will be big test for ranked vote system
NEW YORK (AP) — Voters will likely pick the next mayor of New York City next week in a Democratic primary that will also be a major test of ranked choice voting, a system that lets voters rank several candidates in order of preference instead of choosing just one.
Two years after city voters approved a measure to use the ranked choice system for primaries and special elections, Democrats will be asked to rank their top five out of 13 mayoral candidates on Tuesday's ballot.
The primary winner will almost certainly win the November general election in overwhelmingly Democratic New York City.
If the process goes smoothly it may encourage other cities and states around the U.S. to consider ranked choice voting, which has been used for years in cities including San Francisco and Minneapolis and has been adopted by the states of Maine and Alaska.
"I hate to quote Frank Sinatra, but if you can make it in New York you can make it anywhere," said Susan Lerner, the executive director of Common Cause New York, which spearheaded the 2019 campaign for ranked choice.
Rob Richie, the executive director of FairVote, a national organization that promotes ranked choice voting, said he believes the implementation of the system in New York can accelerate acceptance.
"I think that New York, by being seen as going well, will be very reassuring to people," Richie said. "If it's seen as rocky, it'll just mean people will still ask questions."
Under New York City's system, ranked choice procedures only kick in if no candidate gets more than 50% of the vote. With such a large field of legitimate contenders, that's likely to happen this year in the Democratic primary.
Most recent polls have suggested that Brooklyn Borough President Eric Adams is the favorite, getting ranked first by a little less than a quarter of likely voters. Other top contenders include civil rights lawyer Maya Wiley, former city sanitation commissioner Kathryn Garcia and former presidential candidate Andrew Yang, who have been polling between 6 and 12 points behind.
If none of them gets half of the first-place votes, several rounds of ranked choice tabulation begin. The candidate in last place is eliminated. All ballots cast for that eliminated candidate are then reallocated to the No. 2 choices of those voters. The votes are then re-tallied and the candidate in last place is eliminated again. The process repeats until there are two candidates left. The one with more votes wins.
Calculating the winner might take two weeks or more, but Lerner said that's due to state laws regarding the counting of mail-in ballots — not the ranked choice system.
The ranked choice rounds are done by computer and will be "almost instantaneous" once all the eligible mail-in ballots have been determined, she said.
Early voting started June 12 in the primary to replace the term-limited Mayor Bill de Blasio.
One concern about the new system is that it might confuse an unfamiliar public.
Several people who voted early at the Masonic Temple in the Fort Greene section of Brooklyn on Wednesday said they had no trouble understanding the ranked choice system, though some liked it better than others.
Dee Parker, who is 70, said she researched the candidates and ranked five choices in most of the races. "It was too much time spent," Parker complained. "I didn't find it difficult, just time consuming."
Josh Hartmann, 50, said he was "a big fan" of the new system even though figuring out his rankings was more work than previous elections have demanded. "I think it gives more diversity in the candidates," he said.
Agustin Ricard, 63, a Dominican immigrant voting in his first mayoral primary, said he understood the ranking system but chose not to use it. "I voted for just one candidate for mayor," he said in Spanish.
New York City is also using the system in primaries for other municipal offices including city comptroller, borough president and City Council. There is also a Democratic primary for Manhattan district attorney, but that race will not be decided by ranked choice voting since it is a state office, not a city office.
Ranked choice advocates say the system enhances democracy by giving voters more choices. With ranked choice, a voter doesn't have to worry that a vote for their favorite candidate will be "wasted" if that candidate trails several rivals: Their No. 2 or No. 3 choice could win the race.
New York City won't be the only jurisdiction employing ranked choice voting for the first time this year. Salt Lake City and 20 other cities in Utah will use the system for the first time in municipal elections this fall.
New York City voters approved ranked choice voting by a wide margin in the 2019 referendum, but a group of City Council members and community organizations filed a lawsuit last December seeking to block its implementation, arguing that the system was being rolled out too hastily and would violate the federal Voting Rights Act.
The ranked choice foes have said the new system would have an adverse impact on voters of color.
Hazel N. Dukes, president of the New York State conference of the NAACP, compared ranked choice voting to voter suppression in a column in the Amsterdam News.
"Studies have shown that a disproportionate number of Black Democrats, particularly older voters, vote for only one candidate, so a Black candidate that finishes ahead with first place votes can ultimately lose if white voters fully avail themselves of the RCV option," Dukes wrote.
City Council member Kalman Yeger charged bluntly at a December public hearing, "Ranked-choice voting is racist. It is designed to be racist. It's intent is to be racist and its result in New York City will be racist. It is designed to prevent minorities from electing their own."
A judge dismissed the lawsuit last month, but Yeger and other ranked choice opponents on the City Council have introduced legislation seeking to overturn it.
Lerner said evidence including exit polling of voters in City Council special elections earlier this year does not support the contention that ranked choice voting favors one ethnic group over another.
"We're working closely with the NAACP and other groups to be sure that every voter in every community to the best of everyone's ability has heard about ranked choice voting before they get to their polling place," she added.
Karen Matthews, The Associated Press