Watchdog's relations with spy community 'particularly strained' over last year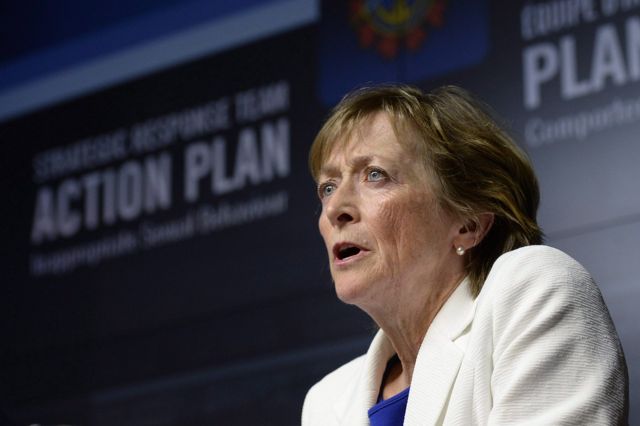 Newly released documents say the intelligence community's relationship with its key watchdog have been "particularly strained" over the last year due to a "level of resistance" to scrutiny. Marie Deschamps, speaks at a news conference in Ottawa on Thursday, April 30, 2015. THE CANADIAN PRESS/Adrian Wyld
By Jim Bronskill in Ottawa
Newly released documents say the intelligence community's relationship with its key watchdog has been particularly strained over the last year due to a "level of resistance" to scrutiny.
The assessment appears in briefing materials prepared for Canada's top public servant in advance of a late January meeting with the chair of the National Security and Intelligence Review Agency.
The notes were disclosed to The Canadian Press in response to a request to the Privy Council Office under the Access to Information Act.
This is just the latest indication of serious tensions between the spy watchdog and the federal intelligence agencies it monitors.
It follows the recent release of intelligence review agency records that lamented a culture within the Communications Security Establishment of "resisting and impeding" independent review, frustrating efforts to ensure the cyberspy service is obeying the law.
The latest notes surface amid an RCMP investigation into leaks of classified information to the media — including details of Canadian Security Intelligence Service reports — concerning allegations of foreign interference by China in Canadian political affairs.
In January, national security adviser Jody Thomas sent a memo to Privy Council Clerk Janice Charette to brief her before a meeting with the chair of the intelligence review agency, known as NSIRA.
"The Chair considers that there remains a level of resistance to NSIRA's review activities and may seek your support in elevating the culture of review with Government of Canada departments and agencies," the memo says.
Created in 2019, NSIRA is an independent body, reporting to Parliament, that reviews all federal national security and intelligence activities to ensure they are lawful, reasonable and necessary. It also investigates public complaints regarding national security agencies and activities.
Background documents accompanying the memo from Thomas say the review agency's relationships with many organizations "have been challenging."
Contributing factors have included the need for departments to adapt to new review requirements without additional resources, as well as NSIRA's broad interpretation of its mandate and the approaches it has taken, the documents say.
They add that chair Marie Deschamps, a former Supreme Court judge, had recently met with Thomas and acknowledged that the adjustment to new review practices takes time and that "the culture of review is improving" within the security and intelligence community.
A preface to suggested "talking points" for Charette, as she prepared to meet Deschamps, noted that ministers and deputies had "been surprised by the topics raised and the level of detail discussed by the chair during bilateral discussions."
Charette was advised to tell Deschamps the Privy Council Office and the whole security and intelligence community recognized the importance of independent, external review.
"I am aware that, from the community's perspective, departmental relationships with NSIRA have been particularly strained over the last year," the suggested talking points read.
"I can assure you that these relationship difficulties are not, and in my view never should be, a disregard for the importance of NSIRA's review function. We cannot have a culture of resistance or reluctance to respond to review requirements."
The notes also cite the Privy Council Office's desire for all parties to commit to a "greater level of engagement at the senior management level" to address strategic issues and advance relationships.
"This includes solidifying communications between NSIRA and PCO, which has a team dedicated to co-ordinating across all departments on horizontal and strategic issues that arise during reviews."
The notes say the intelligence community had made progress in ensuring the review agency has access to departmental information holdings. In some cases, this has included creating stand-alone computer enclaves for review agency analysts to work within, or allowing for on-site validation exercises with staff from both organizations present.
"Departments now issue responses to all NSIRA recommendations, and PCO monitors and reports on the implementation status of recommendations."
Asked about the notes, the intelligence review agency said it continues to engage with members of the security community "to ensure appropriate responsiveness and access to relevant materials needed for our work."
Details on progress and remaining concerns will be discussed in the review agency's coming annual report.
Pierre-Alain Bujold, a PCO spokesman, said the central agency welcomes review of security activities "and understands that accountability for, and transparency in carrying out, these activities builds public trust."
He noted the most recent federal budget earmarks $53 million for departments and agencies with security and intelligence mandates, saying it will help them fulfil their obligations to comply with legislated review requirements in a timely manner, and to implement recommendations.
"All Canadians will ultimately benefit from increased accountability and transparency of national security and intelligence activities," Bujold said.
This report by The Canadian Press was first published June 5, 2023.
Cost of living: Pepsi and Coca-Cola absent in meeting with federal industry minister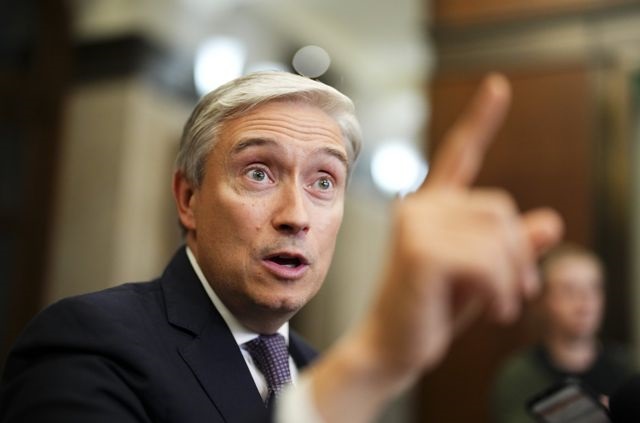 Innovation, Science and Industry Minister Francois-Philippe Champagne speaks to reporters in the foyer of the House of Commons on Parliament Hill in Ottawa on Tuesday, Sept. 19, 2023. Canada's industry minister made a point of calling out Pepsi and Coca-Cola for not sending representatives to a meeting he convened on Monday with manufacturing companies to discuss stabilizing grocery prices. THE CANADIAN PRESS/Sean Kilpatrick
Canada's industry minister made a point of calling out Pepsi and Coca-Cola for not sending representatives to a meeting he convened on Monday with manufacturing companies to discuss stabilizing grocery prices.
François-Philippe Champagne singled out the two companies when asked by a journalist what the consequences would be if major industry players did not succeed in stopping high inflation.
"This morning, (their CEOs) did not attend the meeting," Champagne said of beverage giants Pepsi and Coca-Cola.
"I intend to call on them and I will continue to do so. … I don't stop," he told reporters.
The Canadian leaders of seven international manufacturing companies, including Nestlé and Kraft Heinz, met with Champagne.
He summoned them to answer to Prime Minister Justin Trudeau's call earlier this month for Canadian grocers to come up with a plan to stabilize prices by Thanksgiving.
If major grocers fail to deliver ideas, Champagne said, "the consequence is for all 40 million Canadians because we will be able to see who is taking action and who is not."
A government source told The Canadian Press that the CEOs of Pepsi and Coca-Cola responded to the federal government summons by stating they were not available Monday. The source was granted anonymity because they were not allowed to speak publicly about the matter.
It's unclear, however, whether another meeting between major food companies and the government will take place.
Monday's meeting brought together top Canadian executives from McCain, Unilever, Nestlé, Lactalis, Lassonde, Kraft Heinz, and Smucker Foods.
All avoided speaking with journalists. The CEO of the Food, Health & Consumer Products of Canada association, Michael Graydon, attended the meeting and agreed to answer questions on their behalf.
Graydon called the meeting "very productive."
"We're very much about co-operation and support, collaboration," he said. "It's an industry that needs to align and work collectively to find a solution."
He said manufacturers want to collaborate with other players in the supply chain, such as major retailers like Loblaw and Costco, whose leaders Champagne met with one week earlier.
In a statement, Pepsi said it is open to meeting with Champagne.
"We are pleased that our industry association, FHCP, led a productive conversation with the government and representatives from industry today," it said.
"We were not able to attend today's meeting, but we offered to meet with the minister. We are committed to collaborating with the government to identify solutions during this challenging time for Canadians."
Trudeau has said that if the government isn't satisfied with what major grocers come up with to stabilize prices, he would intervene, including with tax measures.
Graydon said it remains to be seen how detailed the plans will be by the government's Thanksgiving deadline.
"We'll have to see whether, you know, the detail of how much completeness can be done by that time. But I think everybody's working very hard to achieve that," Graydon said.
Champagne said he is happy Graydon "wants to do something," because "it's a gain for Canadians."
"It's clear that what's important is that we have timelines, work plans, and obviously concrete actions," the minister said.
This report by The Canadian Press was first published Sept. 25, 2023.
Regulator rules in favour of Trans Mountain route deviation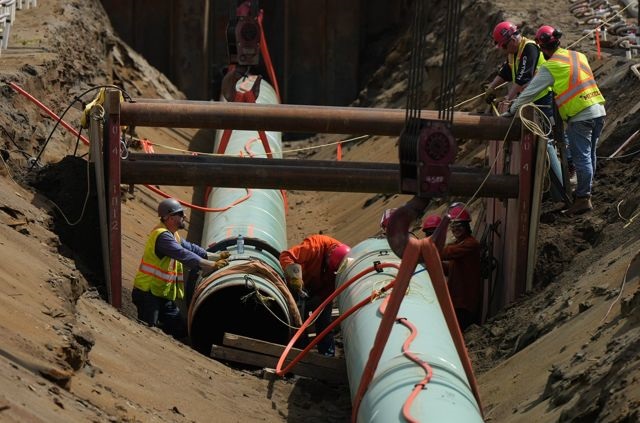 Workers place pipe during construction of the Trans Mountain pipeline expansion on farmland, in Abbotsford, B.C., on Wednesday, May 3, 2023. THE CANADIAN PRESS/Darryl Dyck
By Amanda Stephenson in Calgary
The Canada Energy Regulator has approved Trans Mountain Corp.'s application to modify the pipeline's route, a decision that could spare the government-owned pipeline project from an additional nine-month delay.
The regulator made the ruling Tuesday, just one week after hearing oral arguments from Trans Mountain and a B.C. First Nation that opposes the route change.
It didn't release the reasons for its decision Tuesday, saying those will be publicized in the coming weeks.
By siding with Trans Mountain Corp., the regulator is allowing the pipeline company to alter the route slightly for a 1.3-kilometre stretch of pipe in the Jacko Lake area near Kamloops, B.C., as well as the construction method for that section.
Trans Mountain Corp. had said it ran into engineering difficulties in the area related to the construction of a tunnel, and warned that sticking to the original route could result in up to a nine-month delay in the pipeline's completion, as well as an additional $86 million more in project costs.
Trans Mountain has been hoping to have the pipeline completed by early 2024.
But Trans Mountain's application was opposed by the Stk'emlúpsemc te Secwépemc Nation, whose traditional territory the pipeline crosses and who had only agreed to the originally proposed route.
In their regulatory filing, the First Nation stated the area has "profound spiritual and cultural significance" to their people, and that they only consented to the pipeline's construction with the understanding that Trans Mountain would minimize surface disturbances by implementing specific trenchless construction methods.
The Stk'emlúpsemc te Secwépemc argued that Trans Mountain never said its originally proposed construction method was impossible, only that it couldn't be done in time to meet a Jan. 1 in-service date for the pipeline.
The First Nation didn't respond to a request for comment by publication time.
The Trans Mountain pipeline is Canada's only pipeline system transporting oil from Alberta to the West Coast. Its expansion, which is currently underway, will boost the pipeline's capacity to 890,000 barrels per day (bpd) from 300,000 bpd currently.
The pipeline — which was bought by the federal government for $4.5 billion in 2018 after previous owner Kinder Morgan Canada Inc. threatened to scrap the pipeline's planned expansion project in the face of environmentalist opposition and regulatory hurdles — has already been plagued by construction-related challenges and delays.
Its projected price tag has since spiralled: first to $12.6 billion, then to $21.4 billion and most recently to $30.9 billion (the most recent capital cost estimate, as of March of this year).
Keith Stewart with Greenpeace Canada said it's alarming to see the regulator over-rule the wishes of Indigenous people in order to complete a pipeline on deadline.
"Every Canadian should be outraged that our public regulator is allowing a publicly owned pipeline to break a promise to Indigenous people to protect lands of spiritual and cultural significance," Stewart said.
The federal government has already approved a total of $13 billion in loan guarantees to help Trans Mountain secure the financing to cover the cost overruns.
Trans Mountain Corp. has blamed its budget problems on a variety of factors, including inflation, COVID-19, labour and supply chain challenges, flooding in B.C. and unexpected major archeological discoveries along the route.
Given the Canadian regulatory system has a reputation for being slow and cumbersome, it was surprising to see the Canada Energy Regulator rule so quickly on Trans Mountain's route deviation request, said Richard Masson, executive fellow with the University of Calgary's School of Public Policy.
"It's a challenging decision to have to make, when you've got a $30 billion pipeline that needs to be completed," Masson said.
"If there's no feasible way to do that tunnel, then I guess you have to allow for this."
Masson added that if the regulator had denied Trans Mountain's request, it would have been bad news for taxpayers as well as the federal government, which is seeking to divest the pipeline and has already entered into negotiations with several interested Indigenous-led buyers.
It also would have been bad news for Canadian oil companies, who have been eagerly anticipating the pipeline's start date to begin shipping barrels to customers.
"If this can result in the pipeline being completed by year-end and started up in the first quarter, that's good news. The world is still looking for oil, and oil prices are up at US$90 a barrel," Masson said.
This report by The Canadian Press was first published Sept. 25, 2023.