Vote to force top aide to testify on foreign interference not a confidence matter: PM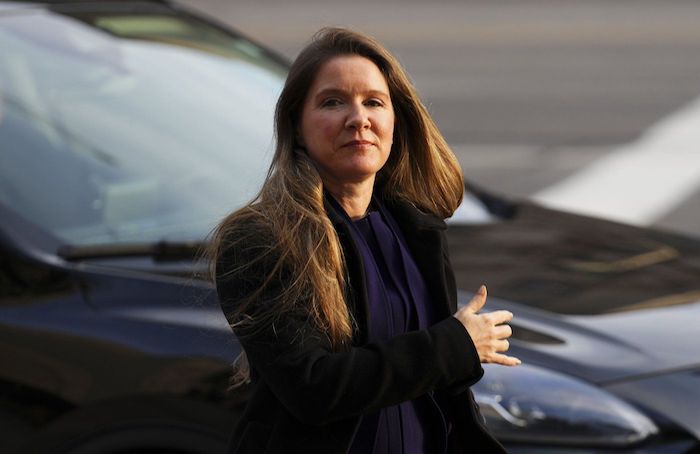 Chief of Staff to the Prime Minister Katie Telford arrives to appear as a witness at the Public Order Emergency Commission in Ottawa, on Thursday, Nov. 24, 2022. Prime Minister Justin Trudeau says a motion to compel his chief of staff to testify about foreign interference at a House of Commons committee will not be a confidence matter. THE CANADIAN PRESS/Sean Kilpatrick
Ottawa (CP) – Prime Minister Justin Trudeau says a motion to compel his chief of staff to testify about foreign interference at a parliamentary committee will not be considered a matter of confidence in the Liberal minority government.
There will be a vote later today on a Conservative motion to get Katie Telford to appear before the House of Commons ethics committee by mid-April.
The Liberals have filibustered another committee for weeks to prevent a similar motion from passing there, so the Conservatives brought a new motion before the entire House of Commons on Monday.
Trudeau says the Conservatives are turning the debate into a "political circus" and the government will not add to that by making the motion a confidence vote, which could have opened the door to an election.
Trudeau says he is happy to highlight what he argues is his government's more serious approach, which includes appointing former governor general David Johnston as a special rapporteur to look into the matter.
The terms of reference to guide Johnston's work will be released this morning.
This report by The Canadian Press was first published March 21, 2023.
Former Trudeau Foundation CEO says she resigned after pushback on donation audit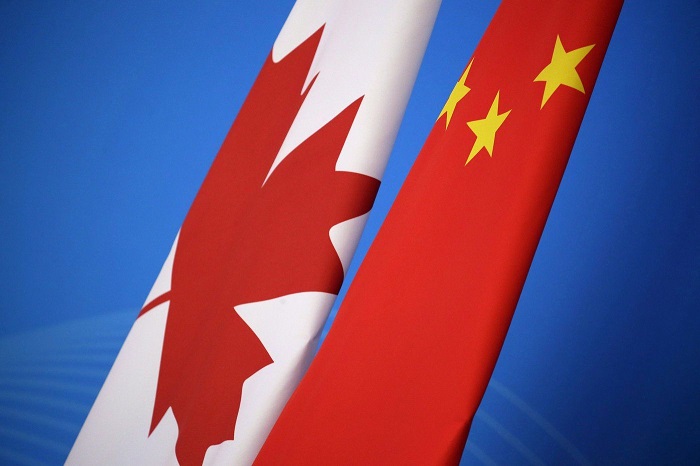 Flags of Canada and China are shown in Beijing, China, Monday, Nov. 12, 2018. The former CEO of the Pierre Elliott Trudeau Foundation says she resigned because some members of the board refused to recuse themselves for an independent forensic audit into a 2016 donation that she says was linked to China. THE CANADIAN PRESS/Jason Lee/Pool Photo via AP
By Mickey Djuric in Ottawa
The former CEO of the Pierre Elliott Trudeau Foundation told a parliamentary committee Friday that she resigned from that position earlier this month because of a breakdown in trust on the organization's board of directors.
Pascale Fournier said the tensions arose after she pushed for an independent forensic audit into donations made by Chinese businessmen — and received pushback when she insisted that some members of the board recuse themselves from any such investigation.
In a statement issued after Fournier's testimony, the foundation said it strongly contests her version of events and is looking for an opportunity to schedule its own testimony in rebuttal.
Fournier and eight other board members announced their departure in a public statement April 11 that cited the recent politicization of 2016 and 2017 donations from Chinese billionaire Zhang Bin and another Chinese businessman, Niu Gensheng, that totalled $140,000.
The foundation created an emergency committee in February after the Globe and Mail reported, citing an unnamed source, that the donors had connections to the Chinese government.
Fournier told the House of Commons ethics committee on Friday that the report prompted her to review emails from before her tenure as CEO.
She said she discovered that the China Cultural Industry Association was communicating with foundation employees about omitting information on a donation tax receipt.
After Fournier discovered two different tax receipts associated with the same money, she said she sought to have the details examined by accountants and lawyers.
And she said she wanted members of the board who were involved in the organization's dealings at the time of the donations to recuse themselves from the process.
"Other members were saying, 'Recuse yourself. We want an independent committee,' and that was the heart of the tension," Fournier said.
The Canadian Press reported earlier this month that the website of the China Cultural Industry Association says it adheres to the "total leadership" of the Chinese Communist Party and was formed with state approval. It lists Zhang Bin as its president.
But the Globe and Mail had reported that a different company called Millennium Golden Eagle International (Canada) was listed as the donor on a receipt.
The China Cultural Industry Association says Millennium Golden Eagle International is one of its executive board members and was created with the approval of China's culture ministry. Zhang is listed as chairman of Millennium Golden Eagle International on multiple privately-run Chinese company registries.
The foundation, which provides scholarships and mentorship programs, took significant issue with Fournier's comments in a statement released on Friday.
On behalf of its interim board of directors, Edward Johnson, one of the foundation's founding members, said "we strongly contest several of the statements made during this testimony."
Johnson said that the foundation contests some of the facts or their interpretation by Fournier — though he did not spell out any details — and "the reasons given to justify the resignations of the directors of the board."
He said the foundation is in contact with the committee to set a date for its own testimony, and they "look forward to this opportunity to correct some of the statements and assertions which have been made."
After Fournier's resignation the foundation asked the federal auditor general to look into the donations.
But the auditor general's office denied the request, saying auditing private donations or business dealings falls outside its mandate.
The donations to the foundation named after the current prime minister's father were made in tandem with a $750,000 contribution to the Université de Montréal.
The Globe and Mail cited an unnamed source who alleged that the Chinese government orchestrated the donations in the hopes of influencing Prime Minister Justin Trudeau.
The prime minister has repeatedly said that he has had no involvement with the foundation for about 10 years.
Later reports by Le Devoir, a Quebec-based newspaper, suggest that the donors intended for all of the money to go toward the university, and noted that the businessmen also made a $800,000 contribution to the University of Toronto in 2013.
The House of Commons ethics committee has been trying to get to the bottom of the matter as part of its broader study into foreign interference, amid accusations that Beijing meddled in the last two federal elections.
On Tuesday, the committee is set to hear from the foundation's former CEO, Morris Rosenberg, who was Fournier's predecessor.
Rosenberg also authored a report summing up senior officials' efforts against foreign interference in the 2021 election.
He said on Friday that he continues to welcome an independent inquiry into foreign interference. Former governor general David Johnston, who was appointed to assess the government's response to the issue, is tasked with telling the government whether an inquiry is needed by late May.
On Wednesday, the committee expects to hear from Alexandre Trudeau, the prime minister's brother, who volunteered to testify.
He was a member of the foundation's board of directors when the donations in question were made, Fournier said.
"It is no secret to anyone my brother has been deeply involved in the Pierre Elliott Trudeau foundation for many years, and he will answer questions as they are asked of him," Prime Minister Justin Trudeau said on Friday at a news conference in New York City.
This report by The Canadian Press was first published April 24, 2023.
Telford says national security limits what she can say on foreign interference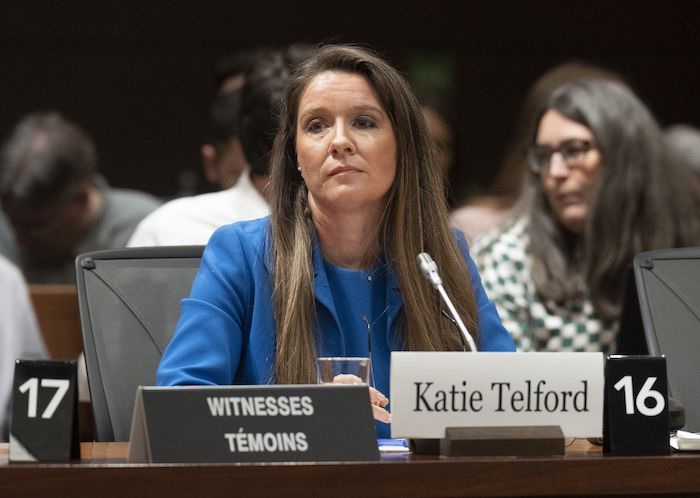 Katie Telford, chief of staff to the Prime Minister, waits to appear as a witness at the Standing Committee on Procedure and House Affairs looking at foreign interference, Friday, April 14, 2023 in Ottawa. THE CANADIAN PRESS/Adrian Wyld
By Mickey Djuric in Ottawa
The prime minister's chief of staff offered up few details to a House of Commons committee studying foreign interference in the last two elections, frustrating Conservatives and New Democrats who say her lack of answers Friday will erode trust.
Katie Telford said she should not be at the procedure and House affairs committee answering questions about national security, but she agreed to appear "because I want Parliament to work."
As a senior adviser to Prime Minister Justin Trudeau, Telford has top-secret security clearance.
"In my years in this job, I have seen a huge range of intelligence from all parts of the world. Some of it has been wrong … some of it, right," Telford said.
"Some we may never know or only with time will we learn if it's true."
Trudeau's national security and intelligence adviser, Jody Thomas, also provided MPs with a document Friday that contained the official record of dates the prime minister had been formally briefed on the issue of "foreign election interference."
The document requested by the committee shows Trudeau received six briefings since 2018, but the list didn't include briefings or conversations that weren't formally scheduled.
Cabinet ministers and political parties also received formal briefings on the issue during that time frame.
Telford said she was limited in what she could disclose to the committee because it could put Canadians in danger, hurt the country's relationship with its allies and lead to an inability to get future intelligence.
"I can't provide information of what I have been briefed on in a public setting," she said.
The Conservatives pressed Telford to confirm specific allegations reported by Global News and the Globe and Mail that China meddled in the 2019 and 2021 federal elections.
Telford suggested that some of the reporting was inaccurate, without providing details.
When asked about allegations reported by Global News that the Chinese government flowed funds to a pro-Beijing network in Canada that included at least 11 federal candidates in the 2019 election, she only said: "The connection being made between these candidates and the funds were inaccurate."
The Globe and Mail also recently reported, citing classified CSIS records, that China worked to help ensure a Liberal minority victory in the 2021 general election as well as defeat Conservative politicians considered unfriendly to Beijing.
Telford, whose words echoed the earlier testimony of Trudeau's security adviser, said she would not act outside boundaries that have been set by national security officials and the Canadian Security Intelligence Service, whose director also testified at the committee.
For weeks, Conservatives had pushed back against a Liberal filibuster at the committee that tried to block a motion to summon Telford's testimony.
It was only after the Tories proposed a motion in the broader House of Commons to force a vote on Telford's testimony that she agreed to appear.
But when she did, Conservatives said they were disappointed by the result.
Conservative MP Michael Cooper said Telford's lack of answers did not inspire confidence in the government's handling of foreign interference concerns, and instead invited suspicion.
His colleague Michael Barrett expressed similar dismay.
"She was … unwilling to even acknowledge the prime minister has read what was in his daily reading package," he said.
"Obviously the prime minister's chief of staff is not where we're going to get those answers."
Barrett said an open, clear, transparent public inquiry is needed.
The New Democrats, who have also said they want a broader public inquiry, said the foreign interference allegations have harmed Canadians' trust in their institutions.
NDP MP Rachel Blaney said during the committee hearing that Telford's answers were even less clear than Trudeau's remarks so far on the matter.
"I am not one to bring in staff members lightly … however, every time we turn around, it feels like there's another article, another thing coming out," she said.
"And this slippery slope of information coming in and out, and not being clear, is leading people to distrust."
The Liberal government has come under pressure in recent months to explain what Canada is doing about accusations of Chinese interference following the leaks to media outlets from unnamed security sources.
The Conservatives and NDP both accept the results of the 2019 and 2021 elections. And a panel of bureaucrats determined the past two elections remained free and fair, an assessment that national security agencies agree with.
Telford said foreign interference doesn't fall under the authority of the prime minister or cabinet, and if disciplinary action is needed, it's dealt with by national security agencies, including the RCMP, as well as Elections Canada.
Trudeau recently appointed former governor general David Johnston as a special rapporteur to investigate allegations of foreign interference in the last two federal elections. It was advice he took from Telford, she said.
"We actually needed someone … to figure out what was needed," she said, and to identify gaps in the investigative processes of the National Security and Intelligence Review Agency and the National Security and Intelligence Committee of Parliamentarians.
"What were they not able to cover? What did the public still need beyond that to ensure that we are instilling the confidence in them that they deserve to have in our institutions?" she went on.
"Because that's extraordinarily important to us."
She also mentioned that the government's communication could have been better following the media reports that have since dominated the political debate on the Hill.
Johnston's recommendations, which could involve calling for a public inquiry or some other independent review process, will be made public.
The Liberal government has said it will follow the guidance.
"He's actually going to be reporting back in a few weeks, and I hope we can wait for that so we can take the next appropriate steps," Telford said.
The government has asked Johnston to report back by May 23 on whether a formal public inquiry is required, and by the end of October with the final results of his investigation.
This report by The Canadian Press was first published April 14, 2023.