Victims' families, Wettlaufer survivor call for compassion in long-term care
The families of eight people killed by an Ontario nurse, as well as one of her surviving victims, lamented a fundamental lack of respect for human life in the province's long-term care system Monday as they addressed a public inquiry probing the circumstances around the woman's crimes.
In closing submissions at the inquiry into Elizabeth Wettlaufer those most impacted by her actions called for an array of changes, from nursing-home staffing levels to coroner protocols, but railed most emphatically against what they saw as a lack of compassion that harmed everyone involved.
"The people with needs have a voice. Now that we're sick, nobody listens," said Beverly Bertram, who survived one of Wettlaufer's attacks in August 2016. "If there was a change I would like to see happen, that would be respect given. Respect for individuals regardless of the roles they've played or will play in the future."
Wettlaufer, 51, confessed to murdering eight patients and attempting to kill several more over the course of nearly a decade by injecting them with overdoses of insulin at care homes and private residences across the province.
Bertram pulled no punches when outlining the effect Wettlaufer's attack had on her.
The 70-year-old said she no longer knows who she is after the attack, adding she is "consumed" by Wettlaufer and her actions.
But Bertram also told the inquiry that the same lack of compassion that allowed her fellow victims to die in relative obscurity also harmed their confessed killer, who told investigators about her long-standing struggles with addiction and mental health issues.
"She cried for help many times and none was given," Bertram told the inquiry. "She was not paid attention to, and this is the aftermath of her journey."
The son of one of Wettlaufer's other victims also emphasized what he described as the system's lack of compassion, but his emotional remarks were directed at what he perceived as the people and systems that allowed the nurse to prey on patients with impunity for years.
"I saw finger-pointing, I saw people throwing each other under the bus, I saw a lack of compassion," said Arpad Horvath Jr. "For them to just come and put money and reputation in front of human life is pathetic."
Horvath Jr's father, 75-year-old Arpad Horvath Sr., became the last of Wettlaufer's victims when he died at a London, Ont. nursing home in 2014.
His death came after Wettlaufer had already killed seven residents of Caressant Care in Woodstock, Ont. The inquiry heard that her crimes went undetected, and that she likely never would have been caught without her confession to police.
The nurse was disciplined several times by her employers at the facility, who ultimately fired her in 2014 due to multiple medication errors.
Caressant Care's closing statements reiterated that the facility never suspected Wettlaufer's crimes despite her mediocre work performance. The submission also states that the facility believes there were no systemic issues that "facilitated or concealed" the murders.
"Given what we know from (Wettlaufer's) confession about her motives … it is submitted that the crimes that she committed at (Caressant Care in Woodstock) could have been committed in any Ontario's long-term care homes over the same period," it said.
The public inquiry has heard that complaints about Wettlaufer began at the start of her career in 1995 and continued until her confession in 2016, weeks after the attack on Bertram. Wettlaufer ultimately pleaded guilty to eight counts of first-degree murder, four counts of attempted murder and two counts of aggravated assault.
Submissions from the families of Wettlaufer's victims included a number of recommendations for improvements to the province's long-term care system.
Those included calls for more substantive reference checks at long-term care facilities, overhauls to inspection protocols at the provincial health ministry, and standardization of death investigation practices among Ontario's coroners.
A joint submission made by children of Wettlaufer's first victim James Silcox, however, expressed open skepticism that those calls would be heeded.
"Without radical changes to the collective attitude towards the long-term care system as represented by the government of Ontario, we are not hopeful that the glaring problems unearthed by the inquiry will be solved," four siblings said in a joint submission.
"The inquiry into long-term care has offered an enormous amount of insight into the failure of the province of Ontario to protect our most vulnerable."
The inquiry will continue to hear closing submissions in the coming days, including from the other long-term care facilities where Wettlaufer worked, the coroner's office, the Ontario Nurses' Association, the College of Nurses of Ontario and the Registered Nurses Association of Ontario.
Michelle McQuigge , The Canadian Press
Province trumpets $105 million in new health spending for Rural Health Facilities Revitalization Program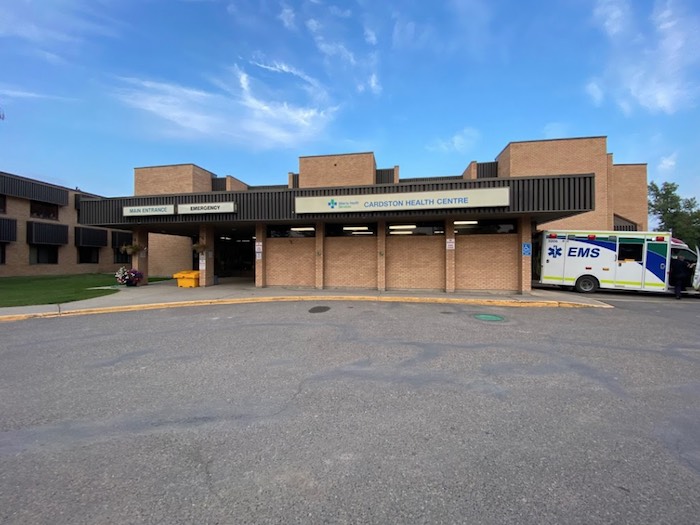 Strengthening rural health care
Budget 2023 expands rural health supports so Albertans can have additional access to modern health facilities and the care they need where and when they need it.
Alberta's government is committed to expanding and modernizing rural hospitals and other health facilities across the province to protect quality health care, grow system capacity and support the best front-line health care workers in the world.
Having access to quality health care when and where Albertans need it includes expanding capacity to provide better access for Albertans living in rural and remote areas of the province.
"We are making sure we have the necessary funding in place to build and strengthen health care in our rural communities and address barriers to care for those looking for support and treatment close to home and family. This work includes programs that focus on how to recruit, retain and even train more physicians, nurses and other professionals in areas outside of the cities."
Budget 2023 provides $105 million over three years for the Rural Health Facilities Revitalization Program, including $75 million in additional funding for capital projects in rural Alberta.
The program supports strategic renovations and developments in health facilities throughout the province, with an emphasis on emergency departments, EMS stations, surgical and dialysis clinics, and other clinical services to improve access to health care in rural Alberta.
Expanding capacity in the health care system also means having health care workers to fill those spots. In response, Alberta's government launched the Health Workforce Strategy to attract and retain the health care workers needed now and create more training opportunities for local students and internationally trained medical graduates.
"All Albertans, no matter where they live, need and deserve access to our health system. Physicians are a critical part of that system, especially in rural areas where we are trusted to support the needs of neighbours, friends and colleagues during all phases of life. It is a special calling to work in rural health care, but it can be tremendously rewarding for those who pursue it."
Rural Albertans are especially affected by the nationwide shortage of health care workers. To address this growing need, the Health Workforce Strategy provides $113 million to add 100 residency training spaces for newly graduated doctors, particularly in rural areas and specialist fields. Creating these new training spaces will provide more opportunities for Alberta students to learn, train and practise in their home communities.
In addition to this investment, a further $1 million will go toward exploring ways that regional post-secondary institutions, such as the University of Lethbridge and Northwestern Polytechnic in Grande Prairie, can help deliver medical education outside of Edmonton and Calgary.
"Whether it's emergency care or surgeries, primary care or continuing care, Albertans deserve equitable health care services in their communities. I am proud of the investments government is making through Budget 2023, both with infrastructure funding and workforce planning strategies, to help support the future of rural health care in our province."
This year's budget also funds the new agreement with the Alberta Medical Association, further stabilizing the health system and focusing on Alberta's rural communities. Under the agreement, more than $250 million over four years will go to addressing pressures, including recruitment and retention programs so more Albertans can access family doctors, and supporting physicians so their practices remain viable.
Budget 2023 secures Alberta's future by transforming the health care system to meet people's needs, supporting Albertans with the high cost of living, keeping our communities safe and driving the economy with more jobs, quality education and continued diversification.
Quick facts
The Rural Health Revitalization Program provides capital funding for revitalizing select rural health facilities throughout the province.

Budget 2023 invests $105 million over three years for the Rural Health Facilities Revitalization Program. This includes $75 million in additional funding for new capital projects in rural Alberta.
To date, about $65 million has been committed to 22 projects across the province, including emergency department renovations, upgrades to EMS stations and new dialysis spaces.

An investment of $237 million over three years towards the Alberta Surgical Initiative Capital Program will help reduce surgical wait times and help Albertans receive the surgeries they need.

This includes $120 million in new funding for projects in 15 communities across the province to expand and modernize operating rooms in public hospitals.

Budget 2023 includes $64 million over three years to continue the La Crete Community Health Centre capital project to provide increased access to maternity health services.
$11 million over three years is part of a $23.5-million commitment to expand the renal dialysis program at the Chinook Regional Hospital in Lethbridge.

This project will relocate the dialysis unit to provide additional treatment spaces and address patient and staff safety concerns with the current site.

$3 million over three years in planning dollars is committed to the North Calgary/Airdrie Regional Health Centre.
$3 million over three years in planning dollars is committed to expanding the Strathcona Community Hospital.
Planning dollars are also committed for new or upgraded facilities in Bassano, Cardston and Whitecourt.
Budget 2023: Key highlights from the federal Liberals' spending plan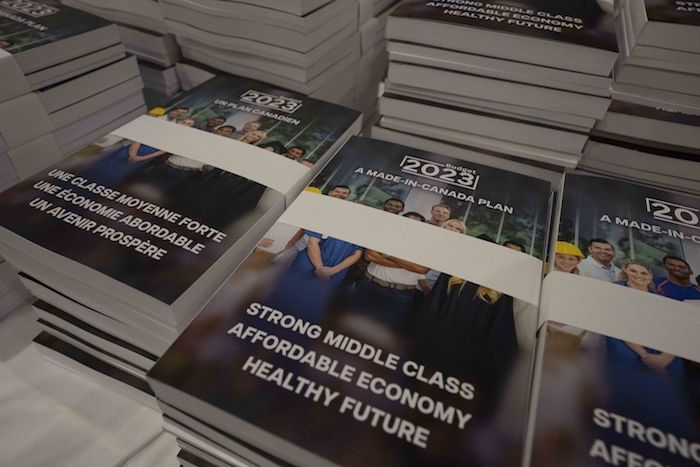 Copies of the Federal budget are seen on a table Tuesday, March 28, 2023 in Ottawa. THE CANADIAN PRESS/Adrian Wyld
By Stephanie Taylor in Ottawa
The federal Liberal government has released a 2023-24 spending plan that prioritizes spending on health care, transitioning Canadian businesses to a clean economy and offering affordability measures to help Canadians dealing with high prices from inflation.
Here are the key highlights from this year's federal budget:
– $40.1 billion: Projected federal deficit for the coming fiscal year.
– $59.5 billion: New spending over the next five years, with $8.3 billion to be spent over the coming fiscal year.
– $83 billion: The expected cost of tax credits for clean energy and electricity through to the 2034-35 fiscal year. The credits are part of Ottawa's stated goal to rapidly develop Canada's green economy.
– $13 billion: Expected cost of the Canada dental benefit over the next five years, or $7.3 billion more than the government initially projected.
– $49.4 billion: The amount of health-care cash flowing to provinces and territories in the 2023-24 year.
– $4.5 billion: Expected cost of a clean technology manufacturing investment tax credit over five years.
– $2.5 billion: The cost of another one-time doubling of GST rebates this financial year to help low-income Canadians who are struggling with high prices and inflation. The government has dubbed this measure a "grocery rebate," a nod to high food prices.
– $4 billion: How much the federal government says it plans to spend over seven years on an urban, rural and northern Indigenous housing strategy, beginning in 2024-25. But only $1.9 billion is expected to be spent in the next five years.
– An unknown amount: Finance officials would not specify how much Ottawa spent in an agreement with Volkswagen that will see the company build a battery manufacturing plant, called a "gigafactory," in St. Thomas, Ont. They said more details will be revealed in the weeks to come. The budget document stipulates that the expected costs are accounted for in this year's spending tables. Measures not yet announced have a line item in the budget that accounts for decisions related to commercial sensitivity, but the number is presented as an aggregate.
– $158 million: Funding over three years, starting this year, to create and operate a new 9-8-8 suicide prevention phone line.
– $14 per $100: What the federal government says will be the new maximum amount that payday lenders can charge people for the amount they borrow. The budget says a Criminal Code amendment will be made to that effect, while the government also intends to lower the maximum interest rates payday lenders can charge to an annual percentage rate of 35 per cent.
– "Reciprocal treatment": What Ottawa is announcing consultations about in response to the U.S. Inflation Reduction Act, which threatens to freeze out Canadian businesses, including green technology firms, from tax credits offered south of the border.
– $56 million: Spending allocated for "protecting diaspora communities and all Canadians from foreign interference, threats and covert activities." The budget announces funding for the RCMP to investigate foreign interference allegations, and says Public Safety Canada will stand up a new National Counter-Foreign Interference Office to respond to any attempted meddling by Russia, China and Iran.
– $200 million: The amount the government aims to provide to the Department of National Defence so the Canadian military can donate equipment to assist Ukraine, including the eight Leopard 2 battle tanks that the government previously announced it would deliver.
– Anti-scab legislation: The government is proposing to amend the Canada Labour Code to prohibit the use of replacement workers during a strike or lockout, fulling a commitment the Liberals made to the federal NDP in their supply-and-confidence agreement.
This report by The Canadian Press was first published March 28, 2023.