Veteran Calgary offensive lineman Dennis says CFL doesn't appreciate its players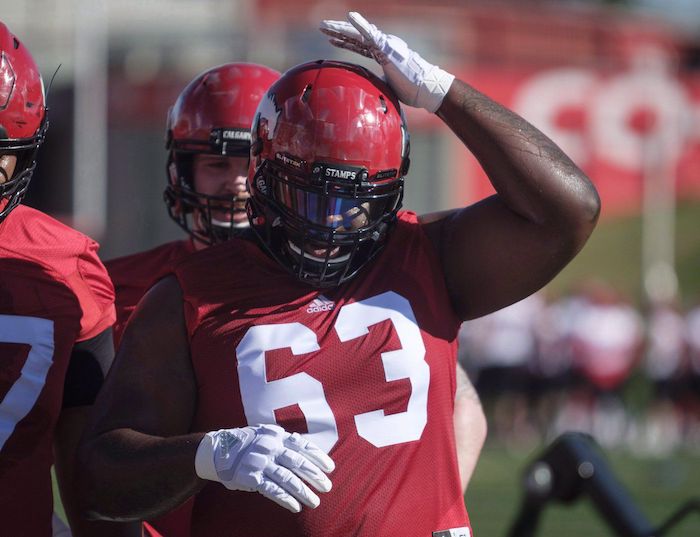 By Dan Ralph
He's preparing for training camp to begin on time but the turbulent state of contract talks between the CFL and CFL Players' Association isn't giving veteran offensive lineman Derek Dennis a warm, fuzzy feeling about the upcoming season.
The two sides remain far apart on a deal heading into the resumption of negotiations Wednesday. And time is of the essence as the current contract expires Saturday, the day before camps are scheduled to open.
"As much as it doesn't feel like things are moving along, you've got to take it upon yourself to be a pro and be prepared (for camp)," Dennis said in a telephone interview. "It doesn't matter what's going on … this is my livelihood, this is how I put clothes on my children's back and food on the table so I must approach it with that same mindset regardless of what's going on.
"It's amazing what can be accomplished in 24 hours so I'm just hoping they spend the time before we're supposed to leave our homes and families to do the right thing."
Talks ended Thursday with the CFLPA rejecting the league's proposal for a 10-year deal with no increases to the $5.35-million salary cap and elimination of the Canadian ratio. It also excluded a union proposal allowing players to negotiate guaranteed contracts and included a return to padded practices.
The CFL issued two statements via social media Friday, the second outlining a commitment to a partnership with the players. Earlier, the league tweeted: "Canadian players are the lifeblood of the CFL game, along with the veteran American players who make a career here. That will not change."
But the six-foot-three, 345-pound Calgary Stampeder isn't feeling that love.
"I don't feel like we're appreciated … from a league standpoint," he said. "The league recently put out a statement saying players are the lifeblood, yet you're not trying to take care of the lifeblood of our league. It's hypocritical.
"I understand bargaining tactics and the business and logistical side of things … but I feel like, for me, the league is run by people who don't want to be innovative, who don't want to progress and are afraid of change yet these are the same people who consider the CFL a major league. What major league hasn't had to deal with some sort of change, some type of evolution to get to where it is today? At some point, we have to be frustrated with just being good enough."
And for Dennis, it's time the CFL back up its partnership talk at the bargaining table.
"At the end of the day, actions speak louder than words," he said. "If I tell my kids I'll take them out for ice cream, they're going to say, 'Hey, dad, you told us you were going to take us to get ice cream, right?'
"My thing is if they (CFL) are going to continue to say these words and put out statements and make it seem like they care about us, why is it so hard for them to show it?"
Dennis, 33, has never shied away from telling it like it is or sticking to his principles. The CFL's top lineman in 2016 sat out all of last season after asking to be released or traded by the Edmonton Elks. Upon being let go, Dennis re-signed in January with Calgary, where he played 2015-16 and 2018-19.
"Many people think I'm being negative based on what I do and say but, no, I'm not," Dennis said. "I love this league and I just want to see it progress and be better.
"I want my time in the league, what I've done on the field and any impact I've made to last generations beyond me. I don't want to just be another body that came through and nothing evolved. Yes, the CFL has survived for 100 years but how long can it survive the way it has been moving? Staying status quo and just surviving makes no sense to me. This is a business and what business do you know is OK with taking loss after loss after loss? But the reason why they (CFL) are OK with the losses is they just recoup it from us."
What also frustrates Dennis is his belief the CFL doesn't hold itself to the same standard as its players do for themselves.
"As athletes, we always strive for excellence," he said. "Why is it, then … the people who are in charge of requiring us to be that way don't operate in that same manner? That's my biggest qualm.
"At the end of the day coaches, teams, owners, sponsors, everybody benefits from what we do so why is it we're the last people who get thought about when it comes to being able to benefit somewhat? Not even on a large scale, just somewhat benefit from it. We're pro athletes and we can't even benefit from what we do and how hard we work? Where does the fairness come in that?"
Last week, CFL players gave their union a 95 per cent strike vote. League players have gone on strike once, in 1974, but the situation was settled before the start of the regular season.
Dennis said he'll follow whatever direction the membership wants to head in.
"I pride myself on being a great teammate and whatever my brethren decides is the best course of action … is what I'm willing to do," Dennis said. "I know many people were baffled about what I did last year but at the end of the day, yes, I'm a football player but I'm a person first.
"If I feel like I'm being treated unfairly, I don't have to accept that unfair treatment. The days of 'Shut up and play ball,' are long gone."
This report by The Canadian Press was first published May 9, 2022.
Alberta's province wide state of emergency ends as wildfire situation improves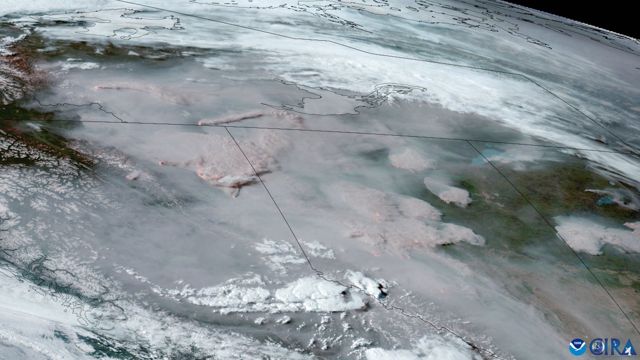 Wildfires and smoke are shown in British Columbia and Alberta in this satellite image taken Thursday, May 18, 2023. Alberta's public safety and emergency services minister says a province wide state of emergency that was declared nearly a month ago to deal with unprecedented wildfires will end Saturday night at midnight. THE CANADIAN PRESS/HO – Co-operative Institute for Research on the Atmosphere (CIRA) at the University of Colorado and the National Oceanic and Atmospheric Administration
Alberta's public safety and emergency services minister says a provincewide state of emergency that was declared nearly a month ago to deal with unprecedented wildfires ended Saturday at midnight.
Mike Ellis told a news conference the wildfire situation in Alberta remains serious but, overall, things have improved significantly and it's anticipated they will continue to improve.
He says support will not stop for communities affected by active wildfires, including Fort Chipewyan, which remains evacuated due to a large fire burning about seven kilometres away.
The state of emergency was implemented May 6 to expedite co-ordination of firefighting resources and support for evacuees.
Christie Tucker with Alberta Wildfire says the Rocky Mountain wildfire which threatens Fort Chipewyan remains a top priority and 85 Canadian troops were on the way to the area on Saturday afternoon
Tucker told the news conference the blaze was quiet on Friday until the evening, but crews are working to prevent flames spreading to the community and rain is expected in the area in the next day or so.
This report by The Canadian Press was first published June 3, 2023.
Saskatchewan landowners fight against illegal drainage washing out land, roads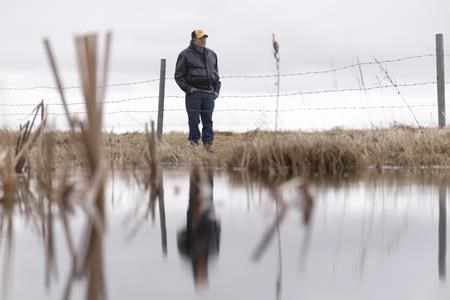 WAWOTA, Sask. — Lane Mountney spreads a map over his kitchen table at his farmhouse in southeast Saskatchewan, pointing to yellow and orange arrows slithering across the document.
Many of the arrows represent existing channels and ditches, moving across fields and out of wetlands to drain water. The arrows eventually make their way to a creek, causing what he describes as a deluge of problems downstream.
"All these years, guys have gotten away with draining water and the next guy figures he can get away withit," Mountney said in an interview at his farm near Wawota, Sask., about 200 kilometres southeast of Regina.
"If this keeps going like it has, I don't know what Saskatchewan's going to look like in 10 years."
Mountney's map depicts what's called the Wawken Drainage Project, a plan developed by the local watershed group that has since been taken over by the Water Security Agency, which is responsible for overseeing drainage in Saskatchewan.
The project is nearly 14 square kilometres and contains 880 wetlands of various sizes representing a total of 2.4 square kilometres of water.
A project document indicates that 88 per cent of these wetlands have been drained, partially drained or farmed. About 12 per cent remain intact.
Most of this water is supposed to flow into a creek that runs through a parcel of Mountney's land.
The plan developers believe the creek can handle the flows, but Mountney is not convinced.
Last year, he and his wife, Sandra Mountney, dealt with flooding ontheir horses' pasture. They decided not to use their well water at the time because it was yellow.
"They were very excited to tell us that nobody inside the project area is going to lose acres, but they haven't even looked at who's going to lose acres miles down the line." Sandra Mountney said.
Brent Fry, who farms grain and livestock, said it's common for his land to flood for three days when people upstream get 50 millimetres of rain.
He said it has caused roads and access points to erode.
"There are about four farms out there and all they're doing is draining whether they've got permission or not," Fry said. "I don't even know what to do because the government's not doing anything — they're siding with the big guys."
Farmers have drained water in Saskatchewan for generations and many have done so illegally by digging ditches without permits.
Most producers drain because it allows them to grow more crops, helping them pay for land that has become increasingly expensive. However, it has caused yearly flooding for people downstream. Roads also wash out and habitat gets lost.
At the Saskatchewan Association of Rural Municipalities convention in February, reeves passed a resolution asking the Water Security Agency to require those who are illegally draining to remediate their unapproved works.
Saskatchewan legislation requires upstream landowners to receive permission from those downstream when they want to drain, but many say that's not happening.
Sandra Mountney said the Water Security Agency hasn't been taking concerns seriously.
"It's hard to know who's really protecting our waterways," she said.
The Wawken project began about three years ago but hasn't been completed. It's among many drainage projects underway.
Daniel Phalen, a watershed planner, worked on the project as technician before he left for another job.
He said landowners had been draining water with no permits before the plan. His job was to determine how many wetlands were drained and what works had already been done.
Phalen said the plan was to put in structures that would slow down the drainage to reduce problems downstream.
It's unclear what work had been done on the Wawken project to mitigate flows since Phalen left. The Water Security Agency did not respond to a request for comment.
Phalen said projects can get held up if affected landowners don't come to an agreement. Expropriation is allowed but it's rare, he said.
Another nearby drainage plan, known as the Martin project, has stalled because of landowner concerns.
Researchers have estimated Saskatchewan has lost half of its total wetlands over time for crop production.
Phalen, who also worked on the Martin plan, said it was concerning to see the number of wetlands sucked out.
"The Water Security Agency doesn't have the manpower to do much about it," Phalen said. "There's such low enforcement already that if they had any policies in place, people would just drain anyways. It's kind of a scary problem to be in."
Sandra Mountney said she's worried about losing wetlands because they help recharge groundwater supplies and filter contaminants — particularly important when it's dry.
The Water Security Agency has released a drainage management framework that aims to prevent flooding and ensure Saskatchewan retains a "sufficient" number of wetlands.
Leah Clark, the Interim Executive Director of Agriculture Water Management, told attendees at a Saskatchewan Farm Stewardship Association meeting earlier this year that 43 per cent of wetlands are retained within approved projects. She added the province has "thriving" wildlife populations.
However, she said under the policy, landowners would be able to select which wetlands to retain.
"It will achieve a working landscape for landowners to continue to use their land for farming and ranching. This approach will allow for new development while retaining current drainage," she said.
Phalen said Saskatchewan could look to Manitoba for solutions to retain wetlands.
Manitoba has historically drained most of its wetlands in the agricultural regions, he said, but the province has since developed a policy where landowners are paid for retaining them.
"You know, $100 an acre is not a ton of money, but it's another incentive to help producers," he said. "It's such a complex problem where you got this huge financial incentive to drain."
Lane Mountney said regulations just need to be enforced.
"It's almost too late," he said. "They should have been out there checking stuff before we got this point."
This report by The Canadian Press was first published June 4, 2023.
Jeremy Simes, The Canadian Press