Vatican rejects Doctrine of Discovery, a move Indigenous people have long urged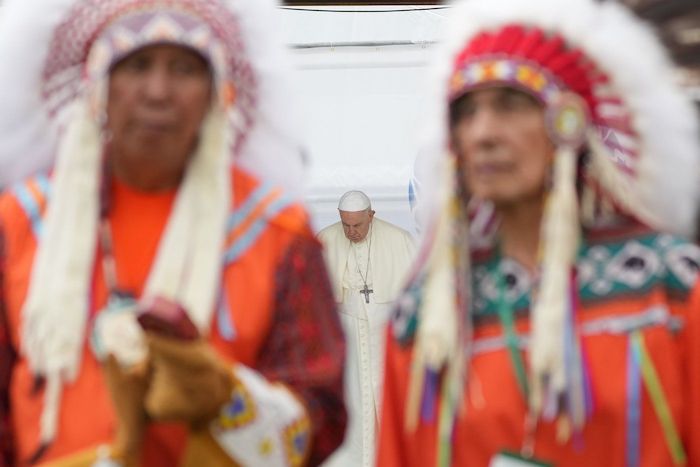 Pope Francis bows his head behind Indigenous chiefs preparing to perform a traditional dance at a ceremony in Maskwacis, Alta., on Monday, July 25, 2022. The Vatican has rejected the Doctrine of Discovery a year after Francis met with Indigenous groups from Canada and delivered his first apology for the Catholic Church's role in residential schools. THE CANADIAN PRESS/Nathan Denette
By Kelly Geraldine Malone and Stephanie Taylor
The Vatican has formally denounced a 15th-century doctrine used to legitimize the seizure of Indigenous land, but the national chief of the Assembly of First Nations says the Roman Catholic Church should go further to repair the harm caused by the decrees.
A statement from the Vatican on Thursday said the papal bulls used as the basis for the Doctrine of Discovery "did not adequately reflect the equal dignity and rights of Indigenous peoples."
The papal bulls were connected to the idea that lands being colonized were empty, when in fact Indigenous people had long called them home.
"The world was told that we were unworthy and that our lands were empty," National Chief RoseAnne Archibald said in a phone interview Thursday.
"We need the world to know that we are worthy, that we are valuable."
Archibald said the Vatican's words are a step in the right direction, but added the Catholic Church should introduce a new statement affirming the value of Indigenous Peoples.
She also called for the church to return land and sacred items to First Nations.
Chief Bobby Cameron of the Federation of Sovereign Indigenous Nations, which represents 73 First Nations in Saskatchewan, said in a statement the legal doctrines "allowed Canada to unilaterally claim sovereignty over our peoples and our lands and further used it as an excuse to commit genocide.
"Today, the Vatican finally said what our peoples have always known."
More than 500 years ago, popes began issuing the first of a series of edicts, known as papal bulls.
The Truth and Reconciliation Commission of Canada, which investigated residential schools in Canada, said these bulls helped shape the political and legal arguments that became known as the Doctrine of Discovery.
The commission's final report included a call to action for all religious denominations "to repudiate concepts used to justify European sovereignty over Indigenous lands and peoples, such as the Doctrine of Discovery."
Last March, First Nations, Métis and Inuit groups went to Rome to meet with Pope Francis. Francis apologized for the church's role in residential schools, but delegates also told him the doctrine must be rejected.
The pontiff travelled to Canada in July for a six-day tour, during which he apologized again for residential schools and was criticized for not addressing the papal bulls. Throughout his stops in Alberta, Quebec and Nunavut, people held signs and yelled for the Pope to reject the doctrine.
Donald Bolen, the Archbishop of Regina, said Indigenous people made it clear that the Vatican needed to address the issue.
"The language in those bulls is deeply wounding and problematic, and there was a desire for the Holy See to address it, and they have."
The Canadian Conference of Catholic Bishops, of which Bolen is a member, said in a statement that it's grateful Indigenous organizations urged the move. The conference signed a statement calling for the church to reject principals associated with the doctrine in 2016.
Bolen said the Vatican's statement Thursday shows Francis was listening to Indigenous people during their meetings at the Vatican and throughout his time in Canada.
"I think there's no doubt that it's a response given at the request of Indigenous people in Canada," he said.
The statement from the Vatican, however, said the doctrine is not part of the teachings of the church and the documents were "written in a specific historical period and linked to political questions."
The Vatican said the contents of the documents were manipulated for political purposes to justify "immoral acts against Indigenous Peoples."
"It is only just to recognize these errors, acknowledge the terrible effects of the assimilation policies and the pain experienced by Indigenous peoples, and ask for pardon."
Cody Groat, who is Mohawk from Six Nations in Ontario and an Indigenous studies professor at Western University, said implying that the church never advanced the doctrine shifts the blame.
Groat, who is also seeking to be the federal NDP candidate in a rural Ontario riding, said the statement suggests the Vatican recognizes it is in "a period of global reckoning" and had to take this step "in order to stay relevant."
Archibald agreed that there's a direct connection between governments, sovereign crowns and the church.
"These papal bulls granted those rights to colonizing sovereigns," the national chief said.
Indigenous Services Minister Patty Hajdu said Thursday the federal government will be taking a closer look at the Vatican's statement to see what next steps it might take.
"For a long time I think Canadians have known and the government of Canada has known that the colonialism that Indigenous Peoples have faced for over 150 years have had devastating consequences."
This report by The Canadian Press was first published March 30, 2023.
Advisers on unmarked graves won't work with Hague-based organization Ottawa hired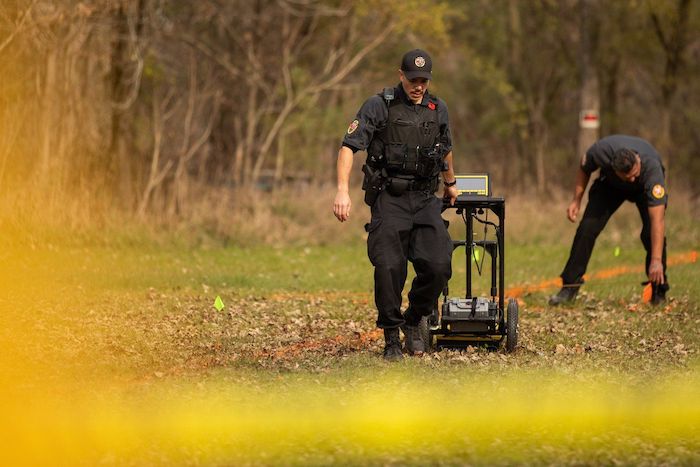 Members of the Six Nations Police conduct a search for unmarked graves using ground-penetrating radar on the 500 acres of the lands associated with the former Indian Residential School, the Mohawk Institute, in Brantford, Ont., Tuesday, November 9, 2021. A panel of Indigenous experts says it will not participate in engagement sessions hosted by an international organization Ottawa hired to provide it with advice on identifying possible human remains in unmarked graves. THE CANADIAN PRESS/Nick Iwanyshyn
By Stephanie Taylor in Ottawa
A panel of Indigenous experts says it will not participate in an engagement campaign hosted by an international organization Ottawa hired to provide advice on identifying possible human remains in unmarked graves.
The National Advisory Committee on Residential Schools Missing Children and Unmarked Burials released a statement Monday saying that after giving the matter careful thought, it has decided against involvement in the process.
"While the (committee) is appreciative of a number of changes that have since been made to this agreement, we remain deeply concerned that such an important and sensitive process has been entrusted to a non-Indigenous organization with no prior history of working with residential school survivors," the statement read.
The federal government and the National Centre for Truth and Reconciliation — which serves as an archive for records from the former residential school system — announced the formation of the committee last July. It comprises elders as well as experts in forensics, ground-penetrating radar and archival records.
Months earlier, the Tk'emlups te Secwepemc Nation in British Columbia released ground-penetrating radar findings of what are believed to be more than 200 unmarked graves at the site of a former residential school, sparking widespread outcry.
Other First Nations across Western Canada have since announced similar discoveries, and last fall the federal government signed a contract with the Netherlands-based International Commission on Missing Persons to engage with communities on identifying possible remains.
The national advisory committee raised concerns about the agreement around the time it was announced, as did an outside official whom the federal government has appointed to serve as an independent interlocutor tasked with developing policy around how to better protect lands that are home to unmarked graves.
Issues have arisen about Ottawa tapping a non-Indigenous organization to speak to communities about options when it already has Indigenous experts and residential school survivors doing similar work.
The advisory committee says in its statement that it supports Indigenous families and communities seeking technical support from whichever organization they choose.
"However (the committee) feels strongly that a federal engagement process aimed at developing a common national strategy on DNA, identification, and repatriation for residential schools missing children must do more than simply employ Indigenous staff," it read.
"It must be Indigenous-led and survivor-led to ensure that no further harm is done."
The director-general of the missing persons commission told The Canadian Press in February she wants its work to be given a chance. Kathryne Bomberger said in an interview the body was first contacted by members of a Cree community as well as northern Manitoba NDP Niki Ashton, leading it to eventually submit a proposal to the federal government.
The organization previously worked in Canada to help identify the remains of those killed during the Lac-Megantic rail disaster in Quebec in 2013. Through its $2-million contract with Ottawa, Bomberger has said, the commission would provide Indigenous communities with possible options to identify remains believed to be in unmarked graves and report to Ottawa on what it has heard.
This report by The Canadian Press was first published May 29, 2023.
Study finds search for women's remains at landfill could take years, cost up to $184M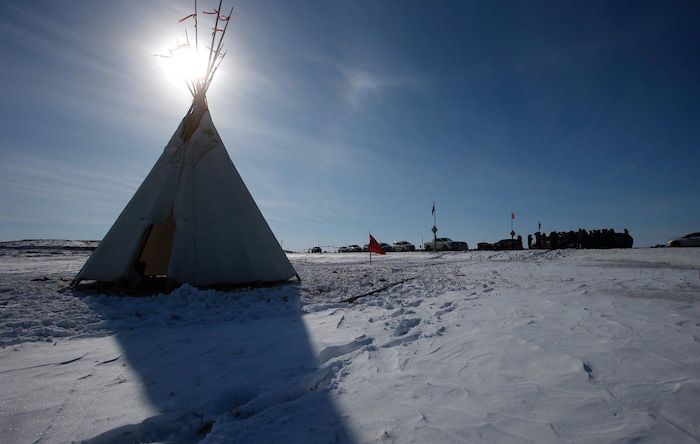 A teepee is shown as Christopher Traverse, Chief of Lake St. Martin First Nation speaks to the media at Winnipeg's Brady Landfill just outside the city, Thursday, April 6, 2023. THE CANADIAN PRESS/John Woods
By Brittany Hobson in Winnipeg
A search for the remains of two First Nations women at a Winnipeg-area landfill could take up to three years and cost $184 million, but family members and Indigenous leaders say it must go ahead.
"If a search is not carried out, it will demonstrate to all First Nations across Canada that this government condones the despairing act of disposing of First Nation women in landfills," Grand Chief Cathy Merrick of the Assembly of Manitoba Chiefs told a news conference Friday.
A study examining whether a successful search is possible, obtained by The Canadian Press, looked at the various scenarios and challenges that come with searching a landfill and concluded a canvass of the Prairie Green Landfill is feasible.
It warns there are risks due to exposure to toxic chemicals and asbestos. But it says forgoing a search could be more harmful for the families of Morgan Harris and Marcedes Myran.
"Not conducting the search could cause considerable distress to victim family members," the report says.
"The impact of not conducting a search and humanitarian recovery for remains of Morgan and Marcedes, when it is possible that they are in the Prairie Green Landfill, could have long-lasting repercussions on the families, friends, loved ones and First Nations and Indigenous communities in Manitoba and across Canada."
Cambria Harris, who took her rage to Parliament Hill in December and demanded governments take the issue of missing and murdered Indigenous women and girls more seriously, said Friday she has no place to lay flowers down for her mother.
"We have no place to go to send our condolences or pay our respects to our mothers who we have lost," she said.
Federal Crown-Indigenous Relations Minister Marc Miller said he hoped to meet with the families in the next couple of weeks to look at next steps.
"This could take many years. There is a risk to human life for those searching potentially toxic sites," he said.
"Yes, it's a substantial amount of money. But as the Assembly of Manitoba Chiefs said, what signal do you send if you don't search for First Nations bodies that have been disposed as if they were trash, which they are absolutely not? They're sacred and they are to be honoured."
Prime Minister Justin Trudeau said the federal government will be there to support in the grieving and healing process.
"We know how atrocious and how difficult this is for the families and we will do whatever we can to help."
An Indigenous-led committee spearheaded by the Assembly of Manitoba Chiefs commissioned the study after Winnipeg police said in December that they believed the remains of Harris and Myran are in the landfill north of the city. But police said they would not be searching the site because of the passage of time and the large volume of material deposited there.
The committee included family members, First Nations leaders, forensic experts and representatives from the province and the city.
It's not guaranteed a search would locate the women's remains, says the study. It could take between one and three years and would cost $84 million to $184 million.
The report doesn't say who should pay for the search. Ottawa provided $500,000 to the Assembly of Manitoba Chiefs for the study.
Police believe the women's remains were left in a garbage bin three days apart in early May 2022, says the report. The contents of the dumpster were sent to the Prairie Green Landfill on May 16.
Jeremy Skibicki has been charged with first-degree murder in the deaths of the two women, as well as two others: Rebecca Contois, whose remains were found at the Brady Landfill, and an unidentified women Indigenous leaders have named Mashkode Bizhiki'ikwe, or Buffalo Woman. Police have also not found her remains.
The report says governments should consider potential societal costs of conducting a search, including the emotional impact on families.
"Nothing about a potential search of this size and scale is easy, and the toll on the families and First Nations and Indigenous communities must be considered with the appropriate supports being made available," it says.
"Until Marcedes and Morgan are properly returned home, these women, their families and all our communities endure a sacrilege."
Some of the biggest concerns outlined in the report were around health and safety. Hazardous materials teams are recommended to be on site at all times to monitor air quality, act as safety officers and perform decontamination of personnel who are in an excavation pit or working closely with excavated materials.
Another concern is that excavating along a slope of debris could result in a landslide.
The committee says using a conveyor belt to search through debris would be the best option.
In order to proceed with a search, Prairie Green would need to submit a proposal to a regulatory body to approve the excavation and transportation of materials.
The study also calls for increased funding for social supports and homeless shelters. It recommends mandatory GPS tracking systems and rear-facing cameras in garbage trucks in Canada, as well as surveillance video installed at entrances and exits at landfills.
Premier Heather Stefanson said she had not seen the report and her heart goes out to the families.
"Every time we go through another milestone on this it, it's a reminder on the horrific situation that we're dealing with," she said Friday at an unrelated event.
She would not commit to funding any aspects of the search until her office has had a chance to go over the report.
This report by The Canadian Press was first published May 12, 2023.