Vaccine lottery: Manitobans eligible for cash, scholarships if they get a COVID shot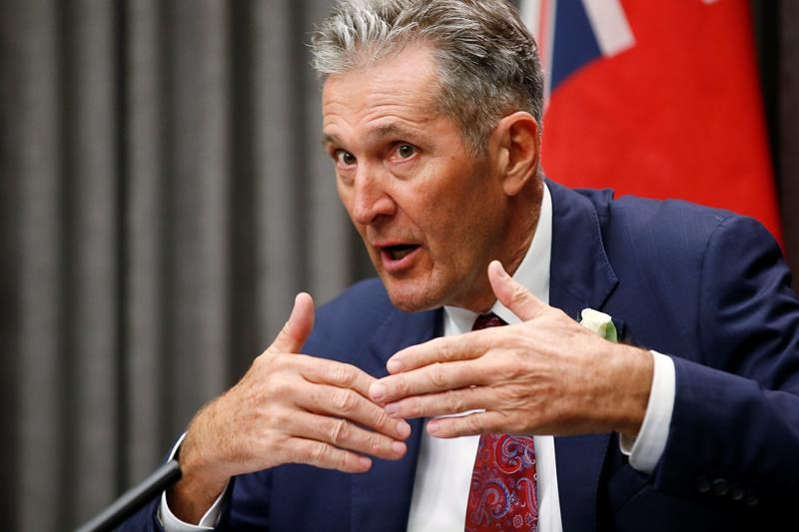 WINNIPEG — Manitobans who get a COVID-19 vaccine could also get a six-figure cash injection in their wallets.
The provincial government is offering $100,000 prizes and $25,000 scholarships in an effort to persuade more people to get a shot.
Anyone who has had or will receive a shot will be automatically entered into two lottery draws this summer. Each draw will have seven cash winners — three in Winnipeg and one in each of the four other health regions — and 10 scholarship recipients. The scholarships will be reserved for youth between 12 and 17 years old.
"I'm not a big fan of gambling and that's why I think this draw makes such good sense," Premier Brian Pallister said Wednesday. "Because you're gambling with COVID if you're not getting a vaccination."
Vaccine uptake in Manitoba has been steady — two-thirds of people 12 and older have received at least one dose. But there are some spots where the rate is much lower, including the core area of Winnipeg and some rural regions south of the capital.
Health officials have said that while some people are hesitant about getting a vaccine, others may have barriers in terms of mobility or by being in marginalized groups.
Crown-owned Manitoba Liquor and Lotteries will be in charge of the draws slated for early August and September. The government is still figuring out how to ensure that Manitobans who were vaccinated outside the province will be included.
The government asked for public feedback on incentives last week. Most respondents who were hesitant about getting a vaccine said they would not be likely to be swayed by cash payments, free admission to sporting events or draws for prizes.
Dr. Joss Reimer, medical lead of Manitoba's vaccination effort, said some prizes for getting doses could turn people off, but a lottery is different.
"We need to be very cautious when we use financial incentives because, for people who are already suspicious of the vaccine or of the government's intent, these financial incentives — if done in the wrong way — can make people more suspicious," Reimer said.
"The worst-case scenario is giving just straight up cash for doses. That's really when people start to feel that there's some sort of hidden message or reason that government wants them immunized other than their own benefit. But we didn't see the same effect when it came to a lottery. Lotteries tend to bring about more of a sense of celebration and excitement with people."
The government also said it will relax one of its major public health orders. A ban on almost all social gatherings that took effect May 22, with an exception for people living alone, is to be changed Saturday.
People will be allowed to meet with up to five friends or relatives in outdoor public areas or have up to five people over on their own property. The ban on indoor gatherings is to continue.
"We realize that Manitobans have been following the orders. They haven't been able to really get together with anyone outside of their household, so we've allowed just this sort of release valve," said chief public health officer Dr. Brent Roussin.
The province's daily tally of new COVID-19 cases has dropped from a peak of more than 600 last month to 250 on Wednesday. But hospitals remain strained. Thirty intensive care patients were being treated in other provinces in an effort to free up beds.
Pallister, who is to receive his second vaccine dose Thursday, won't be eligible for the lottery, which specifically exempts all provincial politicians.
The Opposition New Democrats questioned how the Progressive Conservative government found nearly $2 million for prizes at a time when hospitals are struggling to keep up with COVID-19 patients, some of whom have been sent to other provinces.
"Mr. Pallister has $2 million for this lottery, but where are the $2 million to help fix our (intensive care units) in our hospitals?" NDP Leader Wab Kinew asked.
This report by The Canadian Press was first published June 9, 2021.
Steve Lambert, The Canadian Press
CP NewsAlert: Alleged Chinese spy in Quebec freed on bail ahead of trial
LONGUEUIL, Que. — A former employee of Quebec's power utility charged with spying on behalf of China has been freed on bail while he awaits trial.
Yuesheng Wang, 35, is the first person to be charged with economic espionage under Canada's Security of Information Act, and he also faces three charges under the Criminal Code for fraudulent use of a computer, fraudulently obtaining a trade secret and breach of trust.
Federal prosecutors had opposed his release because they feared he would flee the country.
More coming.
The Canadian Press
Hawaii's Mauna Loa starts to erupt, sending ash nearby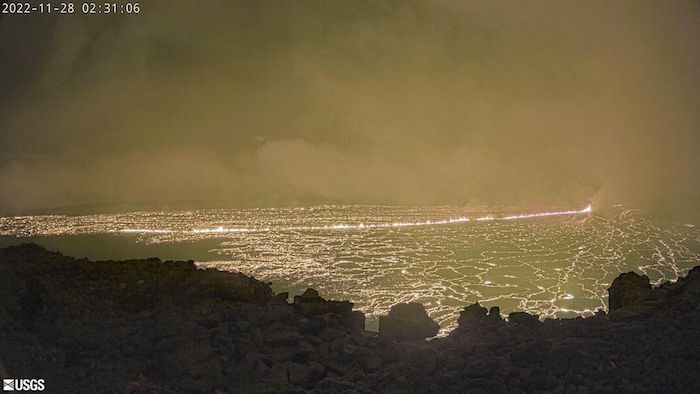 HONOLULU (AP) — Hawaii's Mauna Loa, the world's largest active volcano, has started to erupt for the first time in nearly four decades, prompting volcanic ash and debris to fall nearby, authorities said Monday.
The eruption began late Sunday night in the summit caldera of the volcano on the Big Island, the U.S. Geological Survey said. Early Monday, it said lava flows were contained within the summit area and weren't threatening nearby communities.
"However, lava flows in the summit region are visible from Kona. There is currently no indication of any migration of the eruption into a rift zone," the Hawaiian Volcano Observatory said in a statement. A rift zone is where the mountain is splitting apart, the rock is cracked and relatively weak and it's easier for magma to emerge.
How long the volcano erupts and whether it could cause lava to flow to populated areas of the island is impossible to predict, said Miel Corbett, a USGS spokesperson.
"But I can tell you, we're in constant communication right now with Hawaii Civil Defense, and they're providing updates to community members," she said.
Even though it noted there is no indication of lava exiting the summit, the civil defense agency said it has opened shelters in Kailua-Kona and Pahala because it has reports of of people self-evacuating along the South Kona coast.
"Multiple images have surfaced on social media indicating lava activity outside of the caldera. At this time, no lava migration into a rift zone has been confirmed," according to a statement.
The USGS warned residents at risk from Mauna Loa lava flows should review their eruption preparations. Scientists had been on alert because of a recent spike in earthquakes at the summit of the volcano, which last erupted in 1984.
Portions of the Big Island were under an ashfall advisory issued by the National Weather Service in Honolulu, which said up to a quarter-inch (0.6 centimeters) of ash could accumulate in some areas.
Mauna Loa is one of five volcanoes that together make up the Big Island of Hawaii, which is the southernmost island in the Hawaiian archipelago.
Mauna Loa, rising 13,679 feet (4,169 meters) above sea level, is the much larger neighbor to Kilauea volcano, which erupted in a residential neighborhood and destroyed 700 homes in 2018. Some of its slopes are much steeper than Kilauea's so when it erupts, its lava can flow much faster.
During a 1950 eruption, the mountain's lava traveled 15 miles (24 kilometers) to the ocean in less than three hours.