US to auction Gulf of Mexico oil under climate compromise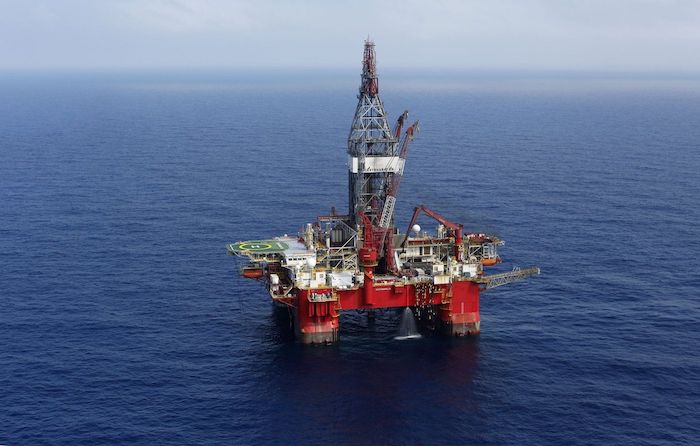 The Centenario deep-water drilling platform off the coast of Veracruz, Mexico, in the Gulf of Mexico, is pictured on Nov. 22, 2013. The Biden administration will auction oil and gas leases across more than 114,000 square miles of public waters in the Gulf of Mexico on Wednesday, March 29, 2023, in a sale mandated by last year's climate bill compromise. (AP Photo/Dario Lopez-Mills, File)
By Kevin Mcgill And Matthew Brown in New Orleans
NEW ORLEANS (AP) — Companies have offered bids on more than 2,600 square miles (6,700 square kilometers) of federal oil and gas leases in the Gulf of Mexico in a sale mandated by last year's climate bill compromise.
Wednesday's auction is the first in more than a year and is expected to draw interest from major oil companies such as ExxonMobil and Chevron. It could further test the loyalty of environmentalists and young voters who backed President Joe Biden in 2020 but were frustrated by this month's approval of the huge Willow drilling project in northern Alaska.
Developing the leases for sale in public waters in the Gulf of Mexico could produce more than 1 billion barrels of oil and more than 4 trillion cubic feet (113 billion cubic meters) of natural gas over 50 years, according to a government analysis. Burning that oil would increase planet-warming carbon dioxide emissions by tens of millions of tons, the analysis found.
Oil prices fell sharply over the past year and it's uncertain how much companies will be willing to invest in new leases. There's one more sale scheduled in September, but it's unknown how many more the administration could conduct, which could hinder companies' expansion plans.
Yet analyst Sami Yahya said approval of the ConocoPhillips Willow project in the National Petroleum Reserve-Alaska bodes well for the industry and prospects for future leasing.
"It showed that the Biden administration is likely trying to strike a balance between energy transition and energy security," said Yahya with S&P Global.
The Department of Interior sale comes two days before a deadline set in last year's climate bill that Biden signed into law. The measure prohibited leasing public lands for renewable power unless tens of millions of acres are first offered for fossil fuels. That was a concession to get support from West Virginia Democrat Joe Manchin, a fossil fuels industry supporter.
The undersea parcels that were up for auction Wednesday covered 114,000 square miles (295,000 square kilometers) an area larger than Arizona. But similar to past auctions of similar magnitude, only a fraction of the available acreage sold.
Bids from companies were due Tuesday and were being opened Wednesday in New Orleans.
The sale is taking place in a state that is economically dependent on the oil and gas industry but also especially vulnerable to climate change.
Since it takes years to develop offshore parcels before crude is pumped, the leases could produce oil and gas long past 2030, when scientists say the world needs to have drastically cut greenhouse gas emissions to stave off catastrophic climate change.
Sea level rise is a factor in Louisiana's steady loss of coastal wetlands, which in addition to harboring a variety of fisheries and wildlife, provide a buffer between inland population areas and hurricanes that scientists say are growing stronger as the world warms.
Louisiana's complicated relationship with the industry also is illustrated by lawsuits filed by coastal parishes over decades of alleged damage to wetlands from dredging canals to service oil and gas drilling.
A lawsuit against Wednesday's sale is pending before a U.S. District judge in Louisiana. It takes 90 days for the government to evaluate any bids, which means they still could be blocked before being issued.
"There's been a lot of talk from the administration about taking climate change seriously and moving our economy away from fossil fuels, and yet we continue to see massive oil and gas projects, both onshore with Willow and offshore in the Gulf of Mexico," said George Torgun, an attorney with Earthjustice representing environmental groups in the case.
Chevron said in a Monday court filing that it could lose millions of dollars from future production if the leases are blocked. The company's Gulf of Mexico operations produce the equivalent of almost 200,000 barrels a day from hundreds of leases it has bought since 2001, a representative of the Houston-based company said in an affidavit.
"Chevron plans to produce from its Gulf of Mexico leases for decades into the future," said Trent Webre, a Chevron manager in the region.
At the prior Gulf of Mexico auction in 2021, companies offered a combined $192 million for tracts totaling nearly 2,700 square miles (6,993 square kilometers). That sale was subsequently blocked by a federal judge, then reinstated under last year's climate bill.
Over several months beginning in May the administration plans to auction more than 500 square miles (1,400 square kilometers) of onshore oil and gas leases in Wyoming, New Mexico, Montana, Nevada and other states.
___
Brown reported from Billings, Montana.
___
ConocoPhillips to exercise pre-emptive right; will buy rest of Surmont project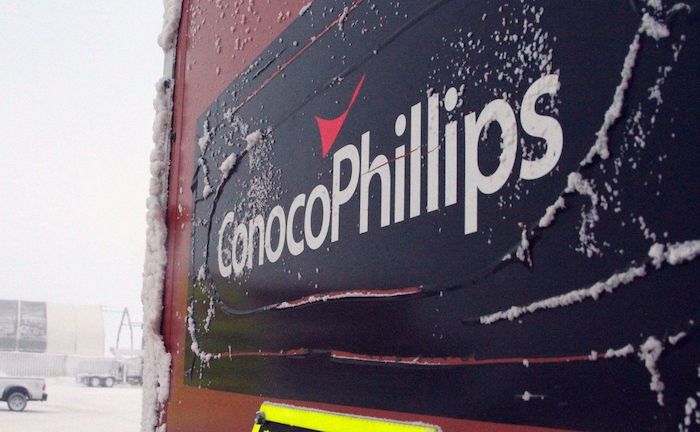 An ice-covered ConocoPhillips sign at the Colville-Delta 5, or as it's more commonly known, CD5, drilling site on Alaska's North Slope is shown on February 9, 2016. THE CANADIAN PRESS/AP, Mark Thiessen
Calgary
ConocoPhillips says it will exercise its right of first refusal and purchase TotalEnergies' 50 per cent stake in the Surmont oilsands project for $4 billion.
The Houston-based oil company is currently the operator and the 50 per cent owner of the in situ oilsands asset near Fort McMurray, Alta.
In April, Suncor Energy Inc. said it would acquire the other half of Surmont, part of a larger $6.1-billion deal that would also see Suncor acquire French company Total's stake in the Fort Hills oilsands project.
But ConocoPhillips says it will pre-empt Suncor and purchase the remainder of Surmont for itself.
The company says it expects the deal will add approximately US$600 million of annual free cash flow in 2024, based on a West Texas Intermediate oil price of US$60.
The deal is expected to close in the second half of 2023, with an effective date of April 1, 2023.
This report by The Canadian Press was first published May 26, 2023.
Companies in this story: (TSX:SU)
Tempers rise as German government's clean heating plans go up in smoke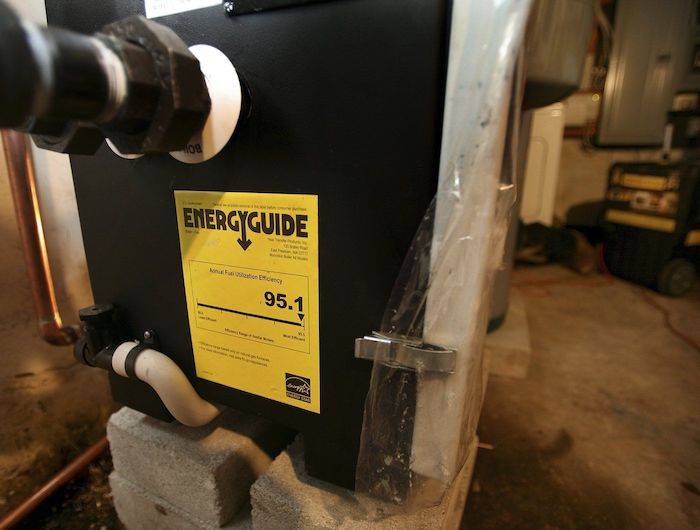 The energy guide of a Munchkin natural gas boiler, part of a super-efficient gas boiler, hot water and air conditioning unit, can be seen at a home in Ossining, N.Y. Friday, Aug. 8, 2008. Germany's government is facing a major test after two junior partners in Chancellor Olaf Scholz's three-party coalition sparred publicly over a key element in the country's ambitious climate policy. (AP Photo/Craig Ruttle, File)
BERLIN (AP) — Germany's government is facing a major test after two junior partners in Chancellor Olaf Scholz's three-party coalition sparred publicly over a key element in the country's ambitious climate policy.
Economy and Energy Minister Robert Habeck of the environmentalist Greens accused the libertarian Free Democratic Party of backtracking on agreements by refusing to let lawmakers debate a bill for replacing home heating systems with greener alternatives.
The bill was approved by Cabinet in March after months of intense haggling between the parties. A major stumbling block was the Green party's demand that the installation of new oil or gas furnaces should be banned from next year to ensure Germany can meet its target of reducing greenhouse gas emissions to net zero by 2045.
A compromise saw numerous exceptions and subsidies included in the bill, but the Free Democrats later said they still had misgivings, meaning it is unlikely to be taken up by parliament before the summer recess.
"In my view this is a breach of promise," Habeck told reporters in Berlin.
"If you enter into government and give your word, then you stand by your word," he added.
Populist newspapers have claimed that installing climate-friendly heat pumps will be hugely expensive and may not be feasible in older buildings, though such systems are widely used in neighboring countries. Experts counter that a failure to replace fossil fuel heatings will end up costing homeowners more as the price of oil and gas rise sharply in the coming decades because of emissions surcharges agreed at the European level.
Scholz has largely tried to sit out the spat between his two junior partners, but told members of his own center-left Social Democratic Party on Tuesday that Germany's transformation to a carbon-neutral economy can only succeed if politicians can convince voters that their fears are taken seriously and the changes will benefit them.