UPS strike looms in a world grown reliant on everything delivered everywhere all the time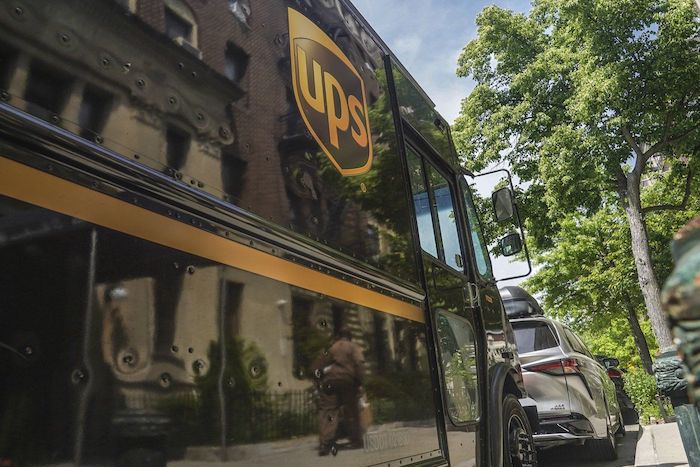 WASHINGTON (AP) — Living in New York City, working full time and without a car, Jessica Ray and her husband have come to rely on deliveries of food and just about everything else for their home. It has meant more free time on weekends with their young son, rather than standing in line for toilet paper or dragging heavy bags of dog food back to their apartment.
"I don't even know where to buy dog food," said Jessica Ray of the specialty food she buys for the family's aging dog.
There are millions of families like the Rays who have swapped store visits for doorstep deliveries in recent years, meaning that contentious labor negotiations now underway at UPS could become vastly more disruptive than the last time it happened in 1997, when a scrappy upstart called Amazon.com became a public company.
UPS delivers millions more packages every day than it did just five years ago and its 350,000 unionized workers, represented by the Teamsters, still seethe about a contract they feel was forced on them in 2018.
In an environment of energized labor movements and lingering resentment among UPS workers, the Teamsters are expected to dig in, with the potential to cow a major logistical force in the U.S.
The 24 million packages UPS ships on an average day amounts to about a quarter of all U.S. parcel volume, according to the global shipping and logistics firm Pitney Bowes, or as UPS puts it, the equivalent of about 6% of nation's gross domestic product.
Higher prices and long wait times are all but certain if there is an impasse.
"Something's got to give," said Thomas Goldsby, logistics chairman in the Supply Chain Management Department at the University of Tennessee. "The python can't swallow the alligator, and that's going to be felt by all of us."
In other words, brace yourself for Supply Chain Breakdown: The Sequel.
In the second half of 2021, the phrase "global supply chain" began to enter casual conversations as the world emerged from the COVID-19 pandemic. Businesses struggled to get what they needed, raising prices and wait times. Automakers held vehicles just off the assembly line because they didn't have all the parts.
Some of those problems still linger and a strike at UPS threatens to extend the suffering.
Those who have come to rely on doorstep deliveries for the basic may have to rethink weekly schedules.
"We finally reached a point where we finally feel pretty good about it," Ray said. "We can take a Saturday afternoon and do a fun family activity and not feel the burden of making everything work for the day-to-day functioning of our household."
UPS workers feel they have played a part in the transformation of how Americans shop since the last contract was ratified in 2018, while helping to make UPS a much more valuable company.
Annual profits at UPS in the past two years are close to three times what they were before the pandemic. The Atlanta company returned about $8.6 billion to shareholders in the form of dividends and stock buybacks in 2022, and forecasts another $8.4 billion for shareholders this year.
The Teamsters say frontline UPS workers deserve some of that windfall.
"Our members worked really hard over the pandemic," said Teamsters spokesperson Kara Deniz. "They need to see their fair share."
Union members rejected the contract they were offered in 2018, but it was pushed through by union leadership based on a technicality. The acrimony over the current contract was so fierce that last year workers rejected a candidate to lead the Teamsters favored by longtime union head James Hoffa, instead choosing the more combative Sean O'Brien.
O'Brien went on a nationwide tour of local Teamsters shops preparing frontline workers ahead of negotiations.
In addition to addressing part-time pay, and what workers say is excessive overtime, the union wants to eliminate a contract provision that created two separate hierarchies of workers with different pay scales, hours and benefits. Driver safety, particularly the lack of air conditioning in delivery trucks, is also in the mix.
A win at UPS could have implications for the organized labor outside the company.
Teamsters are attempting to organize Amazon workers and dozens of company delivery drivers and dispatchers in California joined the union last month. There are also prominent labor organization campaigns at Apple, Starbucks, Trader Joe's, Apple, even strippers at a dance club in Los Angeles.
"This has just huge implications for the entire labor movement in the United States," said John Logan, the director of labor and employment studies at San Francisco State University, referring to labor talks at UPS. "There's greater assertiveness and militancy on the part of a lot of young labor activists and some sectors of the labor establishment. Sean O'Brien is representative of that."
When dozens of UPS locals met with Teamsters leadership early this year, O'Brien delivered a message of urgency.
"We're going into these negotiations with a clear message to UPS that we're not going past August 1," O'Brien told the gathering.
It would be the first work stoppage since a walkout by 185,000 workers crippled the company a quarter century ago.
UPS CEO Carol Tomé has remained optimistic publicly, telling investors recently that the company and the Teamsters were not far apart on major issues.
"While we expect to hear a great deal of noise during the negotiation, I remain confident that a win-win-win contract is very achievable and that UPS and the Teamsters will reach agreement by the end of July," Tomé said.
If Tomé is wrong, Americans may need to put aside more time to shop like they used to do.
"It has the potential to be significantly impactful," Ray said. "My husband and I have invested a lot in figuring out how to remove the burden of just making sure we always have toilet paper."
Cost of living: Pepsi and Coca-Cola absent in meeting with federal industry minister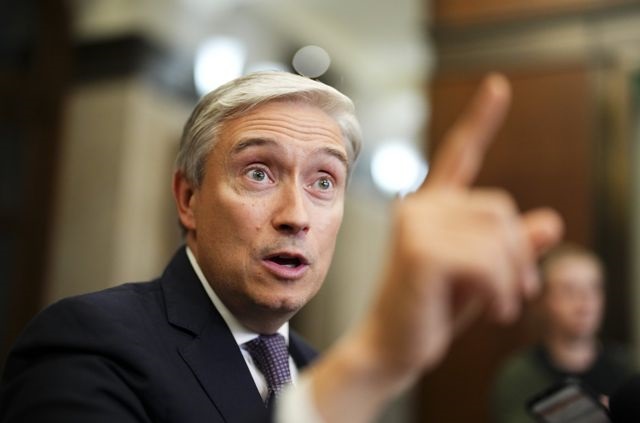 Innovation, Science and Industry Minister Francois-Philippe Champagne speaks to reporters in the foyer of the House of Commons on Parliament Hill in Ottawa on Tuesday, Sept. 19, 2023. Canada's industry minister made a point of calling out Pepsi and Coca-Cola for not sending representatives to a meeting he convened on Monday with manufacturing companies to discuss stabilizing grocery prices. THE CANADIAN PRESS/Sean Kilpatrick
Canada's industry minister made a point of calling out Pepsi and Coca-Cola for not sending representatives to a meeting he convened on Monday with manufacturing companies to discuss stabilizing grocery prices.
François-Philippe Champagne singled out the two companies when asked by a journalist what the consequences would be if major industry players did not succeed in stopping high inflation.
"This morning, (their CEOs) did not attend the meeting," Champagne said of beverage giants Pepsi and Coca-Cola.
"I intend to call on them and I will continue to do so. … I don't stop," he told reporters.
The Canadian leaders of seven international manufacturing companies, including Nestlé and Kraft Heinz, met with Champagne.
He summoned them to answer to Prime Minister Justin Trudeau's call earlier this month for Canadian grocers to come up with a plan to stabilize prices by Thanksgiving.
If major grocers fail to deliver ideas, Champagne said, "the consequence is for all 40 million Canadians because we will be able to see who is taking action and who is not."
A government source told The Canadian Press that the CEOs of Pepsi and Coca-Cola responded to the federal government summons by stating they were not available Monday. The source was granted anonymity because they were not allowed to speak publicly about the matter.
It's unclear, however, whether another meeting between major food companies and the government will take place.
Monday's meeting brought together top Canadian executives from McCain, Unilever, Nestlé, Lactalis, Lassonde, Kraft Heinz, and Smucker Foods.
All avoided speaking with journalists. The CEO of the Food, Health & Consumer Products of Canada association, Michael Graydon, attended the meeting and agreed to answer questions on their behalf.
Graydon called the meeting "very productive."
"We're very much about co-operation and support, collaboration," he said. "It's an industry that needs to align and work collectively to find a solution."
He said manufacturers want to collaborate with other players in the supply chain, such as major retailers like Loblaw and Costco, whose leaders Champagne met with one week earlier.
In a statement, Pepsi said it is open to meeting with Champagne.
"We are pleased that our industry association, FHCP, led a productive conversation with the government and representatives from industry today," it said.
"We were not able to attend today's meeting, but we offered to meet with the minister. We are committed to collaborating with the government to identify solutions during this challenging time for Canadians."
Trudeau has said that if the government isn't satisfied with what major grocers come up with to stabilize prices, he would intervene, including with tax measures.
Graydon said it remains to be seen how detailed the plans will be by the government's Thanksgiving deadline.
"We'll have to see whether, you know, the detail of how much completeness can be done by that time. But I think everybody's working very hard to achieve that," Graydon said.
Champagne said he is happy Graydon "wants to do something," because "it's a gain for Canadians."
"It's clear that what's important is that we have timelines, work plans, and obviously concrete actions," the minister said.
This report by The Canadian Press was first published Sept. 25, 2023.
Moneris confirms credit and debit card processing outage, but offers few details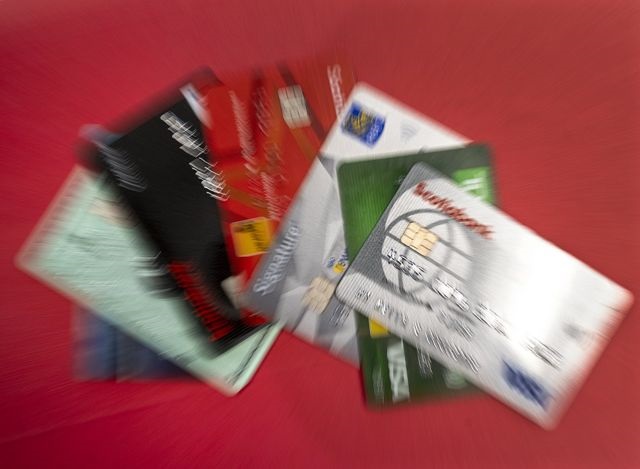 Toronto
The Canadian payment processing firm Moneris confirmed Saturday that credit and debit card transactions were interrupted by a network outage earlier in the day.
The Toronto-based technology company issued a statement saying there was nothing to suggest the outage was related to a cyber attack.
Complaints about outages started rolling in to the Downdetector.ca website before noon eastern time, but Moneris did not say when the outage started.
About three hours later, Moneris posted a message on X — the social media site formerly known as Twitter — saying it had resolved the network problem.
It remains unclear how many businesses and transactions were affected, but data provided by Downdetector.ca indicated complaints had come in from across the country.
In a statement provided to The Canadian Press, the company said the outage lasted about 90 minutes.
"We have resolved the network outage and returned transaction processing to normal," the statement said. "We continue to investigate the root cause of the issue. There are no indications this appears to be cyber-attack related and all transaction systems are functioning normally again."
The company, a joint venture between Royal Bank and BMO Bank of Montreal, said transaction processing could be slow as its systems catch up with the backlog.
Moneris says it supports more than 325,000 merchant locations across Canada.
This report by The Canadian Press was first published Sept. 23, 2024.