Unwelcome spotlight falls on NHL team Pride night events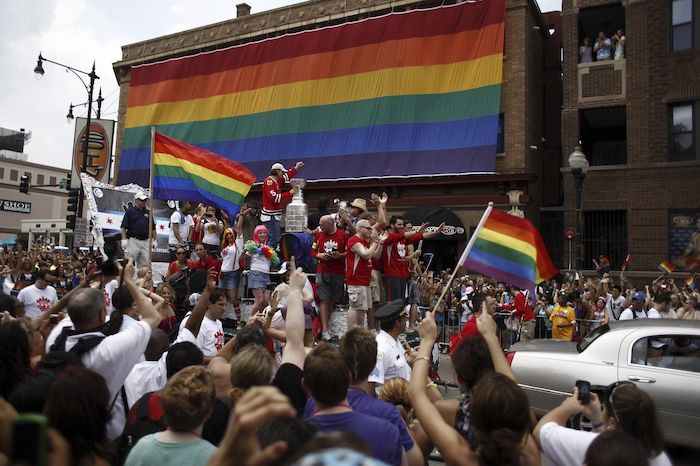 The Stanley Cup makes an appearance during the Gay Pride Parade in Chicago, Sunday June 27, 2010. At least one National Hockey League team with a Russian player on its roster has decided against wearing special warmup jerseys to commemorate Pride Night because of a Russian law that expands restrictions on activities seen as promoting LGBTQ rights. (AP Photo/Chicago Tribune, William DeShazer, File)
By Stephen Whyno
Pride nights, held annually for several years by National Hockey League teams to show support for the LGBTQ+ community, are in the spotlight following several high-profile incidents this season.
A handful of players have objected to participating in pregame warmups that included Pride-themed jerseys, most recently Florida's Eric and Marc Staal on Thursday night. On Wednesday, the Chicago Blackhawks decided against having players wear Pride-themed warmup jerseys for their upcoming Pride night, citing an anti-gay law in Russia.
WHAT ARE THE OBJECTIONS?
The Staal brothers and San Jose's James Reimer — who are Canadian — and Philadelphia's Ivan Provorov, who is Russian, all pointed to their religious beliefs for refusing to take part in warmups.
"We carry no judgement on how people choose to live their lives, and believe that all people should be welcome in all aspects of the game of hockey," Eric and Marc Staal said in a statement. "Having said that, we feel that by us wearing a Pride jersey, it goes against our Christian beliefs."
The Blackhawks said they acted out of concern that the safety of their Russian player and two others with connections to Russia could be jeopardized by the law when they return home because it expands restrictions on supporting LGBTQ+ rights.
Chicago coach Luke Richardson said he and his players were disappointed.
"It's an unfortunate situation," Richardson said. "I don't think we can control the world issues, so that takes it out of our hands."
The New York Rangers and Minnesota Wild decided not wear Pride-themed jerseys during warmups after advertising that they would. While each team has at least one star Russian player on its roster, neither specified the reason for the change.
IS THIS RELATED TO RUSSIA'S WAR IN UKRAINE?
Somewhat. Russia's invasion of Ukraine and the anti-gay law signed by President Vladimir Putin in December have combined to pose some problems for the NHL and its 32 teams.
No North American professional sports league has as many Russian players as the NHL. The Russian contingent includes some of the league's best athletes.
There are currently 45 Russia-born players spread across 28 teams, or about 6.4% of all players. They include No. 2 career goal-scorer Alex Ovechkin of the Washington Capitals, Tampa Bay's two-time Stanley Cup-winning goaltender Andrei Vasilevskiy, Lightning teammate and 2019 MVP Nikita Kucherov and reigning Vezina Trophy winner Igor Shesterkin of the New York Rangers.
The top five highest-earning Russian players receive an average annual salary of $11.1 million this season.
Russian players almost never discuss the war, in part out of concern for the safety of their loved ones at home. It was not clear if there was any credible threat behind the Blackhawks' decision.
WHAT'S THE NHL'S HISTORY WITH PRIDE?
The Stanley Cup first appeared at a Pride parade in 2010 when then-Blackhawks defenseman Brent Sopel brought it to the celebration in Chicago. A few years later, in 2013, the league partnered with the You Can Play Project, which advocates for LGBTQ+ participation in sports. The NHL added team Pride ambassadors in 2016-17.
Rainbow Pride stick tape debuted with the Edmonton Oilers in 2016. Now all 32 teams hold a Pride night, though many do so without themed jerseys. The Boston Bruins and Columbus Blue Jackets call theirs "Hockey Is For Everyone" night.
Pride nights, like other themed events, are planned and staged by individual teams, not the NHL.
WHAT HAS BEEN THE REACTION?
The You Can Play Project responded to Reimer's decision by saying it was disappointed.
"Religion and respect are not in conflict with each other, and we are certainly disappointed when religion is used as a reason to not support our community," the organization said.
Nashville Predators prospect Luke Prokop, who in 2021 made history as the first player signed to an NHL contract to come out as gay, called the Pride night incidents a "step back" for hockey.
WHAT DID LEAGUE OFFICIALS SAY?
NHL Commissioner Gary Bettman said defending teams' handling of the situation, saying the boycotts were not about accepting bigotry.
"Whether or not you choose to embrace and make a statement on behalf of a cause affirmatively, if you choose not to do that, it doesn't necessarily make you a bigot," Bettman said last month. "I'm sure you don't endorse every single charity that solicits you, and you don't participate in every social cause. You pick and choose the ones that are important to you."
The league declined to comment on the Blackhawks' decision.
WHAT'S NEXT?
Teams with Pride nights coming up have some decisions to make. The Buffalo Sabres are set to host their event on Monday, and the Vancouver Canucks on March 31. Each team has at least one Russian player.
It was not clear if players would wear Pride jerseys in warmups, as the teams have done in the past.
___
AP NHL: https://apnews.com/hub/nhl and https://twitter.com/AP_Sports
Thunderbirds cruise past Blazers 6-1 to punch ticket to Memorial Cup semifinal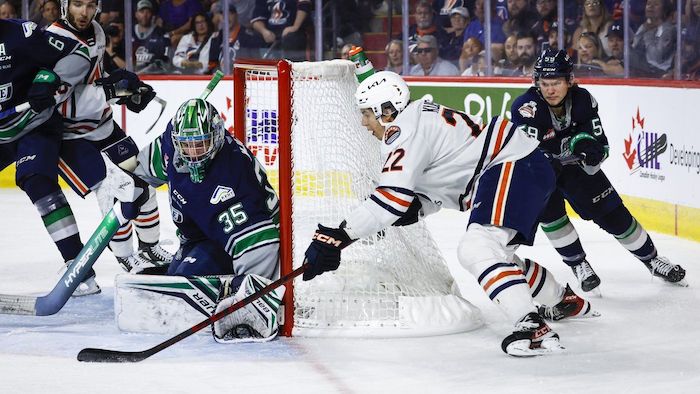 Seattle Thunderbirds goalie Thomas Milic, left, blocks a shot from Kamloops Blazers forward Daylan Kuefler during first period Memorial Cup hockey action in Kamloops, Wednesday, May 31, 2023.THE CANADIAN PRESS/Jeff McIntosh
By Abdulhamid Ibrahim in Kamloops
The Seattle Thunderbirds' best performance at the Memorial Cup pleased head coach Matt O'Dette, although it didn't show in his stoic look.
Kyle Crnkovic and Jared Davidson each had a goal and two assists for the Thunderbirds in Wednesday's 6-1 win over the Kamloops Blazers to reach the tournament semifinal.
Seattle will next play Friday against the winner between Kamloops and the Ontario Hockey League champion Peterborough Petes in Thursday's tiebreaker.
"It's up there," O'Dette said when asked where the complete performance ranks in recent memory. "That's more to the identity and the team that we can be.
"That's clearly our best game of the tournament, so we're happy with that. Moving forward, we need to duplicate that type of effort."
Lucas Ciona, Jordan Gustafson, Luke Prokop and Colton Dach also scored for the Western Hockey League champion T-Birds. Seattle starter Thomas Milic made 30 saves for the win.
"They're a great team . . . I think we played our style of game and it's very hard for teams to compete with us when we do that," Prokop said. "We played a very well-rounded game. It's just difficult for teams to keep up with that."
The preparation for Friday's semifinal has already begun, according to O'Dette. He wasn't concerned about his team getting overconfident.
"It's a matter of staying even-keeled," he said. "We've been that team over the course of the playoffs. When we got a big win we've put it aside and got ready for the next game.
"We have a veteran team, been in some pretty big situations, so we've got the experience not to get too high. In this tournament all the teams are excellent and the next challenge is coming our way on Friday."
Ryan Hofer scored the lone goal for the host Blazers with Dylan Ernst stopping 36 shots.
"It wasn't our best game. I thought that we looked nervous, struggled completing passes," said Kamloops head coach Shaun Clouston. "Hof scored a big goal so we're 1-1, which is a real positive.
"A couple breakdowns, just the turnover in the back of our end, some real glaring ones. I think, again, some guys gotta find a little more confidence against that team."
Peterborough — after opening the tournament with two straight losses — staved off elimination with Tuesday's 4-2 win over the Quebec Remparts.
The Remparts (2-1) have a bye to Sunday's final after beating both Seattle and Kamloops.
Ciona opened the scoring for the Thunderbirds 4:02 into the first period.
The captain sent a lead pass to a streaking Davidson, who fired a backhand shot that was stopped, but not controlled, by Ernst. After a scramble in front, Ciona sniped the puck home for his second of the tournament.
A costly Seattle mistake led to Kamloops drawing even at 10:50.
Kevin Korchinski turned the puck over to Daylan Kuefler as he looked to leave his own zone. Kuefler quickly dished it to Hofer, who wired the puck past Milic from the right faceoff circle.
But Davidson put the Thunderbirds ahead with a power-play marker at 6:39 of the second period.
The Blazers defence had a lapse when Dylan Guenther found Davidson open with an up-ice stretch pass. Davidson drove in and fired the puck past Ernst from the left faceoff circle.
Just eight seconds later, the Thunderbirds capitalized on another Blazers' gaffe.
Kamloops defenceman Aapo Sarell turned the puck over behind the net to Crnkovic, who fed Gustafson in front of the net to beat Ernst for a 3-1 lead.
Seattle outshot the Blazers 29-19 through two heated periods with numerous skirmishes between the WHL foes.
Crnkovic padded the Thunderbirds' lead at 5:33 of the third period. He scored his team-leading fourth goal of the tournament with a point shot that beat Ernst glove side.
Prokop made it 5-1 just over a minute later. He scored from the slot on a pass Brad Lambert intended for Guenther.
Dach scored with 5:32 remaining in the game when he took a pass from Reid Schaefer from the right faceoff circle, brought the puck around Ernst and tucked it in.
HAVE WE MET?
The Thunderbirds and Blazers split their four-game regular-season series and finished first and second in the Western Conference standings. The two met in the Western Conference championship series, with Seattle prevailing 4-2 in the best-of-seven matchup.
The Thunderbirds also ousted Kamloops in the 2022 conference final in seven games.
"It's been a great little rivalry developed over the last couple of years," O'Dette said after practice Wednesday. "They're a great team, you know, I think they don't get enough respect."
This report by The Canadian Press was first published May 31, 2023.
Thunderbirds look to lean on big-game experience in run for first Memorial Cup title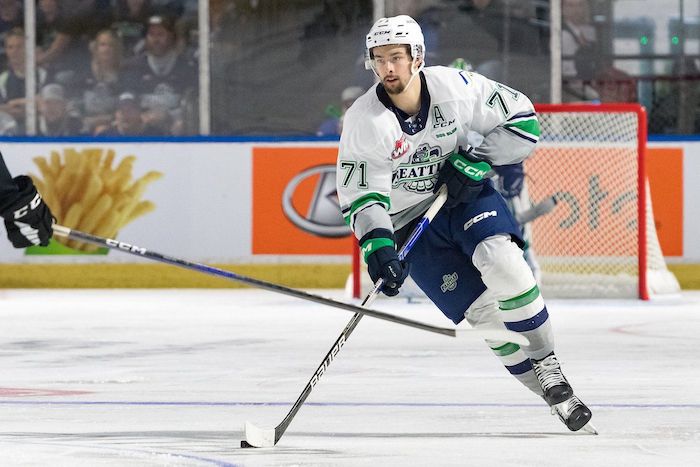 Dylan Guenther of the Seattle Thunderbirds is shown in a handout photo. Guenther is among five players on the Thunderbirds squad who led Canada to a world junior championship gold medal back in January
By Abdulhamid Ibrahim in Kamloops
The Seattle Thunderbirds are looking to continue using the big-game experience they possess to their advantage at the Memorial Cup.
Dylan Guenther is among six players on the Thunderbirds squad who led Canada to a world junior championship gold medal back in January — where Guenther had a two-goal outing, including the overtime winner in the final. Defencemen Nolan Allan and Kevin Korchinski, goaltender Thomas Milic and forwards Reid Schaefer and Colton Dach were the others.
Allan, Guenther and Dach were in-season trade pickups for Western Hockey League champion Seattle, which is taking aim at its first Memorial Cup title in its third tournament appearance.
"It's really important, I think it's the reason why we're here," said head coach Matt O'Dette. "It helps to have the big-game experience.
"We have guys who played world juniors, we've got guys who played gold-medal games in that tournament, which is obviously bright lights. We're going to use those experiences … for the remainder of the tournament, so we've got those guys to lean on."
Guenther started the year with the NHL's Arizona Coyotes, who drafted him ninth overall in 2021. The six-foot-two, 175-pound right-winger had six goals and nine assists in 33 games for Arizona and was loaned to Canada for the world juniors in December.
He had seven goals and three assists in seven contests, including his headlining performance against Czechia in the gold-medal final. After a short return to the Coyotes, he was re-assigned to Seattle in February, which had acquired his rights from the Edmonton Oil Kings the month prior.
Guenther had 29 points (13 goals, 16 assists) in 20 regular-season games before adding 28 more, including a WHL- and then-CHL-high 16 goals in 19 post-season games leading into the Memorial Cup. He has yet to find the scoresheet in two games since.
"It's been pretty good," Guenther said of his season to date. "I think, obviously, this is the time where you want to peak."
"I think just trusting yourself and your abilities," he added about the space he has to be in for big moments. "Played hockey for a long time, worked really hard to get here, so just trusting myself and trusting my teammates."
The Thunderbirds earned a berth in Friday's semifinal with a 6-1 win over the Kamloops Blazers on Wednesday.
Seattle's next opponent is the winner of Thursday's tiebreaker between the host Blazers and Ontario Hockey League's Peterborough Petes.
Allan, a 2021 first-round draft pick of the Chicago Blackhawks, was part of a package deal between Seattle and the Prince Albert Raiders in November.
He had 10 points (two goals, eight assists) in the WHL playoffs and has two goals through two games at the Memorial Cup. He has played a key role on the Thunderbirds' blue line trying to stifle opponents' top lines.
The world junior experience is one Allan says has helped both individually and collectively.
"Any time you win a championship or something special like that, you create a bond with one another. (It) made us a little bit tighter of a group.
"Especially me, I had only known a couple of the guys here for like two weeks before I went there, so I think that was a big part of … getting to know them a bit better."
"Having a lot of us with that experience, it's big going into our playoff run," he added. "Coming here to this tournament, knowing how to handle the pressure and what the games are going to be like (and) to be able to share that with our other teammates, who may not have had that much experience."
Guenther views the shared experience of being in-season additions and time at the world juniors as a positive for the team.
"I think it's good," he said. "Obviously world juniors is really hard to mimic, so when you have guys who have played there and who want to continue to get better every day, I think it develops the rest of the team.
"The players within the team get better, which contributes to team success. I think just the drivers that we have, it starts in practice, that has allowed us to have success over the course of the season."
This report by The Canadian Press was first published May 31, 2023.