'Unthinkable and horrific:' 2 Edmonton officers fatally shot, source says suspect 16
Police investigate after two officers were shot and killed on duty in Edmonton on Thursday, March 16, 2023. THE CANADIAN PRESS/Jason Franson
By Angela Amato in Edmonton
Officers embraced each other and wiped away tears Thursday as Edmonton's police chief relayed details of how two constables were shot and killed at an apartment complex while responding to a domestic violence call.
"Today, the Edmonton Police Service has been marked by an unthinkable and horrific tragedy as two of our members have died in the line of duty," Chief Dale McFee told a packed and solemn news conference at police headquarters.
He spoke in an atrium packed with more than 100 officers and police staff. Members held and patted each other.
A young man considered a suspect died from a self-inflicted gunshot wound, McFee said.
A police source later said the suspect was 16 and that he also shot and wounded his mother.
McFee identified the officers who died as Const. Travis Jordan, 35, an 8 1/2-year veteran with the Edmonton force, and Const. Brett Ryan, 30, who had been with the service for 5 1/2 years.
McFee said the officers were called shortly before 1 a.m. to a family dispute at an apartment building in northwest Edmonton, part of a large red-brick complex of three-storey walk-ups.
They went inside the building, approached the suite and were shot, he said.
"All indications are they did not have a chance to discharge their firearms."
The officers were rushed to hospital by colleagues who worked to keep them alive, said McFee. They were declared dead at hospital.
He said a woman related to the suspect was taken with life-threatening injuries to hospital, where she remained in serious but stable condition.
McFee said supports are being offered to the officers' families and colleagues.
Edmonton Mayor Amarjeet Sohi said officers' families send their loved ones to work every day and hope they'll return home safely.
"This did not happen today for Ryan's and Jordan's families," he said.
"When you see an officer working to keep you safe, please thank them for their service."
About a dozen police cars and a forensics truck were parked near the apartment complex. The scene was taped off and a road leading into the area was also blocked.
Linda Fjelsted, who lives in the adjacent apartment block, said she was awakened by the early-morning commotion and saw police running in every direction.
"We saw somebody being hauled out (and) somebody in an ambulance. I heard the yelling and the talking and the police telling people to get back (in) their apartments. The police were very, very upset," she said.
"I felt like I was watching something on TV."
Fjelsted said the complex is a mostly quiet place where the lawns are kept trim and the flower beds tended and is filled with families from different cultures.
"I like it here."
Some people shared their memories of the officers. In his spare time, Ryan was a minor hockey official.
"Brett Ryan was a pillar within our community and will be missed by all who knew him," said a social media post from the Spruce Grove Minor Hockey Association. "We take this time to honour his life and the contributions he has made to the Edmonton community and beyond."
Ryan's friend Darcy Carter said Ryan was a paramedic before he became a police officer, adding he was passionate about his work and his duty to serve the community.
"That's something that I'll never forget … just his face lighting up when he talked about his job," Carter said.
Carter said Ryan was also about to become a father for the first time, as his wife is expecting.
Jordan was remembered as kind.
In 2020, Jessica Shmigelsky was driving to work after a heavy spring snowfall. Her snowbrush had broken and Jordan pulled her over because she had too much snow on her vehicle.
Instead of giving her a ticket, he brushed off her car.
"He did his job and he did more than what his job really entailed," said Shmigelsky
She still has the snowbrush Jordan gave her.
Police officers lined the street near the medical examiner's office as an escort carrying the bodies arrived, saluting their fallen comrades. Flowers were also placed outside the west division police station, where the slain officers worked and where flags flew at half-mast.
Flags were also at half-mast at the Alberta legislature. A moment of silence was observed before question period.
"The province mourns the loss of these two heroes," said Public Safety Minister Mike Ellis on behalf of the United Conservative Party government.
"The sudden and tragic deaths of these officers remind us again of the dangers police officers constantly face when they serve the people of Alberta."
New Democrat Opposition Leader Rachel Notley urged all members to work to create more safe, secure communities.
"We owe it the memory of Const. Jordan and Const. Ryan to come together to find solutions," she said. "We owe it to all first responders, their families, and all Albertans to do everything we can to keep officers safe as they set out each day to do the same for us."
Premier Danielle Smith was in her riding in southern Alberta.
Thursday's killings are the first among the Edmonton force since 2015.
Const. Daniel Woodall, a hate crimes investigator, was using a battering ram to enter a home when he was shot numerous times through a door. Another officer was struck by a round that penetrated his body armour and he survived.
In 1990, Const. Ezio Faraone was shot and killed responding to an armed robbery.
This report by The Canadian Press was first published March 16, 2023.
— With files from Ritika Dubey, Jeremy Simes and Bob Weber in Edmonton, Kelly Geraldine Malone in Saskatoon and Emily Blake in Yellowknife
United Conservatives jump out to early lead in tight Alberta election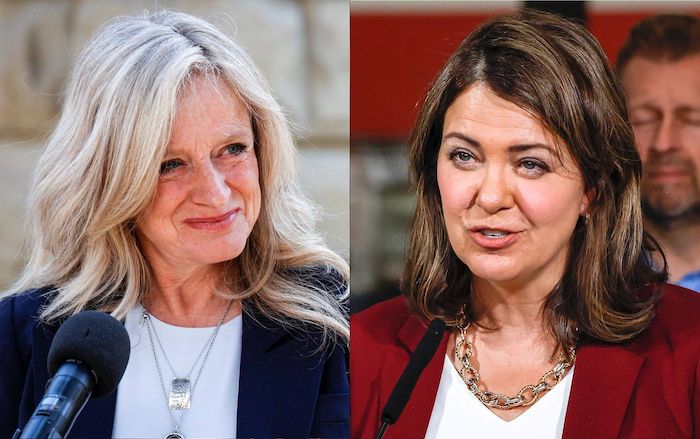 By Dean Bennett
Alberta's United Conservative Party jumped out to a lead over the NDP in early returns Monday in what was forecast to be a tight race in the provincial election.
Danielle Smith's UCP was holding strong in its traditional rural strongholds while Rachel Notley's NDP was faring well in Edmonton, where it won all but one seat in 2019.
Early results were still mixed in the key battleground of Calgary.
The UCP is seeking a second mandate while the NDP is fighting to regain the majority government it lost to the UCP in 2019.
Polling have suggested a close contest between the two parties, with support for smaller parties falling off.
Advance polls set a record of 758,540 votes cast, eclipsing the previous record of more than 700,000 in 2019.
The campaign has taken place alongside a record-breaking spring for wildfires in Alberta. Ten communities were under evacuation orders Monday.
Elections Alberta set up alternate voting locations for those displaced. Evacuation was added as an eligible reason to vote by special ballot and mobile voting stations were placed in evacuation centres.
Calgary has been seen as the campaign's battleground and half of the top 10 advance polling stations were in that city. Two were in Edmonton suburbs.
To win, the NDP would have to continue its dominance in Edmonton, flip the majority in Calgary and hope for some help in smaller cities, while defeating scores of UCP incumbents including cabinet ministers.
The NDP needs to swing 20 seats in the 87-seat legislature.
The UCP won 63 seats under then-leader Jason Kenney in 2019 to 24 for Notley's NDP.
Polls suggest the UCP should continue its near total domination in rural areas and smaller centres, giving it a cushion of up to 40 or so seats to reach the 44 needed to form a majority government.
The month-long campaign has been dominated by the economy and health care.
Albertans are struggling with high costs for consumer goods, a shortage of family doctors and long waits in emergency rooms.
Smith has promised to keep Alberta the lowest-tax regime in Canada.
Her government, she says, would introduce a law to mandate a referendum before any personal or corporate income tax hikes. There would also be tax changes to benefit those making more than $60,000 a year, at a cost of $1 billion annually to the treasury.
The NDP promised to maintain Alberta's status as Canada's lowest tax regime. It pledged to end the tax on small businesses and raise the corporate income tax to 11 per cent from eight per cent, which it says would help pay for investments in health and education while keeping the books balanced and maintaining the lowest corporate rate in Canada.
The NDP also promised legislation to counteract UCP policies that hiked the cost of utilities, auto insurance, a range of fees and tuition.
Both leaders promised to preserve the publicly funded health system while creating more primary care teams — physicians accompanied by related specialists such as nurses and therapists — so more Albertans are able to access a family doctor and not clog emergency wards for care.
Polls showed trust was a key issue, with Notley viewed more favourably than her party and vice versa for Smith.
Smith was dogged during the campaign by past comments she made comparing those who took the COVID-19 vaccine to credulous followers of Adolf Hitler. A report also came out mid-campaign from the province's ethics commissioner that concluded Smith undermined the rule of law by pressuring her justice minister to end the criminal court case of a COVID-19 protester.
This report by The Canadian Press was first published May 29, 2023.
Police looking for these 3 suspects after Super 8 Motel in Innisfail robbed early Monday morning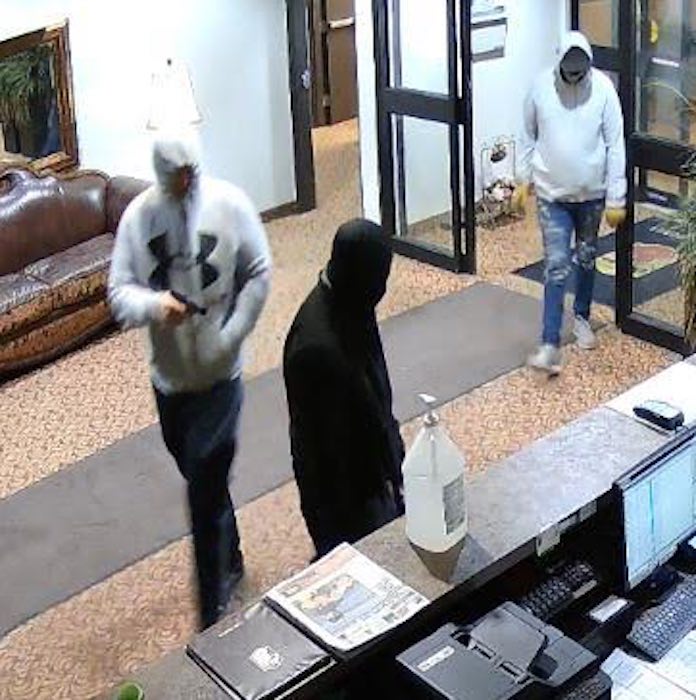 Innisfail RCMP investigate robbery
Innisfail Ala. – On May 29, 2023, at approximately 4:10 a.m., the Super 8 motel in Innisfail was the victim of an armed robbery. Three male suspects entered the hotel, two of which had firearms. Money was demanded from the manager. All three left the motel in a vehicle which is described as:
Chevrolet Dura Max truck
Sliver
Lifted
The suspects are described as:
Suspect #1: Caucasian male, tall and muscular. Wearing jeans and a grey Under Armour hoody. He was carrying a pistol.
Suspect #2: Caucasian male, short. Wearing all black. He was carrying a sawed off shotgun
Suspect #3: Caucasian male tall with a chubby belly. He was wearing a grey hoody, jeans and a black ball hat.
If you have information about this incident, please call the Innisfail RCMP at 403-227-3341 or call your local police. If you want to remain anonymous, you can contact Crime Stoppers by phone at 1-800-222-8477 (TIPS), by internet atwww.tipsubmit.com, or by SMS (check your local Crime Stoppers www.crimestoppers.ab.ca for instructions).