UN chief's call for ambition on climate gets muted response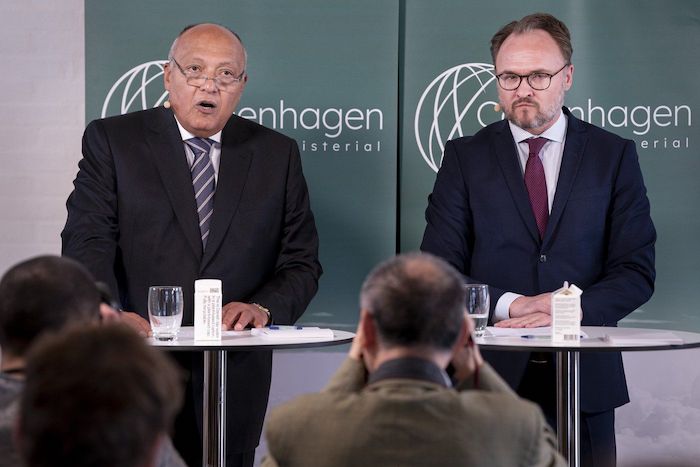 Egyptian foreign minister Sameh Shoukry, left, and Denmark's climate minister, Dan Joergensen speak during a press conference at the Copenhagen Climate Ministerial, in Copenhagen, Tuesday, March 21, 2023. Senior government officials gathered for a climate meeting in Copenhagen gave a muted response Tuesday to calls from the head of the United Nations for countries to show greater ambition when it comes to reducing greenhouse gas emissions. (Liselotte Sabroe/Ritzau Scanpix via AP)
By Frank Jordans in Berlin
BERLIN (AP) — Senior government officials at a climate meeting in Copenhagen gave a muted response Tuesday to calls from the head of the United Nations for countries to show greater ambition when it comes to reducing greenhouse gas emissions.
U.N. Secretary-General António Guterres urged rich countries Monday to bring forward their target for achieving net zero emissions as close as possible to 2040, and for emerging economies to aim for a date as close as possible to 2050. This would be a significant shifting of the goal posts: the United States and the European Union are currently aiming for net zero by 2050, while China is targeting 2060 and India has set a deadline of 2070.
Guterres' call came in a video message responding to a new report by the U.N.'s top climate science panel which found that the world is still far off track if it wants to cap global warming at 1.5 degrees Celsius (2.7 Fahrenheit) compared to pre-industrial times, as agreed in the 2015 Paris accord. He did not attend the Copenhagen meeting.
Speaking at the end of a two-day meeting in the Danish capital of senior officials from dozens of countries, Egypt's foreign minister said there was no "specific answer to the aspirational goals" set out by Guterres.
"These goals will be, I'm sure, addressed within the national context and within the national abilities," said Sameh Shoukry, who chaired last year's U.N. climate talks in his country.
Shoukry said Egypt would have to rely on the transfer of technology "from our friends and partners" to wean itself off fossil fuels and ramp up the use of renewable energy. The country has already benefited from a number of deals and investments to green its economy in recent years.
Denmark's climate minister, Dan Jørgensen, said his country recently brought forward its net zero target to 2045, and aims to capture more carbon than it emits by 2050. That puts Denmark far ahead of most advanced economies, though its neighbor Germany is also targeting net zero by 2045 and Finland has said it wants to achieve that goal by 2035.
The meeting in Copenhagen is one of several taking place before the U.N. climate talks in the United Arab Emirates at the end of the year.
Asked whether that summit could again see negotiations on a global pledge to phase down all fossil fuels, Jørgensen said he had "no doubt" that it will be discussed.
"Whether or not we will reach that result in Dubai later this year is of course difficult to say," he said. "But I think we can say for sure that it will be a part of the conversation."
Other important topics to resolve over the coming months concern how to increase funding for poor nations — including those already suffering the effects of global warming — and taking stock of what's been achieved internationally so far since the 2015 Paris climate accord was sealed.
Total Canadian debt hit new record in first quarter: TransUnion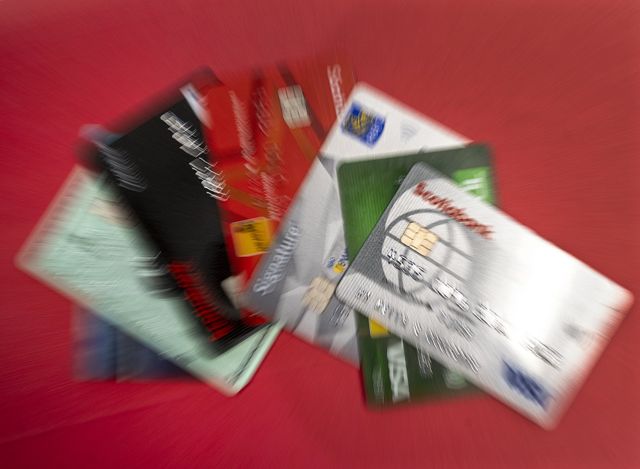 Canadians' combined outstanding debt hit a new record in the first quarter, reaching $2.32 trillion, TransUnion said Wednesday.
As the cost of living rose with high inflation and interest rate hikes, many Canadians turned to credit to alleviate financial pressures, the credit reporting agency said in its latest industry insights report.
The number of Canadians with access to credit grew 2.9 per cent year over year, led by subprime consumers, which grew by 8.3 per cent, TransUnion said.
However, the agency said consumers considered prime or higher still make up almost three-quarters of total consumers with a balance, characterizing that as a "relatively healthy risk distribution."
Credit card originations were up 20 per cent amid heavy competition in the market, while the average line of credit monthly payment increased by 43 per cent to $436.
Mortgage origination dropped 32 per cent year over year as higher interest rates slowed demand for new mortgages, especially in the refinance market.
Meanwhile, serious consumer delinquency increased, though TransUnion noted that overall delinquency levels remain below pre-pandemic levels.
"The financial position of Canadian credit consumers improved coming out of the pandemic, bolstered by higher savings accumulated through the pandemic and supported by a strong labour market," said TransUnion director of research and industry insights Matthew Fabian in the report.
"However, the longer the current conditions of elevated inflation and higher interest rates persist, the more likely it is that a segment of more vulnerable consumers may increasingly feel the pinch," he said.
"As available disposable incomes become more stretched, we expect a segment of consumers will be more likely to miss payments, and as a result, that delinquency rates will rise."
Average consumer balances on most credit products rose, with the average credit card balance up 11.4 per cent to $3,909, and the average mortgage balance up 7.1 per cent to $349,178.
TransUnion expects credit trends for 2023 to be mixed due to the uneven impact of higher inflation and interest rates.
This report by The Canadian Press was first published May 31, 2023.
Canada saw decline in fresh fruit, vegetable availability in 2022: StatCan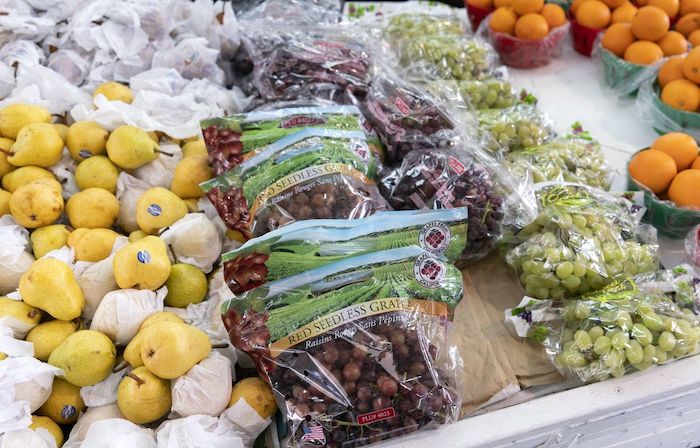 Statistics Canada says fewer fresh fruits and vegetables were available to Canadians in 2022, due to factors such as ongoing supply chain issues, labour shortages and price increases. Assorted fruit is shown at a market in Montreal on Thursday, June 13, 2019. THE CANADIAN PRESS/Paul Chiasson
Statistics Canada says fewer fresh fruits and vegetables were available to Canadians in 2022, due to factors such as ongoing supply chain issues, labour shortages and price increases.
StatCan says the amount of available fresh fruit declined by more than five per cent in 2022 from the previous year, to 72.9 kilograms per person.
Even though there was a 12.7 per cent increase in domestic fruit production, it was not enough to keep up with an increase in exports and a decrease in imports, the agency says in a report released today.
The availability of fresh vegetables — excluding potatoes — was 64.7 kilograms per person in 2022, a decrease of nearly six per cent from 2021.
Just like with fruits, Canada's vegetable production increases in 2022 were not enough to keep up with a rise in exports and a drop in imports, StatCan says.
The agency says some Canadian food industry sectors experienced record production in 2022, but also exported more food internationally than the previous year.
It says the entire industry was affected by pandemic-related supply chain issues, such as shipping delays and shortages of labour and products.
StatCan also cites price increases as one of the factors. Extreme weather, the war in Ukraine and energy costs severely impacted global food prices last year.
Food inflation was stubbornly high in Canada in 2022, outpacing overall inflation. Grocery prices were up 9.8 per cent in 2022 compared with 2021, the fastest pace since 1981.
StatCan's latest report says the amount of milk available to Canadians also decreased by nearly four per cent in 2022, compared to the previous year.
StatCan says that was mainly caused by a drop in production of one per cent milk and two per cent milk.
In contrast, red meat availability increased by 4.3 per cent in 2022, led by beef as cattle slaughter increased from the previous year. The amount of poultry available to Canadians increased by 1.5 per cent.
This report by The Canadian Press was first published May 31, 2023.