UAE says it intercepted 2 ballistic missiles over Abu Dhabi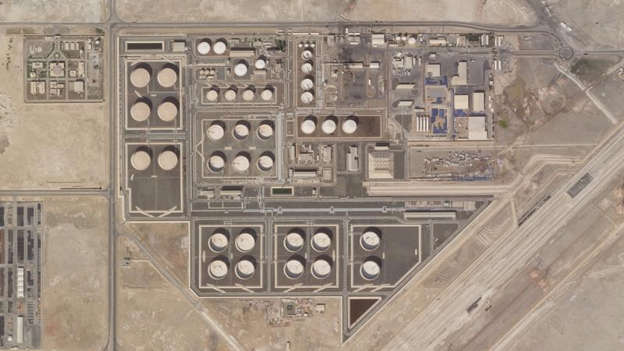 DUBAI, United Arab Emirates (AP) — The United Arab Emirates intercepted two ballistic missiles fired by Yemen's Houthi rebels over the skies of Abu Dhabi early Monday, authorities said, the second attack in a week that targeted the Emirati capital.
The missile fire further escalates tensions across the Persian Gulf, which previously had seen a series of assaults near — but never indisputably on — Emirati soil. It comes during Yemen's yearslong war and the collapse of Iran's nuclear deal with world powers. American troops at Al-Dhafra Air Base in the capital took shelter in bunkers during the attack.
The attacks threaten the business-friendly, tourism-focused efforts of the Emirates, a federation of seven sheikhdoms on the Arabian Peninsula also home to Dubai. For years, the country has marketed itself as a safe corner of an otherwise-dangerous neighborhood.
Videos on social media showed the sky over Abu Dhabi light up before dawn Monday, with what appeared to be interceptor missiles racing into the clouds to target the incoming fire. Two explosions later thundered through the city. The videos corresponded to known features of Abu Dhabi.
The state-run WAM news agency said that missile fragments fell harmlessly over Abu Dhabi.
The Emirates is "ready to deal with any threats and … it takes all necessary measures to protect the state from all attacks," WAM quoted the UAE Defense Ministry as saying.
The missile fire disrupted traffic into Abu Dhabi International Airport, home to the long-haul carrier Etihad, for about an hour after the attack.
Houthi military spokesman Yehia Sarei claimed the attack in a televised statement, saying the rebels targeted several sites in the UAE with both Zulfiqar ballistic missiles and drones, including Al-Dhafra Air Base. He warned the UAE would continue to be a target "as long as attacks on the Yemeni people continue."
"We warn foreign companies and investors to leave the Emirates!" Sarei shouted from a podium. "This has become an unsafe country!"
The Dubai Financial Market closed down nearly 2% after the attack, with nearly every company trading down. The Abu Dhabi Securities Exchange also fell slightly.
At Al-Dhafra, which hosts both American and British forces, U.S. troops took shelter in bunkers during the attack, the U.S. Air Force's Mideast command said. Al-Dhafra is home to the 380th Air Expeditionary Wing and has seen armed drones and F-35 stealth fighters stationed there.
"U.S. military forces successfully reacted to multiple inbound threats during an attack near Abu Dhabi," the Air Force said, without elaborating. Videos on social media suggested outgoing interceptor fire came from the base.
The U.S. Embassy in Abu Dhabi later issued a security alert to Americans living in the UAE, warning citizens to "maintain a high level of security awareness." The alert included instructions on how to cope with missile attacks, something unheard of previously in the UAE, a tourist destination home to skyscraper-studded Dubai and its long-haul carrier Emirates.
"If these types of attacks end up occurring on a weekly basis as they do in the Saudi Arabia … that will shift the perception of the threat landscape in the UAE," said Torbjorn Soltvedt, an analyst with risk consultancy Verisk Maplecroft. "The concern is now the contagion is going to be broader if we start to see attacks against civilian infrastructure."
The Emirati Defense Ministry later tweeted out a black-and-white video that it said showed an F-16 striking the ballistic missile launcher used in the Abu Dhabi attack. The Defense Ministry identified the site as being near al-Jawaf, a Yemeni province around 1,400 kilometers (870 miles) southwest of Abu Dhabi.
The state-linked newspaper The National in Abu Dhabi identified the F-16 as Emirati, raising the question of how directly involved the UAE now is in the fighting after withdrawing most of its ground forces in 2019. The Emiratis continue to back militias on the ground, including the Giants Brigade, which has made advances against the Houthis in recent weeks.
The Zulfiqar ballistic missile, believed to have a range of 1,500 kilometers (930 miles), is modeled after the Iranian Qiam missile, according to a report by the International Institute for Strategic Studies. Iran denies directly arming the Houthis, though United Nations experts, Western nations and analysts have linked weapons in the rebels' arsenal back to Tehran.
"It's got the classic elements of the coercive strategy," said Tim Wright, a research analyst at IISS. "In this case, it's to make them back down on their support" of the Giants Brigade.
The attack came a week after Yemen's Houthi rebels claimed an attack on the Emirati capital targeting the airport and an Abu Dhabi National Oil Co. fuel depot in the Mussafah neighborhood with drones and cruise missiles. That attack on the fuel depot killed three people and wounded six others.
New, high-resolution satellite photographs obtained by The Associated Press from Planet Labs PBC showed repair work still ongoing at the fuel depot Saturday. Emirati officials have not released images of the attacked sites, nor allowed journalists to see them.
In recent days, a Saudi-led coalition that the UAE backs unleashed punishing airstrikes targeting Yemen, knocking the Arab world's poorest country off the internet and killing over 80 people at a detention center.
The Houthis had threaten to take revenge against the Emirates and Saudi Arabia over those attacks. On Sunday, the Saudi-led coalition said a Houthi-launched ballistic missile landed in an industrial area in Jizan, Saudi Arabia. The missile tore a deep crater in the ground, television footage showed, and slightly wounded two foreigners of Bangladeshi and Sudanese nationality.
The hard-line Iranian daily newspaper Kayhan, whose editor-in-chief was appointed by Supreme Leader Ayatollah Ali Khamenei, just Sunday published a front-page article quoting Houthi officials that the UAE would be attacked again with a headline: "Evacuate Emirati commercial towers."
The newspaper in 2017 had faced a two-day publication ban after it ran a headline saying Dubai was the "next target" for the Houthis.
___
Associated Press writers Isabel DeBre, Malak Harb and Lujain Jo in Dubai, Amir Vahdat in Tehran, Iran, and Samy Magdy in Cairo contributed to this report.
Jon Gambrell, The Associated Press
Despite ample school security plan, Texas shooter found gaps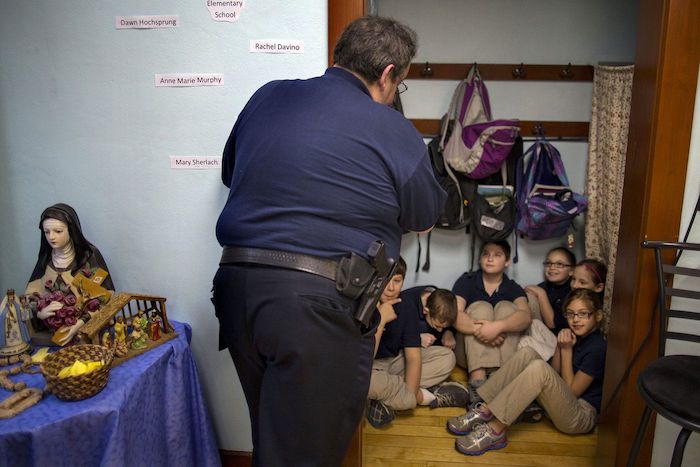 By Collin Binkley And Kantele Franko
Robb Elementary School had measures in place to prevent this kind of violence. A fence lined the school property. Teachers were ordered to keep classroom doors closed and locked. Students faced regular lockdown and evacuation drills.
But when an 18-year-old man arrived Tuesday at the school in Uvalde, Texas, intent on killing children, none of it stopped him.
Security failures allowed the shooter to massacre 19 students and two teachers, school safety experts say. The shooting already has led to calls to fortify schools further, on top of millions spent on equipment and other measures following earlier shootings. But more security offers drawbacks, with no guarantee of an end to mass violence. In the worst case, as in Uvalde, it could backfire.
"You can do the best job you can to prevent a school crisis, but we cannot read the minds of all the criminals who are out there," said Ronald Stephens, executive director of the National School Safety Center, a nonprofit that works with schools across the country. "We cannot prevent all crime."
According to a district safety plan, Uvalde schools had a wide range of measures in place to prevent violence. The district had four police officers and four support counselors, according to the plan, which appears to be dated from the 2019-20 school year. The district had software to monitor social media for threats and software to screen school visitors.
Yet when the gunman arrived at the school, he hopped its fence and easily entered through a back door that had been propped open, officials said. Behind the locked door of a fourth-grade classroom, he gunned down children and teachers.
Amid the attack, nearly 20 officers stood in a hallway because the on-site commander believed the gunman was barricaded in the classroom and children were not at risk, Texas Department of Public Safety Director Steven McCraw said at a Friday news conference, saying "it was the wrong decision."
The case underscores that even the strongest security plans can be undermined by a seemingly simple lapse, said Curtis Lavarello, executive director of the School Safety Advocacy Council, which provides training on school safety. The Texas school appeared to be doing many things right, he said, but none of that mattered once the gunman was able to walk unobstructed into the building and into a classroom.
"All those things on paper mean nothing if they're not followed in practice. And there seemed to be a number of gaps," he said.
In the aftermath of the shooting, some Republicans have been calling for further investments in school safety to prevent more attacks. Some have pushed for more armed police in schools, along with metal detectors and measures to make it harder to enter schools.
Among those promoting physical security measures is Sen. Ted Cruz, R-Texas. Appearing on Fox News on Wednesday, he brought up 2013 legislation that would have created grants to help schools install bulletproof doors and hire armed police officers among other measures.
If those grants had gone to Robb Elementary, Cruz said, "the armed police officers could have taken him out and we would have 19 children and two teachers still alive."
Security experts say the Uvalde case illustrates how fortifying schools can backfire. A lock on the classroom door — one of the most basic and widely recommended school safety measures — kept victims in and police out.
U.S. Border Patrol agents eventually used a master key to open the locked door of the classroom where they confronted and killed the gunman, McCraw said at the Friday news conference.
Some argue that investments in school security have come at the expense of student welfare. Lockdown drills that have become routine for a generation of American students have traumatized students and added to strains on mental health, educators say.
Schools need more counselors and psychologists to help troubled students, not stronger buildings, said Dewey Cornell, a psychologist and director of the Virginia Youth Violence Project at the University of Virginia.
"We have systemically reduced the number of support staff in our schools, and focused too much on installing metal detectors and surveillance cameras and electronic door locks, which are very short term and reactive and very expensive," he said.
In the wake of the 2012 massacre at Sandy Hook Elementary School in Newtown, Connecticut, schools across the country began spending huge sums of money on fortifications including bulletproof glass, metal detectors and armed security.
But such measures can create an atmosphere where students feel uncomfortable and less trusting, and it does not necessarily prevent attacks, said Matthew Mayer, a Rutgers associate professor who works on issues related to school violence.
"You'll go down these sort of endless rabbit holes of how much security is enough. And when it comes to someone who's coming in heavily armed, you're not going to stop them," Mayer said. "So the idea is you need to figure out why people do this in the first place and have ways — multi-level systems of prevention — to prevent it from happening."
He advocates for a multi-faceted prevention approach that also includes steps such as improving mental health services, assessing threats more effectively and building trust so students and families are not afraid to speak up if they're concerned someone has the means or intent to cause harm.
Still, schools can only do so much, he said, and he isn't optimistic that public outrage over Uvalde will lead to significant change.
"The problem is that a lot of this public reaction, you know, sort of rises like a wave and then recedes over time, and the politicians have been accustomed to riding that out. You know, they make speeches and so forth, and sometimes there's a commission that gets appointed, and they issue reports," Mayer said. "But substantive change is lacking."
___
The Associated Press education team receives support from the Carnegie Corporation of New York. The AP is solely responsible for all content.
Moose is Loose: Canada's Mitch (Moose) Hooper reaches World's Strongest Man final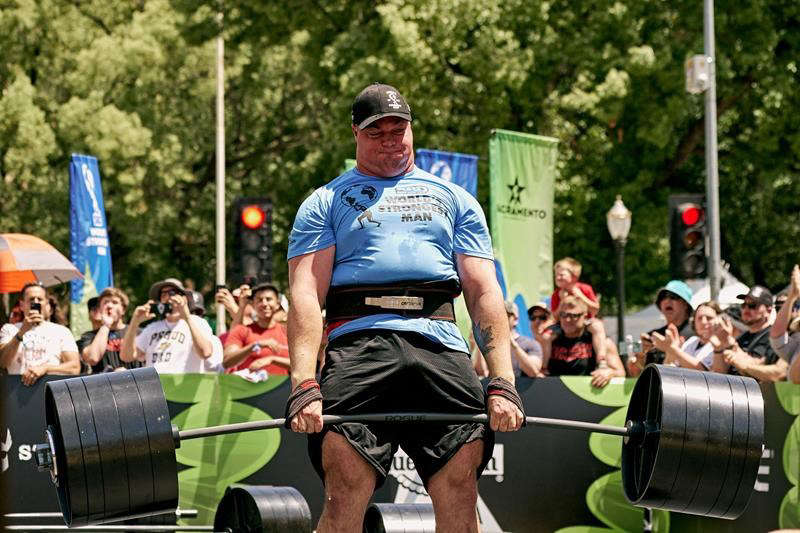 Not lacking for confidence, Canada's Mitchell (Moose) Hooper made some bold predictions ahead of his first appearance at the World's Strongest Man competition.
So far he's been calling his shots.
In a recent YouTube video, the six-foot-three 315-pounder described his potential for the event and felt first- or second-place qualification results were realistic.
He backed up his talk this week at the Capitol Mall in Sacramento, Calif., by securing a berth in the weekend finals. Not bad for someone who entered the event as a relative unknown.
"I'm pretty in tune with what I'm capable of and what I'm not capable of," Hooper said. "To put it simply, I knew that if I was one of the favourites I wouldn't want me to be in that group."
Strong showings in the loading race, deadlift ladder, car walk and log lift gave Hooper a healthy lead in his six-man group.
He only needed a single point in the wrecking ball hold Thursday to secure first place and one of two group berths in the two-day final starting Saturday.
"I was pretty spot on," Hooper said of his predictions. "So yeah, I have a pretty good feel for what I can do."
Hooper, 26, has a varied sporting background. He's the director and founder of an exercise physiology business in Barrie, Ont., which helps people with injuries and chronic conditions.
Hooper played hockey as a youth, has run marathons and had varsity golf opportunities in the United States.
He played football at the University of Guelph and completed his undergraduate degree in human kinetics before becoming head strength and conditioning coach for the National Basketball League of Canada's KW Titans.
"I have some family with chronic health conditions," Hooper said. "I wanted to seek out something a little bit more meaningful. So I found exercise physiology.
"I looked up the No. 1 school in the world and that happened to be the University of Sydney. Off I went."
Hooper completed his master's degree in 2019 and "happened to stumble upon" strength sports while Down Under. He entered a few powerlifting competitions and got some attention by winning the Australia's Strongest Man event.
A video of a Hooper deadlift in competition recently gained steam on social media and it wasn't long before World's Strongest Man organizers tracked him down and invited him into the 30-man field.
He hopes a top-three standing after Saturday's competition would leave him in good shape for a Sunday showdown.
"I wouldn't be surprised with first, I wouldn't be surprised with seventh," Hooper said. "I imagine I'll land somewhere in between there."
On a regular day, Hooper said he usually gets up at about six in the morning and eats five or six meals a day. He aims for about 2 1/2 hours of daily training.
"I try to hit 6,000 calories (daily) and about 330 grams of protein," Hooper said.
"A couple of cartons of egg whites — one in the morning and one at night — that usually gets me covered," he added.
Deadlift competition and the Flintstone barbell are among the events on tap Saturday ahead of the bus pull, Atlas stones and power stairs disciplines on Sunday.
This is the 45th edition of the World's Strongest Man. Maxime Boudreault, a native of Kapuskasing, Ont., also advanced along with reigning champion Tom Stoltman of Britain and his brother, Luke Stoltman, the reigning European champion.
Hooper, meanwhile, is showing no signs of rookie jitters against such veteran competitors.
"It's a psychological thing as much as it is a physical thing," he said. "Consistency really trumps everything."
This report by The Canadian Press was first published May 27, 2022.
Follow @GregoryStrongCP on Twitter.
Gregory Strong, The Canadian Press