U.S. travel problems affecting transborder flights: Air Canada, WestJet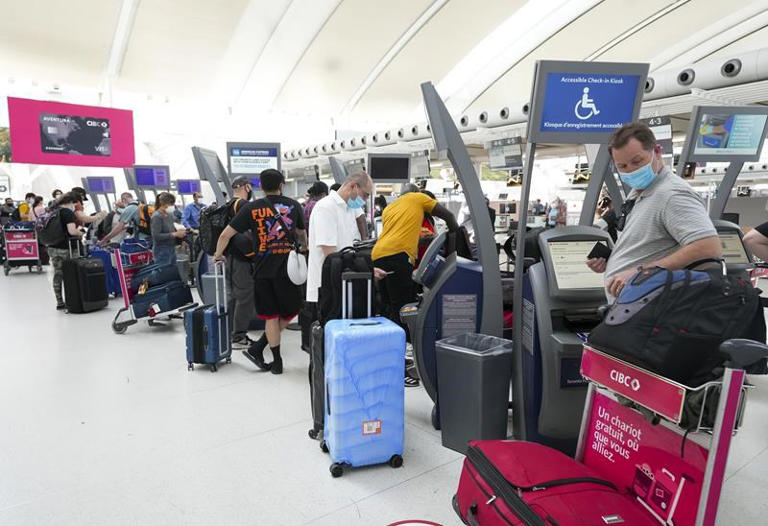 By Tara Deschamps in Toronto
Air Canada and WestJet encouraged travellers headed to or from the U.S. to check their flights before going to the airport after a key computer outage at the U.S. Federal Aviation Administration caused delays.
WestJet said six flights were delayed Wednesday morning because of the computer outage and none were cancelled, while Air Canada said the outage would have an effect on its transborder operations, but that it was not possible to determine the extent of the delays.
The FAA issued a grounding order for all departing aircraft Wednesday morning due to a problem with what is known as the Notice to Air Missions System (NOTAMs). The order remained in place until just before 9 a.m. ET.
Before commencing a flight, pilots are required to consult NOTAMs, which list potential adverse impacts on flights, from runway construction to the potential for icing. The system used to be telephone-based, with pilots calling dedicated flight service stations for the information, but has moved online.
The NOTAM system broke down late Tuesday, leading to more than 1,000 flight cancellations and more than 6,000 delayed flights by 11 a.m. Wednesday, according to the flight tracking website FlightAware.
Separately, Canada's NOTAM entry system also experienced an outage between 10:20 a.m. and 1:15 p.m. ET, said Nav Canada's manager of government and media relations, Vanessa Adams.
"We are still investigating the root cause of the failure," she wrote in an email.
"At this time, we do not believe the cause is related to the FAA outage experienced earlier today."
Nadine Ramadan, a spokesperson for Federal Transport Minister Omar Alghabra, said in an afternoon email that their office had been in touch with Nav Canada.
Earlier in the day, at a news conference in Port Colborne, Ont., Alghabra said he had reached out to his U.S. counterpart, Transportation Secretary Pete Buttigieg, about the U.S. NOTAM troubles.
"This was obviously a surprise. It was an unplanned interruption," Alghabra said.
"We still don't know all the facts yet, but good news is that I am hearing that traffic has restarted again, so we will stay in coordination with our U.S. partners to understand what had happened and what can we do to avoid similar interruptions."
The delays came after storms caused havoc for travellers during the busy holiday travel season.
"Canadians are patient when it comes to that as long as they are informed of what is happening, when they can get to their destination," Alghabra said of the storms.
"What compounded this situation was some unfortunate decisions made by one airline operator," in an apparent reference to Sunwing
Sunwing announced on Dec. 29 that it was cancelling its operations through Feb. 3 at Saskatchewan's two largest airports.
By then, hundreds of passengers were affected by Sunwing flight disruptions, which began to pile up on Dec. 22 due to weather. Some customers were stranded for days in tropical destinations amid a flurry of cancellations, winter storms and a breakdown with the airline's digital communication service that left some flights with empty seats.
The company has since apologized for the disruptions, said it has completed all recovery flights related to holiday disruptions and has a plan to fix technical issues with flight alert notifications and communication flow to customers.
Executives from Air Canada, WestJet and Sunwing are scheduled to appear before the MPs at a transport committee hearing on Thursday, where passenger compensation for delayed and cancelled flights is under discussion.
— With files from The Associated Press and Brett Bundale in Halifax
This report by The Canadian Press was first published Jan. 11, 2023.
Companies in this story: (TSX:AC)
The Plan: Lock You Down for 130 Days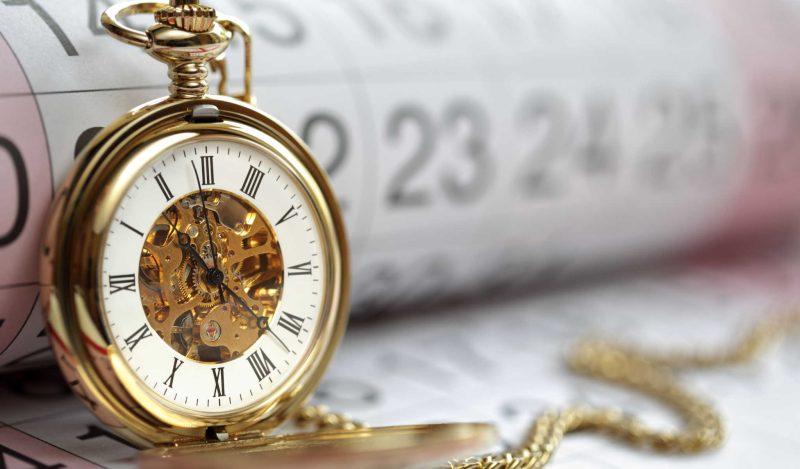 BY
JAYANTA BHATTACHARYA
What if the coronavirus pandemic was not a once-in-a-century event but the beginning of a new era of regular deadly respiratory viral pandemics? The Biden administration is already planning for this future. Last year, it unveiled a national strategy to develop pharmaceutical firms' capacity to create vaccines within 130 days of a pandemic emergency declaration.
The Biden plan enshrines former president Donald Trump's Operation Warp Speed as the model response for the next century of pandemics. Left unsaid is that, for the new pandemic plan to work as envisioned, it will require us to conduct dangerous gain-of-function research. It will also require cutting corners in the evaluation of the safety and efficacy of novel vaccines. And while the studies are underway, politicians will face tremendous pressure to impose draconian lockdowns to keep the population "safe."
In the case of COVID-19 vaccines, it took about a year for governments to deploy the jab at scale after scientists sequenced the virus. Scientists identified a vaccine target—fragments of the spike protein that the virus uses to access cells—by early January 2020, even before the WHO declared a worldwide pandemic.
This rapid response was only possible because some scientists already knew much about the novel virus. Despite heavy regulations limiting the work, the US National Institutes of Health had funded collaborations between the EcoHealth Alliance and the Wuhan Institute of Virology. They collected bat viruses from the wild, enhanced their function to study their potential, and designed vaccines before the viruses infected humans.
While there is controversy over whether this gain-of-function work is responsible for the COVID pandemic, there is no question this research is potentially dangerous. Even cautious scientists sometimes accidentally leak hazardous, highly infectious viruses into the surrounding community. In December 2021, for instance, the virus that causes COVID-19 accidentally leaked out of a laboratory in Taiwan, where scientists were researching the virus.
A promising vaccine target would be needed immediately after a disease outbreak for the Biden pandemic plan to work. For that to be possible, there will need to be permanent support for research enhancing the capacity of viruses to infect and kill humans. The possibility of a deadly laboratory leak will hang over humanity into perpetuity.
Furthermore, before any mass vaccination campaign, pharmaceutical firms must test the vaccines for safety. High-quality randomized, controlled studies are needed to make sure the vaccine works.
In 1954, Jonas Salk's group tested the vaccine in a million children before the polio mass vaccination campaign that effectively defanged the threat of polio to American children. Physicians need the results of these studies to provide accurate information to patients.
Operation Warp Speed cut red tape so that vaccine manufacturers could conduct these studies rapidly. The randomized trials cut some corners. For instance, the Pfizer and Moderna trials did not enroll enough people to determine whether the COVID vaccines reduce all-cause mortality.
Nor did they determine whether the vaccines stop disease transmission; a few months after the government deployed the vaccines, researchers found protection against infection was partial and short-lived. Each of these cut corners has since created policy controversies and uncertainty that better trials would have avoided. Because of the pressure to produce a vaccine within 130 days, President Biden's pandemic plan will likely force randomized trials on future vaccines to cut the same corners.
This policy effectively guarantees that lockdowns will return to the US in the event of a new pandemic. Though the lockdowns did not work to protect populations from getting or spreading COVID—after 2.5 years, nearly everyone in the US has had COVID—public health bureaucracies like the CDC have not repudiated the strategy.
Imagine the early days of the next pandemic, with public health and the media fomenting fear of a new pathogen. The impetus to close schools, businesses, churches, beaches, and parks will be irresistible, though the pitch will be "130 days until the vax" rather than "two weeks to flatten the curve."
When the vaccine finally arrives, the push to mass vaccinate for herd immunity will be enormous, even without evidence from the rushed trials that the vaccine provides long-lasting protection against disease transmission. This happened in 2021 with the COVID vaccine and would happen again amidst the pandemic panic. The government would push the vaccine even on populations at low risk from the novel pathogen. Mandates and discrimination against the unvaccinated would return, along with a fierce movement to resist them. The public's remaining trust in public health would shatter.
Rather than pursue this foolish policy, the Biden administration should adopt the traditional strategy for managing new respiratory-virus pandemics. This strategy involves quickly identifying high-risk groups and adopting creative strategies to protect them while not throwing the rest of society into panic.
The development of vaccines and treatments should be encouraged, but without imposing an artificial timeline that guarantees corners will be cut in evaluation. And most of all, lockdowns—a disaster for children, the poor, and the working class—should be excised from the public health toolkit forever.
A version of this piece appeared in Newsweek
Mexico president's ruling party ousts once-dominant party in most populous state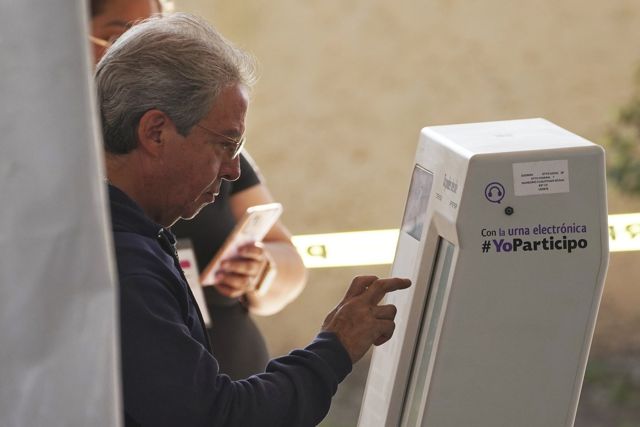 MEXICO CITY (AP) — The ruling party of Mexico's President Andrés Manuel López Obrador won the governorship of the country's most populous state, dealing a life-threatening blow to the old ruling Institutional Revolutionary Party — or PRI — which had governed the State of Mexico without interruption for nearly a century.
With over 99% of precincts counted in a preliminary report, electoral authorities said Monday that Morena's Delfina Gómez won 52.7% of votes in the State of Mexico — which surrounds Mexico City on three sides — to 44.3% for the PRI's Alejandra del Moral.
Del Moral later gave a concession speech acknowledging her defeat.
The result was a new low for the PRI, which held Mexico's presidency uninterrupted for 71 years until losing power in 2000 elections; the party had governed the State of Mexico and its 17 million inhabitants for 94 years until its loss Sunday.
The PRI managed to hold on to the governorship of the sparsely populated northern border state of Coahuila, and governs the neighboring state of Durango in coalition with other opposition parties. But the PRI is now a shadow of the old days when it ruled Mexico with a combination of hand-out programs and corruption.
Propelled by López Obrador's personal popularity — and more generous payments to the elderly and students — Morena now governs 22 of Mexico's 32 states. The conservative National Action party governs five states, the Morena-allied Green party governs one and the small Citizens Movement holds two states.
López Obrador said he was pleased with the results, but struck a magnanimous tone Monday, saying his administration would deal fairly with governors from all parties.
"We have to serve all citizens, whatever party they belong to, that is our responsibility," the president said.
Gómez celebrated her victory as the first woman to serve as governor in the State of Mexico.
"This is a victory for working families, this is a victory for us women, who have fought for years for the recognition of our rights," Gómez said in a victory speech late Sunday. The state has been plagued by a bloody series of killings of women in recent years, and widespread poverty among female-headed households.
The State of Mexico covers everything from Mexico City suburbs, industrial sprawl and rural communities plagued by violence, and displays stunning extremes of inequality, violence and corruption.
The contest was closely watched, too, because of its potential implications for next year's presidential elections. Even without having selected its nominee yet, Morena is considered the frontrunner in that national election and will be even more so with control of the State of Mexico.
Political scientist Georgina de la Fuente of the Tecnologico de Monterrey university noted that Sunday's results highlight several things: the PRI has been defeated, though perhaps not as soundly as expected; Morena is not invincible; and parties are going to have to reconfigure their agreements. She added that the smooth elections also confirmed the effectiveness of Mexico's electoral system, whose authorities had come under heavy fire from López Obrador.
The loss of the State of Mexico could spell the end of the PRI's political relevance on a national stage.
Turnout was only about half of eligible voters in the State of Mexico.
"It doesn't seem like the elections have excited" people, said Miguel Agustín López Moreno, a political scientist and social worker in Ecatepec, one of the state's largest municipalities. He was uncertain the situation for residents would change significantly, attributing the Morena party's success in large part to the amount of resources it invested in the state.
Adair Ortiz Herrera, a 21-year-old information systems student from Coyotepec, a rural area in the northern part of the state, said before the results were known Sunday that he was sure "a new direction" was coming. "My vote is to end the current government's hegemony," he said.
___
Romero reported from Naucalpan, Mexico. Emilio Lugo in Huehuetoca, Mexico, contributed to this report.