U.S. shows plenty of respect to Canada ahead of World Cup qualifying showdown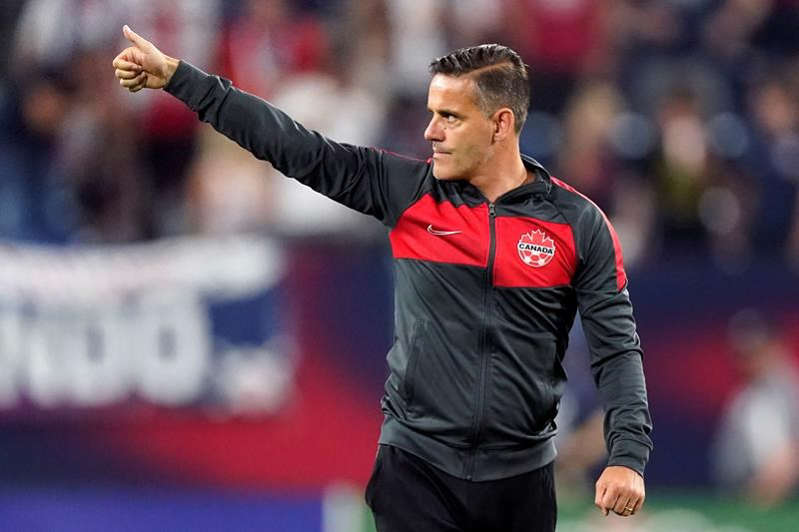 The U.S. takes the field Sunday with plenty of respect for the Canadian team that awaits them in Hamilton.
For one, the second-place Americans (5-1-3, 18 points) are looking up at Canada (5-0-4, 19 points) in the CONCACAF World Cup final qualifying round standings.
"We know that they're going to be fired up," said U.S. coach Gregg Berhalter. "We know they're playing in front of their home fans. We know they're going to be confident and it's going to be a competitive game. And if we can embrace that, we'll be OK. And it's a good opportunity for us to move up in the standings."
Both teams are coming off wins Thursday.
The 40th-ranked Canadians recorded their first victory in Honduras since 1985 with a 2-0 decision over the 76th-ranked Hondurans in San Pedro Sula while the 11th-ranked Americans downed El Salvador 1-0 in Columbus.
Canada closes out the international window on Wednesday at No. 70 El Salvador. Just three matches remain for coach John Herdman's team after that.
Thee top three sides come March will represent North and Central America and the Caribbean at Qatar 2022 with the fourth-place country taking on an Oceania opponent to see who joins them.
Canada is leading the way in the region, muscling past traditional CONCACAF heavyweights Mexico and the U.S.
"They have a talented group of players, make no mistake about it," said Berhalter, listing off Alphonso Davies, Jonathan David, Cyle Larin, Tajon Buchanan and Jonathan Osorio.
"They're a well-coached team. They know how to play. They've a clear philosophy and they deserve to be where they are," he added. "So for us it's an opportunity, that's all it is, an opportunity to try to get first in the group and that's where we want to finish."
Added U.S. defender Walker Zimmerman: "I think there's been a shift in their mentality. They play with a chip on their shoulder. They play with something to prove and they play with an intensity that is very high. So they're a confident group.
"And so whenever you go out there, you know that they're going to compete and that you have to match that level of intensity and desire. I think that's something that John has brought to that group. And that's a strength of theirs. We'll have to be up for it."
The Americans will be without two players at Tim Hortons Field.
Berhalter said defender Brooks Lennon has returned to Atlanta United to have a "slight" ankle injury evaluated while Lille forward Tim Weah was unable to get into Canada due to his vaccination status.
Weah had his first vaccine dose and then contracted COVID-19 while awaiting his second shot, a combination that meets full vaccination requirements in France but not in Canada, Berhalter explained.
"This was a nuanced technicality that we were hoping was going to get pushed through and unfortunately it didn't."
Canada is without Davies, the Bayern Munich star who has been sidelined by myocarditis, an inflammation of the heart muscle, after testing positive for COVID. The 21-year-old from Edmonton was an enthusiastic observer of the win in Honduras, however, livestreaming on Twitch as he watched the game.
Influential midfielder Stephen Eustaquio missed the Honduras match in the wake of Portuguese reports that he had tested positive for COVID. Herdman said he still hopes Eustaquio will play some role in the window.
Berhalter and Herdman are colleagues as well as rivals, with Herdman acknowledging in the past that he shares notes with his U.S. counterpart.
"He's done a great job with the program. I've said this over and over,' said Berhalter. "I think it's the talented players that the group has, but it's also his strong leadership and painting a vision for where the Canadian program can go. And once you have people buying into that vision, it's no surprise that they've had the success that they've had.
"We've been able to bounce some ideas and some notes off each other through qualifying. We're pulling for the Canadian team to qualify, there's no secret about that. It's only (Sunday) that I want them to lose. And then every other game, I'm happy that they win."
Sunday's game originally sold out in hours with Canada Soccer expecting a capacity crowd of 24,000. But stricter pandemic-related restrictions capped attendance at 12,000 with the first ticket sale voided.
Canada and the U.S. tied 1-1 when they met Sept. 5 in Nashville in the second game of the final qualifying round.
The U.S. won 1-0 when they met at the Gold Cup in July in Kansas City where the Americans scored in the first minute and then held off a Canadian charge the rest of the way.
While the Americans lead the overall series between the two North American rivals at 16-9-12, Canada has a 6-4-4 edge in World Cup qualifying.
—
Follow @NeilMDavidson on Twitter
This report by The Canadian Press was first published Jan. 29, 2022
Neil Davidson, The Canadian Press
Cards' Pujols hits 700th home run, 4th player to reach mark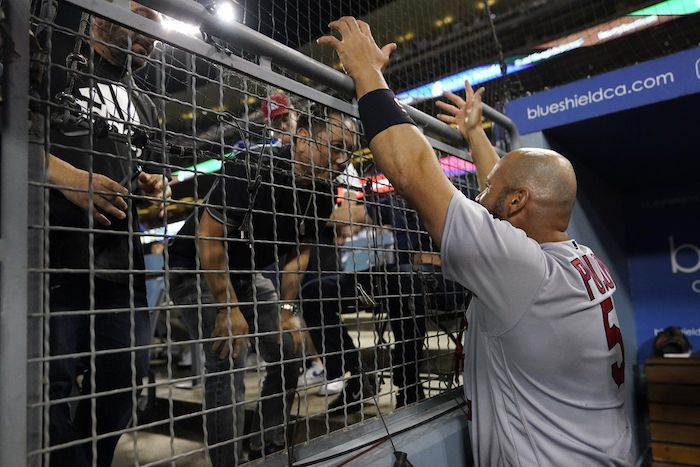 By Beth Harris in Los Angeles
LOS ANGELES (AP) — St. Louis slugger Albert Pujols hit his 700th home run, connecting for his second drive of the game and becoming the fourth player to reach the milestone in major league history as the Cardinals routed the Los Angeles Dodgers 11-0 Friday night.
Playing the final days of his last big league season, the 42-year-old Pujols joined Barry Bonds (762 homers), Hank Aaron (755) and Babe Ruth (714) in one of baseball's most exclusive clubs.
A man wearing a blue Dodgers shirt with Hideo Nomo's No. 16 on the back snagged the 700th homer ball. He was whisked under the stands as he clutched a black glove containing the historic souvenir ball to his chest. Prolonged negotiations went on before the man was escorted out of Dodger Stadium flanked by 10 security personnel and into a waiting SUV.
Showing the pop from his younger, dominant days, Pujols hit No. 699 in the third inning, then launched No. 700 in the fourth.
A 37-year-old Los Angeles man, Cesar Soriano, snagged No. 699. He turned the ball over to security after being told he could meet Pujols.
It's been a remarkable and resurgent run for Pujols. This was his 14th home run since the start of August for the NL Central-leading Cardinals, and his 21st of the season.
Fairly recently, many considered him a long shot to reach 700 this season. He went into August batting only .235 with just seven home runs.
But with two long shots on this evening, he made his mark.
Pujols' historic homer was a three-run shot against reliever Phil Bickford. The ball landed in the first couple rows of the left-field pavilion, the same location his two-run shot touched down the previous inning off left-hander Andrew Heaney.
He jogged around the bases smiling all the way. After crossing the plate and pointing his fingers skyward, Pujols went over to greet fellow Dominican and former Dodgers star Adrian Beltre. They high-fived through the protective netting.
Then he was off to the Cardinals dugout, getting hugs and congratulations every step of the way.
Pujols received a prolonged standing ovation from the crowd — he finished out last season while playing for the Dodgers. He took a curtain call, raising his cap in acknowledgment.
The crowd of 50,041 chanted "Pujols! Pujols!" The fans finally sat down after being on their feet in anticipation of seeing history.
His 700th homer gave him a couple of other nice, round numbers, too — he has hit 500 home runs off right-handers and 200 off lefties.
Pujols connected twice on the same night New York Yankees slugger Aaron Judge remained on deck for home run history. He remained at 60 homers, just short of tying Roger Maris' AL mark of 61 in 1961, in a win at Yankee Stadium.
Lars Nootbaar, Juan Yepez and Alec Burleson also homered for St. Louis.
Pujols struck out swinging in his first at-bat against Heaney and grounded out to short in the sixth. He was replaced in the eighth by Burleson, who added a pinch-hit homer.
José Quintana (6-6) got the victory. He scattered five hits over 6 2/3 innings and struck out six.
Cardinals outfielder Corey Dickerson pitched the ninth. With the bases loaded, he retired Trayce Thompson on a flyball to end the game.
Heaney (3-3) took the loss for the NL West-leading Dodgers.
Pujols snapped a tie with Alex Rodriguez for fourth on the career list when he hit career homer No. 697 against Pittsburgh on Sept. 11.
The three-time NL MVP was batting .189 on July 4. But he started to find his stroke in August, swatting seven homers in one 10-game stretch that helped St. Louis pull away in the division race.
"I know that early in the year … I obviously wanted better results," Pujols said after he homered in a 1-0 victory over the Chicago Cubs on Aug. 22. "But I felt like I was hitting the ball hard. Sometimes this game is going to take more away from you than the game (is) giving you back.
"So I think at the end of the day you have to be positive and just stay focused and trust your work. That's something that I've done all the time."
Pujols has enjoyed a productive season after returning to St. Louis in March for a $2.5 million, one-year contract. It's his highest total since he hit 23 homers for the Angels in 2019.
He plans to retire when the season ends.
Pujols began his career in St. Louis. He was selected by the Cardinals in the 13th round of the 1999 amateur draft and won the 2001 NL Rookie of the Year award.
The Dominican Republic native hit at least .300 with at least 30 homers and 100 RBIs in each of his first 10 seasons. He helped the Cardinals to World Series titles in 2006 and 2011.
He set a career high with 49 homers in 2006 — one of seven seasons with at least 40 homers. He led the majors with 47 homers in 2009 and topped the NL with 42 in 2010.
Pujols left St. Louis in free agency in December 2011, signing a $240 million, 10-year contract with the Angels. He was waived by the Angels in May 2021, and then joined the Dodgers and hit 12 homers and drove in 38 runs in 85 games.
TRAINER'S ROOM
Dodgers: All-Star RHP Tony Gonsolin (forearm) will throw two innings in a rehab assignment Tuesday for Triple-A Oklahoma City. … LHP David Price (wrist) will throw to live hitters again in a couple days.
HONORING ALBERT AND YADI
The Dodgers honored Cardinals teammates Pujols and catcher Yadier Molina, both of whom are retiring at season's end.
The players were greeted by a standing ovation when they strode to home plate before the game. Their career highlights were shown on the stadium's big screens.
Both players were presented with white golf bags before Pujols took the mic and thanked his former teammates and fans for treating him well during his lone season in LA last year.
UP NEXT
Cardinals: LHP Jordan Montgomery (8-5, 3.26 ERA) makes his second road start with the team since coming from the Yankees. He tossed a one-hit shutout in his other one against the Chicago Cubs on Aug. 22 in a 1-0 victory.
Dodgers: LHP Clayton Kershaw (9-3, 2.39) makes his 20th start of the season. He has 117 strikeouts in 109 1/3 innings.
___
AP freelance writer Jolene Latimer contributed to this report.
___
More AP MLB: https://apnews.com/hub/mlb and https://twitter.com/AP_Sports
Tom Brady's TB12 Method is in schools. Experts have doubts.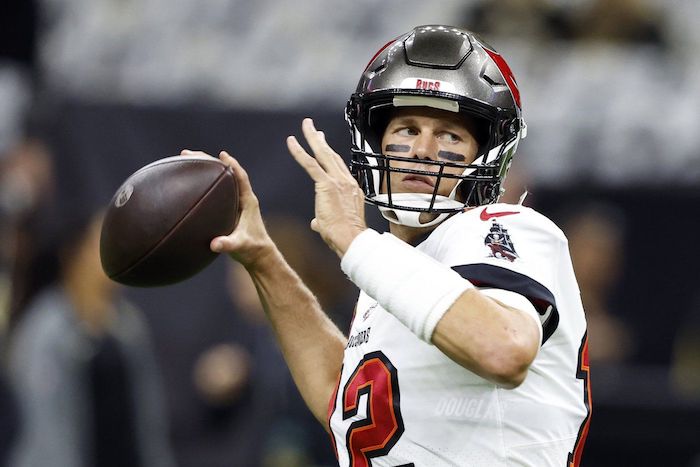 By Heather Hollingsworth
In some Tampa Bay-area schools, students use foam rollers and vibrating spheres to massage their muscles as they work toward goals for strength and flexibility. It's all part of a new physical education curriculum from quarterback Tom Brady, whose vision for healthy living is fueling a fitness empire.
The arrangement with schools in Pinellas County, Florida, marks a foray into education for the Tampa Bay Buccaneers superstar and his methods — including some that have been criticized as pseudoscience.
Physical education experts have raised questions about the approach's suitability for school-age children. But the program — and its connection with the seven-time Super Bowl champion — has stirred student interest in fitness and nutrition, others say.
"My legs are lot more loose, and they're not so heavy on me," said Antoine James, an eighth-grader. "It really helps."
A pilot project has embedded parts of the program in gym and health courses in 10 middle and high schools in the 96,000-student district. The TB12 Foundation, the charitable arm of Brady's fitness business, is picking up the tab to train district staff and provide them with equipment.
The marketing boost for TB12, of course, is free.
Adults who embrace the "TB12 Method," as Brady described it in a 2017 book, can meet with a trainer for $200 an hour at one of his company's training centers. His product line includes a plant-based protein powder, electrolytes and vibrating rollers that sell for $160.
"I'm sure one of the benefits is to help students get better exercise habits and physical fitness habits," said Karen Rommelfanger, an adjunct professor of neurology and psychiatry at Emory University. "But does it also start to enroll another generation of consumers for their product?"
In Pinellas County, the plan is to expand to the rest of its middle and high schools next year. If all goes well, Brady's foundation is looking to use the program as a model for other districts.
"Today we kind of focus on a little bit older client for the most part," said Grant Shriver, president and CEO at TB12, where the average client is around 40. "This just kind of gives us a little bit of a vision of how we could go approach just more people."
The TB12 Foundation's first partnership in education started in 2020 with Brockton Public Schools in Massachusetts, where Brady played for the New England Patriots. TB12 took a dozen of the district's athletes to its training center free of charge. That effort later expanded to Malden Public Schools, also in the Boston area.
"I grew up where you lifted heavy weights and, you know, you gauge strength by how much you could bench press and how much you can squat. And this is completely different," said Brockton Public Schools Athletic Director Kevin Karo. His district is now contracting to use some of the TB12 staff as strength and conditioning coaches for student-athletes.
Most of Brady's advice is fairly mainstream, including an emphasis on a positive attitude, good nutrition and adequate sleep. But some of his guidance has faced skepticism. He famously attributed his propensity not to sunburn to his high water intake in his book. His trainer, Alex Guerrero, was investigated before joining Brady by the Federal Trade Commission over unsubstantiated claims that a supplement he promoted could cure concussions.
Brady, 45, describes his approach as a departure from the lift-heavy gym culture. He endorses instead exercise bands and something he calls "pliability," which includes an emphasis on flexibility and massage.
"I feel like everything I've learned over the course of 23 years in football has and will allow me to continue to help people in different ways," Brady said Thursday. "I think starting young is really important, educating people on what works as opposed to the way things have always been."
Sports trainers have been moving toward a model that includes a mixture of strength training, flexibility and balance exercises, said Mike Fantigrassi, the senior director of product development for the National Academy of Sports Medicine, which certifies trainers. But he said he had concerns with the word "pliability" being taught in schools as though it was scientifically proven.
"It's a term that they made up," he said. "Some of this stuff is not rooted in good science. And if you're bringing a curriculum into schools, I believe it should be rooted in good science."
Brady is one of the world's greatest athletes but does not have expertise in teaching children, said Terri Drain, a past president of the Society of Health and Physical Educators.
"I just am a little bit alarmed that a school district the size of this one would grab onto this celebrity program," said Drain, who runs a nonprofit that provides professional development for health and physical education teachers.
On the diet front, Brady advises against foods in the nightshade family like peppers, tomatoes and eggplants because of inflammation concerns. Experts like Eric Rimm say a lot of Brady's diet guidance is extreme and not backed by a "huge science base."
Still, Rimm, a professor of epidemiology and nutrition at the Harvard School of Public Health, said there could be benefits.
"If you're getting rid of the average eighth grade American's diet and shifting to what he eats, yeah, that's a lot healthier," he said. "That's fantastic."
One upside is the Brady name makes students perk up in class, said Allison Swank, an eighth grade wellness teacher and a track coach in Pinellas County.
"They definitely know who he is and it's exciting for them to be able to relate what we're going to be doing to his program," she said.
In pilot classes, students take baseline assessments to evaluate areas like their strength, conditioning and flexibility. They then set goals to pursue for improvement, said pre-K-12 health and physical education specialist Ashley Grimes.
She said districts around the county have reached out, asking what the program is about and if it's something they could do, too.
The program doesn't use Brady's book as a textbook, stressed Ben Wieder, a member of the Pinellas Education Foundation, who uses TB12 himself and approached the foundation about bringing the program to the district.
"Tom Brady eats avocado ice cream. Like, we don't teach eating avocado ice cream," Wieder said. Most of the science-backed elements of the curriculum are in line with Florida education standards, he said. "I think if you were to go through the book. you're probably talking 90, 95% of the content is universally accepted."
___
Associated Press reporter Rob Maaddi contributed from Tampa, Fla.
___
The Associated Press education team receives support from the Carnegie Corporation of New York. The AP is solely responsible for all content.