Troubled Silicon Valley Bank acquired by First Citizens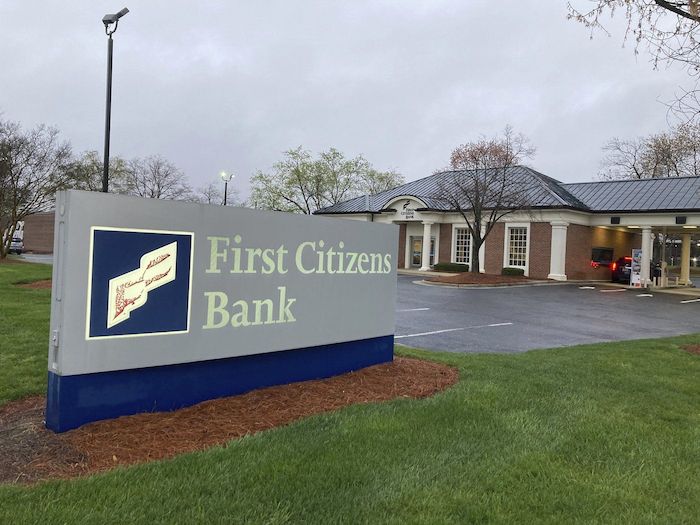 A First Citizens Bank sign is seen in Durham, North Carolina, on Monday March 27, 2023. North Carolina-based First Citizens will buy Silicon Valley Bank, the tech industry-focused financial institution that collapsed earlier this month. (AP Photo/Jonathan Drew)
NEW YORK (AP) — First Citizens will acquire much of Silicon Valley Bank, the tech-focused financial institution that collapsed this month, setting off a chain reaction that caused a second bank to fail and tested faith in the global banking sector.
The Federal Deposit Insurance Corp. and other regulators had already taken extraordinary steps to head off a wider banking crisis by guaranteeing that depositors in SVB and failed Signature Bank would be able to access all of their money.
While more than half of Silicon Valley's assets will remain in U.S. receivership, the First Citizens deal announced late Sunday, at least initially, seemed to achieve what regulators have sought: a shoring up of trust in U.S. regional banks.
At the opening bell Monday, shares of midsized banks like Keycorp, Zions and First Horizon rose 8%. First Republic Bank, which received a $30 billion rescue package from 11 of the biggest banks in the country as it teetered in the wake of the Silicon Valley collapse, jumped 23%.
Customers of SVB will automatically become customers of First Citizens, which is headquartered in Raleigh, North Carolina. The 17 former branches of SVB will open as First Citizens branches Monday, the FDIC said.
European shares opened higher Monday, with German lender Commerzbank AG up 2.4% and BNP Paribas up 1.2%. Anxiety over contagion in the banking sector quickly spread to Europe this month and regulators there brokered a takeover by UBS of troubled Swiss bank Credit Suisse.
Shares of Deutsche Bank tumbled 8.5% Friday for similar reasons, rising interest rates, but stock in the German bank bounced back 3.6% Monday.
Silicon Valley, based in Santa Clara, California, collapsed March 10 in a bank run after customers rushed to withdraw money due to fears over the bank's solvency. It was the second-largest bank collapse in U.S. history after the 2008 failure of Washington Mutual. Two days later, New York's Signature Bank was seized by regulators in the third-largest bank failure in the U.S.
In both cases, the government agreed to cover deposits, even those that exceeded the federally insured limit of $250,000, so depositors were able to access their money.
New York Community Bank agreed to buy a significant chunk of Signature Bank in a $2.7 billion deal a week ago, but the search for a buyer for SVB took longer.
The sale of Silicon Valley Bank involves the sale of all deposits and loans of SVB to First-Citizens Bank and Trust Co., the FDIC said.
The acquisition gives the FDIC shares in First Citizens worth $500 million. Both the FDIC and First Citizens will share in losses and the potential recovery on loans included in a loss-share agreement, the FDIC said.
The FDIC will retain about $90 billion of Silicon Valley Bank's $167 billion in total assets, as of March 10, while First Citizens will acquire $72 billion at a discount of $16.5 billion, the FDIC said. It said it estimates Silicon Valley Bank's failure will cost its industry-funded Deposit Insurance Fund about $20 billion.
First Citizens Bank was founded in 1898 and says it has more than $100 billion in total assets, with more than 500 branches in 21 states as well as a nationwide bank. It reported net profit of $243 million in the last quarter. It is one of the top 20 U.S. banks and says it is the largest family-controlled bank in the country.
BMO completes US$160M deal to purchase Air Miles loyalty rewards program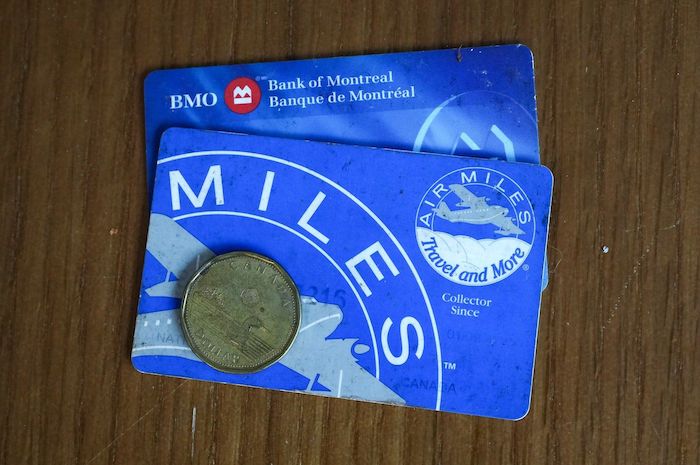 Air Miles and BMO cards are displayed in Mississauga, Ont., on Friday, March 10, 2023. BMO Financial Group closed its acquisition of the Air Miles loyalty rewards program in Canada on Thursday, saying it plans to expand the program with new ways to earn and redeem points. THE CANADIAN PRESS/Nathan Denette
Toronto
BMO Financial Group closed its acquisition of the Air Miles loyalty rewards program in Canada on Thursday, saying it plans to expand the program with new ways to earn and redeem points.
"Going forward, BMO ownership gives the program stability, but more importantly, the opportunity for us to invest in the program," said Air Miles president Shawn Stewart.
BMO announced in March it would purchase Air Miles after the program's U.S. parent company filed for bankruptcy. The bank's so-called stalking horse offer for LoyaltyOne Co. was US$160 million, subject to certain adjustments, according to court documents.
With the bank's ownership, Stewart says he's excited for the program's new chapter.
"We wanted to come out of the gate strong and reinvigorate what is a Canadian leading loyalty program. And what you'll see over the summer is a continued release of of new products, and new opportunities for collectors to earn."
Air Miles is one of the oldest and largest loyalty programs in Canada, with nearly 10 million active users, but the program has lagged in recent years as numerous companies dropped out of the program.
Last summer, Sobeys and Safeway owner Empire Co. Ltd. and office supply retailer Staples said they would be scrapping the program, a year after the Liquor Control Board of Ontario and Lowe's Canada pulled out.
BMO said it plans to introduce enhancements to the program including an improved travel booking platform and a new way for collectors to earn Bonus Miles through receipt scanning. The latter will be available first for collectors in Atlantic Canada, followed by those in other regions.
Stewart said the main complaint coming from program partners was a lack of investment in the Air Miles program, an issue the acquisition is expected to address.
"When partners see our investment, our hope and our plan is that they'll see the growth in the program, the opportunity for them to speak to 10 million Canadians, to understand and use the data and analytics the program provides," he said.
The Air Miles program is re-introducing itself to Canadians in a market that's seen more stores launching loyalty programs in recent years, but Stewart said that Air Miles stands out as a longtime brand with a broad catalogue for points redemption.
This report by The Canadian Press was first published June 1, 2023.
Total Canadian debt hit new record in first quarter: TransUnion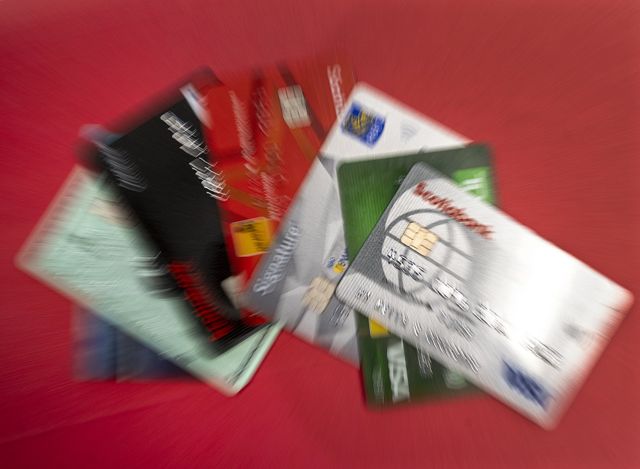 Canadians' combined outstanding debt hit a new record in the first quarter, reaching $2.32 trillion, TransUnion said Wednesday.
As the cost of living rose with high inflation and interest rate hikes, many Canadians turned to credit to alleviate financial pressures, the credit reporting agency said in its latest industry insights report.
The number of Canadians with access to credit grew 2.9 per cent year over year, led by subprime consumers, which grew by 8.3 per cent, TransUnion said.
However, the agency said consumers considered prime or higher still make up almost three-quarters of total consumers with a balance, characterizing that as a "relatively healthy risk distribution."
Credit card originations were up 20 per cent amid heavy competition in the market, while the average line of credit monthly payment increased by 43 per cent to $436.
Mortgage origination dropped 32 per cent year over year as higher interest rates slowed demand for new mortgages, especially in the refinance market.
Meanwhile, serious consumer delinquency increased, though TransUnion noted that overall delinquency levels remain below pre-pandemic levels.
"The financial position of Canadian credit consumers improved coming out of the pandemic, bolstered by higher savings accumulated through the pandemic and supported by a strong labour market," said TransUnion director of research and industry insights Matthew Fabian in the report.
"However, the longer the current conditions of elevated inflation and higher interest rates persist, the more likely it is that a segment of more vulnerable consumers may increasingly feel the pinch," he said.
"As available disposable incomes become more stretched, we expect a segment of consumers will be more likely to miss payments, and as a result, that delinquency rates will rise."
Average consumer balances on most credit products rose, with the average credit card balance up 11.4 per cent to $3,909, and the average mortgage balance up 7.1 per cent to $349,178.
TransUnion expects credit trends for 2023 to be mixed due to the uneven impact of higher inflation and interest rates.
This report by The Canadian Press was first published May 31, 2023.