Traditional ways: Dogsled race covers 500 kilometres in the High Arctic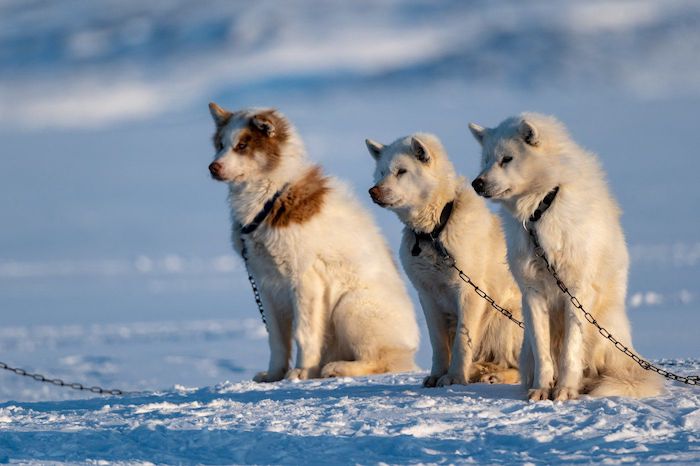 By Emma Tranter in Iqaluit
Somewhere in the Canadian Arctic dozens of dogs run over ice and snow under Nunavut's high April sun as they pull sleds with racers in tow.
Fourteen teams took off from Arctic Bay six days ago and are expected to arrive in Igloolik on Monday, a trek of 500 kilometres.
The Nunavut Quest is an annual dogsled race that has taken place in the High Arctic for more than 20 years, although it doesn't always cover the same ground. In 2014, for example, mushers raced the 400 kilometres between Igloolik and Pond Inlet.
Because of cancellations during the COVID-19 pandemic, it's been two years since the Quest has been run.
"It's so good to have it back," Crystal Natanine, one of the organizers, told The Canadian Press over the phone from her home in Arctic Bay.
"People are really excited."
There are seven camps where racers can stop between Arctic Bay and Igloolik. They were set up before the race with food and support for the participants and their dogs.
Natanine said it took a lot of work to prepare, especially to organize dog food, usually in the form of seal meat.
"There's not a lot of seal around here this year for some reason and we don't know why," she said.
The organizers had to supplement some of the seal with dry dog food bought from a grocery store.
For generations, Inuit and qimmiit, or sled dogs, lived together in Nunavut. The dogs were fundamental for transportation and hunting.
Between 1950 and 1975, the federal government forcibly relocated Inuit, separated families and slaughtered thousands of their dogs.
The colonial practices are documented in a report from the Qikiqtani Truth Commission and through its interviews with 350 Inuit between 2007 and 2010.
In 2019, the federal government apologized to Qikiqtani Inuit for the dog slaughter and forced relocations, and gave $20 million to the Qikiqtani Inuit Association to develop healing programs and cultural projects.
Following the apology, the association started a revitalization project, which supports Inuit to put together and maintain dog teams.
Hagar Idlout-Sudlovenick, director of social policy, said the funding allows the association to support racers in the Quest rather than them having to do much of their own fundraising and financing, as has been the case in the past.
"It's a very happy story," she said.
"At one point, dog teams were almost wiped out. It has slowly been coming back."
Idlout-Sudlovenick said she was surprised by the age of the participants at an annual dog team gathering earlier this year.
"Now, the majority of dog team owners are younger," she said.
That's reflected in the 14 racers taking part in the Nunavut Quest this year. They are all under 50 and the youngest is 22 years old, Natanine.
"These young generations are excited to learn traditional ways. Teenagers are very much interested in learning," she said.
"I hope we can at least have a little something from our traditional ways. This helps with that."
The Quest's first-place prize is $20,000. The racer who comes in second will take home $10,000.
This report by The Canadian Press was first published April 22, 2022.
___
This story was produced with the financial assistance of the Meta and Canadian Press News Fellowship
Loss of Brother to Addiction and Mental Illness Inspires Sister to Raise Money by Selling Face Masks.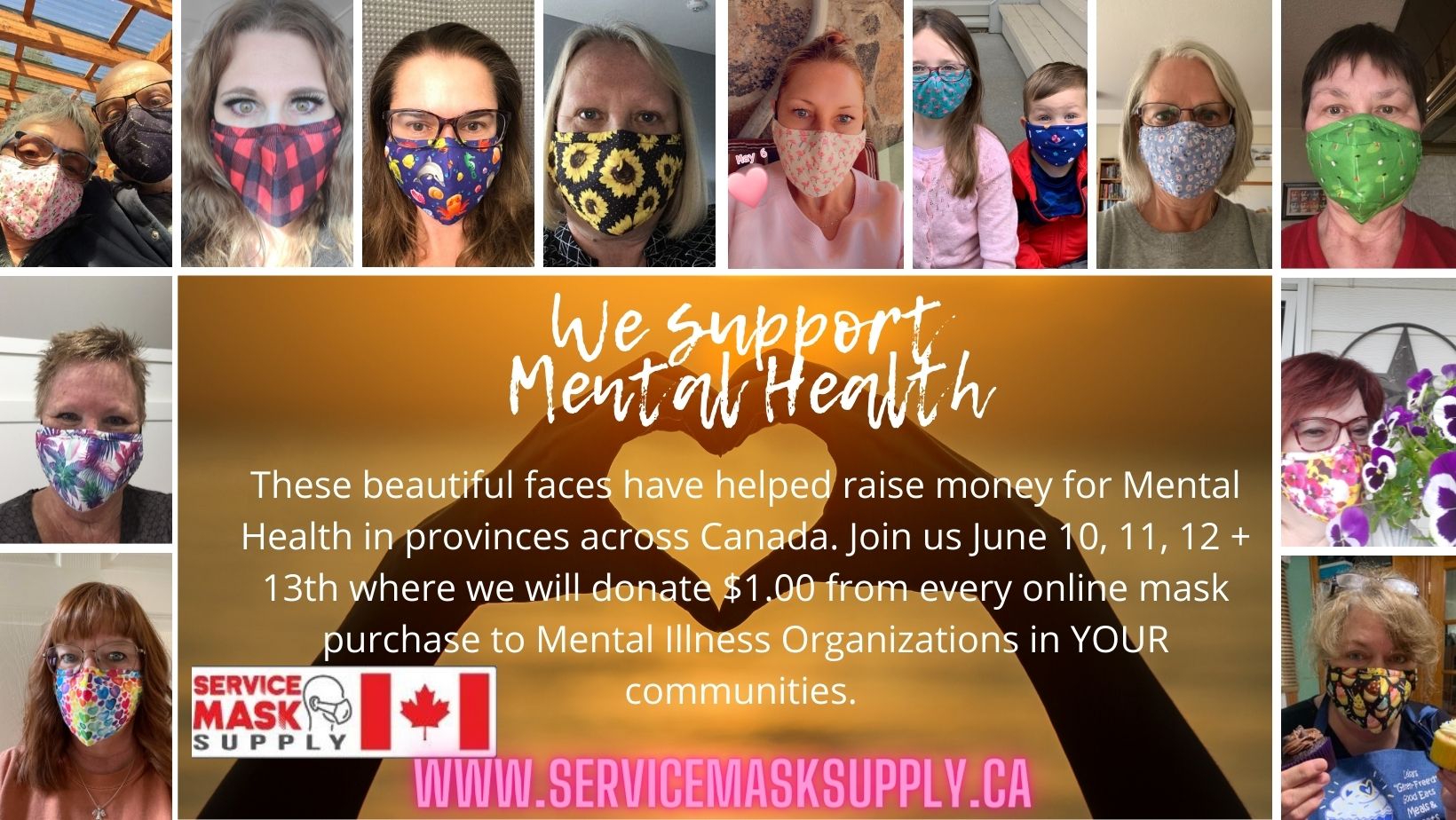 Starting June 10th, until midnight Sunday, June 13th customers across Canada can help raise funds for Mental Health Organizations in their own provinces by purchasing much needed luxury cotton face masks.
Jodee Prouse, from Sylvan Lake, Alberta, co-owner of Service Mask Supply (SMS) is the provider of one of Canada's best-selling luxury 3-layer Cotton Face Masks. She announced today that they will be donating $1.00 from every mask purchase on June 10, 11, 12 and 13th to Mental Illness Programs and Organizations in communities across Canada. "We all look forward to when we no longer need to wear face masks," says Jodee, "and we are getting really close. I am proud that we can provide a much-needed product and at the same time allow others the opportunity to come together to raise money for Mental Health in their own communities."
SMS is excited to announce that for 4 days this week, $1.00 from every mask will be donated to different Mental Health Organizations across Canada. Customers can place their order online, each mask is $5.00, and will ship directly to their homes or businesses. Jodee is proud of her team and orders quickly ship the next business day, leaving from their warehouse in Alberta. All monies collected will go back into each province to where the order was shipped. As an example, Alberta portion will go back to Canadian Mental Health Association Alberta Division, Manitoba to Rainbow Resource Centre and so on. This allows every Canadian the opportunity to make a difference and take part.
From the beginning, SMS had an amazingly simple business model, originally supplying schools and oilfield companies: provide comfortable and affordable masks (each is only $5.00) with patterns that make people smile. Smile. It is what Jodee and her business partner son Ryan believes we need more of right now during these unprecedented times. "My son and I, at different times in our lives, have both struggled with anxiety and depression. We lost a much-loved member of our family when our brother/uncle lost his battle with mental illness and alcoholism when he took his own life in March of 2012. He was only 39. This helped solidify our commitment to helping to eliminate the shame and stigma surrounding mental health."
Now more than ever we want to bring communities together. And remind people they are not alone.
SMS is proud to be celebrating over 17,000 customers across Canada this week. They know that much of their success has been driven by their passionate customers, repeat business and recommendations to family, friends, and co-workers. "It fills my heart to receive not only Facebook messages and emails daily on how much they love our masks," says Jodee, "but also the heartfelt words where strangers feel comfortable and safe enough to share some of their own mental health or addiction challenges."
SMS has over 150 unique colors and patterns with such unique designs as sunflowers, flamingo's, tie dye, dog lover, pretty kitties, fishing lures, butterflies, hearts, breast cancer, yoga, fine wine, pride, cupcakes and many more. Great for work, play, indoors and outdoors too with sizes for the whole family.
Learn more visit: www.servicemasksupply.ca
For more information you can email [email protected]
Trio of Passionate Edmonton Women Overflowing with Humanity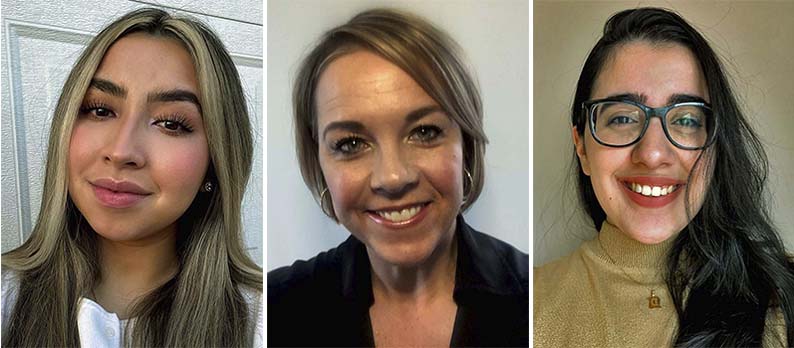 New website works to make a permanent record for seniors' stories and knowledge
Launching live at the start of April, the community response to Seniors Of Humanity (SOH), has already been, "amazing and incredible, we are so thankful", say the three co-creators.
Meera Kassam, Erin Gaudet and Diana Dagher were brought together through @YegSeniorsProject (YSP), an, inspiring, multi activity, Metro Edmonton initiative that brings community connections and joy to homebound seniors.
This new SOH initiative hopes to build on its sister project's past successes. Kassam is very adamant saying, "This project is not about us, it is about the amazing people that have passed and are still alive. We want their stories, memories and knowledge told and remembered." While the features so far have been Edmonton based, this energetic group it thinking big and can see the day where it will grow across Alberta, Canada and even the world.
Sporting more passion and energy than a super-charged Energizer Bunny, 20-year-old Edmontonian, Meera Kassam, founder of both SOH and YSP is currently one of Alberta's busiest people.
This humble go-getter is currently finishing her 3rd year of undergrad studies at the University of Alberta, in the fall she is transferring to the University of Calgary to complete her degree in the Social Work program. Also, on Kassam's busy weekly plate is, working at a retirement home, is a personal trainer, is a caregiver for her grandparents and special needs uncle, does the family shopping and their errands as well. Once all of these responsibilities are completed, she spends the rest of her energy and hours dedicated to helping the two growing community initiatives she has founded.
Asked where she gets so much passion and energy for the community? "I give my parents and family all the credit for the person I am today. "Kassam was born in Kabul, Afghanistan, before the 9/11 attacks. When she was a year-old, with the war on terror raging, she was able to immigrate to Canada. Kassam has had travel thoughts, "People dream to go back to their homeland, but for me it doesn't work like that." Continuing, "As a western woman, I would be in grave danger if I went back to my birth country, even for a visit."
This senior's memory concept is something that she wanted to do for some time, "In my second year at the University of Alberta I talked at length with my Genitourinary professor on creating a project that would preserve seniors' stories," Kassam said.
Erin Gaudet, made contact through Kassam's YSP's website. They clicked right away she explained, "I had never met Meera, during our first call, we hit it off and quickly discovered that we had the exact same idea."
In 2015, Gaudet, married mother of two very active boys, helped her father write his life's memoirs. Later he started battling health issues, "I lost my incredible father to brain cancer in 2019." Thankful for her dad's already documented and written memories, "I learned a lot about his life that I did not know. He left us all a legacy of love." Continuing, "These memories and knowledge would have gone by the waste side, forgotten over time."
Two became a third co-creator, when Diana Dagher joined the team to help with the full suite of social media channels. With some great content ready to go, things moved very quickly from January.
Kassam explains how a simple shopping trip inspired the name, "I needed a pair of jeans, fell in love with a pair made by, Citizens of Humanity. They were hundreds of dollars, had to put them back." Then the creative lightbulb went off, "I thought hey, Seniors of Humanity. Why not?" The name was born.
Seniors of Humanity wants to be as inclusive as possible. Their goal is to share the wisdom, the struggles, and the stories of seniors with the world.
Gaudet points out, "Seniors offer a large untapped resource, but their value and inputs are wildly underrepresented on social media. With this project we hope to change that." Adding, "If your parents, grandparents, great grandparents and other family members cannot write their own story, sit down with them and do it together. You never know what you might learn that you did not know before."
One of the first features posted online by Seniors of Humanity is, Monica Miles Lipscombe, mother of well-known Edmonton actor, producer and community advocate Jesse Lipscombe, founder of the #MakeitAwkward campaign. Monica is also one of seven children of a true Edmonton legend, three time Grey Cup champion with Edmonton Football Team, Canadian Football Hall of Fame member, Alberta Sports Hall of Fame member, on the Edmonton Eskimos Wall of Honour, University of Alberta grad and long-time Edmonton Catholic School teacher, Rollie Miles. Lipscombe's SOF story
Gaudet Added, "If you do not have someone to write the story, please email us the background information and we will endeavour to call them and document their story."
Stories can be submitted through the website; HERE
Quote collection for, "Words of Humanity" came be submitted; HERE
Seniors of Humanity; Email
Seniors Of Humanity Social media;
Other media coverage;
Ryan Jespersen's Real Talk feature; Link
Adrienne Pan's CBC Radio Active feature; Link
www.CovidKindness.ca highlight of @YegSeinorsProject's (YSP), Mother's Day parade giant drive-by for Edmonton seniors. LINK